GeekVape is a reliable brand that features some top-notch capes for its clientele. I've been using GeekVape's Aegis, and when the company announced releasing GeekVape Aegis Mini 80W Mod is was pretty excited to see what this one has in store for us. Now, after one month of using this vape, I am all set to answer your questions for example:
Is it worth my money?
Is it better than the previous ones?
Excited so let us find out.
People regularly using Aegis know what this vape is all about. There is a tailored leather vanity section on the side of this superior mod. Moreover, the vaping device has its brethren, and it is water, dust, and shock-resistant.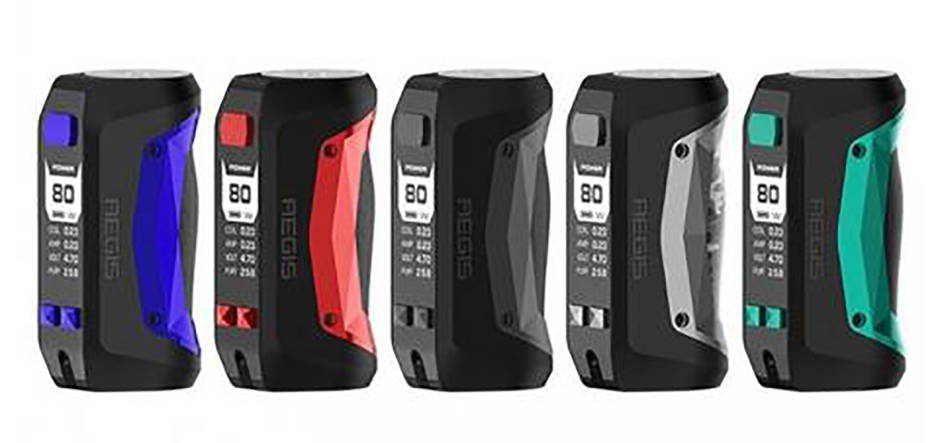 GeekVape Aegis mini mode is small and has 2200mah internal battery. Besides, the brand used the same material as in the previous versions, which is silicon, leather, and alloy. No wonder, the vaping mod look utterly elegant, and classy.
Though the vaper mode is mobile and super convenient, it also features a bunch of color choices for the clientele. The vape offers a quite sound output of maximum 80W, as it controls the battery time, and supporting a bunch of vaping varieties, such as TC vaping.
The GeekVape mini vape has a 2A Fast Charge, a primary attribute which the majority of mods lack. Besides, it recharges from zero to 100 percent battery in merely 30 minutes, pretty amazing! The product also features a Cerberus vape tank. Those of you who do not know Cerberus vape tank, it is a mesh coil tank and quite popular. Hence, this adds to the pros of the GeekVape Aegis Mini 80W Mod.
The story makes no end here. In fact, you get a variety of flavors, excellent airflow, and the winning stroke of mesh coil in this fascinating vape. Appearing in is the best possible option for people who want a tiny vape mode with a mesh coil tank.
It's been a month I am addicted to this vape, and I can't think of a better option than this beauty. Wondering the reason, honestly, its simplicity to use, and impeccable performance, is the reason I love it. Besides, it is excellent for sub-ohm vaping or uses with single-coil RTAs. The vape ensures, superior flavor, and vapors. I enjoy running it in, and about 60-70W, wholly according to the tank; while, the thing is pretty awesome at this output.
The Chipset of Geek Vape is pretty good as well, working well with both power and TC mode, the product leaves a fabulous impact. Somehow it resembles the VooPoo's Gene Chip.
The product has an astounding battery life which offers two days of MTL vaping without the demand for recharging it. A simple example of its impactful battery life is that plugs it in and enjoys a cup of coffee. That is the time it takes to recharge. I've been using this Aegis mini for a time, and the product did not disappoint me once. It feels like using numerous sorts of tanks on it. However, you get more bang for your buck in the battery, particularly for MTL tank, this one is amazing.
Overall, the GeekVape Aegis mini is an excellent product with tons of cool features, and elegant appearance, while the tiny size adds to the charm of this mod. Against order, you get an Aegis Mini 80W Mod, a USB cable, and a user manual.
I'm sure you guessed by now that this one is by far the best vape I've used. The Aegis Mini 80W Mod is sturdy, stuffed with cool features, and water-resistant. Besides, battery life, design everything is on point. Set yourself free from the stress of charging vape over and over again due to the impeccable fast charger. The vape is small and handy so that you can carry around anywhere, while 80W power is quite reasonable for the majority of tanks.
Even though there are other tiny vape mods in the market, but talk about my opinion,
the GeekVape Aegis mini vape mode is a clear winner.