One of the most incredible products by Geekvape is the environmentally friendly Obelisk 60 Pod Mod kit having a fully recyclable material. It allows for comfortable usage and size that nicely fits your palm. It comes with an amazing and consistent airflow with the right airflow technology. It features a battery that lasts longer and an adjustable way to manage energy loss. The Geekvape Obelisk 60 Kit provides an excellent vaping experience. It forms an amazing aroma and dense clouds. So, let's dive in and take a detailed look at its features, functionality, and battery life.
Body and Design
The Geekvape Obelisk 60 Kit is a modern pod system having a beautiful appearance and a sleek design allowing you to have an amazing and comfortable vaping experience. This kit is built using high-quality materials and is long-lasting and robust. It comes in 4 different colors and has an ergonomic design. There are side panels that contrast well with the color of the kit. Also, it is made using scratch-resistant and corrosion-resistant materials. The kit has a clear menu screen that makes it easy to set up and provides information like battery life, coil resistance, and power level.
Performance and Features
The Geekvape Obelisk 60 Kit offers an unparalleled performance having a functional output of 5 to 60W in the typical Volkswagen mode being powered by an inbuilt 2200mAh battery. Also, there are bypass and temperature control modes. The high-precision chip and integrated circuit board provide the device with amazing performance and a lot of security features. A stable output can be maintained even if there is a small battery capacity left.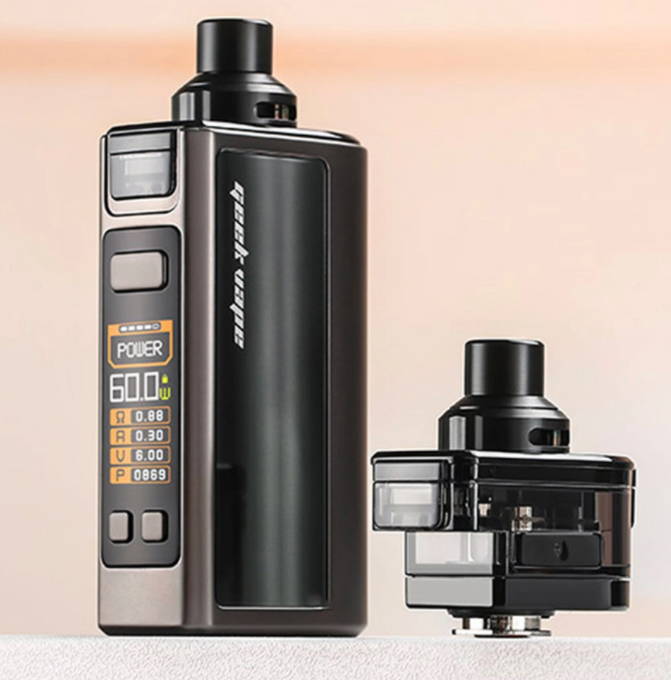 The pod cartridge is made from dark transparent PCTG and features a 4.0 ml capacity. The easily side filling and silicone stopper allow smooth filling. It uses P series coils and offers a powerful fragrance and vapor sensation. The temperature control allows you to select the preset maximum temperature and clever control chip to adjust the power and take it to the desired level. The push and pull system makes it easy to replace the coil. The drawing behavior can be adjusted from DL to RDL using the double ''Z Top Airflow'' located below the cigarette holder of the pod. The kit is compatible with the P Coil Series and the OBELISK AIO comes with 0.4ohm and 0.5ohm options so that you can adjust a coil suitable to your vaping style.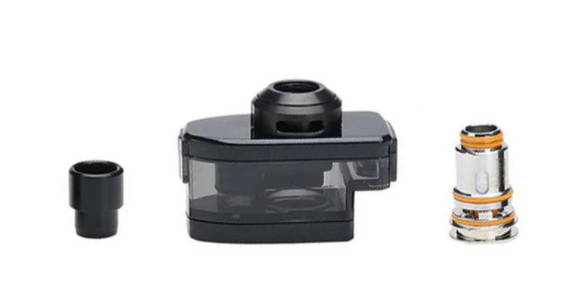 Battery
The Geekvape Obelisk 60 Kit comes with an integrated 2200mAh battery having a USB charge rate of 2A. The brand promises that the battery of the kit is most likely to last for 48 hours of use. Also, it is believed that the output will remain stable as the battery charge decreases due to the high precision chip and low energy loss during the discharge. It can get fully charged through the USB -C Type port in a short duration of 15 minutes.
Conclusion
The Geekvape Obelisk 60 Kit is one of the most incredible pod mod kits offering a wide range of features. It allows you to enjoy a nice design and palm fit size. You will benefit from the infinite voltage adjustment, a high-precision operational chip that ensures power sampling accuracy and boosts your experience. Also, the solid and scratch-resistant nature is worth investing in. If you're looking to get an awesome vaping device with dependable functionality, fast charging ability, and long battery life, Obelisk 60 Kit is the choice you have to make. So, choose the e-liquid you wish to fill and enjoy a smooth and flavorful vaping experience all day long.