Choosing the right E-liquids is one of the most important steps of having an enjoyable vaping experience. Nowadays, there are many types of E-liquids that you can choose from nicotine salts & free base, high VG & high PG, 10ml & shortfills and so on. Are you are a beginner of vaping and have no idea how to choose the perfect vape juice? Luckily, this handy guide might help you to make the right decisions in your vaping journey.
---
Every vaper has their prefered PG/VG ratio. The first thing we need to know is "What does the PG/VG mean?".
• About PG (Propylene Glycol)
PG stands for Propylene Glycol, is a petroleum by-product carrying sweet taste that can be found in some daily things such as foods, makeup, baby wipes, medicines with the function of keeping them moist. E-liquid with high PG is more suitable for mouth to lung devices. It offers lighter vapour clouds and better flavour.
Heavier throat hits are available in high nicotine strengths, which makes it a perfect choice for those who are struggling with quit smoking. The thinner E-liquid making them easier to clean, If leakage occurs, the device can be clean easier for the thinner E-liquid. 50/50 ratio and High PG e-liquid are suggested to use in devices with a high resistance coil that will offer a nice throat hit. It is also a great option for beginners.
If you are sensitive to PG, it is better to choose a higher VG e-liquid.
• About VG (Vegetable Glycerin)
Vegetable Glycerin, coming from vegetable oils, is a colourless and non-toxic fluid with slightly sweet. It features high resistance to heat and is regarded as a safe benign substance. VG is used as a suspension agent for nicotine and flavourings in E-juices. High VG e-liquid delivers bigger and dense vapour as the coil is capable of wicking the liquid efficiently.
High VG e-liquids contains a lower nicotine strength: 0mg, 3mg, 6mg or 12mg. It is recommended to be used in sub-ohm tanks which require a higher wattage. It is also a perfect choice for those advanced vapers pursuing large vapour production.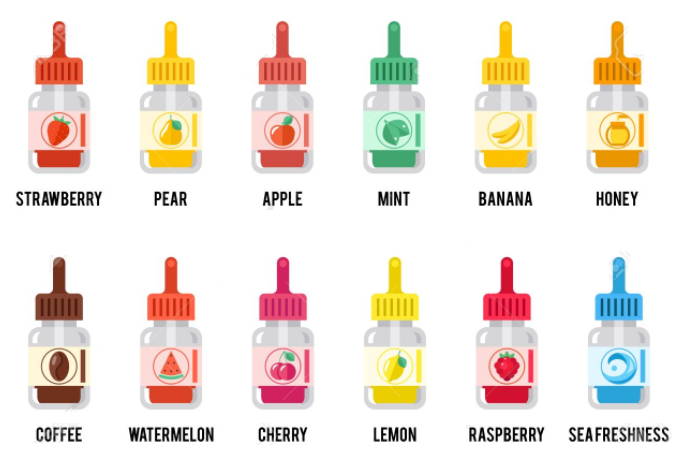 ---
PG/VG accounts for about 90%, natural or artificial flavourings, water and nicotine accounts for 10% of the liquid ingredients. One of the advantages of vaping is that there are so many variousflavours featuring food-grade additives as the tasteless fluid. We know what kind of food and drink we like to eat, that might be a clue for us to choose the right flavour.
You can choose from fruits, deserts, tobacco blends, mint etc, dependant on your preference. Premium e-liquid has a mixture of various combinations and flavours. But some e-liquid contains only one flavouring. Some vapers who just switching from smoking prefer to choose tobacco flavours similar to the original cigarette.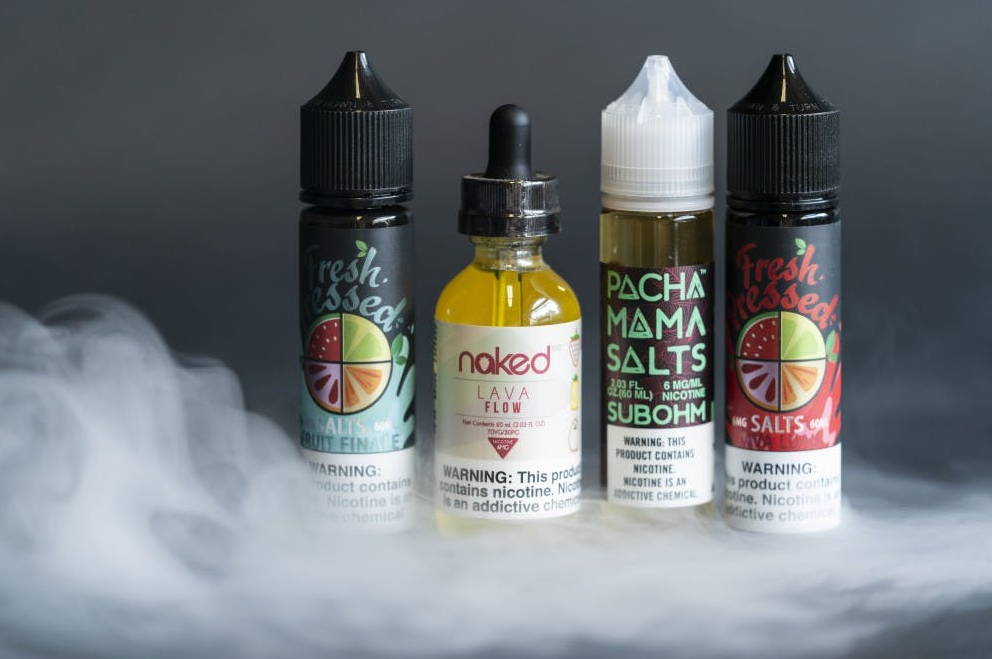 ---
Nicotine is a synthetically produced chemical that provides you with a pleasant moment when you vape. Unlike traditional cigarettes, people are able to choose the nicotine strength in vape juice and control over the nicotine intake for health. Vape juice is varying of nicotine strengths, which are clearly marked in the bottle. They are generally divided into three levels:
Low: 0mg-6mg: suitable for those who may go through half a pack a day or less.
Medium: 9mg-16mg: best for smokers who use half a pack to one pack of cigarettes a day.
High: 18mg-36mg: a great option for heavy chain smokers.
0mg strength e-liquids are also capable to deliver awesome flavour and an enjoyable vaping experience. Nicotine is a stimulant that works well for throat-hit, if you are pursuing a satisfying throat hit, we recommend you to try a higher nicotine strength. But you should take care that over intake high nicotine strength might cause headache and nauseous. If you are looking for a traditional smoking experience, nicotine salt e-liquid with 50/50 VG/PG ratio is the best choice.
---
After going through this guide, you may a clear understanding of the basic content of vaping: flavours, PG/VG ratios, nicotine. We knew it will take such a long time to find the perfect one that works the best for you and we hope this will help you to make the best choice!