Hey, can you smell it? Turkey is in the oven! It's time to ROCK your Black Friday! Top vape brands are at discounted prices on our store. Whether you are after something for yourself, we have prepared a special gift (site-wide promo coupons, holiday discounts, the best deals on kits, mods, pods, e-juices, and tanks) exclusive for you.
With Black Friday approaching, we would like to shine a spotlight on Top 3 bestsellers of 2019 in our store and look into why they are so popular.
*Black Friday Special Offer(Time-limited, don't Miss out):
Save Massive 30% OFF SMOK RPM40 Pod Mod Kit/GeekVape Aegis X Kit
Only £ 20.99 Voopoo VINCI R Mod Pod Kit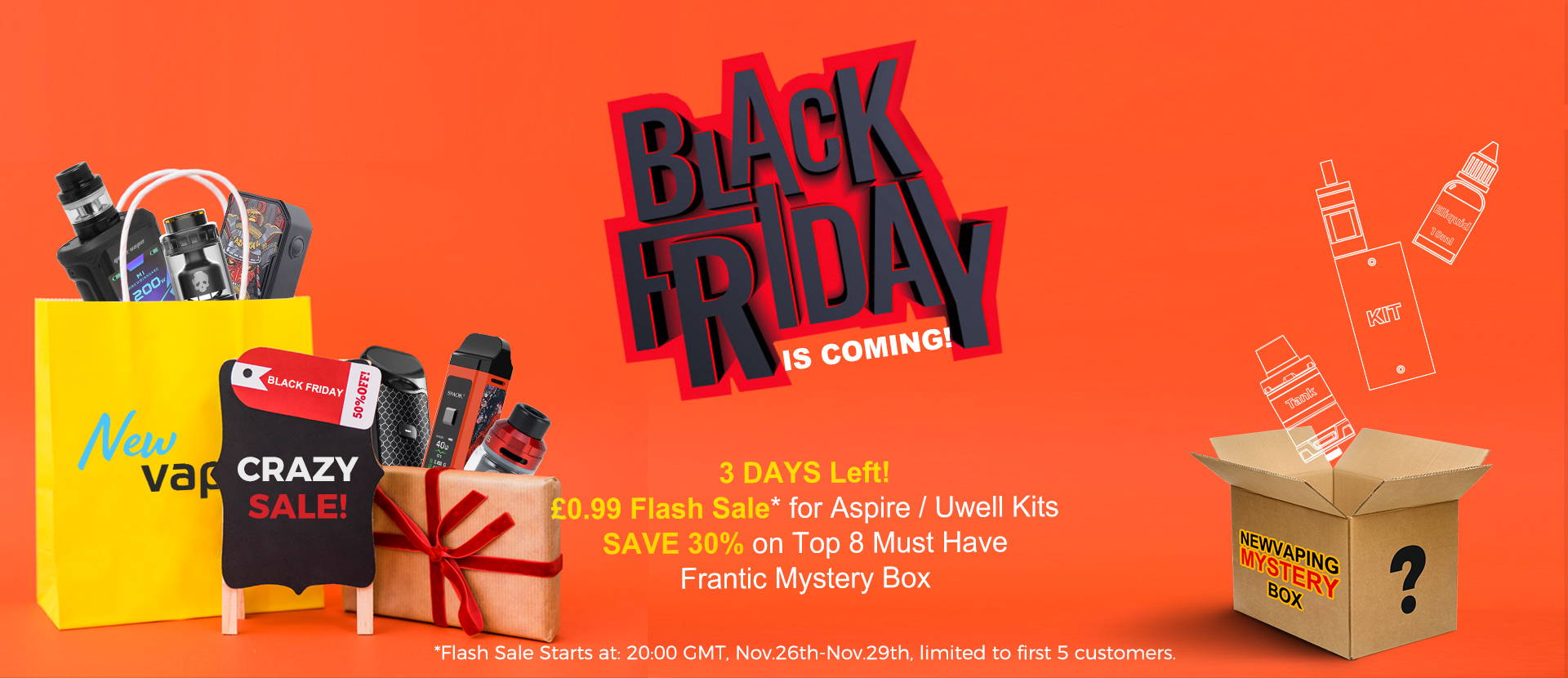 ---
Smok has had a considerable resurgence in quality as of late, and the RPM40 is no exception to this. Smok laid the groundwork back in January with the release of the Nord, an upgrade on their previous mod the Novo, and it blew pod vapers away. Offering better quality coils, better flavour, and bugger capacity, it was a hit everywhere.
The RPM40 is the next step in this journey, and it is somewhat of an evolution of the pod system. Offering variable wattage, it lets you vape how you want to rather than what the company tells you. Coming with a full-colour screen, you can fine-tune your pod system into your ideal pod vape. Featuring both RPM and compatibility with Nord coils, it gives vapers a wide choice out of their little pod mod of many different resistances and styles. The RPM40 offers a choice between sub-ohm and MTL vaping which makes it a perfect little companion. Using different pods for different types of coils, it is so easy to carry a couple of pods around and switch up your style on the go. With the large 1500 mAh battery, safety protections, and quick USB charging, the RPM40 offers you everything in one tiny little package. One of the best pod systems out there right now, why not check out why everyone is rushing out to pick their own RPM40 up in time for the holidays.
Geekvape took the industry by storm back in 2017 with the release of the first shock/water/dustproof mod in the Aegis. It's a single battery-powered mod that could withstand a ton of abuse and keep on going. The legend cemented the Aegis legacy further with a dual-battery design, comfortable handgrip, and longer battery life. So, where do Geekvape go from here?
The Aegis X is the perfect place they can go to. The Aegis X is a dual 18650 device that takes the legend and improve it considerably. Featuring a large colour screen, it gives vapers all the information they need when vaping. There are still leftovers from the Legend in the comfortable hand grip and sleek look, but everything else is pure improvement. There are countless more options under the hood provided by the AS chip v2 loaded in the Aegis X, so it can be used for considerably more than before, including more in-depth TC and Bypass modes. Custom wallpapers, longer battery life, and super fast firing made the Aegis X one of the most significant new launches of the year.
In the kit, you get it partnered up with the wonderful Cerberus tank which offers both high and low powered sub-ohm vaping depending on your own personal choice. So why not pick up the mod that everyone is talking about this year!
Voopoo has had a considerably strong with the Drag 2 platinum improving all cosmetic aspects of the previous version. The Voopoo Alpha Zip has a gorgeous looking mod with the GENE chip excellent performance. However, the real big stride Voopoo made was through the pod systems, starting with the Rota. It was a niche product that offered a fantastic vape.  
So fast forward to summer 2019 and Voopoo are one of the leading names in the evolution of the pod system with the Vinci R, a pod mod that allows you to adjust the way you vape. Bringing the Voopoo high quality into a small design, the Vinci provides all the benefits of a Voopoo product with more than ever. The Vinci brings a large 1500 mAh internal battery with 2 different coil types for DL or MTL vaping. The DL coil pushes the power all the way to 40w Max, giving a cloud chasing pod like no others. The MTL coils provide a flavourful MTL vape that does not substitute power for performance. The device is powered by the quality Gene Chip, so it has unrivaled performance and battery life over its competitors. The Vinci has been groundbreaking in the new pod mod market, and Voopoo has not held back on their first release, giving you all the Drag 2 quality in a little pod system.  
---
What do you think of these 3 kits? Sounds fantastic, right? What are you waiting for? Go straight to our Black Friday Sale page and treat yourself in this holiday!
Don't forget to check out other vaping products you may prefer on that page to save BIG this year. Happy Thanksgiving and Black Friday!