4.Battery Performance and Charging
5.Eleaf Pico COMPAQ Pod Kit Review
7.Q & A
Eleaf Pico COMPAQ Overview
Eleaf Pico COMPAQ is a stylish pod vape built with great design and high quality. It is powered by a 18650 battery that lies within the mod, underneath the battery cap. Moreover, the Eleaf Pico COMPAQ pod mod has the appearance of a small ergonomic box so it is pocket friendly and can be carried with you everywhere you go to enjoy vaping anywhere.
Eleaf Pico COMPAQ Pod Kit is an impressive system that is designed to provide a perfect combination of portability, easy of use, and wonderful flavor with a striking chassis. It is capable of 1W to 60W of output to fulfill your day and can be charged through a Type-C quick charge for minimum downtime. Its elegant design also upgrades your visual enjoyment and ergonomic comfort that fits in the hand comfortably for all-day vaping.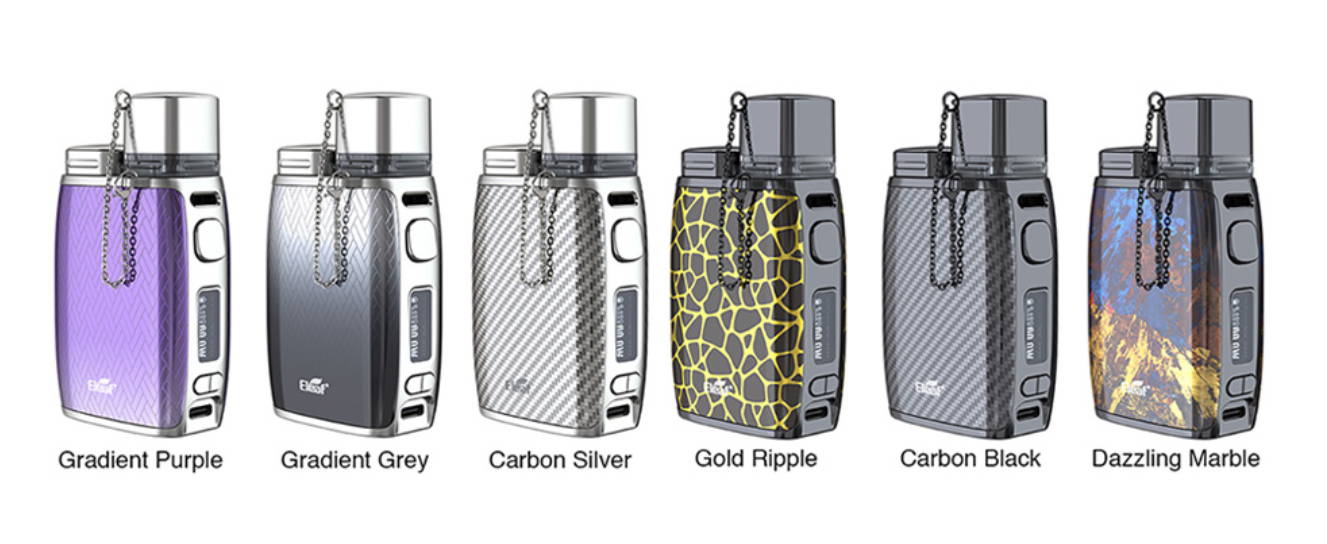 Price: £ 35.99 (at NewVaping)
Colors: Gradient Purple, Carbon Black, Carbon Silver, Gold Ripple, Dazzling Marble, Gradient Grey
Eleaf Pico COMPAQ Pod Kit Specifications and Features:
Size: 31.5mm x 53.5m x 89.0mm
Capacity: 2ml/3.8ml
Output: 1-60W
Resistance Range: 0.1-3.0ohm
Coil: GTL 0.4ohm KA1 Coil (20-30W)
Battery: 1 x 18650 battery (Not included)
External 18650 with max 60W
2ml/3.8ml e-juice capacity
Anti-dust cover cap design
Compact and portable size
Adjustable wattage function
Innovative GTL Mesh coil
Multiple battery protections
Easier side filling design
Type-C quick charge
Eleaf Pico COMPAQ Pod Kit Package Contents:
1 x Pico COMPAQ
2 x GTL 0.4Ω Coils
1 x USB Type-C Cable
1 x User Manual
1 x Warranty Card
Construction and Design of Eleaf Pico COMPAQ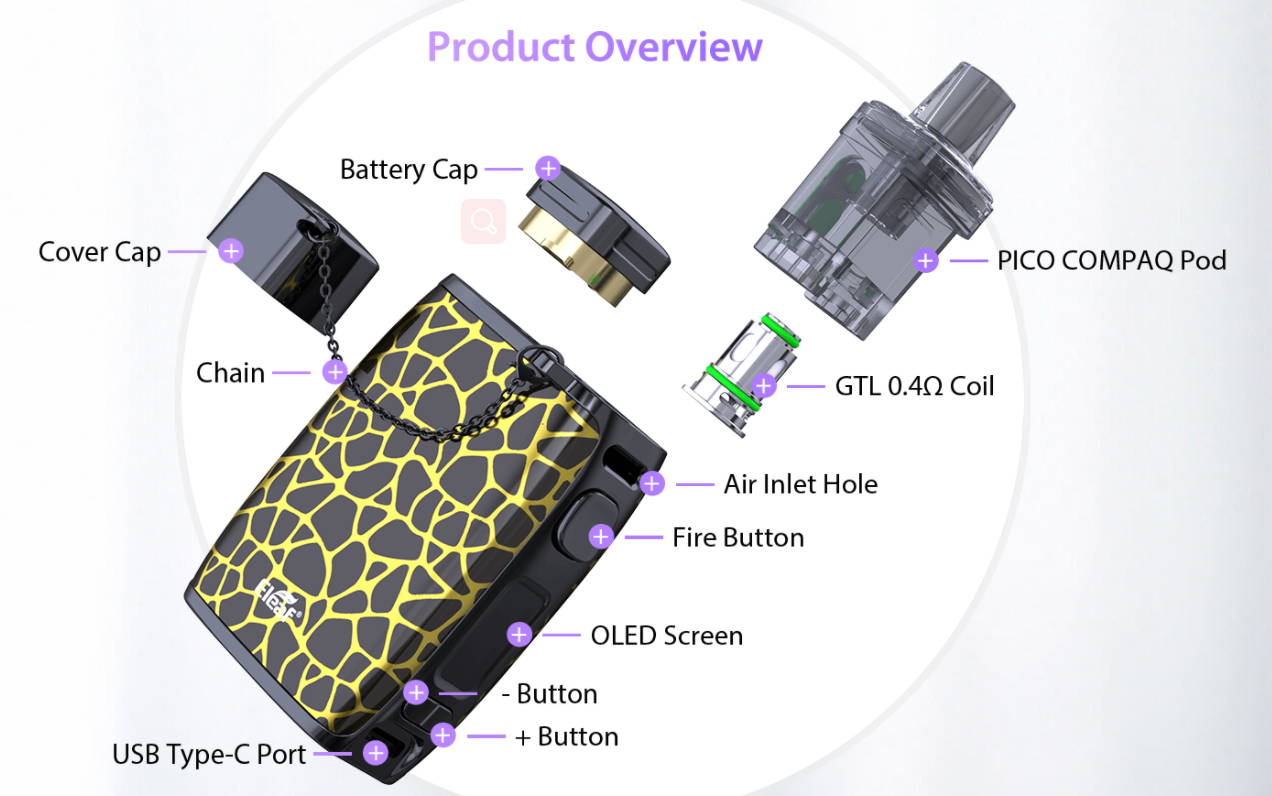 With an ergonomic and portable design, the Pico COMPAQ is very comfortable to hold in hand and carry outside. It remains fairly compact with its overall measurements being 31.5mm by 53.5m by 89.0mm. Because of the compact design, Eleaf Pico COMPAQ will not bulky and heavy to carry even if the 18650 cells is integrated. A simple and minimalistic design covers this device as there is a clicky and responsive main fire button and two adjustment buttons found on this device.
Eleaf Pico COMPAQ adopts a cover cap design, which makes the device dustproof and protects the hygiene of the drip tip. The cover cap and the device are connected by a chain to avoid getting lost. The Eleaf Pico COMPAQ uses a mainstream Type-C charging port to speed up charging and shorten charging time.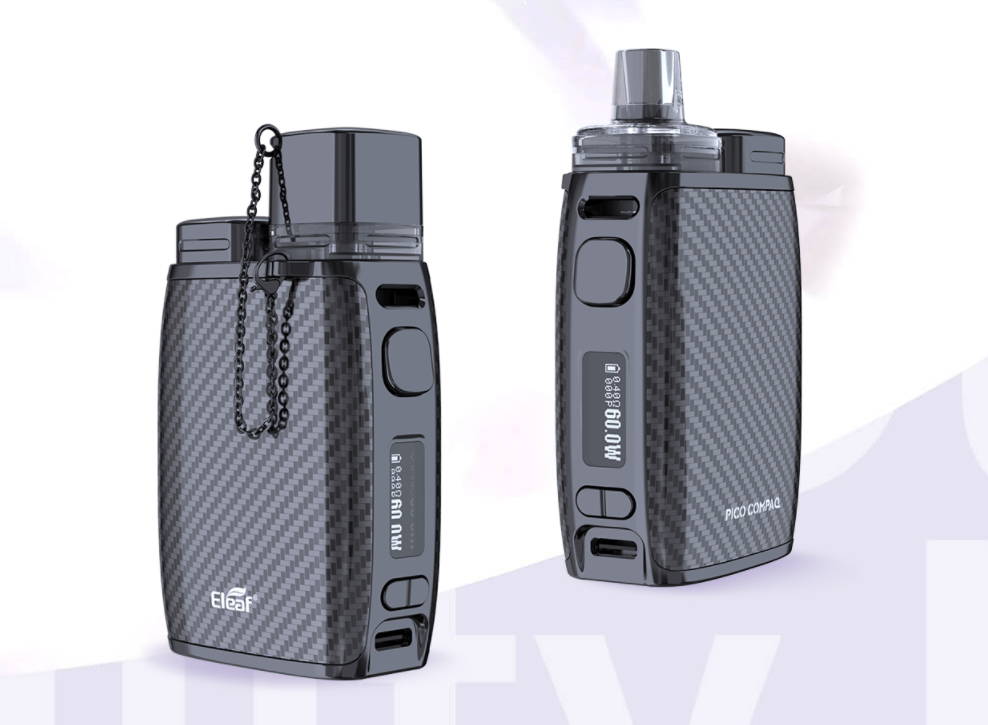 This device is also capable of outputting up to 60watts to fulfill your day. It has an OLED screen located at the side but the size is not stated. The OLED screen displays battery life percentage, the setting option, your coil resistance, your current mode, and the current wattage/temperature.
Eleaf Pico COMPAQ Pod Cartridge and Coils
The Eleaf Pico COMPAQ utilizes expanded 3.8ml capacity refillable empty pod cartridges that can be filled with your favorite e-Liquid. GTL 0.4ohm Coil with an easy to use push-fit installation is constructed using a style of mesh, which can present an ultimate flavorful taste with huge clouds. The large wicking areas on these coils enable the use of various e-liquids, including nic salts and higher VG liquids for ultimate freedom. The pod is connected by a magnetic that makes it can set apart easily and firmly attached when in use. You'll be getting two of these in the kit. This awesome device also has a little handy cover cap attached by a chain to the mod to keep the mouthpiece clean and sparkly.
To refill the pod, all you have to do is pull out the pod, unplug the silicon stopper and slowly inject the e-juice. It is the best pod system to go for given its portability, versatility, and ease of use. The Eleaf Pico COMPAQ vaping kit guarantees an awesome user experience and it has a comfy grip.
Battery Performance and Charging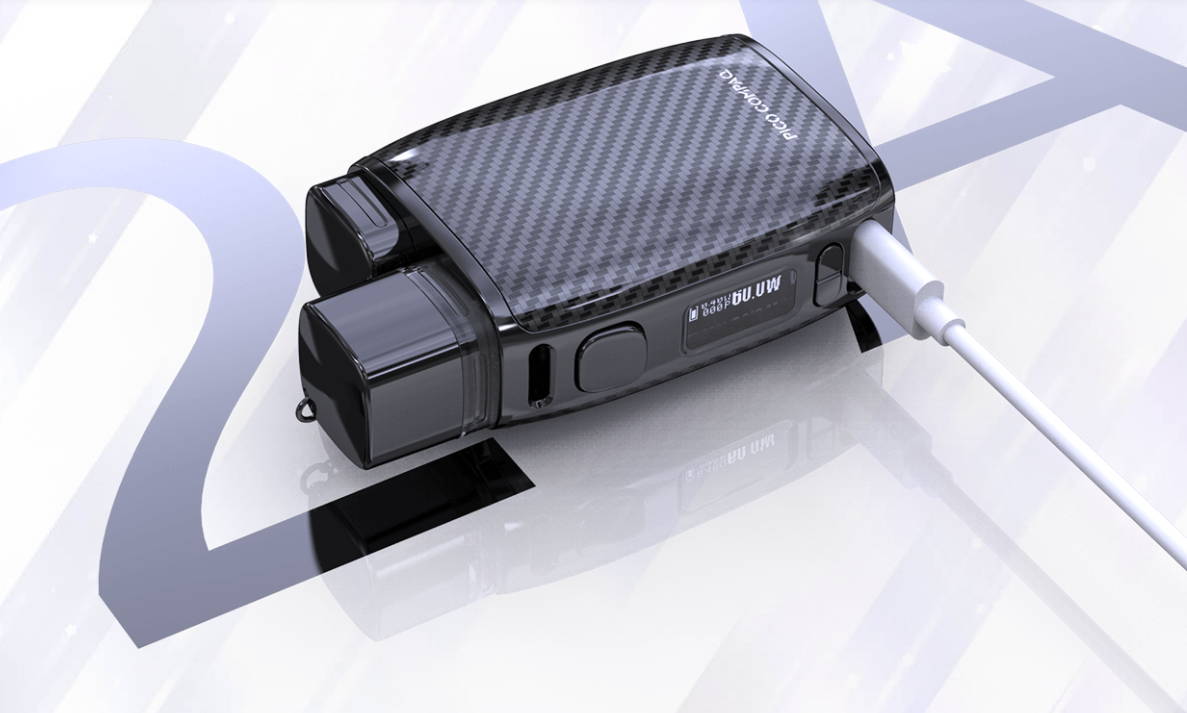 Different from other pod mods in the market, the Eleaf Pico COMPAQ is powered by a powerful 18650 battery that allows vapers to enjoy a smooth vaping time without hassle. Subsequently, the battery of the Eleaf Pico COMPAQ pod mod can be recharged using the USB Type C at up to 2A charging rate. The Pico COMPAQ also has multiple on-board protections such as 10 seconds cut off, overcharge, over-discharge, and short circuit to keep you vaping safe.
Eleaf Pico COMPAQ Pod Kit Review
The Eleaf Pico COMPAQ vaping system is one you can trust given its awesome features and authenticity. As much as numerous vaping systems are on the market, it is best you go for one that satisfies all your vaping needs and the Eleaf Pico COMPAQ kit is the solution.
With the vaping system technology onboard, traditional cigarette smoking is gradually fading out and interestingly, it has come to stay. It is safer and reliable.So, make that decision today. Purchase your Eleaf Pico COMPAQ today.
Pros and Cons of Eleaf Pico COMPAQ Pod Kit
Pros:
Portable
Great hand feel
Fast charging
Anti-dust cover cap
Adjustable wattage
Easy filling design
Great battery performance
Not a fan of this kind of design
Average flavor
Average hand feel
Only one coil option
Q & A
What are the benefits of Pod Kits?
Pod kits usually come with small size with lesser cloud production, which means that they are perfect for stealth vaping. Pod kits are simple to use, with many being manual auto-draw designs or just simply press the firing button.
What is a pod system?
A pod system has a pre-filled cartridge or cartridges you can fill that holds the e-liquid. The cartridge snaps into a small battery that powers the device.
How do you use vape pods?
Hold the vapor in your mouth for a while and then inhale before exhaling. Pod systems have been designed around this with higher nicotine levels, and better throat hit than larger devices.
What's the difference between a pod and a cartridge?
Both vape pens and pods are simple to use because you don't have to prime wicks or swap out coils. With prefilled cartridges found in pens and closed pods, vapers don't have to fill tanks themselves. Unlike pods, the users are no need to switch out cartridges that make vape pens ready to use.
How do vape pods work?
The pods contain a coil. When your device is activated, the pod system heats the coil which in turn vapourises the liquid in the pod.