The Aroma King 600 has crafted a lot of vapers' affection. If you are new to vaping world, Aroma King is worthy to be a guide for you. Aroma King will provide you with affordable e-cigarettes that do not compromise on performance or taste.
Today, I will review the latest disposables Aroma King Gem, let's see whether it deserves to vote with your wallet.
---
Product Intro

Appearance

Flavour Performance

Battery Life and Puffs

Pros & Cons

Verdict
---
The Aroma King Gem vaporizer pen is capable of delivering up to 600 puffs. All things are well-set for you to go use straight out of the box, no need to refill e-juice, recharge, or replace coils.
There is a 2ml e-liquid of 20mg nicotine strength and 500mAh battery housing in the slim device. The 50:50 VG and PG ratio is good for offering beginners proper vapour and throat hits.
What's more, you can obtain your favorite flavours from a wide range of 19 iconic flavours of Aroma King, including fruits, candy, vegetables, and drink blends.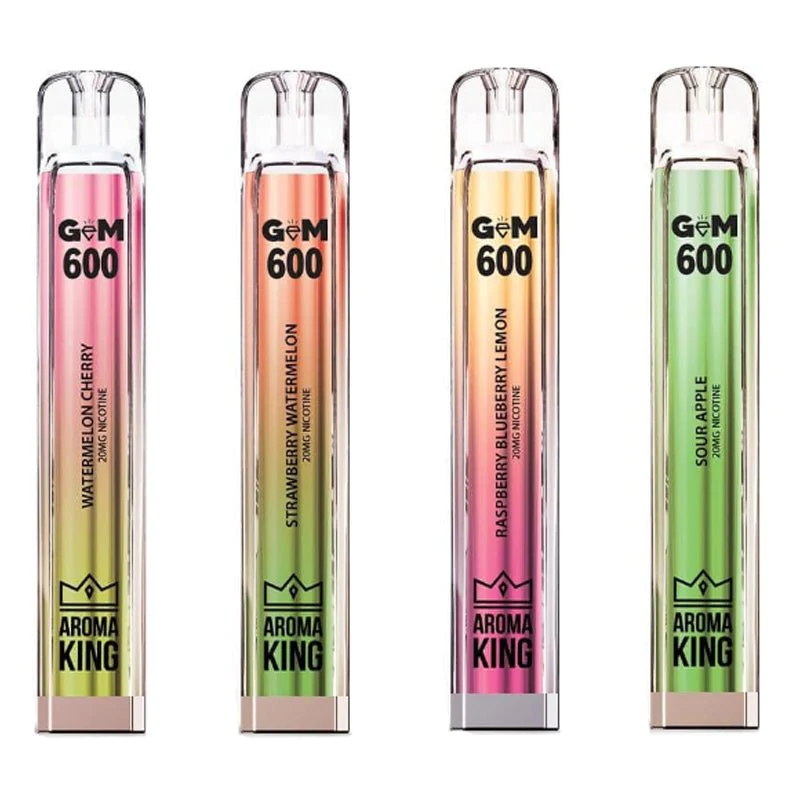 Beginner-friendly

Easy to use

Draw activation

Non-Refillable

Non-Rechargeable

Various flavours
Battery: 500mAh (Built-In)

Puffs: Approximately 600 Puffs

PG&VG ratio: 50:50

E-juice Capacity: 2ml pre-Filled

Nicotine Strength: 2% (20mg)

Flavours: 19
---
The Gem 600 e-cig is wrapped in a small box with a raft of explaining contents and vape images. If you wonder whether your Aroma King Gem is genuine or not, an authentification code is out there for you to identify.
After opening the box and tearing off the plastic bag, I got an eye-catching pen with two beautiful fading colours meeting together. The outer casing is designed with four angle-rounded edges, giving me a nice grip. The transparent surface and charming color pairing with the sunlight make it a good gem, glittering and shining.
Have you got an SKE Crystal bar before, they almost have the same beguiling appearance. Remove the mouthpiece cap, the mouthpiece is so flat to draw comfortably.
---
I picked three trendy flavours: Raspberry Blueberry Lemon, Gummy Bear, and Carribean Crush. The vapour production is sufficient for me, which is a bit bigger than other stealthy vapes. It may be one of the factors that contribute to a full-bodied taste.
Raspberry Blueberry Lemon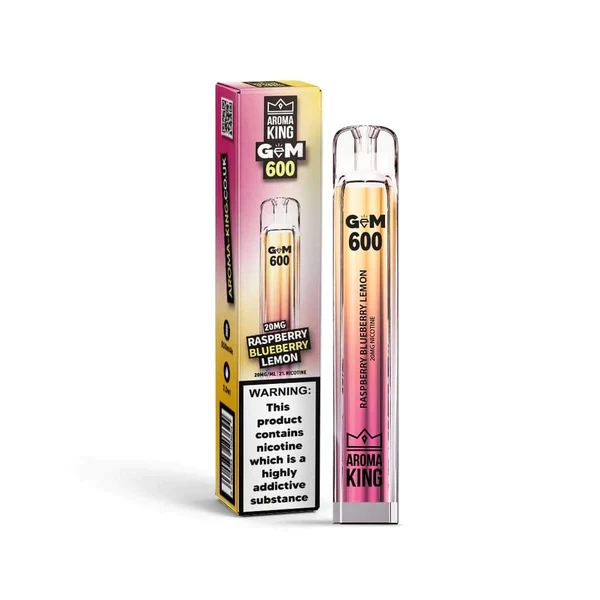 It is a multiple fruits combination that can be imagined in my mind. The fragrant raspberry is mixed with juicy blueberry and tangy lemon, definitely a sour and sweet taste that is on my liking list.
When I take an inhalation, the very first thing that I noticed about this vape was the sharp punch of the sweetness of ripe blueberry, followed by an acid concoction of raspberry and lemon. It is a refreshing sweet and sour vaping throughout the whole vape, which can invigorate every nerve in my brain.
This appreciated vape should be owing to the right amount of sweet blueberry that avoids an extremely tangy taste. Aroma King did well in this aspect.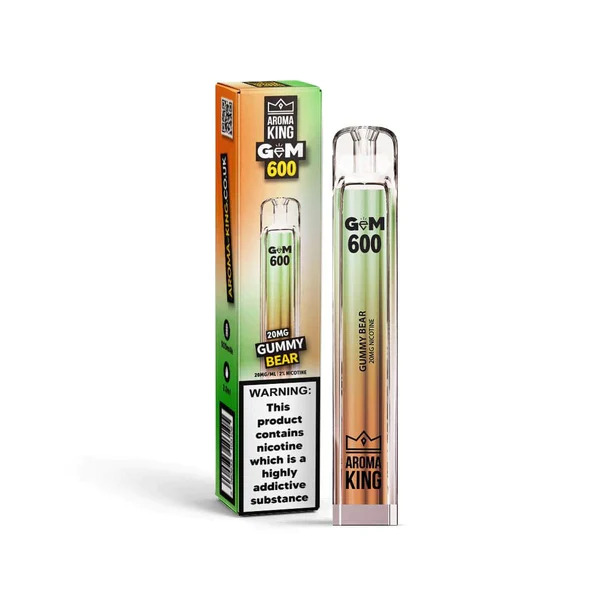 With the aging number increasing, people intend to miss the memory of the past days. I am no exception.
It tastes not overly sweet but with a bit of sourness, which is the nostalgic flavour I yearn for. As the vapour rushed into my mouth, the sugary sweet particle played among every corner. With my eyes closed, I was totally immersed in a blissful paradise.
Gummy bear is a flavour that I can vape with joy for a whole day. I believe that you also miss this classic taste.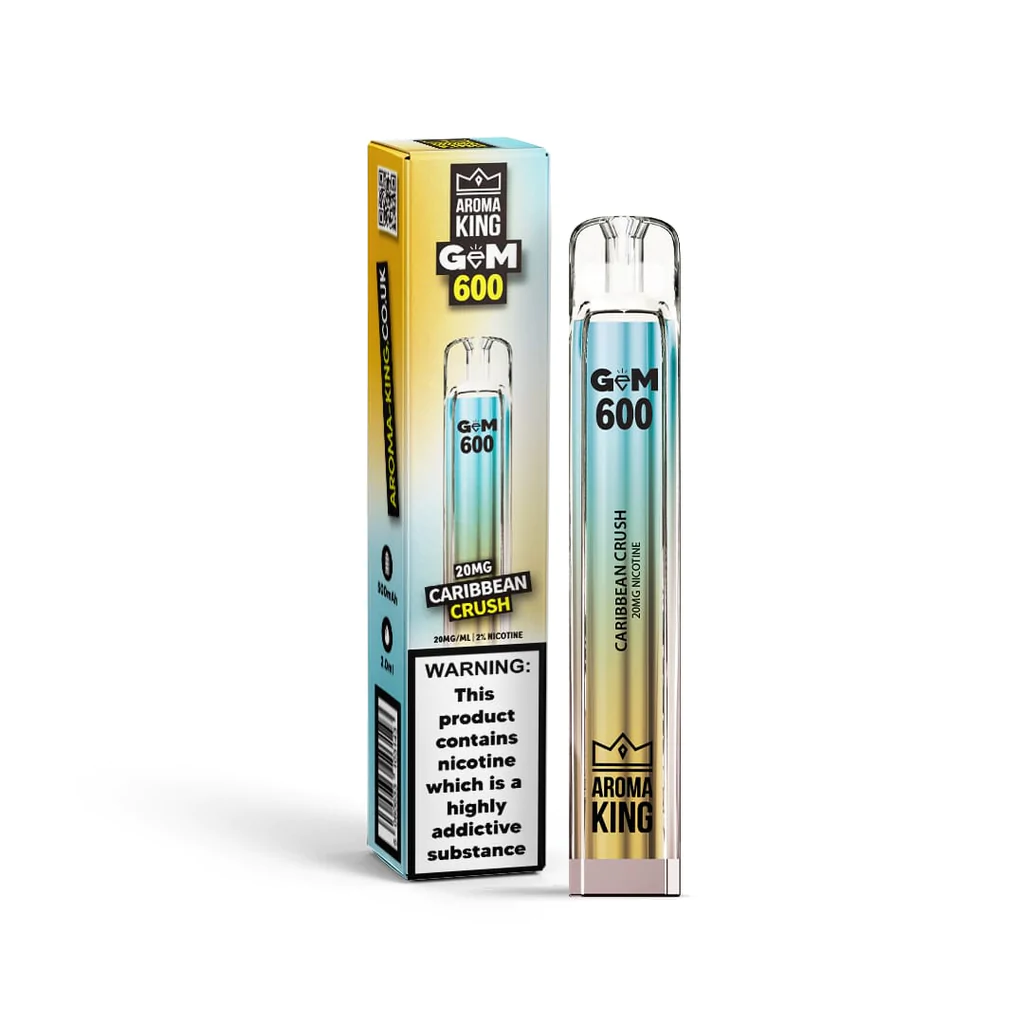 This vape is derived from Lucozade, a very popular drink brand in the UK. So, I pretty much expect this Carribean Crush, will it present me with the same taste as Lucozade?
Aroma King answered me with a yes. After I took several drags, I feel the vape is such a soft tropical taste, literally like the Carribean Crush drink. The sweet notes pop in my taste buds warmly, which is an exotic fruit flavour.
If you are a Carribean Crush drink lover, you must try this flavour since it will offer you a cloud of enthusiastic tropical vapour.
---
I ran out of the Raspberry Blueberry Lemon e-liquid for around two days. Average 5 hours a day, around 62 puffs per hour, 604 puffs in sum. So don't worry about its puffs, it can accompany you for a whole day. Please note, when the vape nearly goes to an end, the vapour will be smaller than before.
---
+Comfort to use
+Easy to carry around
+Stylish body
+Great flavour and vapour performance
- Not eco-friendly
- Expensive in the long run
---
Stick to the statement at the beginning, Aroma King Gem disposable vape is a nice vape product for your switching. The vapour vaporized can meet your basic need which is similar to smoking a cigarette.
No worrying much about the flavours, its wide selections are ready for you. And in terms of the taste, it is natural and satisfying. I should give it an eight score out of ten.
---