Author: Alisa Yin / Category: Review / Published: May-15-2020
Dovpo collaborates with Signature Tips to create this very trendy Mono SQ DNA75C Mod, which is much-anticipated and follows up to the very popular SQ Squonk Mod. Dovpo is my favorite vaping manufacturer. They have certainly made a massive impact on the Topside series. We have tested the Topside Dual, which is the most popular squonk mods on the market. Signature Tips are a UK based company who make high-quality custom Drip Tips and have their own collection of high-end and pricey mods.
The Dovpo Mono SQ DNA75C is frankly an entry point for you to enter into the higher end of the mod market. Constructed from anodized aluminum, the Mono SQ DNA75C is ergonomic and comfortable to hold. It utilizes a single 18650 battery (not included) and has a 0.97-inch TFT screen. The DNA75C chipset allows for a full temperature control suite and has a maximum power output of 75W. You can change the settings via the Evolv software. However, it doesn't have a Replay mode! Read the review to take a detailed look and find out if the Mono SQ stands up to the price tag!
Dovpo x Signature Mono SQ DNA75C Mod Specifications
Size: 41.1 x 87 x 27mm

Materials: Aluminum alloy, PEEK

Chipset: DNA75C

Power range: 1-75W

Temperature range: 93-316 ° C

Works with 18650 battery (not included)

Screen: 0.96 "TFT Color

Charging: 5V / 1A
Dovpo x Signature Mono SQ DNA75C Mod Package Contents
1 x Mono SQ Box Mod

1 x Micro USB cable

1 x User Manual
---
Build Quality and Design of Dovpo x Signature Mono SQ
The build quality follows suit at a glance. Machined from anodized solid aluminum, the Dovpo Mono SQ is neat and light but still has a fair amount of strength to it with great heat dissipation properties. Signature Tips mods are best known for their unique shape and ergonomic design. The Mono SQ has a box shape and unique curved cut-outs on one end, making it an ideal finger firer. I love the design, and those curves fit my fingers comfortably. A fourth curve would be welcome especially for those who have large hands. It is not too heavy, it is solid and looks premium in your hand.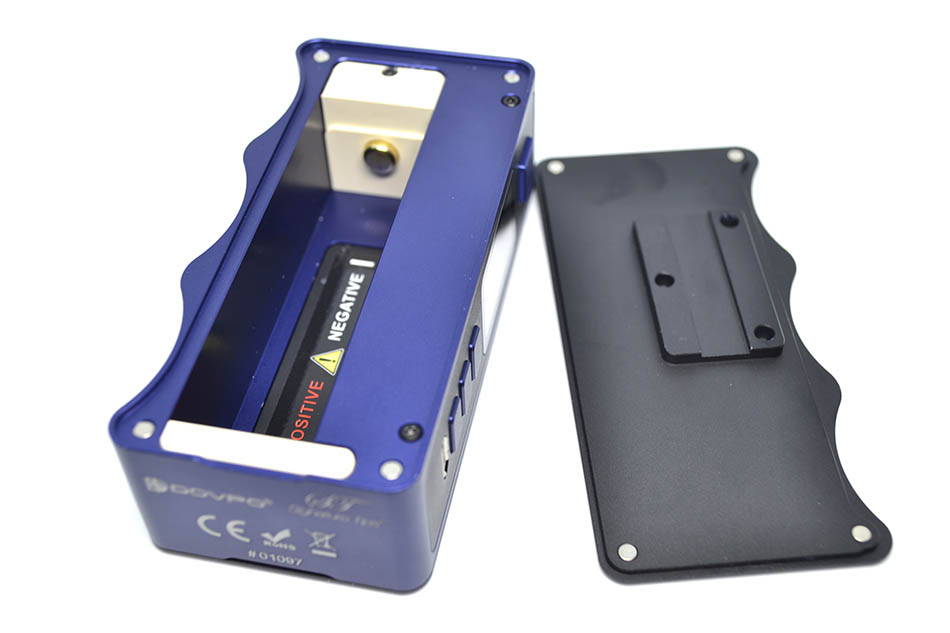 There are the standards and the serial number alone with manufacturer logos at the bottom of the mod. The two panels look classy and modern. They are firmly tightened in place by 4 magnets at each corner. These panels maintain the 18650 battery without a wiggle. There are two thin notches at the top and bottom, allowing you to remove the well-integrated battery panels. To install or replace the battery, the decorative panels must be removed and all of the internals will be exposed. Looking inside the device, you will find an amount of insulation material to protect against short circuits. A sticker indicates the polarity. The positive pole is at the bottom of the device.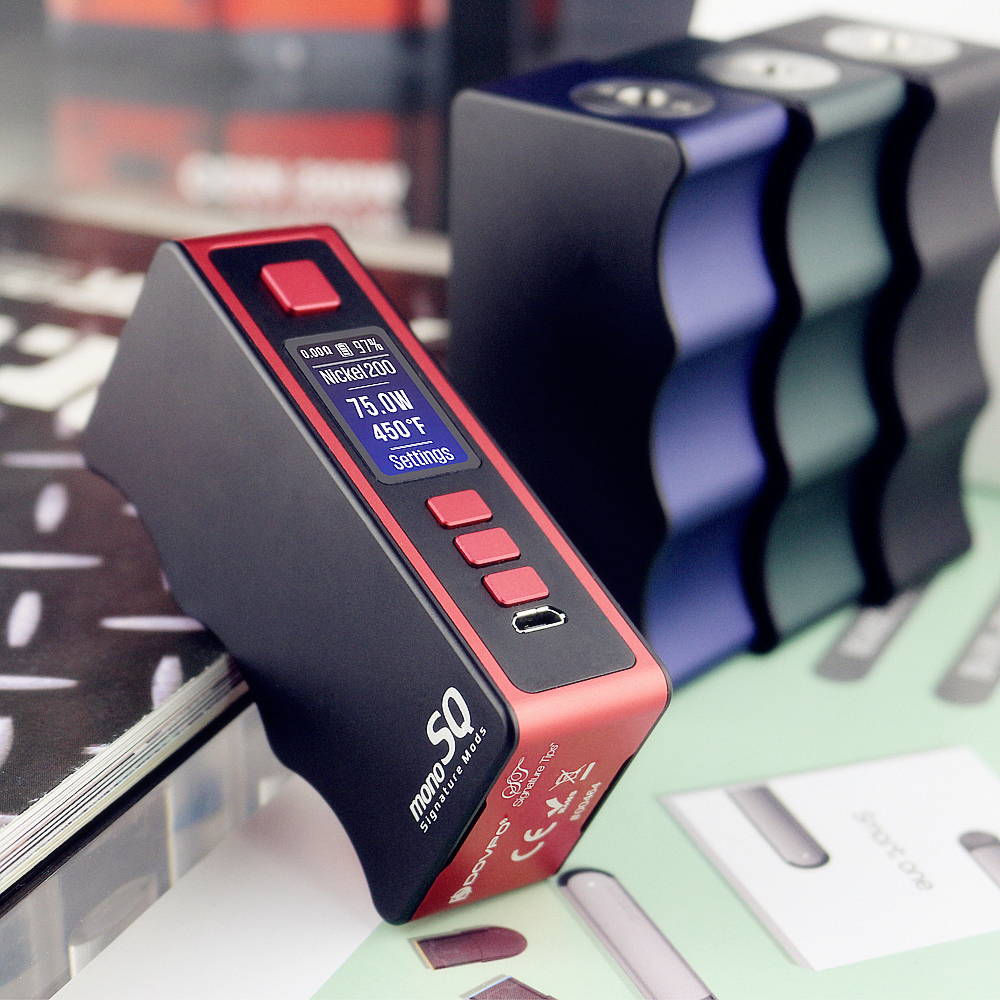 On the top is the gold-plated and spring-loaded 510 connector, which can house up to 27mm diameter atomizer. The 0.96-inch TFT screen is bright and easy to read. The fire button is clicky and responsive. The three-button layout under the screen is convenient to operate. The micro USB port allows for charging and updating via the Evolv software.
---
Dovpo x Signature Mono SQ DNA75C Mod Performance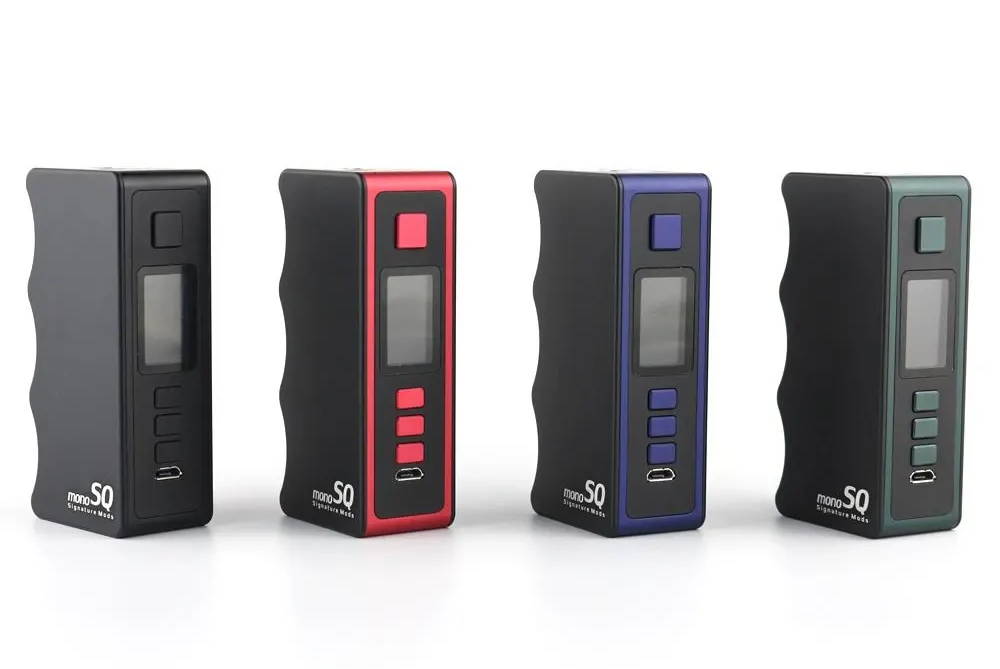 The Dovpo Mono SQ is powered by the DNA75c chip, which ensures a quality vape. There are plenty of customized settings with Evolv / Escribe software such as color, menu, displays, and more. The Mono SQ with a single 18650 battery can fire up to 75W and has the full temperature control options. It is easy to operate. Just use the middle menu button and the two adjustment buttons to select the settings you want.
The battery life is good. You will get around 6h of constant vaping at 30W while at 67W, it will decrease by half. So if you go out, take a spare 18650 battery.
---
Dovpo x Signature Mono SQ DNA75C Mod Review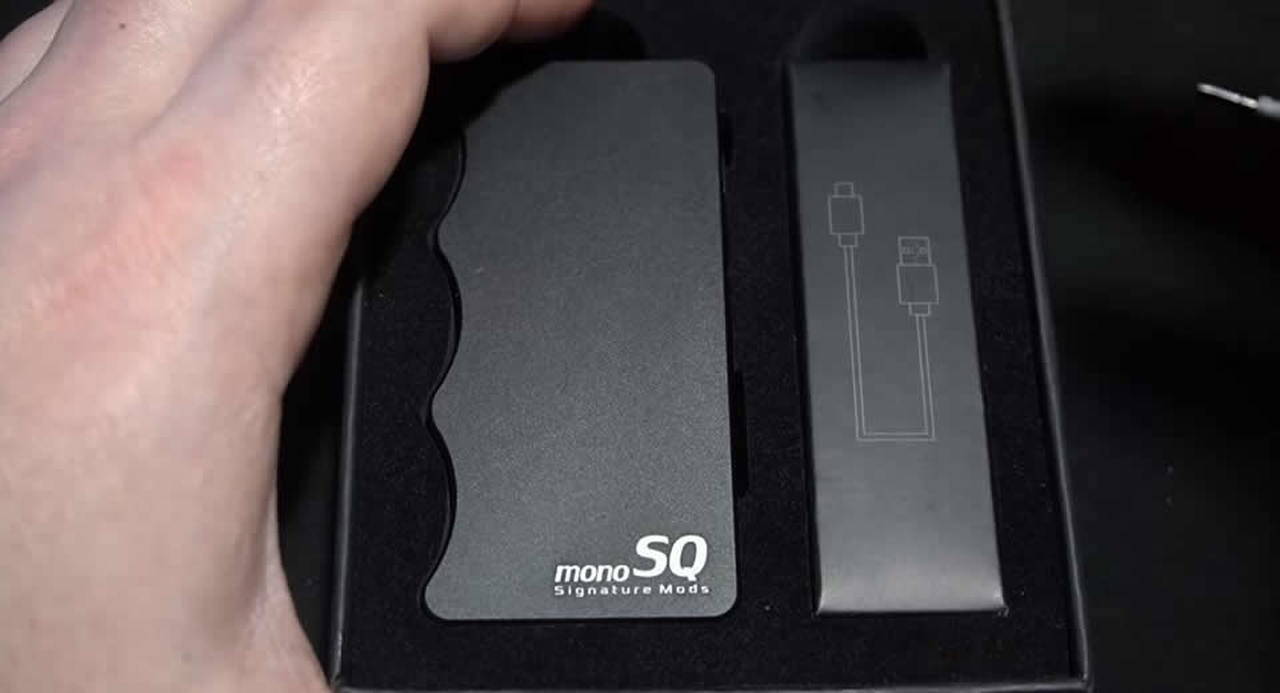 Simply put, the Dovpo Mono SQ mod is a compact and simple device but also has full functions and features that will satisfy your vaping needs. The DNA75C is one of the best in the vape world, which ensures a superb vaping experience. It is not very heavy and looks classy and elegant in hands. The unique curvy design is comfortable between fingers. However, if you enjoy firing by the index finger, you may need to adapt as the fire button has to be pressed only by the thumb. The full protective features ensure safe vape. If you look for a high-end and affordable mod, I will highly recommend the Dovpo Mono SQ. It is really an eye-catching device in 2020!
Pros and Cons of Dovpo x Signature Mono SQ DNA75C Mod:
Pros:
Good build quality

Relatively lightweight

Modern design looks premium

Top-notch paint finish

Affordable high-end mod

Comfortable to hold

Easy to operate

Great internals

Full safety features
Cons: