Author: Alisa Yin / Category: Review / Published: Feb-11-2020
The Dovpo Odin is a DNA250C Box Mod that is made in collaboration with Vaperz Cloud and YouTube vape reviewer Vaping Bogan. Apart from being powered by Evolve DNA250c Chip, the Dovpo Odin DNA250C has many well-liked features. It has a visually striking outer chassis and is powered by dual 21700/20700/18650 batteries with a maximum power output of 200W for smooth and strong throat hit. The extensive control suite provides a satisfying vapor time.
Constructed from durable aluminum-alloy with ergonomic design, the Dovpo Odin DNA250C Mod fits comfortably in your hands. The well-known Evolv DNA250C chipset brings you a superb and unparalleled flavor. You can connect to the Escribe software to set the values for a better user experience. There are also several safety protections such as Reverse polarity protection, Atomizer Protection, Overheat protection for safe vaping. The 0.96-inch screen on the front shows the important data.
Price: £ 129.99 (at NewVaping)
Color: Gunmetal, Black
Dovpo Odin DNA250C Box Mod Specifications
Evolve DNA250C Chipset

Dimensions - 90mm by 51.2mm by 42.8mm

Dual High Amp 20700/21700 Batteries - Sold Separately

Battery Sleeve Wraps - Included

Wattage Output Range: 1-200W

Voltage Output Range: 1-8V

Resistance Range - VW Mode: 0.1-2.0ohms

Resistance Range - TC Mode: 0.08-1.0ohm

Temperature Range: 200°- 600°F

Power Mode

TC Mode

TCR Mode

Nickel, Titanium, and Stainless Steel Wire Composition

Aluminum-Alloy Chassis Construction

Inscribed Firing Button - Skull Design

Two Adjustments Buttons

Mode Selection Button

0.96" OLED Color Display Screen

Hinged Bottom Battery Door

Reverse Polarity Protection

Atomizer Protection

Overheat Protection

Cell by cell monitoring

510 Connection

MicroUSB Cable
Dovpo Odin DNA250C Box Mod Package Contents
1 x Dovpo Odin DNA250C Box Mod

1 x USB Type-C Cable

1 x User Manual
---
Build Quality and Design of Dovpo Odin Box Mod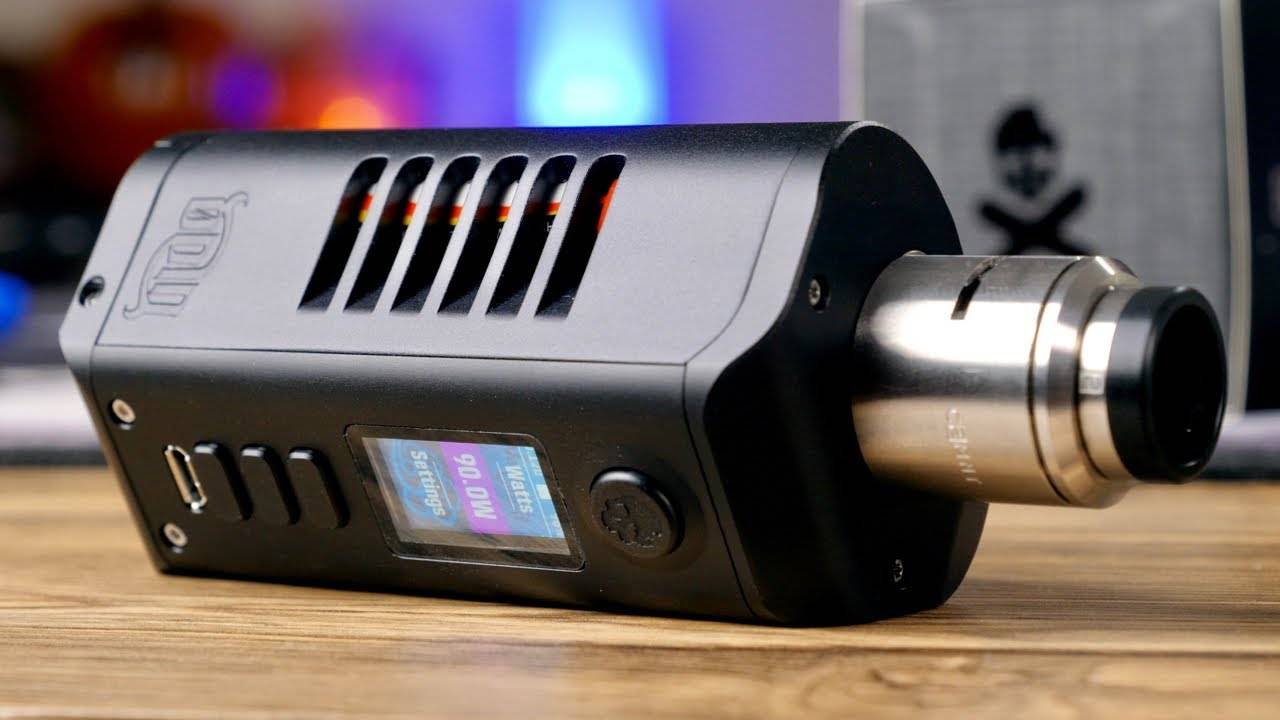 The Dovpo Odin DNA250C Box Mod is constructed from a solid and lightweight aluminum alloy. The chassis of the mod is finished by the matte or brushed finish. There are several cooling fin cut-outs on the sides of the mod for easy grip without accident drops. From the top to bottom, from the hinge to the screw, everything is well-crafted for the highest build quality.
The full-color screen with three buttons is a great improvement for DNA enthusiasts. The airflow holes on the sides of the rounded hexagon frame allow the airflow goes through the whole battery section. So the Odin Box Mod will never get too hot with frequent use.
The dual battery slots at the bottom can accommodate dual 20700 or 21700 batteries. The two large batteries are installed from a hinged locking battery door and sit firmly in the slots. The smart DNA250C chipset is inside the durable chassis, which enables the extensive temperature control suite. It can tailor the nickel, titanium and stainless steel wires for fine-tuned vaping.
---
The DNA250 C (Color) Chipset is a power regulated digital switch-mode DC-DC converter for personal vaporizers. It features the Evolv's patented Wattage Control, Replay Function and Temperature Sensing/Control/Protection, Preheat function, Onboard Buttons, Synchronous Rectification for maximum battery life and minimal heating. The Colorful TFT Screen shows the vaping data of the Dovpo Odin DNA250C Box Mod, such as resistance, battery life, time, etc.
The Evolv DNA250C chip also brings you several safety protections such as Reverse polarity protection, Atomizer Protection, Overheat protection for safe vaping with higher wattage. The Evolv's EScribe 2.0 and Theme Designer software allows you to customize the DNA250C. The Evolv DNA250C Chipset also helps reach up to 98% power efficiency, featuring the individual battery monitor, 2A fast charging speed, temperature sensing and adjustment of TC mode.
---
Dovpo Odin DNA250C Box Mod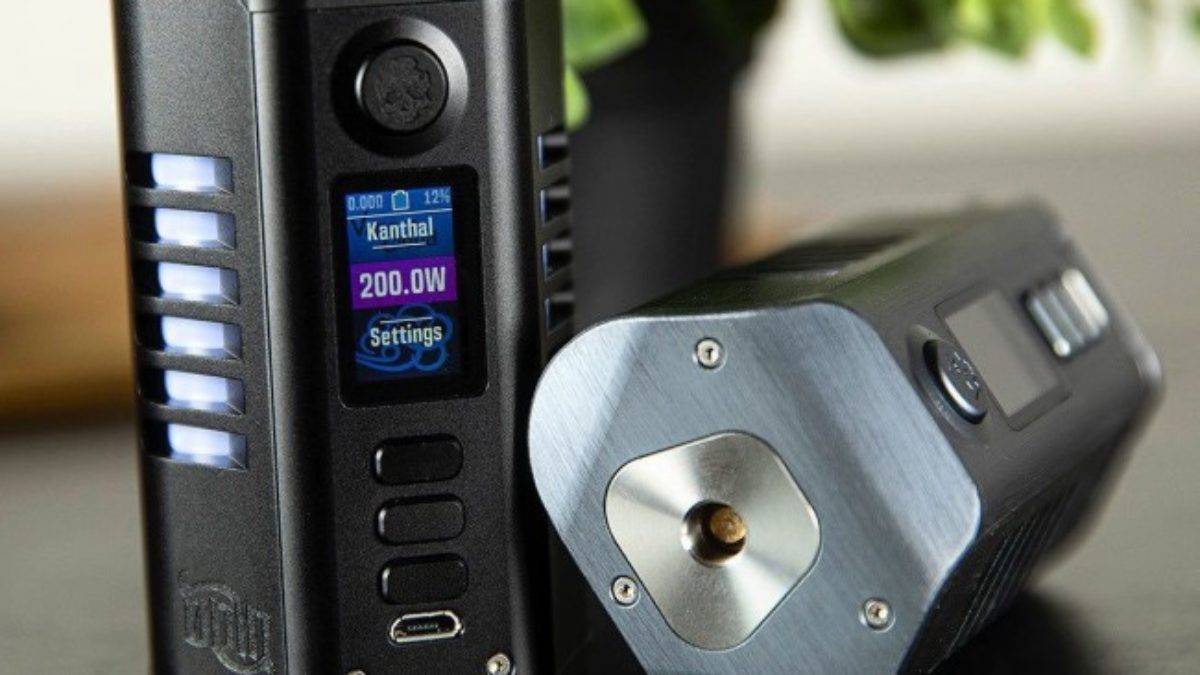 The Dovpo Odin is a bit of a beast of a mod with a hefty and sturdy body. It is a big and visually powerful device that accommodates a larger tank or atomizer, such as SMOK TFV16 for a balanced appearance. Driven by dual 21700 batteries, the Dovpo Odin DNA250C Mod has a maximum output of 200W, which is impressive. You can use other battery sizes if you have a battery adaptor sleeve. Like other DNA250C Box Mod on the market, the Dovpo also decreased the power capacity to ensure the Odin will never struggle at its higher output, and always keep the best performance.
The full-color 0.96-inch screen display allows you to select from the Variable Wattage, Custom Curve and Temperature control modes. There is also a Bogan theme you can choose. The three-button layout is innovative, which is a huge step. The function button allows you to control the deep menu quickly and efficiently.
The DNA250C chipset allows you to set the temperature control on the menu according to your vaping habits, which is the most precise and reliable chipset on the market. The Dovpo will always recognize the coil and adjust itself automatically no matter how you trip it up with various wire and build types.
---
Dovpo Odin DNA250C Box Mod Review
The Dovpo Odin DNA250C Box Mod is precise, comes with many great features and high-end enough to stand out in 2020. It is the collaborative effort between Vaperz Cloud and Vaping Bogan. The dual battery layout of 20700 or 21700 batteries with advanced DNA250C Chipset is powerful and versatile. The world-famous Evolve DNA250c Chip is a hard-wearing chip that can connect with your computer for fine-tuning and theme modifications. Made of high-quality aluminum alloy material, the Dovpo Odin is well-crafted and will be an ideal vape mod for you!
Pros and Cons of Dovpo Odin DNA250C Box Mod:
Pros:
Aluminum alloy material, solid and durable

Ergonomic design, comfortable to grip

Driven by dual batteries, powerful and long-lasting

Utilizes DNA250C Chipset, accurate and precise

Fast ramp-up speed

Multiple safety protections
Cons:
The fire button is too soft, hard to press

The price is relatively expensive