Author: Alisa Yin / Category: Review / Published: May-26-2020
The new Dovpo Odin Mini DNA75C Box Mod is the latest release in the well-known Odin line, which has been a collaboration of designers Vaperz Cloud and YouTube vape reviewer The Vaping Bogan along with Dovpo. The Odin range is one of the most popular box mods in the market with many great features. Powered by a single 21700 battery and the Evolv DNA75C chip, the Odin Mini gives a variable wattage range of 1 - 75W and allows you to upgrade the firmware when updates are released. You will get a Replay mode, temperature control, TCR, and more. The 0.96-inch TFT color screen displays all of your vaping data.
China-based Dovpo has certainly made a massive impact with their high-end box mod including the Topside Dual, Lite, etc. The DNA75C chip from Evolv offers a smooth, strong throat hit and the best flavor each puff. It focuses on user experience that enables you to connect to the Escribe software to tailor the settings to your preference. The Odin Mini is laser-precise, loaded with great features, and high-end enough to stand out. We have reviewed the Odin DNA250C recently so what is the difference about the Mini? Read the review to take a further look!
Price: £ 89.99 (at NewVaping)
Colors: Black, Gunmetal, Red, Silver
Dovpo Odin Mini DNA75C Box Mod Specifications
Dimensions: 36.3mm x 32mm x 90.5mm

Weight: 124 G

Material: Aircraft Aluminum Alloy 6061 T6

Chipset: DNA75C by Evolv

Modes: Wattage, Temperature control, TCR, Varialble Voltage

Wattage Range: 1.0-75.0W

Temperature Control Range: 200 F-600 F / 93 C – 316 C

Replay feature Available

Battery: Single 21700 High-drain Battery Replaceable

Display: 0.96" TFT Color Screen

Charging: On-board 5V/1A Charging

Micro USB port: Available for Upgrading Firmware
Dovpo Odin Mini DNA75C Box Mod Package Contents
1 x Dovpo Odin Mini DNA Mod

1 x USB Cable

1 x Battery Wraps

1 x User Manual
Build Quality and Design of Dovpo Odin Mini DNA75C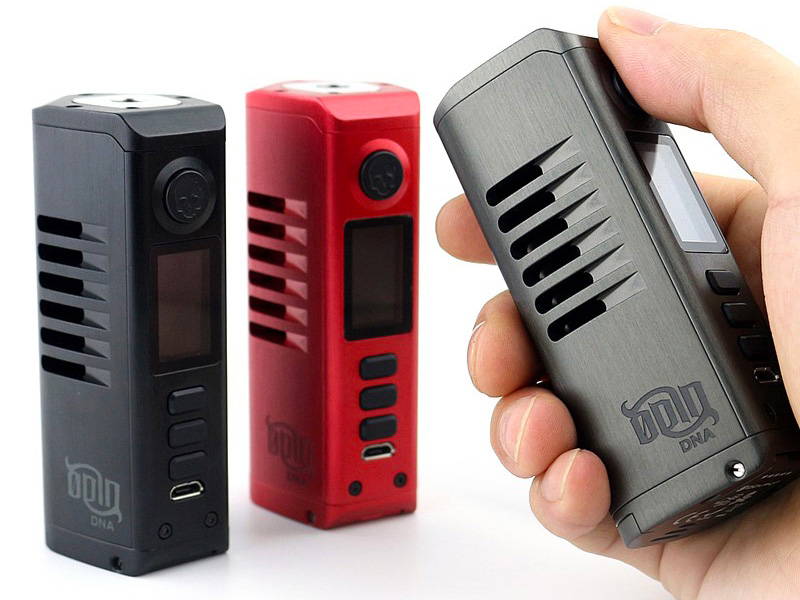 The Dovpo Odin Mini was pretty much what I was expecting. The mini version is a lot smaller and lighter due to a different chipset and using a single battery. This is a simple and more compact version of the original. It stands 36.3mm x 32mm x 90.5mm, which is quite thinner due to the smaller battery compartment, but the outside looks pretty similar to its predecessor. I never felt as if the mod was cumbersome in my hand and I always like the design of DNA-powered vape mods, which looks very stunning and rugged.
Made of aircraft aluminum alloy, the Odin Mini has an ergonomic shape and sleek body that fits your palm comfortably. The chassis with a brushed finish looks premium and prevents fingerprints or wearing. The front-facing panel is tightly fixed by two screws. The ample cooling fin cut-outs on both sides did a great job allowing airflow through the entire battery compartment and adds a grip to prevent accidental falls and drops. The 21700 cell is installed from a hinged locking battery door at the bottom of the mod. The smart DNA75C chipset is housed within chassis for full features and functions.
There is a full-color 0.96-inch screen that is compact, but extremely clear. You can select from different modes and view your vaping data. The classic three-button layout is very easy to operate. The middle function button allows you to navigate the sub-menu quickly and efficiently. The USB port right under the buttons allows for 1A charging and any upgrade via Escribe software. The 510 connector is good and gave me no issues with any atomizers. It can fit a 26 mm atomizer without overhang, with a bit of room to spare.
---
Functions and Features of Dovpo Odin Mini DNA75C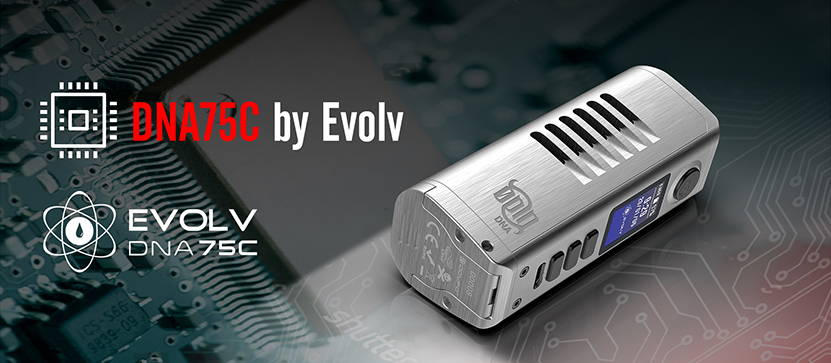 The Dovpo Odin Mini DNA75C driven by a single 21700 battery (not included) maintains top-tier efficiency throughout the experience. The smart DNA75C chipset is one of the most precise, stable chipsets on the market, which ensures fast ramp-up times, longer battery life, and instant draws of flavor and vapor, regardless of how high your wattage is set. It is equipped with an extensive temperature control suite that will deliver satisfying vapor. The Replay feature is the unique selling point of Odin Mini. We will look at the mod itself and go into more detail on what exactly the new Replay function is all about.
Replay Mode of Dovpo Odin Mini DNA75C:
The Replay is a great feature introduced on the DNA75C, which is intended to capture the perfect puff you've had and provide the same level of performance and consistency on all subsequent puffs when using temp control compatible coils.
Although most vapers not bothering with temperature control, the Replay mode does simplify the whole process making it accessible to all levels of vapers. Some experts say you can improve the flavor of your device dramatically by fine-tuning the temperature, which can be quite a bit of tiring until the Replay mode came along.
Quick Start Guide of Dovpo Odin Mini DNA75C:
All of the settings and menu style can be changed by using Evolv Software. We will introduce more about Evolv DNA75C chipset in the next part.
Remove the battery door from the bottom and install a 21700 battery

5 clicks of the fire button to turn on the mod

Use the middle menu button to select modes and features

Use the adjustment buttons to scroll through different options
How to Use the Replay Mode:
Select Replay profile on the mod

Set your desired wattage and fine-tuning to find your perfect vape

Activate the Replay mode to save the power settings

The Odin Mini will replay your perfect puff every time
---
Brief Introduction to Evolv DNA75C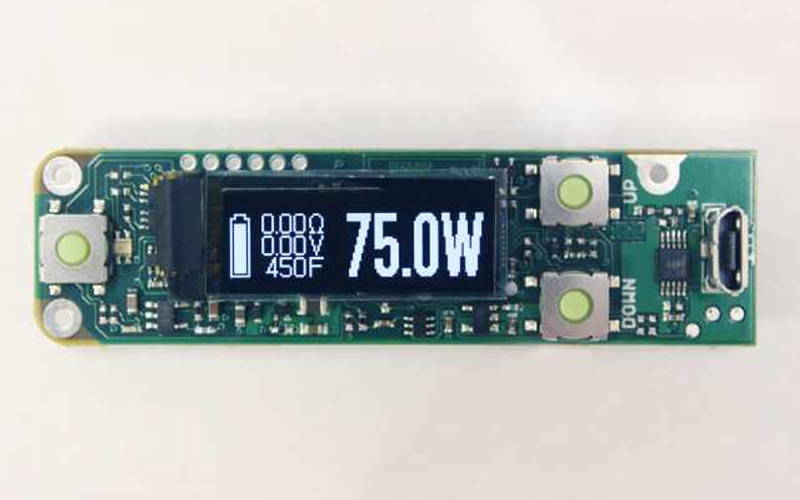 Evolv are one of the largest chip manufacturers on the market when it comes to the vaping industry. A huge number of mods from budget range to high end are powered by the DNA chipset.
The DNA75C is one of the most powerful DNA chips so far. It features the patented Wattage Control, Pending Temperature Protection, Preheat, Digital Controls, OLED Screen, Onboard Buttons and Synchronous Rectification for maximum battery life, and minimal heat generation. The DNA75C reads coil resistance accurately and automatically. The Escribe software allows you to customize the information displayed on the screen and save 8 of your favorite preset settings, which is where the real fun is. Click here to look at the full instructions of Escribe.
Evolv DNA75C Specifications
Output power 1-75w

Output voltage 0.2v-6v

Continuous output current- 30 amps

Instantaneous output current peak- 40 amps

Atomiser resistance (kanthal)- 0.1ohm to 2.0ohm

Atomiser resistance (temperature control)- 0.08ohm- 1ohm

Temperature resistance auto-sensing

Temperature limit range- 200-600F

Custom preheat function

eScribe customisation

Eight different profiles can be saved to the chip

Can be used with a single 18650 battery, dual 18650 battery or single

26650 battery

5 clicks to lock screen

Stealth mode

Power lock

Resistance lock

Atomiser short circuit protection

Low resistance protection

Low battery protection

Overheating protection
---
Dovpo Odin Mini DNA75C Review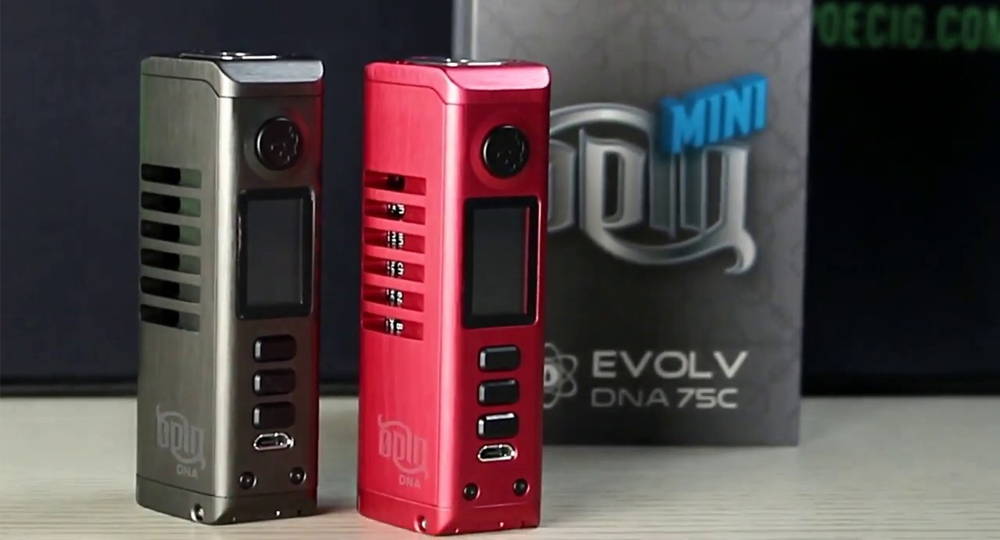 The Dovpo Odin Mini DNA75C Mod is another collaboration created by Dovpo, Vaperz Cloud, and The Vaping Bogan. It is a mini version of the original Odin. I love its single 21700 design, which is easier for a small hand. The aesthetic design continues the classic appearance of DNA-powered mod and the build quality is top-notch. The intelligent DNA75C chipset provides an extensive temperature control suite for a fine-tuned vaping experience. The Replay mode works very well and is a very simple feature that can improve the vaping experience dramatically. It is pricey, so are you planning to buy the Dovpo Odin Mini DNA75C?
Pros and Cons of Dovpo Odin Mini DNA75C Mod:
Pros:
More compact, lighter and thinner

Powered by DNA75C chipset

Ergonomic design with a comfortable grip

Solid build quality

Replay mode is easy to use

Evolv software allows for full customization
Cons:
The battery door is too tight

The buttons are a little bit wiggle