Author: Alisa Yin / Category: Review / Published: Feb-11-2020
The Hellvape GRIMM Pod Kit is an AIO pod system, which is the resulting effort of collaboration between Hellvape, Grimm Green, and Ohm Boy. Hellvape is already well-known for its RDA, RTA and sub-ohm tanks in this industry. The GRIMM Pod Kit integrates a large built-in 1200mAh battery with 5 - 30W power output and a 2ml refillable pod with replaceable coils.
The Hellvape GRIMM Pod Kit offers both variable wattage mode and variable voltage mode to meet your different vaping needs, which is perfect for those who are trying to quit smoking and advanced vapers. The zinc-alloy and PCTG material make the Hellvape GRIMM Pod System shockproof and sturdy.
The 2ml plastic food-grade pod cartridge is clear and darkly tinted, allowing you to view the e-liquid level easily. The is compatible with the Hellvape GRIMM Coil Series. The kit comes with 2 coils - a 0.7ohm mesh coil and a 1.2ohm regular coil in the box combined with adjustable airflow design for MTL and DTL vaping. The sliding top fill system makes refilling a breeze.
Price: £ 33.99 (at NewVaping)
Color: Red Carbon Fiber, Black Carbon Fiber, Blue Carbon Fiber, Purple Carbon Fiber, Rainbow Carbon Fiber, Stainless Steel, Gunmetal, Rainbow, Black,
Hellvape GRIMM Pod Kit Specifications
Dimensions - 93mm by 44.5mm by 19mm

Integrated 1200mAh Rechargeable Battery

Wattage Output Range: 5 - 30W

Voltage Output Range: 0.5 - 4.6V

Resistance Range: 0.7ohm / 1.2ohm

Zinc-Alloy + PCTG Chassis Construction

Single Firing Button

Two Adjustment Buttons

OLED Display Screen

2mL Refillable Pod – Replaceable Coil

Sliding Top Fill System

Hellvape GRIMM Coil Series
Hellvape GRIMM Pod Kit Package Contents
1 x HellVape GRIMM Pod System

1 x 0.7ohm H3-01 Mesh Coil (Pre-installed)

1 x 1.2ohm H3-02 Regular Coil

1 x USB Cable

1 x User Manual
---
Build Quality and Design of Hellvape GRIMM Pod Kit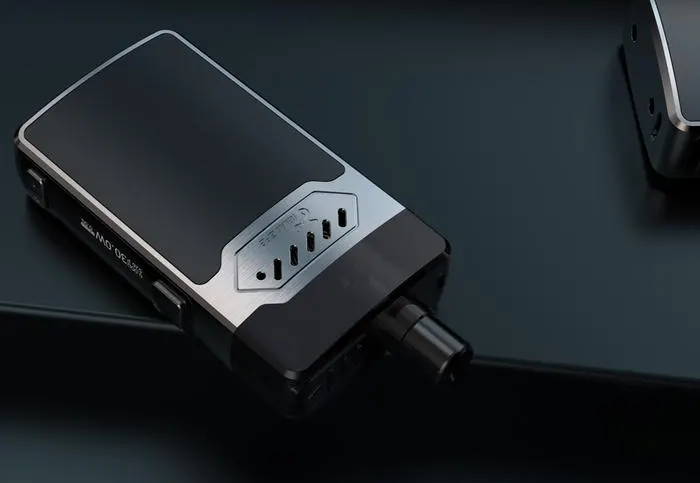 The GRIMM Pod System is a compact and portable vape device. The build quality is nice with a rubberized finish. It measures only 93mm by 44.5mm by 19mm and features a simple rectangular shape with user-friendly patterns on both sides for easy and tactile grip. There are large airflow holes on the front and back. The square fire button is on the top and the rectangular navigational rocker is on the bottom. The small OLED screen display sits on the center of the front side.
The fully visible tinted cartridge with a standard 510 drip tip can hold 2ml maximum e-juice, providing you enough vaping time between every refill when using with nic salt. The mouthpiece is soft-coated and comfortable, fits your lip perfectly.
---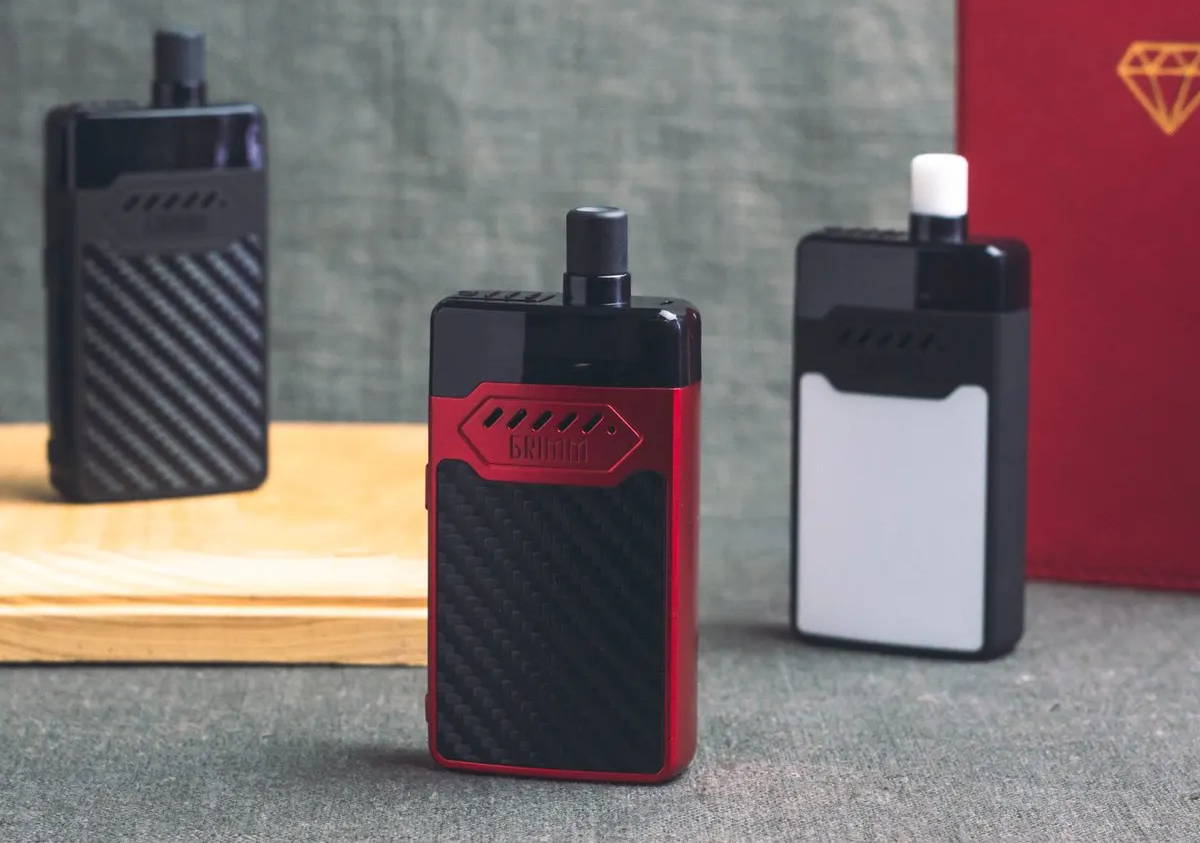 The Hellvape GRIMM Mod is a lightweight but powerful device. The 1200mAh built-in rechargeable battery provides you enough vaping time and can be fully charged over an hour with 1A fast charging via the micro USB port. The Hellvape GRIMM also features several safety protections. The small screen on the side displays the important vaping information such as the coil resistance, puff counter, battery status, current wattage, and voltage.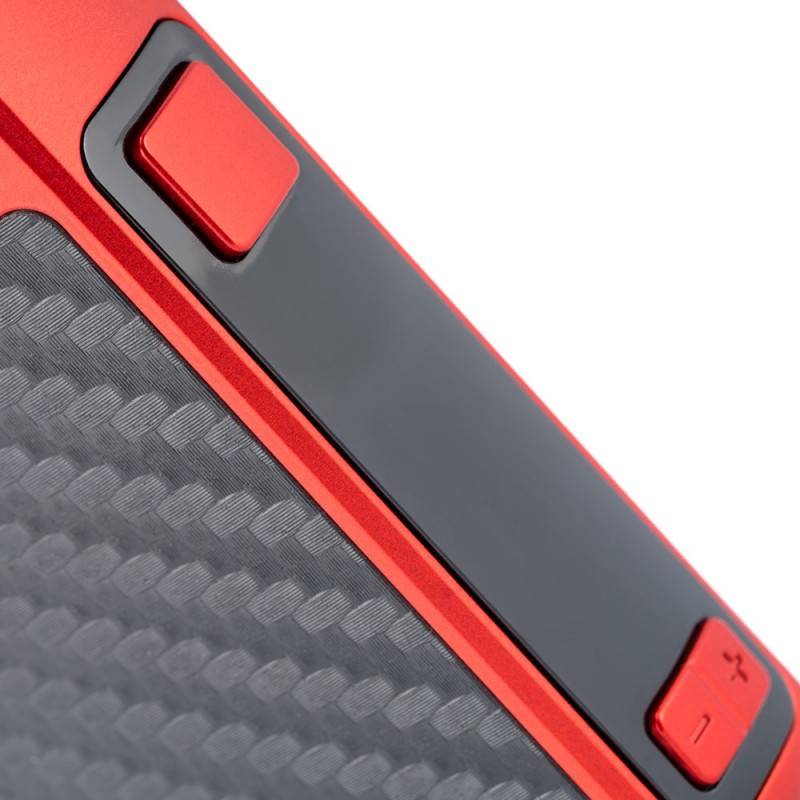 The Hellvape GRIMM features variable wattage and voltage modes and simple operation.
Five clicks of the fire button to turn on or turn off the device




Press the Up button and fire button at the same time to lock or unlock the device

Press the Down button and fire button at the same time to get into the stealth mode

Press the Up button and Down button together to flip the screen

3 clicks of the fire button to switch between variable voltage and variable wattage mode

Both of the wattage and voltage can be adjusted by the navigational rocker in point 1 increments (5 - 30W/0.5 - 6V)
---
Hellvape GRIMM Pods and Coils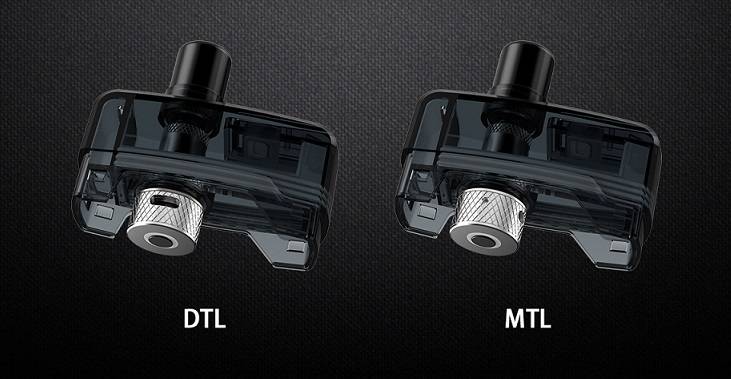 The Hellvape GRIMM Pod Cartridge has a 2ml juice capacity. It is a tinted and visible pod, allowing you to view the juice level. The sliding top fill system is easy to use. You can simply slide to open the filling port and add your desired e-liquid. There are 3 gold-plated and spring-loaded contacts inside the pod bay. The pod cartridge can be easily pushed into the bay with a strong clip snap. There has been no leaking while using.
The Hellvape GRIMM Pod Kit comes with 2 different coils - a 0.7ohm Kanthal mesh coil rated at 22W for DL vaping and a 1.2ohm Kanthal vertical round wire coil rated at 12W for MTL vaping.
The 1.2ohm MTL coil offers an intense and pure flavor. The 0.7ohm coil gives you rich and flavor taste, dense and cloudy vapor production. The sub-ohm coil needs more power from the 1,200mAh battery, resulting in lesser performance than with the higher-resistance coil. So I highly recommend a beginner to use the 1.2ohm coil. Both of the coils are thirsty, you will need to refill the pod regularly.
The base of the coil head has adjustable airflow in the form of dual small airflow holes. If you close down the airflow hoes, you will get a really nice MTL draw. The control ring features a decent tolerance, which is not too tight or too loose for a satisfying vape experience.
---
Hellvape GRIMM Pod Kit Review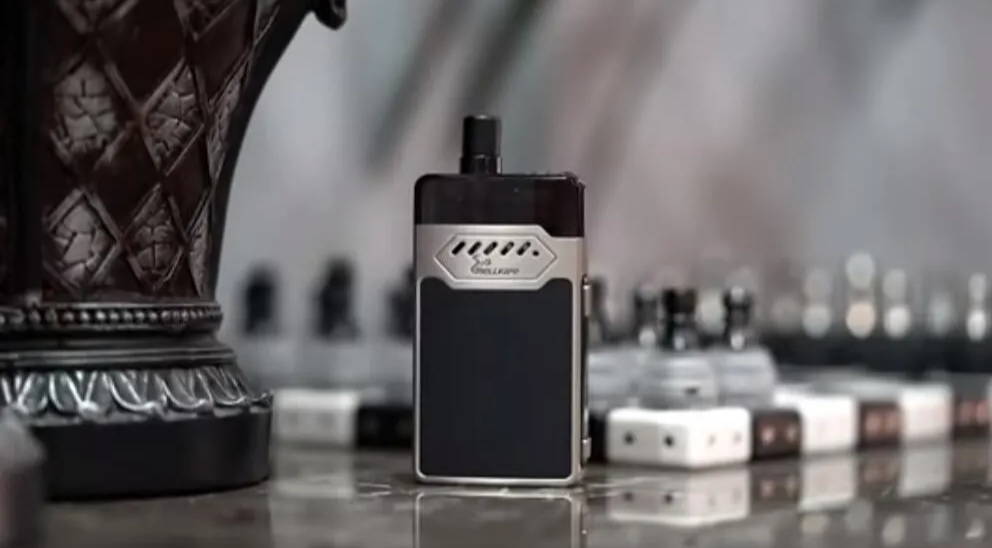 The Hellvape GRIMM is a compact and versatile pod system. It features a large 1200mAh internal rechargeable battery and fires at 5 - 30W. With advanced chipset, the GRIMM can fire instantly.
Paired with 2 different replaceable coils, the Hellvape GRIMM offers you different vaping experience. You will get a relatively restrictive DL draw or a looser MTL draw. It also has a separate MTL airflow slot to bring you a tighter draw, which is similar to a real cigarette. The Hellvape GRIMM Pod Kit is a true MTL and restricted DL vape Kit, that deliver both MTL and DL vaping at best. There are a few vape kits on the market claim both MTL and DL but very few actually offer and only deliver a loose MTL vaping at best.
The variable wattage and variable voltage modes with the adjustable airflow work really well. The 0.7ohm coil is perfect for a restricted DL vape but works also well when closing the airflow slightly for a loose MTL vape. The 1.2ohm coil with small airflow brings a cigarette-like draw, ideal for those who are switching from smoking to vaping.
Pros and Cons of Hellvape GRIMM Pod Kit:
Pros:
Good build quality, sturdy zinc-alloy, and PCTG materials

Top-fill system for easy refill

Replaceable MTL and DL coils are provided

Adjustable airflow for MTL and DTL vape

The screen display shows the vaping information

Adjustable voltage and wattage

Fire instantly

Amazing flavor with massive cloud

Good coil performance and longevity

Supports pass-through

Multiple safety features
Cons:
A larger pod capacity will be nice

The profile design is not attractive