Author: Alisa Yin / Category: Review / Published: May-15-2020
The Innokin I.O. is a very small and tiny pod mod, which is meant for users hankering for a lightweight and convenient pod-style device. It is marketed as being a small but mighty little kit and Innokin claimed that this device with pod is the same size as a cigarette for ultimate portability. The finger-sized dimension makes it invisible in your pocket or purse.
Innokin as a manufacturer covers every base when it comes to vaping products. We've reviewed a whole host of Innokin kits which I really enjoyed including the Podin, MVP5 AJAX, Kroma R, Adept Zlide, and Endura T18 II. They are awesome and fantastic.
To be a tiny pod kit there are obviously some sacrifices in functions and features. The I.O. kit is designed for a stealthy vape. The built-in battery capacity is only 310mAh with a USB port. The pod cartridge holds 0.8ml of e-liquid and comes with fixed coils. When the coil is expiry, you have to replace the whole pod. Despite its small size, it provides a decent throat hit and vapor which I really loved. The draw-activated mechanism allows you to inhale directly on the mouthpiece to take a draw. It is a great device for smokers or novices, who want to quit smoking or find their first vape. It is like a tenner for 20 ciggies and even cheaper than a pack of cigarettes!
So is this the simple but mighty little vape that is promised? Let's view the Innokin I.O. review that will help you to take further decisions.
Innokin I.O. Pod Kit Specifications
Size: 87.45 x 13.9 x 8mm

Capacity: 0.8ml

Battery: Built-in 310mAh

Coil: 1.4ohm Kanthal Coil; 1.4ohm Ceramic Coil

On/Off: Puff Activated
Innokin I.O. Pod Kit Package Contents
1 x Innokin I.O. Pod Battery

1 x Innokin I.O. Cartridge

1 x Micro USB Charging Cable

1 x User Manual
---
Build Quality and Design of Innokin I.O. Pod Kit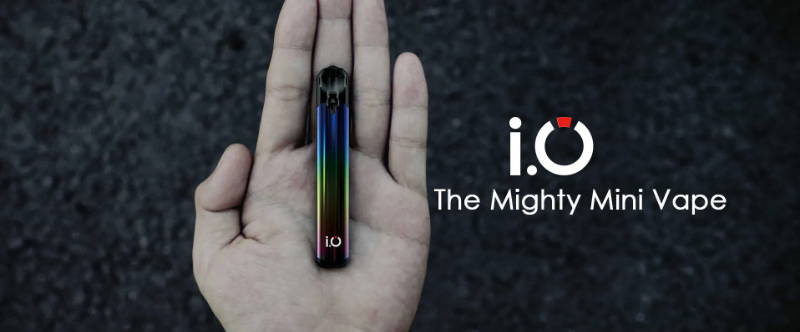 The Innokin I.O. is a very tiny and compact vaping device for beginners. It is extremely lightweight but doesn't look cheap. The stainless steel provides a metallic construction with a sleek and mirror-like finish. It is solid and can endure a rough place and a few drops during travel. The size and weight make it very convenient to take anywhere. The ergonomic design makes it fit comfortably between the fingers. You can hold it in your mouth like a cigarette.
The battery is only 310mAh due to a small size, which is charged via a USB charging port at the base of the device. The logos of I.O. and Innokin are printed on the front and back of the mod respectively. The LED indicator is on the front of the device. There is a small dimple used to fix the pod. The hole on both sides is for airflow. The overall build quality is good. There is no wobbly or waggle. Since the vape is very small, you may need to keep a good eye on it to prevent accidental loss or wash.
---
Functions and Features of Innokin I.O.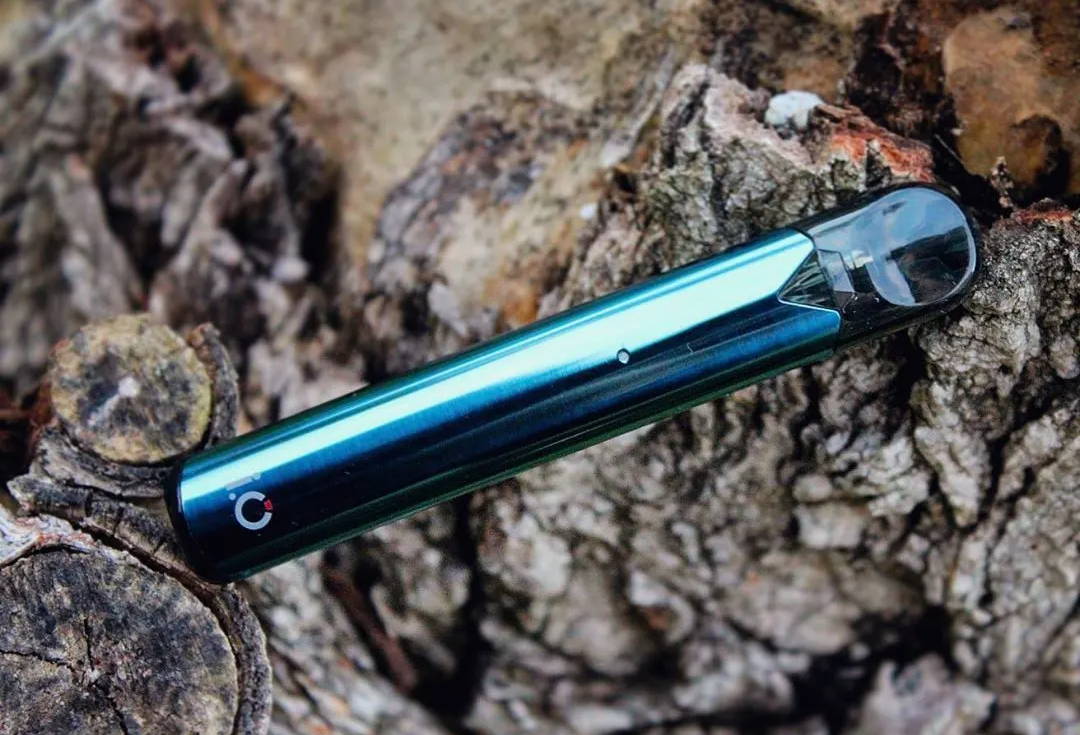 The Innokin I.O. mod houses a small 310mAh built-in battery. Since the device is super simple and straightforward, it works pretty well and can last several hours. It can be fully charged under 1 hour via a USB port and only accepts a five-volt wall charger. The LED light on the front indicates the battery status. It will flash ten times if the device is going to run out of power.
There are no buttons or controls. Just take a puff on the mouthpiece to activate the mod. The LED light will glow when a puff is taken. The various safety features ensure a safe vape.
How to Charge the Innokin I.O. Pod Kit:
Use the included USB cable and put the small end into the USB port of the mod

Put the large end into a USB outlet

The LED indicator will illuminate during charging and will go off when fully charged
---
Innokin I.O. Pods and Coils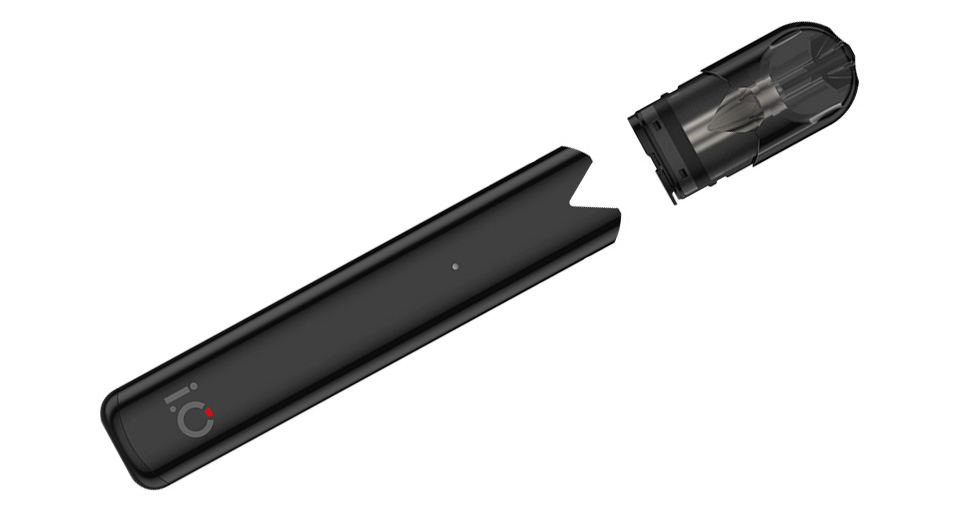 The kit comes with two different refillable pods, allowing you to use with regular freebase vape juice, CBD, and nic salt. The coil is pre-installed and non-replaceable. The color of the rubber plug at the bottom of the pods differentiates them. The pods are lightly dark-tinted, you can easily view the juice level in a bright place.
These pods held onto the battery with a tight fit holds 0.8ml of e-liquid. The filling plug is very tight and the filling port is very small. The kit comes with a short tip adapter with a funnel to help you fill vape juice without a mess. But I found it was hard to fill e-liquid evenly. I cannot tilt or shake the pod to get both sides to fill. There is no place for the air to escape when filling so the filling can be a bit messy even with the nozzle adaptors.
Both of the 1.4ohm kanthal pod and 1.4ohm ceramic pod work on 5.5W to 8.5W of power. When the coils are expiry, the pods have to be discarded. When the flavor and cloud start to decrease, it is time to replace the pod. Each pod generally can last around 200 puffs with moderate use.
Innokin I.O. Pod Kit Performance:
The 1.4ohm Kanthal Wire Pod (black plug) brings a strong throat hit and lovely taste. The airflow is very tight. Sadly, the e-liquid is hard to move across the pod even lying down. That means you will get a dry hit easily.
The 1.4ohm Ceramic Pod (green plug) delivers a smoother and more muted flavor than the Kanthal pod. The flavor and throat hit is good. But the e-liquid is still not evenly distributed around the pod. You may get a dry hit, which is annoying.
---
Innokin I.O. Pod Kit Review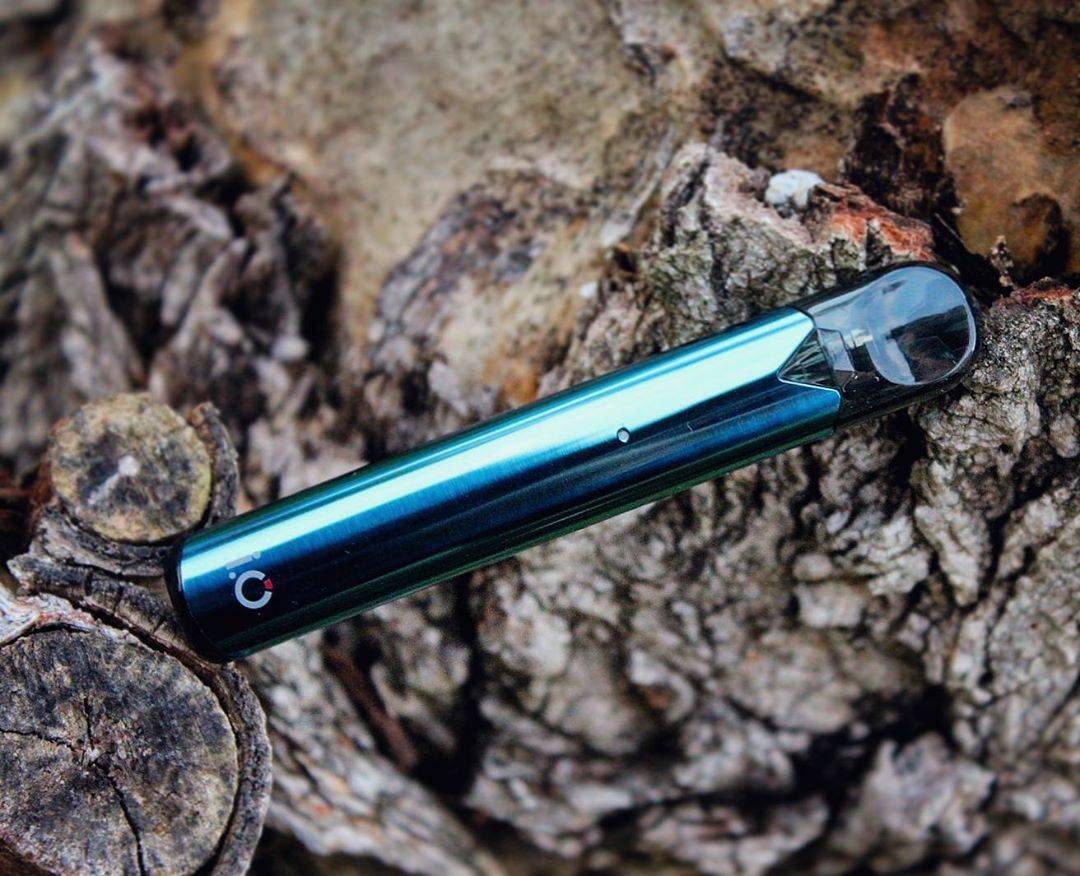 The Innokin I.O. Pod Kit is a small and discreet device. It is slim, stylish, and surprisingly durable with stainless steel chassis. It fits your palm perfectly and is extremely easy to take anywhere. The I.O. kit simply integrates a 310mAh built-in battery and a 0.8ml refillable pod for using with freebase e-liquid, CBD, and nic salt. The draw-activated mechanism with a button-free design is pretty straightforward and easy. The two disposable pods work well with intense flavor and a strong throat hit.
It is suitable for those ex-smokers who are switching from smoking to vaping or vapers who want an ultra-portable and simple MTL device for travel use. The refillable pod provides various e-liquid choices. But the filling mechanism works not very well. Leave the comment below and let me know your thoughts about the Innokin I.O.!
Pros and Cons of Innokin I.O. Pod Kit:
Pros:
Slim and stylish

Durable stainless steel construction

Ultra-portable and lightweight

Hold in the mouth like a cigarette

Feels comfortable in hands

Decent flavor and throat hit

Comes with two pods

Easy auto-draw mechanism

Extremely easy to operate
Cons:
Only one fill port, uneven filling

Non-replaceable coil, not eco-friendly

Airlocks in the pod can cause dry hits