Author: Alisa Yin / Category: Review / Published: May-09-2020
Lost Vape recently released the latest version of their DNA250C Mod range, which is strictly limited to 7777 units. The new Centaurus DNA250C is a successor to the previous Paranormal DNA250C, which had a lot of success and has been discontinued. It's a bit of a beast of a mod, loaded with full features and high-end enough to stand out. The DNA250C chipset is one of the most anticipated releases ever to hit vaping and has been widely discussed in the vape world. But in 2020, is the same chipset and user experience from 2018 enough to justify the high price tag?
The Centaurus DNA250C maintains a visually striking chassis of its predecessors with a thoughtful balance between design aesthetics and ergonomic shape. As the name suggests the Centaurus has the DNA250C board inside, which allows for limitless configurations using ESCRIBE software and is equipped with the extended output range for temperature control that will deliver satisfying vapor. It's is a great kit for DNA enthusiasts. Read the review to take a detailed look, and consider if you want to get a powerful box mod like this.
Price: £ 169.99 (at NewVaping)
Colors: Black Ostrich Tactile Carbon Fiber, Gunmetal Pearl Fish Tactile Carbon Fiber, SS Cowhide Carbon Fiber, Black Ostrich Chopped Carbon Fiber, Black Crocodile Stabwood, Gunmetal Pearl Fish Stabwood, SS Cowhide Stabwood
Lost Vape Centaurus DNA250C Mod Specification
Size: 91x 55x 26mm

Output power: 200W Max

Thread: 510 connection

Chipset: Evolv DNA 250C

Modes: Power/ TC/ TCR/ Bypass

Material: Stainless steel+leather

Display: Color 0.91 inch TFT display

Battery: 2 x 18650 batteries (not included)
Lost Vape Centaurus DNA250C Mod Package Contents
1 x Lost Vape Centaurus DNA 250C Mod

1 x USB adapter (Powerbank)

1 x USB cable
---
Build Quality and Design of Lost Vape Centaurus DNA250C
The Centaurus was a stunningly designed mod, which comes with 7 colors in 2 ranges - a carbon fiber range and the limited edition stabwood range. The Centaurus hasn't changed at all at first glance, aside from the panel design. It's firmly squared and made of sturdy stainless steel, which can withstand a few drops without scratching. The combination of a brushed silver metal frame, replacement panels, and genuine leather section always a winning formula, which is smooth and soft-touch with accurate craftsmanship.
It stands at 91mm x 55mm x 26mm and sits nicely in your palm. The proper height and width make it comfortable in either a thumb or trigger-style fire grip. The dual 18650 batteries are installed through the sliding hinged battery cap at the base of the device. The three-button layout control scheme follows the Paranormal, which is widely used for DNA250C mod. The round and large fire button is clicky and responsive. The 0.96-inch TFT screen is bright and legible that displays the important vaping data. Everything just fits wonderfully without redundance. The build quality is great and the machining is top-notch. There are no rattles, shakes, or rolls.
---
Lost Vape Centaurus DNA250C Mod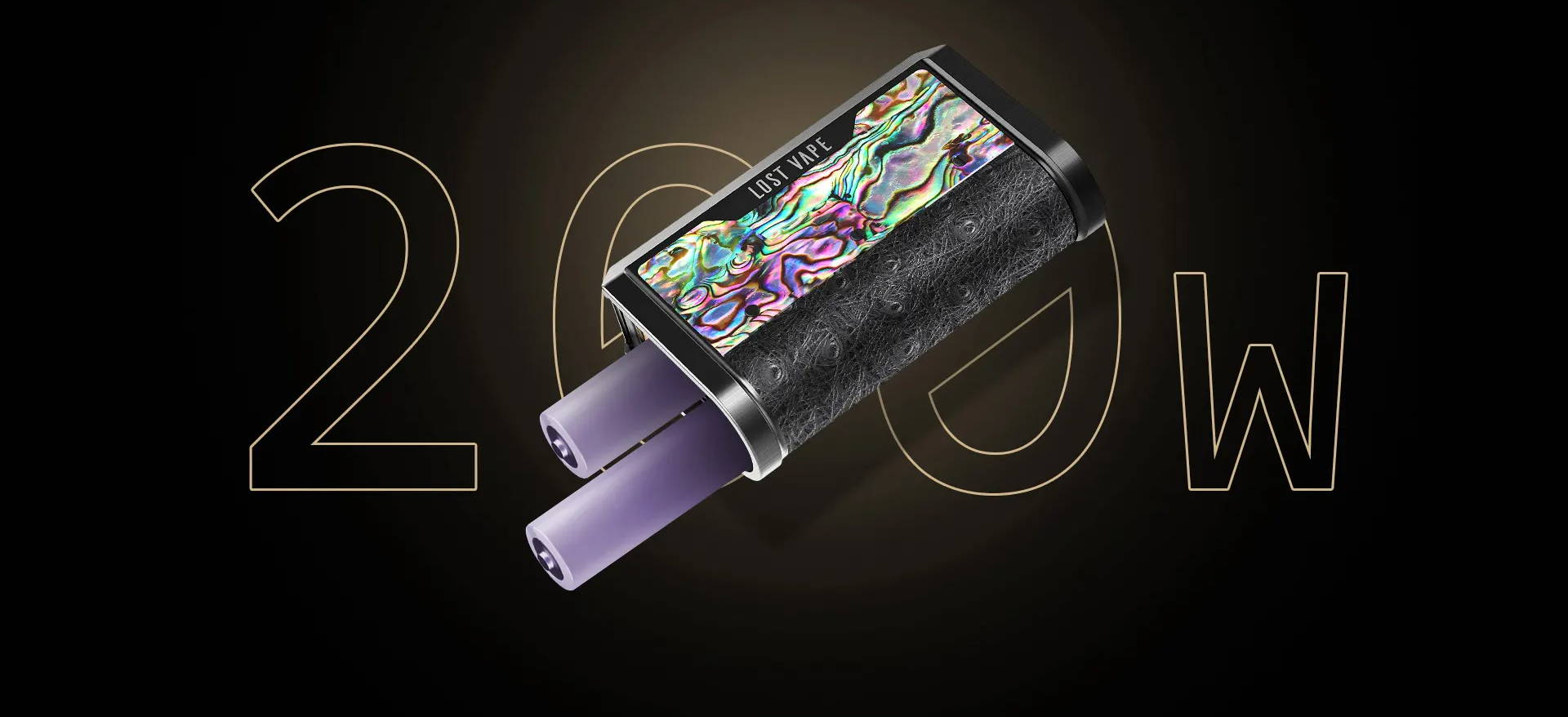 The Lost Vape Centaurus is a fully functional mod coupled with the latest chipset from Evolv, the DNA250C. It boasts features such as a precise Wattage Control, Temperature Sensing/Control/Protection, a Replay Mode, a Boost Mode, a Preheat function, USB on the go, a 200W maximum power output and the Onboard Programmable Multicolor LED. The DNA250C also achieved individual cell monitoring, 2A fast charging, and laser-precise customization and control that DNA fans have come to expect. You can upgrade the firmware through your PC or Mac using the Escribe software.
The 0.96-inch TFT screen offers much higher accessibility to otherwise difficult DNA operations. It displays pertinent information clearly and allows you to view all operations and adjustments of your vape. The three-button layout allows you to easily select and adjust on the mod. The third button called the Function button navigates the sub-menu quickly and efficiently. The 98% power efficiency leads to much more vaping time even with consistent high wattage output. It provides nearly seven hours of stable output at mid-wattage before a low-battery warning.
---
Cool Features of Lost Vape Centaurus DNA250C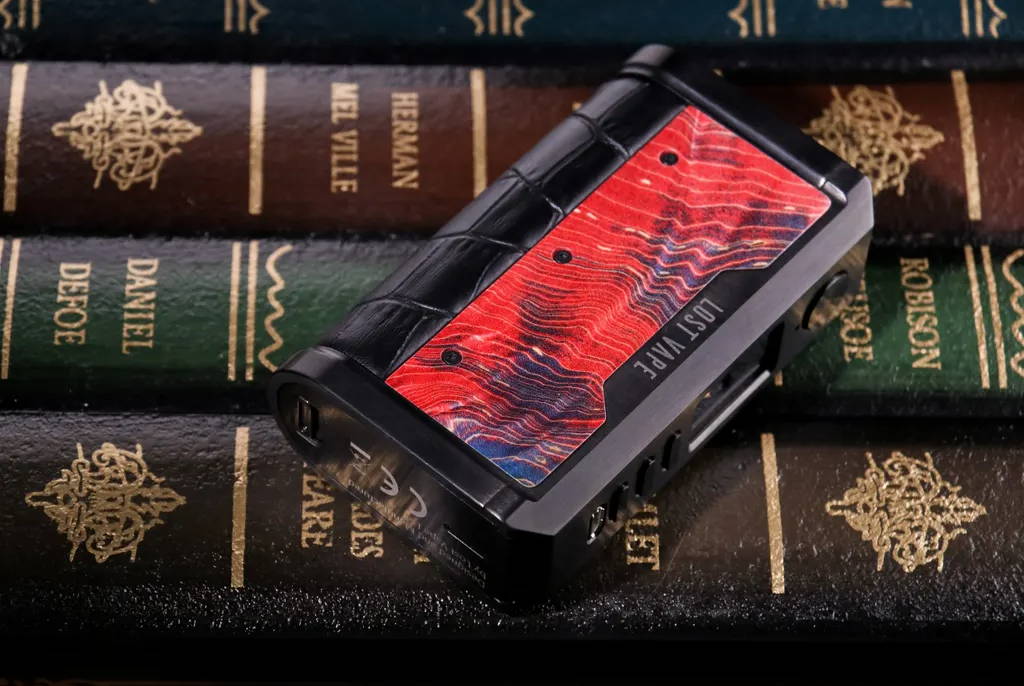 The Centaurus DNA250C is actual the same as the Lost Vape Paranormal DNA250C. The Replay Mode and Boost Mode are still important selling points. In addition, it also has some cool features. Here I will introduce its main features and offer a start guide to help you quickly set up your device.
The Replay mode allows you to find then save and replay the perfect puff you have had when using temperature control compatible coils. You can try different wattage, temperatures, and boost levels to find your best combination. The Reply mode will record your preferred settings and deliver the perfect hit precisely every time you vape, which greatly simplifies the whole process of temperature control.
The DNA250C allows for a mix of metals in the coil can fire from 200 to 600 degrees Fahrenheit, here is a full list:
Nickel 200, SS, Titanium individually

Combinations of temp-sensing coils (Ti wrap with SS)

Combinations of temp-sensing & non-sensing coils (Kanthal wrap with Ti)
The DNA250C can shut down a dry coil to prevent any dry hits and burning. You can adjust the temperature and wattage to find the sweet spot for your e-liquid. A fine-tune will improve the flavor dramatically. With the Replay mode, you don't need to tinker within the menu system. Just find your perfect settings and lock it in!
The Boost Mode bumps up the power delivery and the ramp-up time to reach your desired power out instantly. It is perfect to use with the coils that require a huge amount of power to heat up quickly. You will get your first hit much rapidly at full strength.
The Centaurus DNA250C with dual 18650 batteries can also work as an emergency power bank if your mobile devices run out of power.
Quick Start Guide of Lost Vape Centaurus DNA250C:
All of the settings can be changed by Escribe Software.

Install 2pcs 18650 batteries from the bottom. Click

here

to learn how to pick 18650 batteries

Five clicks of the fire button to turn on the device. The screen will display battery life, resistance, wattage, and other settings.

Use the Up and Down buttons to cycle through the menu and scroll through different options. Use the middle Function button to select the feature
Lost Vape Centaurus DNA250C Mod Review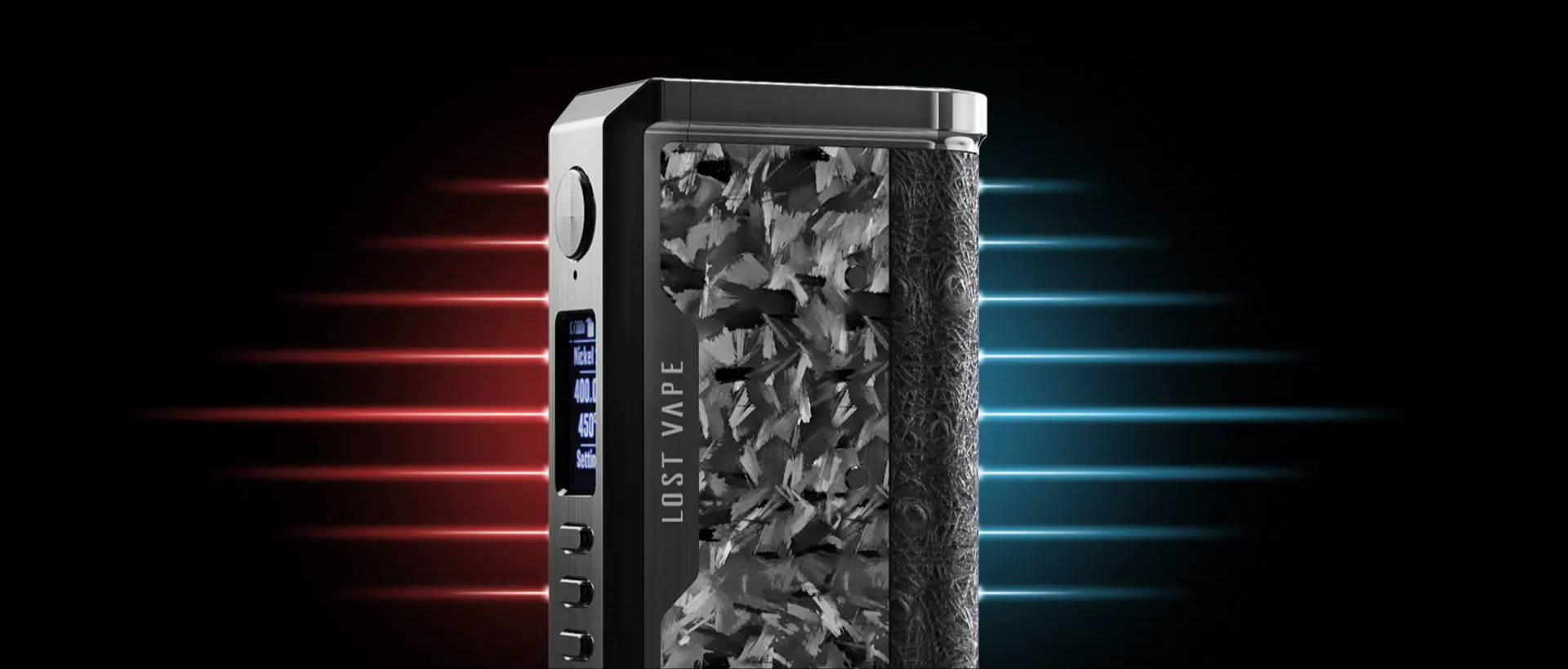 The Lost Vape Centaurus DNA250C box mod is certainly one of the best mods on the market. The aesthetics design continues the Paranormal, which is very rugged and comfortable to hold. The build quality is superb and the finish is exquisite. The replacement panels allows you to customize your device.
Driven by dual 18650 batteries, it can fire from 1W to 200W. The menu system is thoughtfully developed even a beginner can operate it easily. The Replay mode offers you a perfect hit every time. The temperature control is very precise and easy to use. If you don't mind the heavy weight and a bit bulky design that can be expected for a dual-battery mod, the Centaurus DNA250C will be a great mod that should add to your collection.
Pros and Cons of Lost Vape Centaurus DNA250C
Pros:
Good build quality

Advanced DNA250C chipset that integrates a lot of modes and features

Convenient Reply mode and impressive Boost mode

Extensive temperature control suite

Can be used as a power bank

Performs very well

98% power efficiency, long battery life

200W maximum output

Upgrades by Evolv software
Cons: