Nevoks has been developing rapidly since its establishment in March 2019 in Shenzhen, integrating research, development, manufacturing, and marketing. The brand Nevoks is characterized by "Young, Innovation and hearty service", and it regards "forging others' attainment, leading a healthy lifestyle" as its rational value. Nevoks wants to make a better vaping life for vapers. Nevoks never stops, this is also the meaning of the brand itself. Today we are going to take a look at the latest vape product from Nevoks - Nevoks Feelin X Pod Vape Kit.
---

Nevoks Feelin X Pod Vape kit has a similar appearance to its predecessor - Nevoks Feelin Mini Pod Vape kit. However, the similarity between the Nevoks Feelin X and the Nevoks Feelin Mini is only in appearance. They differ a lot in features, functions, and of course prices. It is a lightweight vape device which weights about 61.5g, which means it won't be too bulky to throw it in your pocket, Nevoks Feelin X is compact for daily carry and pocket-firendly. And the Nevoks Feelin X features a pure transparent pod which is convenient for users to know the remaining e-liquid to prevent a burnt coil. What's more, the mouthpiece is made from TPE material, Thermo Plastic Elastomers it is, and it does a good job in distributing heat more evenly to prevent your lips from being burnt. The surface of the Nevoks Feelin X offers a smooth matte texture and comfortable grip. There are 7 colours to choose from, and 2 of them are gradient: Rose Pink and Ocean Blue, the rest are unicolour: Gray, Red, Green, Blue and Black. No doubt the gradient colours offer a more ornamental value for users.
---
Size: 109mm*30.6mm*20mm

Weight: 61.5g

1600mAh built-in large capacity battery

2ml pod capacity(TPD version)

Coil resistance: SPL-10 coils(0.3ohm, 0.4ohm, 0.6ohm, 0.8ohm, 1.0ohm)

Output: 5W-40W

Voltage: 3.3V-4.2V

Type-C Fast Charging

Adjustable Airflow

Portableand suitable grip

Auto-draw/ Firing button

MTL or DTL vaping experience

Pod material: PCTG

Mouthpiece material: TPE
Nevoks created an upgraded version of Feelin from appearance, high-quality built, and excellent performance to achieve self-transcendence, after improvement and optimization. Thanks to the variable wattage(5W-40W) and adjustable airflow features, Nevoks Feelin X brings us both MTL and DTL vaping styles. The upgraded battery capacity of 1600mAh not only allows for a higher output but also prolongs the time of use, and the TYPE-C charging port offers a quick charge that approximately 50 mins to fully charge the battery. The Nevoks Feelin X pod is side-refill so you can easily refill the pod without any mess, it is compatible with all SPL-10 coils(0.3ohm, 0.4ohm, 0.6ohm, 0.8ohm, 1.0ohm), and as mentioned above, the Nevoks Feelin X pod is transparent for a clear view of current e-liquid remaining. The device material and pod material are accordingly made from PCTG and TPE, making it rather comfortable to hold and cosy to use. With the dual activation mechanism - draw activation and button firing, you can enjoy a more convenient and flexible vaping experience. It is worth noting that 50/50 e-liquid and high VG e-liquid are recommended to use with Nevoks Feelin X Pod Vape kit, if you like MTL vaping, choose a higher resistance coil and 50/50 e-liquid; if you want to chase a big cloud and warm vapour, choose a sub-ohm coil and high VG e-liquid, there is no limit for you, so you should make your choice.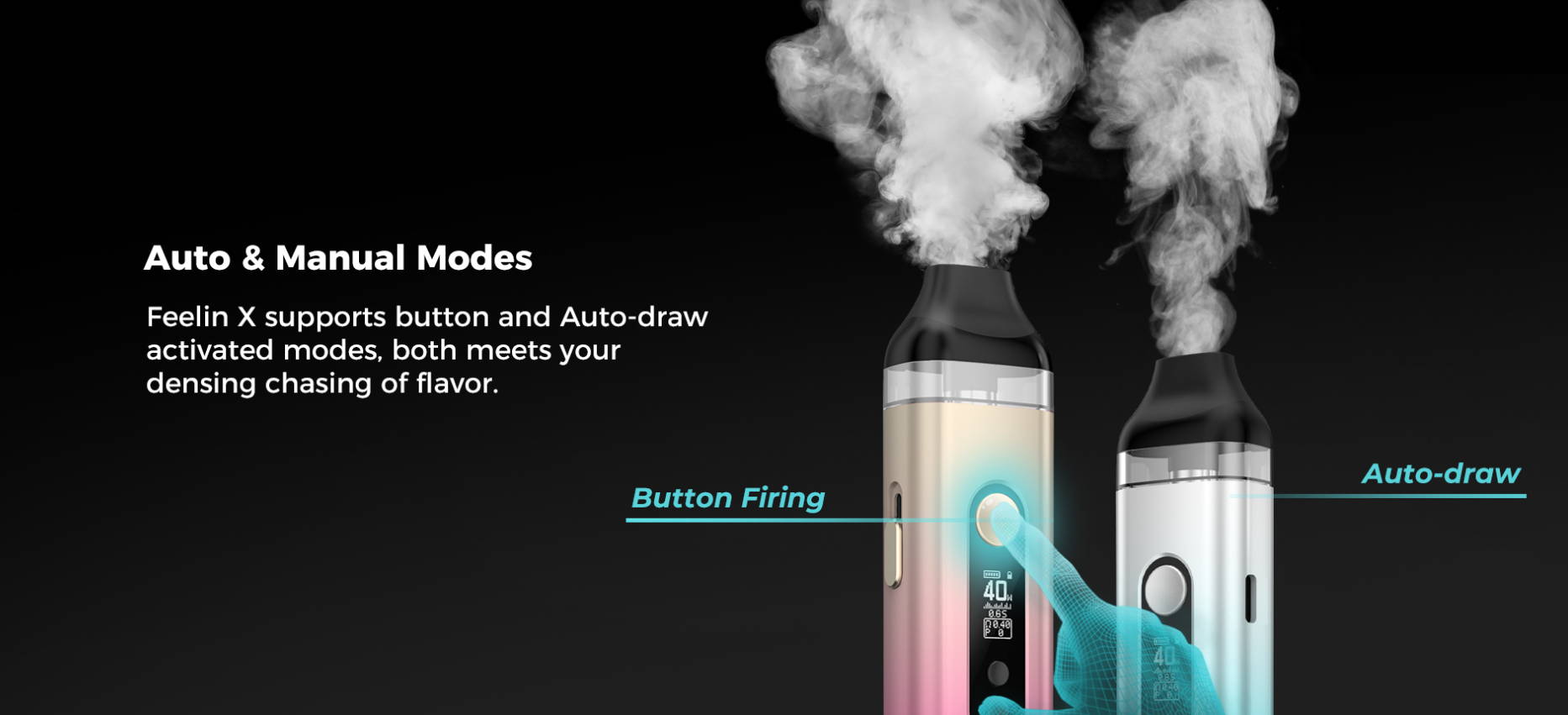 ---
Nevoks iterates the Feelin series by upgrading the following parameters and creates the Nevoks Feelin X Pod:
Upgraded Wattage Adjustable

Upgraded 5ml Capacity(2ml for TPD version)

Upgraded Airflow Adjustable

Upgraded Battery Capacity

Upgraded Coil Technology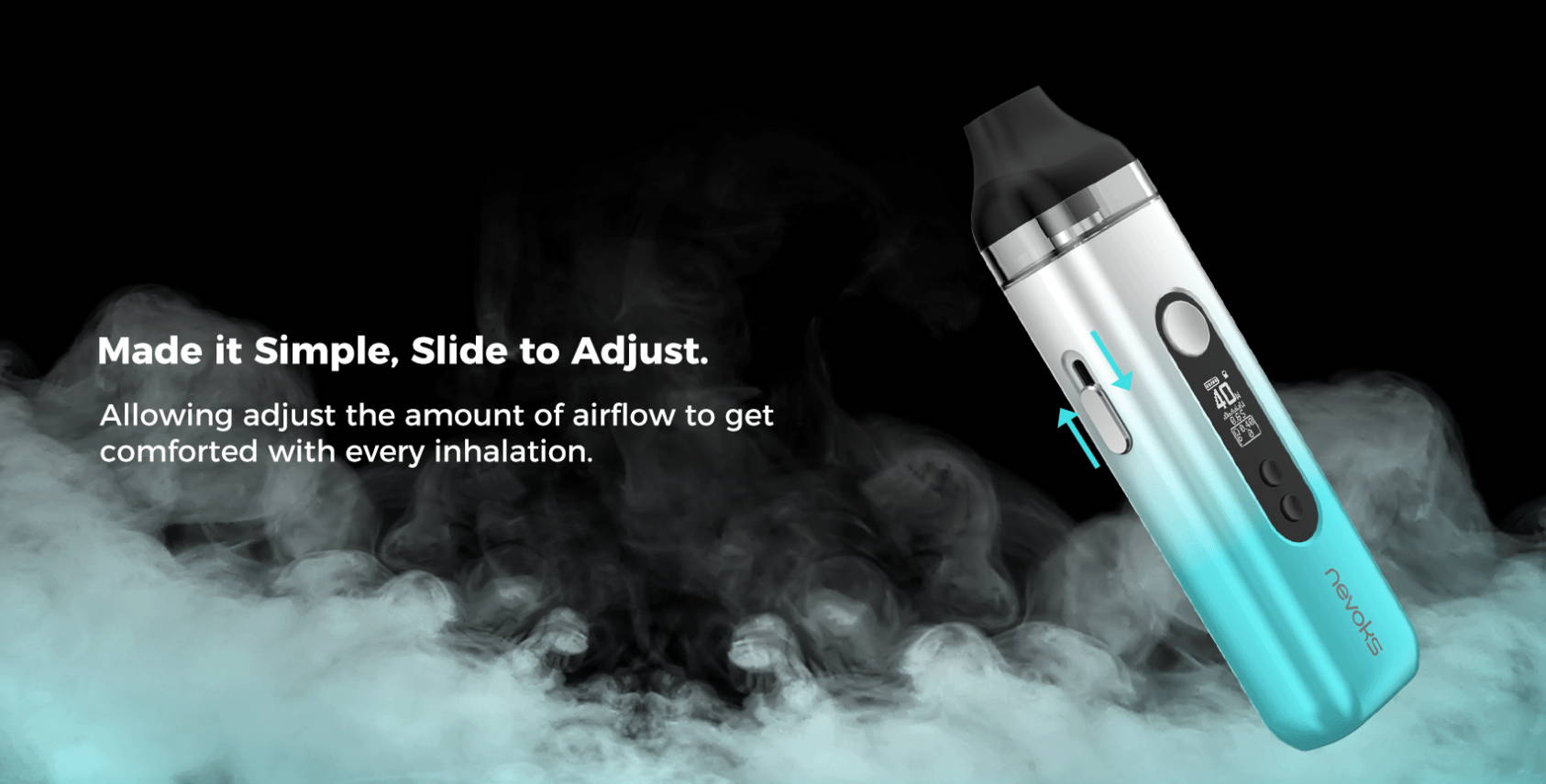 As a powerful pod vape that supports MTL vaping and DTL vaping, it is very simple and straight forward to use. To summarize, there are 3 physical buttons and a small screen that shows key parameters on the device, and the airflow control slide is placed on the side. These are pretty much all the buttons of the device, and the basic operation is simple as well:
Turn the device on/off: Press the fire buttonfive times rapidly;

Lock/unlock the device: Press the fire button three times rapidly;

Lock the current wattage: Hold the up and down buttons together;
For more detailed features and operations, a user manual will do.
The screen will stop displaying after 20 seconds of inactivity. The NX chip comes with a list of protections built in. Including but not limited to over vaping protection, short circuit protection, low voltage protection and over charge protection.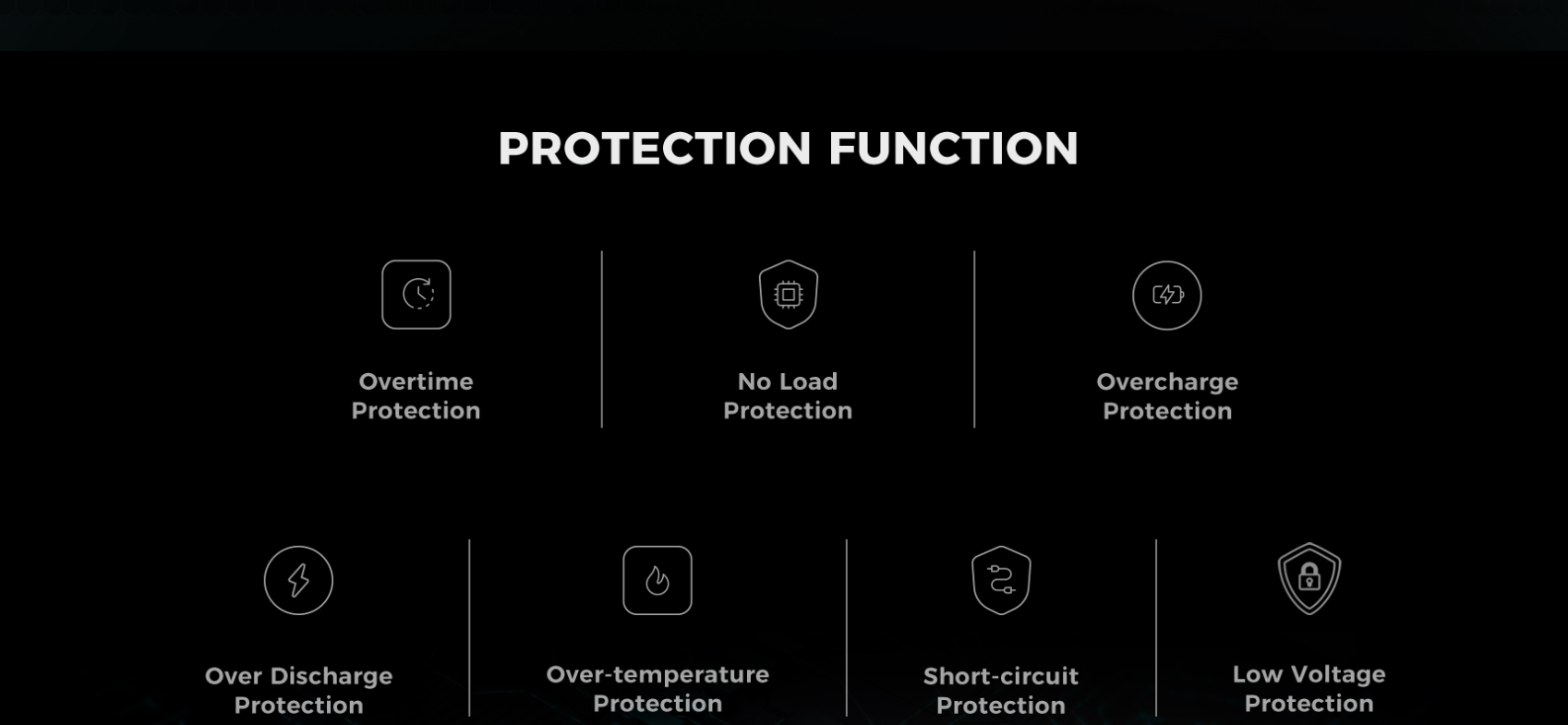 What's more, an RBA mode is also loaded in the Nevoks Feelin X Pod, making it a more competing vape for DIY vapers. Nevoks also offers a wide range of defferent SPL 10 mesh coils for different purposes of use:
SPL 10 Mesh Coil 0.3 Ω for a vape between 30 W and 40 W

SPL 10 Mesh Coil 0.4 Ω for a vape between 25 W and 40 W

SPL 10 Mesh Coil 0.6 Ω for a vape between 18 W and 25 W

SPL 10 Mesh Coil 0.8 Ω for a vape between 13 W and 18 W

SPL 10 Mesh Coil 1 Ω for a vape between 10 W and 13 W
It is obvious that the Nevoks Feelin X Pod supports DTL and MTL vaping, therefore, it is suitable for any type of e-liquids, whether it is a 50/50 or a higher VG e-liquid. Upgraded coil technology supports instant-fire, providing a denser flavour and sensational taste with a big cloud experience.
---
Nevoks Feelin X Pod Vape kit is definitely a competing vape device that might be a game changer in the market because it offers flexible vaping method to all levels of vapers, even novice vapers can easily learn and know how to use a DTL vape, of course you can switch to MTL vaping without difficulty. Furthermore, the button firing and auto firing also bring much more convenience and options to users. The larger battery capacity ensures the long run and high wattage output, the transparent pod offers a clear view window for observing the currunt remaining e-liquid, the adjustable airflow control system allows a looser or a tighter inhale. With so many useful functions integrated in one compact vape device, for me it is hard to reject.
---