OBS Engine 100W starter kit is the world's first replaceable battery sleeve 21700 box kit combining Engine 100W Mod with Engine S tank. The OBS engine box mod is powered by a single 18650/20700/21700 battery with the 2A type fast charging. It can allow a maximum input of 100W. The package contains 2 new parts - the engine 100W mod and the engine S sub-ohm tank.
---
The mod of this device - this has a 5-100W variable power level output and a 0.96 in OLED screen to check out all the data about features of your vaping engine. The OBS engine 100W kit comes with a zinc alloy frame and the battery sleeve that is made of resin in 6 different colors readily available allowing you to customize your mod. The Engine kit comes equipped with an engine s tank that is loaded with the latest E Mesh series coil. The presence of E Mesh series coils can give you a fresh, smooth, and rich clouds delivery.  
Comfort And Dependable Design
---
The OBS Engine S Tank comes with the included Engine S tank having an impressive 6mL e-juice capacity. Also, the tank can be filled with your favorite sub-ohm vape juice. Every puff you get with the device will be amazingly delicious having an enhanced airflow. The oversized firing button is comfortable. Also, there is an LED display screen, two up and down adjustment buttons, and a Type-C port on the side. Collectively, all the elements of design make you feel incredibly comfortable when using the device.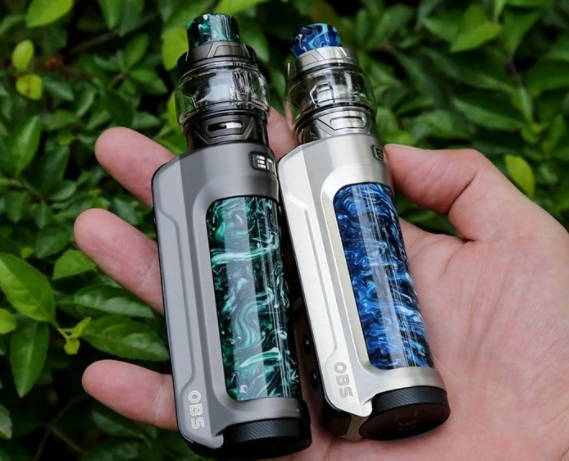 ---
The transparent panel on the back of the fuselage is capable of being displayed according to the color of the internal battery sleeve. Isn't it amazing to know that you can choose according to your favorite mood, style, and activity? There are 6 battery choices and they are interchangeable - Ink Black, Carbon fiber, Ruby red, challenge purple, Woodland eco friendly. and Peacock blue. Moreover, the 2A type-c fast charging can greatly help you shorten the charging time to a maximum extent allowing you to enjoy vaping for a longer time period.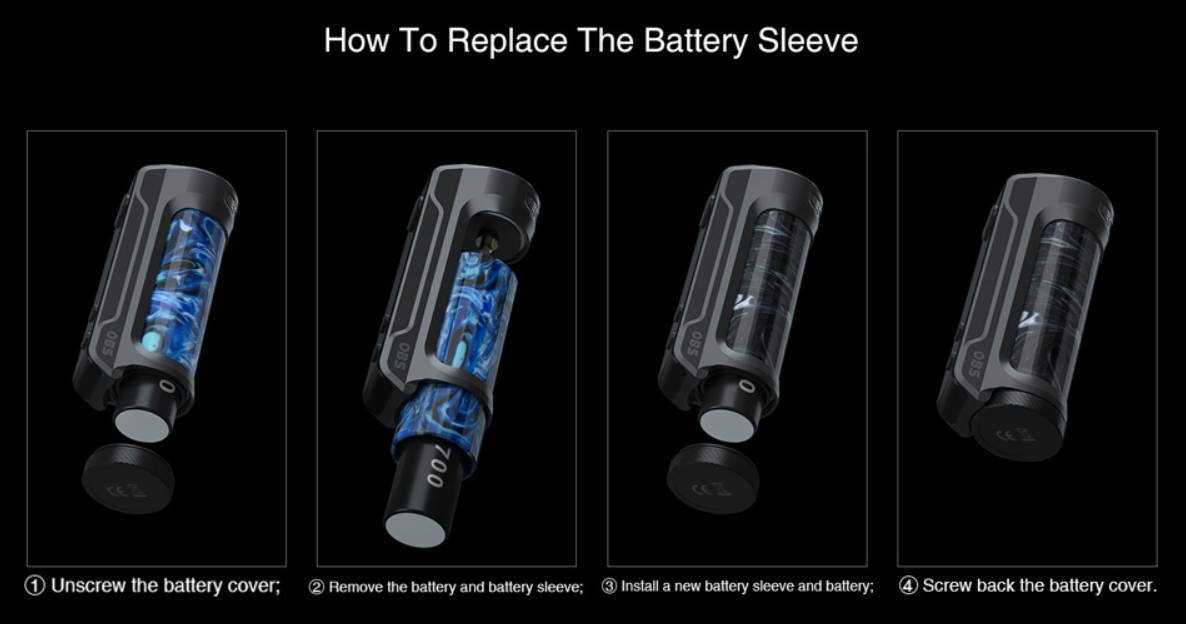 ---
Filling the tank with your favorite juice is seamless as you just have to twist the top cover and expose the double filling port to fill your e-juice. The resin 810 drop tip at the top of the tank makes your vaping experience smooth and comfortable. As far as durability is concerned, you will be glad to know that the OBS Engine 100W starter kit is quite durable and able to withstand hard falls and shocks.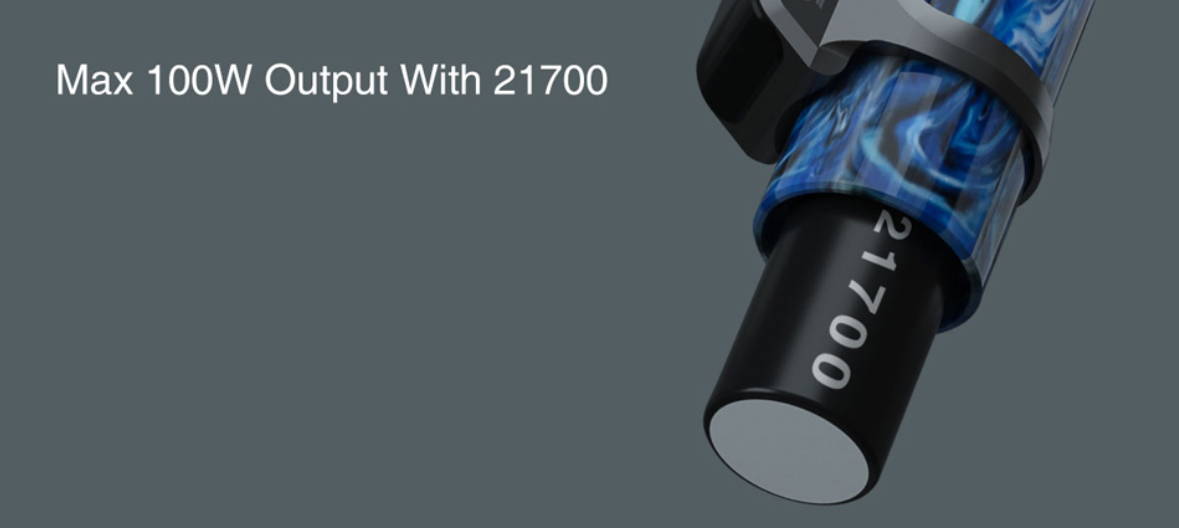 Reliable Features And Functionality
---
OBS Engine 100W kit is compatible with E1 and E2 coil series. This kit is all you need to enjoy an amazing vaping experience with silky and rich clouds. Bring a spectacular appearance with matchless comfort and is available in a wide variety of eye-catching color options for you to select from. There are two body colors you can choose from - gunmetal as well as stainless steel.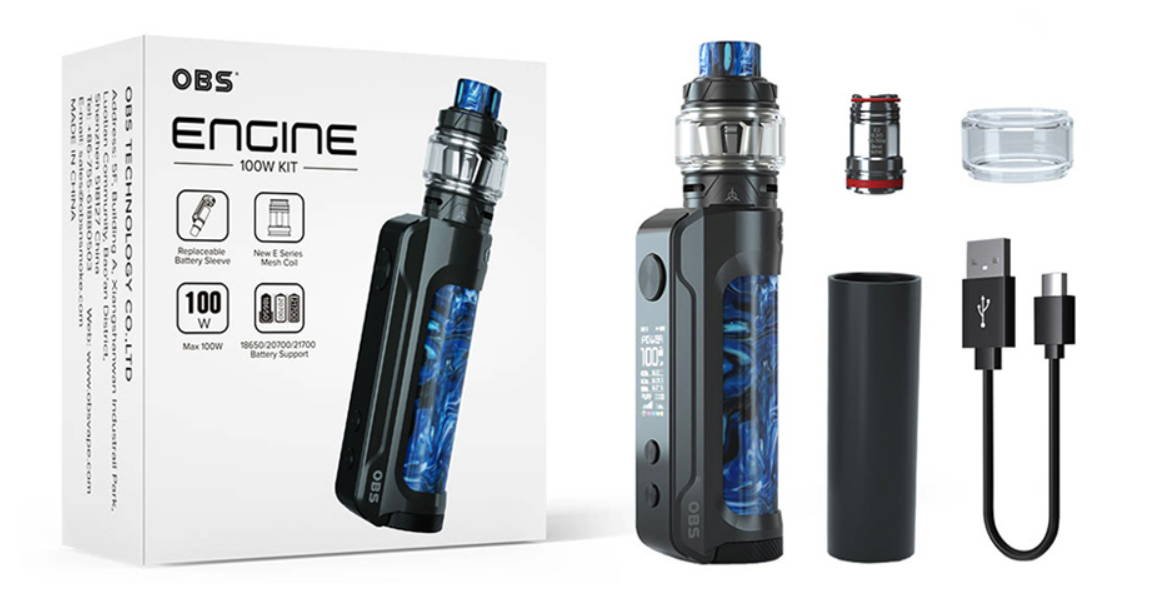 ---
The OBS Engine 100W is one of the most amazing vaping devices on the market and comes with a wide variety of features in order to provide a smooth and seamless experience. This kit offers Smooth sweating having engine 100W mod, engine S tank, 18650 battery adapter, E1 0.4ohm mesh coil, E2 0.2 ohm mesh coil, spare glass, pack of O-rings, and USB Type C cable for seamless charging. This is a pretty kit with various features and dependable output. If so if you want a great vaping experience packed in a vaping device having a lot of features ensuring smooth vaping, this is the right choice to make.