As the popularity of disposable vapes keep growing, more and more old and new vape brands are surging into the disposable vape market. Dinner Lady, as the well-known giant e-liquid manufacturer in the UK, also launched their latest Dinner Lady disposable vape which is pre-filled with their premium vape juice - Dinner Lady V800 Disposable Vape.
---
What is Dinner Lady V800 Disposable Vape?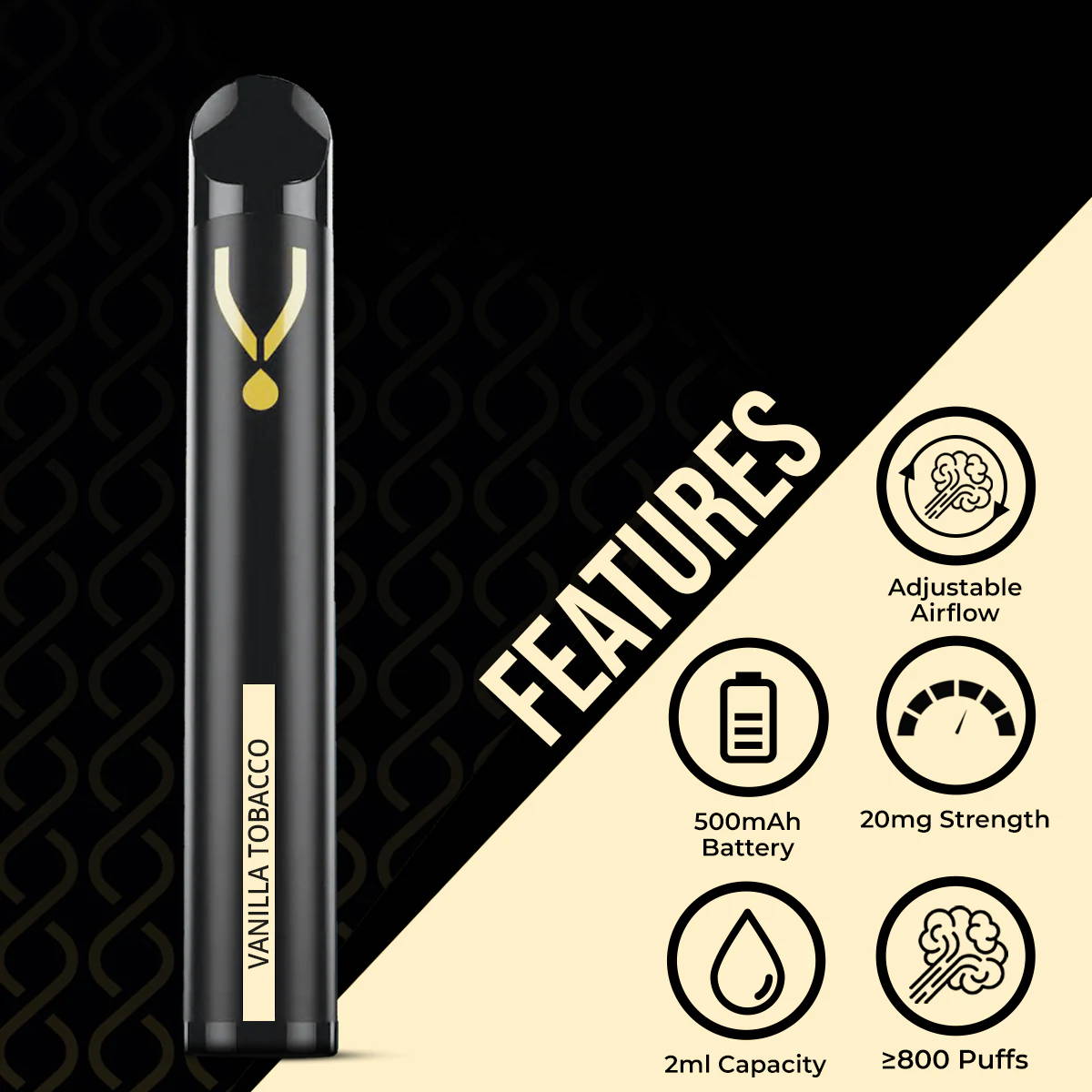 Main Features and Specifications
Adjustable Airflow

Inhale Activation

Range Of Flavours

Zero Maintenance Required

MCU for safety and battery protection

Controlled PCB unit to control voltage output

Slim and discreet design

Up to 800 puffs - the equivalent of 48+ cigarettes

Prefilled with 2ml of Dinner Lady's 20mg Nic Salt e-liquid

304 food-grade stainless steel body and mouthpiece with an electric paint finish

500mAh, Grade A Li-Ion battery

Sealed for freshness

10cm in length
Dinner Lady V800 Disposable Vape is powered by a built-in 500mAh battery, pre-filled with 20mg nicotine strength of 2ml Dinner Lady e-liquid, delivering up to 800 puffs, interestingly it features an adjustable airflow for small cloud, medium cloud, and big cloud. With the luxurious parameters and extra airflow control feature, the Dinner Lady V800 is deserved for the title - the best disposable vape on the market. It's time to wave goodbye to disposable vapes that deplete in minutes. Say hello to a powerful disposable vape pen that lasts longer than a packet of cigarettes.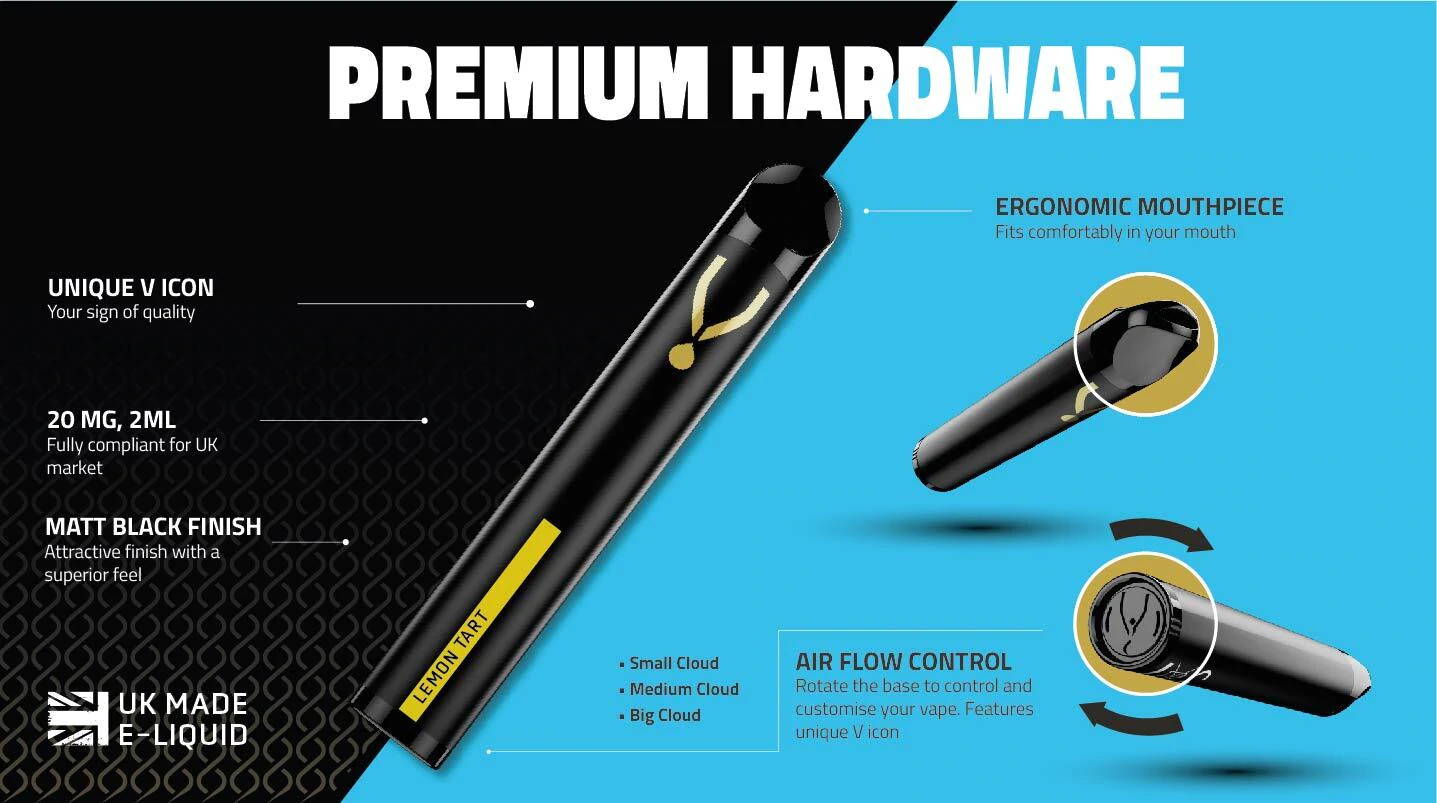 Dinner Lady V800 Disposable Vape is a pen style e-cigarette that mimic the feeling of holding a combustible cigarette between fingers. There is a unique "V" icon on the upper part of the device which symbolizes the high quality. Dinner Lady V800 Disposable Vape has an anti-fingerprint matt black finish, providing a superior texture and grip feeling. The ergonomic mouthpiece fits comfortably in your mouth, thanks to its draw activation feature, it is super convenient to use. Simple put your lips on the mouthpiece then inhale to experience a true MTL vaping. What's more, there is a air flow control system on the bottom of the device which is also a "V" icon, and it is easy to use - rotate the base to adjust and control the air flow of your vape, you can make the inhale looser or tighter via the air flow control system.
---
With 8 classic flavours of Dinner Lady e-liquid – including the award-winning Lemon Tart – and 10 brand new ones, the Dinner Lady V800 is a flavoursome disposable vape worth shouting about. The range of classic Dinner Lady flavours includes two Fruits - Sun Tan Mango and Berry Blast, three Sweets - Apple Sours, Bubble Trouble and Cola Shades, two Ice - Banana Ice and Black Orange Crush, and the one and only award-winning Dessert flavour - Lemon Tart. The Dinner Lady V800 is available in ten brand new flavours. They are three Tobacco flavours - Berry Tobacco, Original Tobacco and Vanilla Tobacco, five Fruits flavours - Blueberry Lemonade, Strawberry Lemonade, Watermelon Chill, Strawberry Watermelon and Grape Vine, and two Menthol flavours - Mint Menthol and Triple Menthol.
There is no doubt that a good flavour is one of the most important norms to judge the good or bad for a disposable vape. So we had collected the classic flavours: lemon tart, bubble trouble, and banana ice; new released flavours: vanilla tobacco, and triple menthol.
Lemon Tart: Before you take a puff, you can smell the tangy lemon dessert flavour; an indulgent, sweet and citrusy dessert blend of sweet meringue taste appears when you take a draw and the vapour pauses in your mouth. When you exhale, a sharp lemon and buttery pasty aftertaste lingers on you throat and taste buds. This flavour not only surprises me with its enthusiastic and warm lemon dessert taste, but also brings me a super smooth throat hit.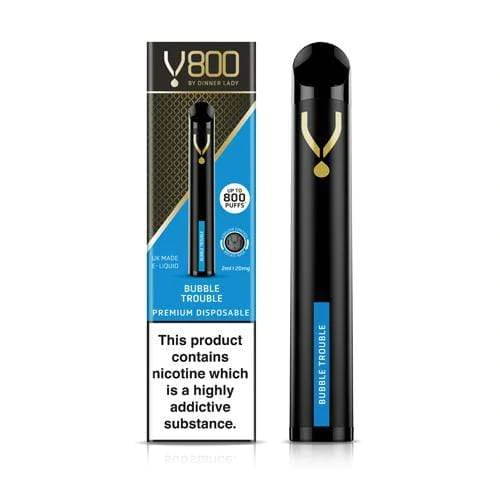 Bubble Trouble: The Dinner Lady V800 Bubble Trouble is a mixture of fruits and bubblegum. Wild berries and red berries get things started, with bold bubblegum adding to the sweetness. It has nice flavour, if you like bubblegum you will love this. And I tried to adjust the air flow to max to get the full taste and vapour, it turned out amazing and did its job.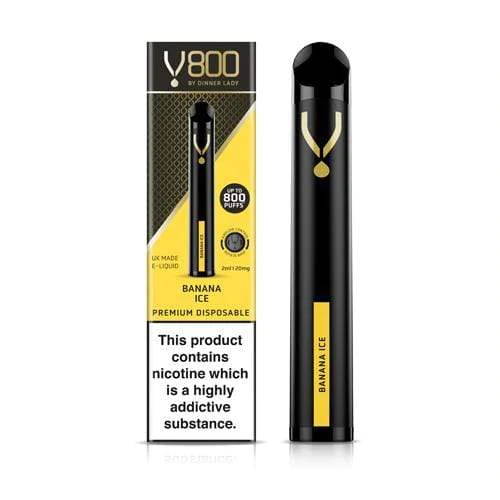 Banana Ice: A sweet and fruity banana flavour combined with a hint of refreshing menthol. The Banana Ice of Dinner Lady V800 brings me the feeling of the enthusiastic summer with every puff. The fresh banana provides endless mouthfuls of creamy sweet flavour which are perfectly backed up by the invigorating minty freshness.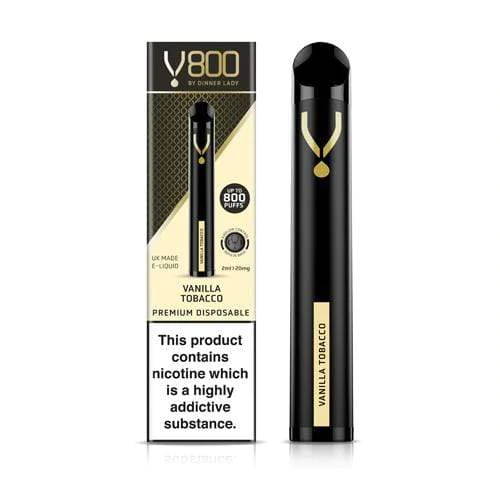 Vanilla Tobacco: The rich and smooth tobacco flavour is the undertone, however I am not a fan of tobacco flavour but the creamy and sweet vanilla taste kicks back as you exhale the vapour. The vanilla just make the tobacco flavour more balanced and more acceptable for those who do not like tobacco flavour vape.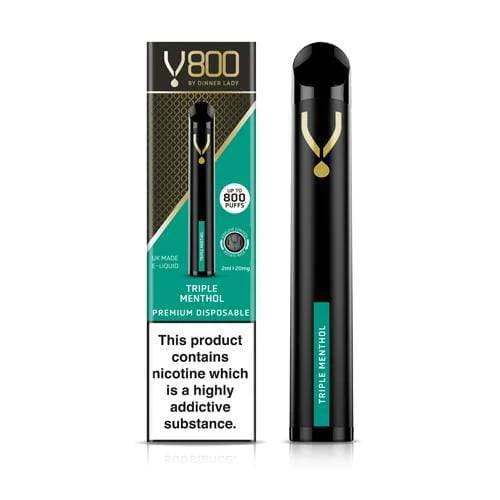 Triple Menthol: This is a wonderful menthol flavoured disposable vape. Triple Menthol vape juice delivers a cold cooling blast with every inhale and exhale. A combination of mint, menthol and eucalyptus which is a little sweet with an icy edge taste and a bit intensive icy throat hit. It is definitely an excellent flavour for those enjoy cold inhales and cooling exhales.
---
Overall, Dinner Lady V800 Disposable Vape definitely counts one of the top disposable vapes on the market for its high quality e-liquid and delicate design. It is worth trying if you are looking for a solid satisfying disposable vape by chance.
---