Starting with the original Crown, Uwell opens a new chapter of sub ohm vaping. They have dedicated to offer a varying range of high-quality products from Nunchaku, Amulet and Crown 4. Today, I am going to review their newest member: Uwell Crown V Tank.
Product Introduction and Specification
---
The Uwell Crown V Tank is an upgraded version of its predecessor, the Uwell Crown 4 Tank. It features 5ml vape juice capacity with Patented Self-Cleaning Technology, which is helpful to prevent leakage and lessen the cleaning frequency. It also adopts the Pro-FOCS Flavor to deliver the ultimate flavorful experience by managing the liquid flow, controlling the temperature of the coil, and restoring the e-juice flavour. It boasts a 29mm diameter offering bright luster and smooth feel. Uwell Crown V Tank utilizes quarter-turn threaded top fill system and adopts quarter-turn top cap design, which makes filling an easier task. Does this new version of the Crown turn things around for them? Let's take a look at the tank up-close and find out!
Uwell CROWN 5 Sub-Ohm Tank Features
29mm Diameter
5mL Bubble Glass Capacity
Pyrex Glass Reinforcement
Superior Stainless Steel Tank Construction
Quarter Turn Top Fill System
Uwell CROWN 5 Coil Series
0.23ohm UN2 Single Mesh Coil - rated for 65-70W
0.3ohm UN2-2 Dual Mesh Coils - rated for 50-55W
Press-Fit Coil Installation
Pro-FOCS Flavor Testing Technology
Dual Slotted Bottom Airflow Control Ring
Detachable Structure
Threaded 510 Connection
Uwell CROWN 5 Sub-Ohm Tank Package Content:
1x Uwell Crown 5 Tank
1x Replacement Glass
1x 0.23ohm UN2 Mesh Coil
1x 0.3ohm UN2-2 Mesh Coil
1x Pack of O-Rings
1x User's Manual
1x Drip Tip Cover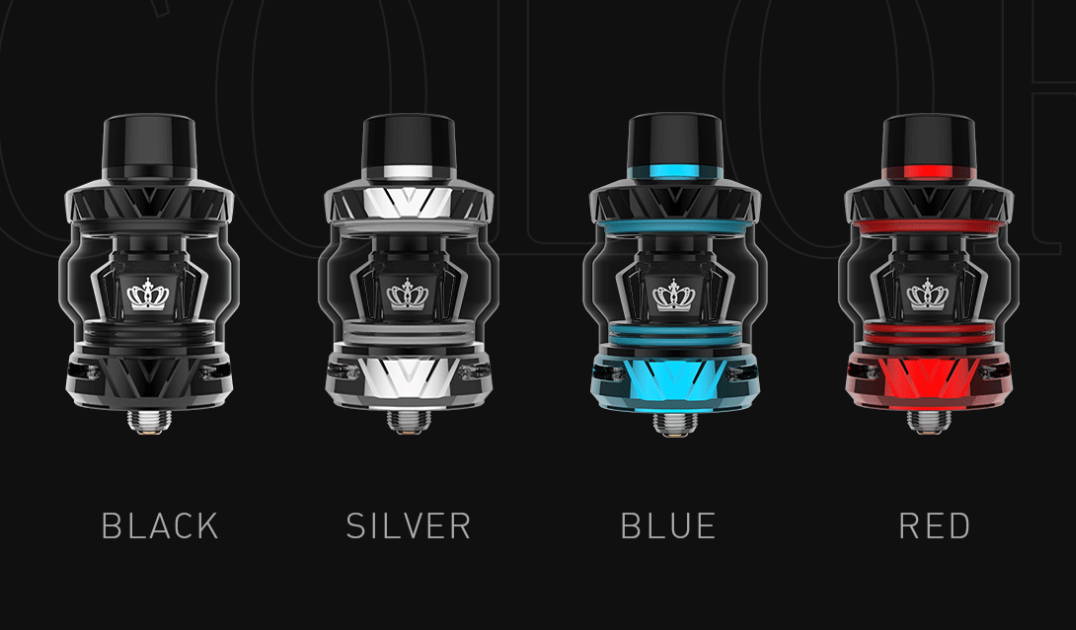 ---
I am impressed by the aesthetics of the Uwell Crown V Tank thanks to its exquisite manufacturing high quality. It is a pretty standard looking sub ohm tank with 29mm diameter. Uwell Crown V Tank comes with a 5mL bubble glass capacity and features a superior stainless steel tank construction, which has been delicately polished to deliver a smooth feel. It features a black drip tip with a red matching ring on the bottom. Outside of it is the roman numeral "V" embedded on the top cap and airflow ring. Uwell Crown V Tank is available in four pretty colours with shiny design. You can choose from black, silver, blue, red.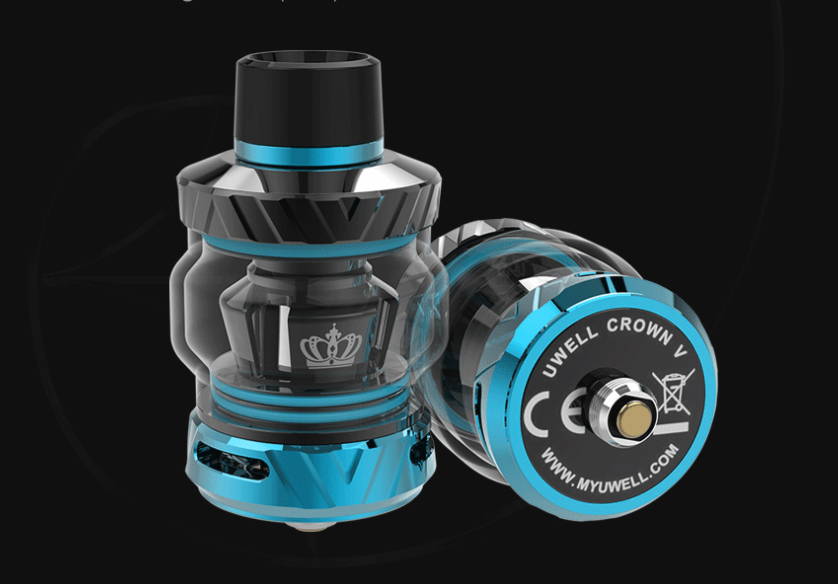 ---
Uwell Crown V Tank boats a patented self-cleaning technology, which is helping to reduce juice leakage and lessen the cleaning frequency. The atomizer can absorb the vape juice in the condensation holder through regular usage and vaporize it. Uwell Crown V Tank adopts an optimized cap design, which makes filling an easier task. You can simply refill your favourite vape juice by unscrewing the top cap 90°. The filler hole shaves a silicone check valve to prevent vape juice from leakage and provide a cleaner filling. Uwell Crown V Tank utilizes an exclusive Pro-FOCS flavour testing technology, which is design to offer the ultimate vaping experience by properly controlling the heating temperature, strictly managing the material quality, and completely restoring the vape juice flavour.
---
The Uwell Crown V Tank is compatible with multiple mesh coils, which can fully atomizer the vape juice and deliver multiple vape experience. There are supposedly 3 coil options in total including 0.23ohm single mesh coil, 0.3ohm dual mesh coil and 0.2ohm triple mesh coil, but only 0.23ohm single mesh coil, 0.3ohm dual mesh coil included in the kit. Mesh coils are popular these days and better for sub ohm tanks.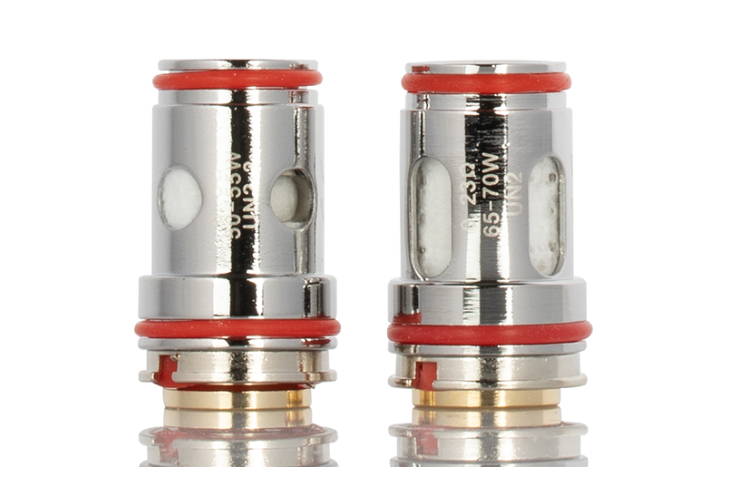 I started with the 0.23ohm single mesh coil, which is best in the 65-70 watt range. It delivers decent flavour and smoothest airflow for DTL vaping. You will get fragrance and sweetness of the vape juice burst out with tasty flavour. Now we turn to 0.3ohm dual mesh coil. Flavour is really good when vaping for around 50- 55 wattage range. You can get a restricted DTL vape with warmer vapour and saturated flavour. The 0.2ohm triple mesh coil is recommended to vape for 65- 70 wattage. It is designed to provide slightly tight airflow for tight DTL vape, offering a fairly strong throat hit with huge flavour and decent flavour.
---
No leaking
Easy to take apart
Nice 510 adapter
Well built quality
Convenient top-fill design
Excellent performance
Good flavour on coils
Great drip tip
Smooth airflow
3 coil options
---
The Crown 5 sub ohm tank from Uwell has done a decent job to deliver an enjoyable vaping experience to sub ohm vapers. Do I recommend this tank or not? I am going to say yes to this one!It is a well-built tank and easy to find coils. It comes with excellent construction quality and feels solid when holding on the hands. Would you grab this Uwell Crown 5 Tank? Let me know in the comments below!