Since 2018, Elf Bar has been making an effort on innovative product via a smart heating system. As Elf Bar discovers the need for natural-based taste and more healthy ways of vaping are thriving year by year. To get better tastes and to transfer a repeatable experience to customers, the products have been obedient to the keyword of Elf Bars: Healthier and better. After thousands of experiments, Elf Bar found methods of making the products the lowest harmful materials, pure taste and delicate design, only to present you products that will surely meet your demand.
There are more than a dozen of different types of disposable vapes of Elf Bar. They generally vary from exterior design, pod size, vape juice content, nicotine strength, puffs and so on. To comply with the TPD compliance, today we are going to talk about the TPD disposable vapes provided by Elf Bar.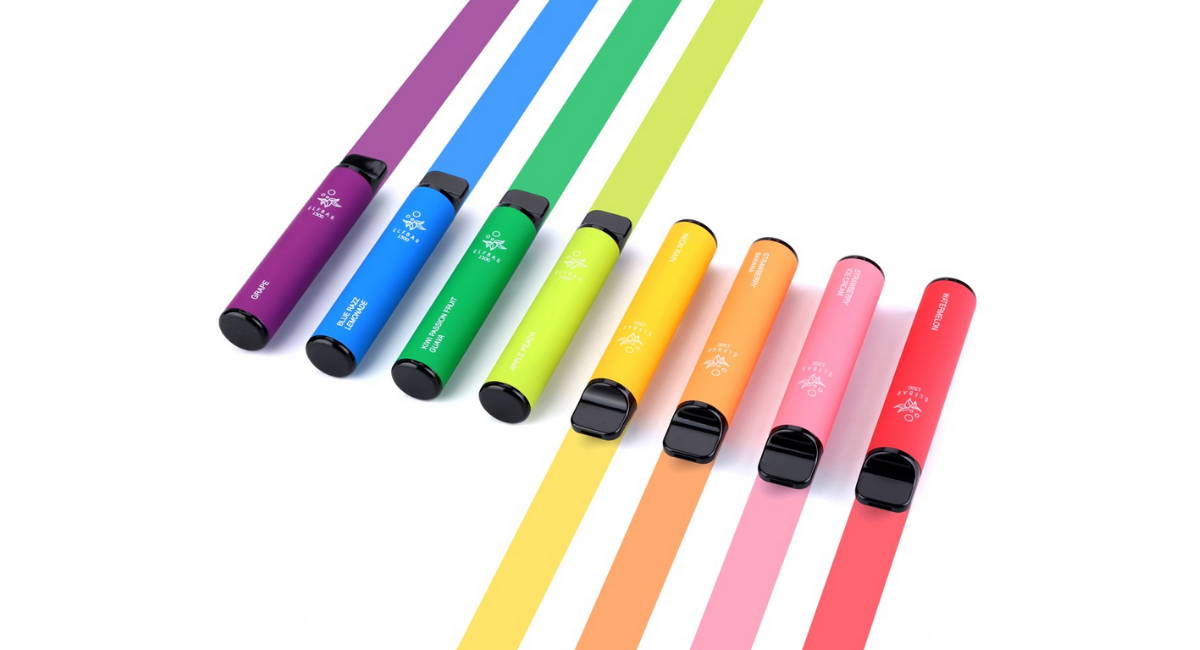 ---
Elf Bar Lux 600 Puffs Disposable Pod Vape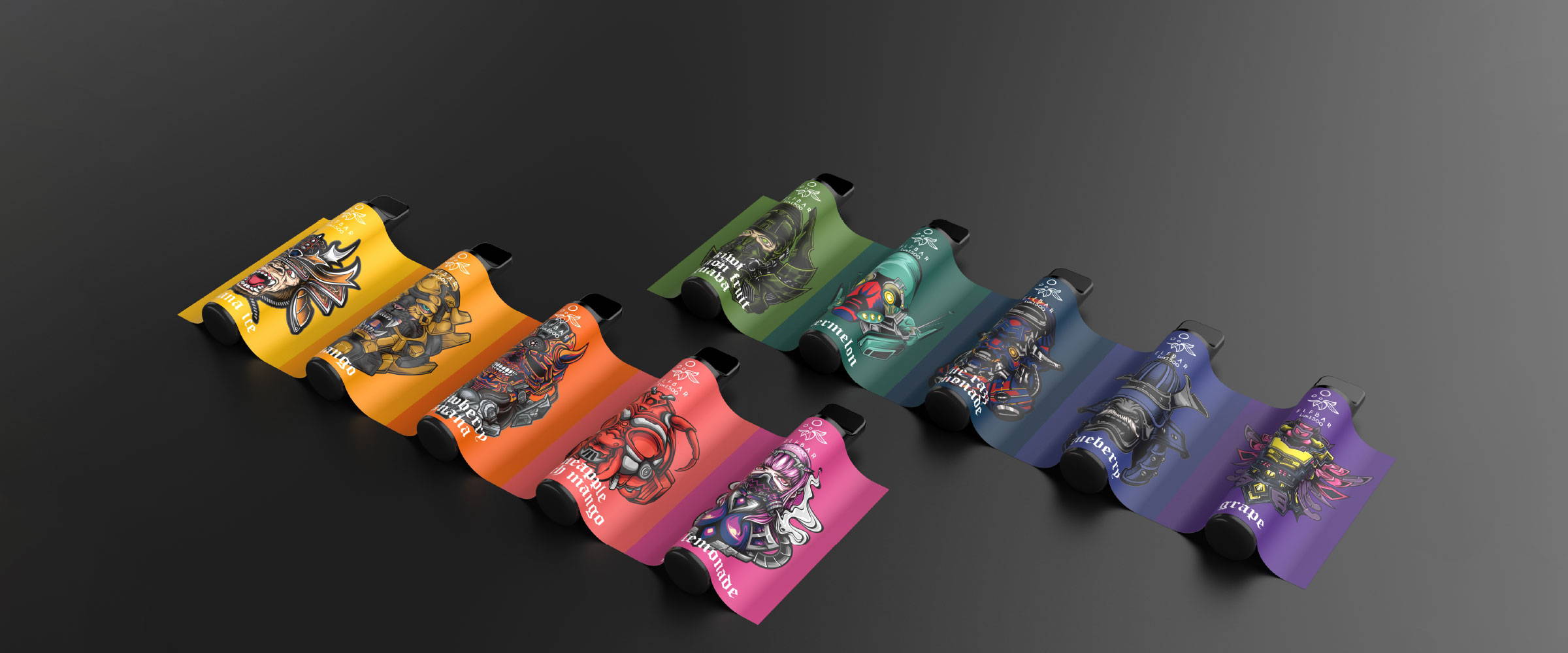 Features
Portable Size with the most fashionable theme of punk designs
Disposable Design- Non-Rechargeable & Non-Refillable
Simple & Compact
Draw Activated
Nicotine strength 2%
Pre-filled pod with built-in coil
Vape Juice Capacity: 2ml
2% (20mg) Nicotine Salt
Battery: 550mAh (Built-in)
Puffs: Up to 600 puffs.
Elf Bar Lux is a popular disposable vape in the market because of its unique outlook design--theme of cyberpunk. Every different flavor represents an individual stylish character, for instance, flavour of blueberry represents a grumpy Samurai in the cold steel outfit; flavour of watermelon represents a scary Kaiju; flavour of blue razz lemonade represents strengthful Mech Warrior; flavour of pink lemonade represents a fully armed maiden in the apocalypse, etc.
New Elf Bar Lux 600 Disposable Vape comes in an ergonomic and compact design and it can provide approximately 600 puffs with its large 550mAh built-in battery and pre-filled with 2% nicotine strength of 2ml vape juice, the Elf Bar Lux 600 must be one of the best choices of disposable pod devices for you, with a mouth-watering choice of 10 flavours to suit all vapers' appetite. To name a few popular flavours of Elf Bar Lux 600 disposable vape:
Blueberry Raspberry: This flavor is specially for berry-lovers. Salt based nicotine produces a smooth vape without any harsh throat hit. Imagine the sweet juice of raspberry and blueberry vapourised in your mouth and the menthol icy hit your throat, that is a great satisfaction.
Cotton Candy Ice: Candy and sweet-lovers, pay attention please! The Cotton Candy Ice flavor is mixed with Marshmallow and candy plus refreshing cooling mint. Every inhale is a full mouth of sweet happiness and cooling satisfaction.
Pink Lemonade: The Pink Lemonade flavour is balanced between fruit and fizz, which is sweet and sharp. It is the taste of summer. Pink Lemonade Elf Bar Lux is a concoction of refreshing, zesty and cloudy lemonade and a sweet burst of plump summer berries. The blend of flavours creates a perfectly balanced e-juice with a unique vaping flavour that will tantalize your taste buds.
---
ELF BAR 600 Puffs Disposable Vape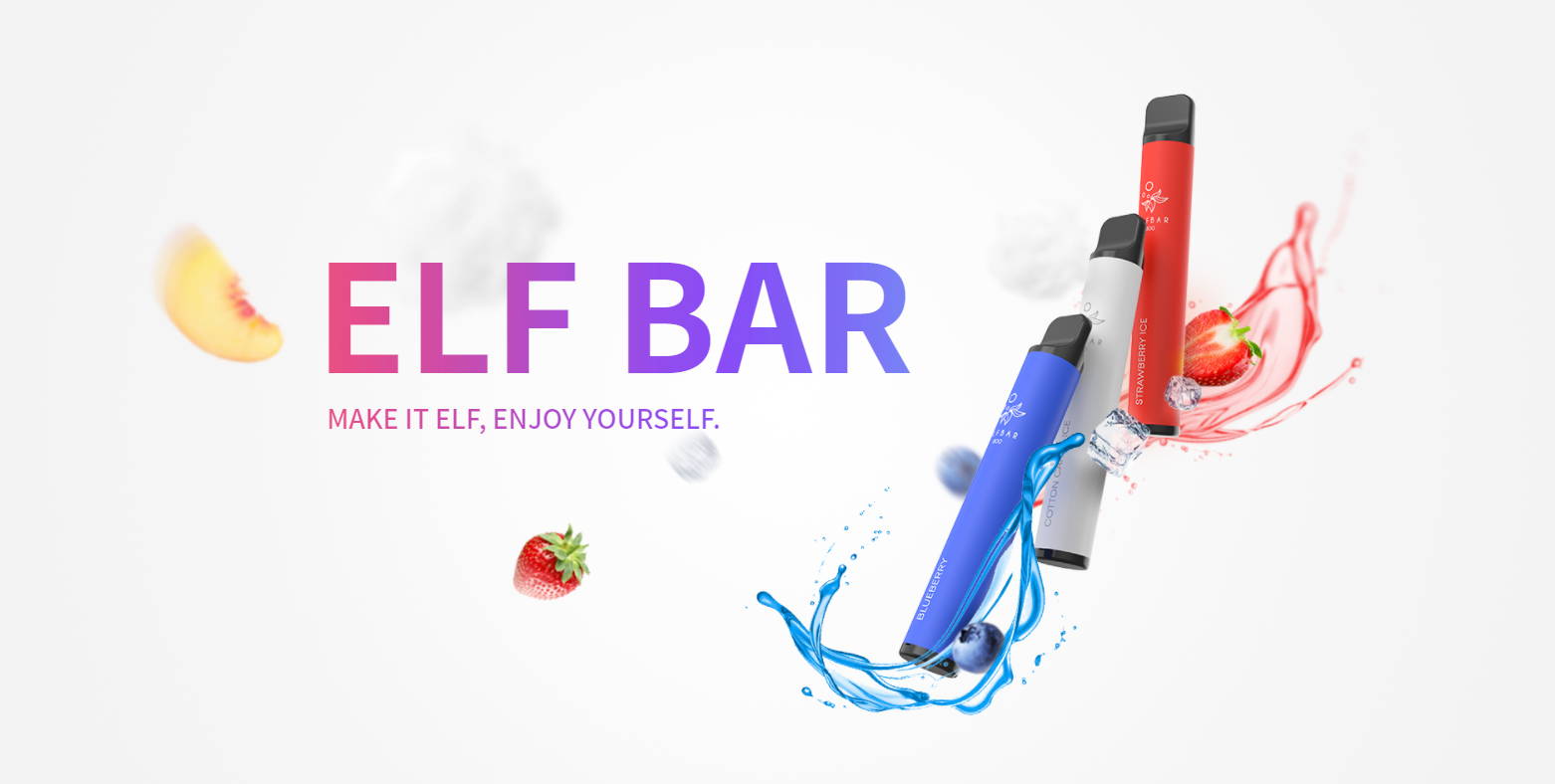 Features
Most fashionable design with portable body
2ml pre-refilled juice with 2% nicotine strength
25+ stylish flavors for your selection
Nicotine strength: 2% Nicotine
Battery: 550mAh
Puffs: 600 Puffs
Elf Bar Disposable Vape has hit the vaping market by storm not only result of the amazing numerous flavors to choose from but also thanks to the durable high quality and other attractive features. Today our main character is Elf Bar 600 Disposable Vape which owns amazing 26 flavors, each vape is pre-filled with 2ml of 20mg nicotine strength Salt Nicotine E-Liquid, powered by 550mAh battery and it's sure to provide nearly 600 puffs. Each flavor gets a different color of device, though there are dozens of flavors, the color and design on the device is simple and easy to tell because you can find the flavor tag on the side of the disposable vape device.
To sum up, no matter how picky you are on choosing flavors, Elf Bar 600 Disposable Vape will get you satisfied. The Elf Bar 600 Disposable Pod Device supports about 600 puffs for you with the large 550mAh built-in battery and 2ml pre-filled juice. And the Elf Bar 600 Disposable Pod has 2% Nicotine strength which must bring you amazing flavor. To name a few, Coconut Melon, Apple Peach, Mango, Spearmint, Strawberry Ice Cream, Lychee Ice, Cola, Cotton Candy Ice, Mango Milk Ice, Cream Tobacco, Watermelon, Banana Ice, Kiwi Passion Fruit Guava, Pineapple Peach Mango, etc. Is there any flavor that fits your appetite?
---
ELF Bar CR500 Disposable Vape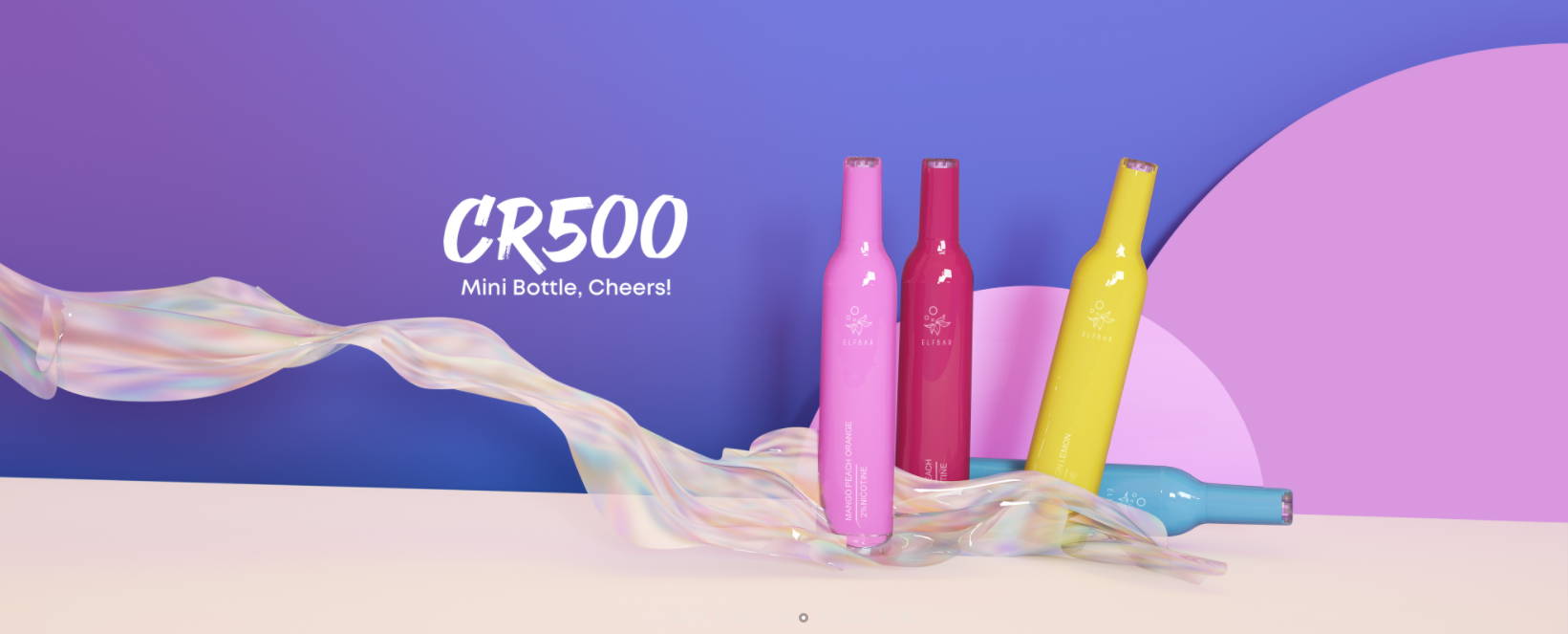 Features
E-liquid Capacity: 2.0ml
Nicotine Strength: 20mg (2%)
Battery Capacity: 400mAh
Puffs: 500 Puffs
Unique crystal like glass bottle finish
Compact to carry and easy to use
New Elf Bar CR500 Disposable Pod Device is one of the latest disposable products manufactured by Elf Bar that comes with portable design, compact in size and with a crystal like glass bottle finish, that is to say you can have a booze wherever you want except "no smoking/vaping areas". This unique bottle shaped Elf Bar CR500 Disposable Device supports approximately 500 puffs for you with capacity of a 400mAh built-in battery and 20mg nicotine strength of 2ml pre-filled juice. The crystal glass bottle like appearance has a different colour for each flavour. That delivers not only the most mellow taste, but also wonderful hand feeling. There are 12 different stylish flavours that would fit most tongues, including but not limited to:
Sour Apple: Flavour of sour apple is a powerful refreshing good helper, take a puff and close your eyes, then you feel like the strong sour apple fragrance had taken you to a big orchard, you can smell the aroma from the fruiters and feel the warmth from sunshine, and you are free from fatigue.
Berry Peach: Mixed with berries and peach, ELF Bar CR500 prepared a refreshing sour and sweet fruity flavour for berry-lovers. Inhaling the tangy berries aroma, exhaling the refreshing ripe peach aftertaste, this feeling makes you just want for more vapes.
Blue Razz Lemonade: Blue Razz Lemonade is mixed with blueberry, raspberry and lemonade flavours, expresses sweet, sour and juicy taste. The Blue Razz Leonade is guaranteed to satisfy your taste buds for the naturally sweet flavours of the berries provide a delicious vape, leaving you longing for more.