Elf Bar disposables have been more and more popular among plenty of disposable vapes for their stylish appearance, delicious tastes and outstanding vape experience to vapers. Like other famous brands often faked by hateful fraudsters, the fake ELF BAR disposables can be seen in the market now.
The dishonest manufacturers not only take our money away but also ruin our love for vaping. Additionally, using a counterfeit elf bar to vape may be harmful to your health. Therefore, it is vital for us to identify the fake elf bar disposables so that we can protect our interests and boycott the fake wholesalers.
To help you have a valuable deal of Elf Bar, this easy guide is written to share multiple approaches to verify your elf bar and recommend several trustworthy channels for you to purchase genuine Elf Bar disposable kits.
---
What is Elf Bar disposable vape?
Elf Bar is a brand of disposable e-cigs. Elf Bar vape devices are designed to be used straight out of the packaging and require no filling, charging, or maintenance. Each Elf Bar comes pre-filled with e-liquid and a fully charged battery. They are compact and easy to use, making them popular among many users, especially those new to vaping.
The pre-filled e-liquid in an Elf Bar often contains nicotine(zero nicotine Elf Bar is also available), and it comes in various flavors, allowing users to choose according to their preferences. Once the e-liquid in the device has been used up or the battery runs out, the entire device is disposed of.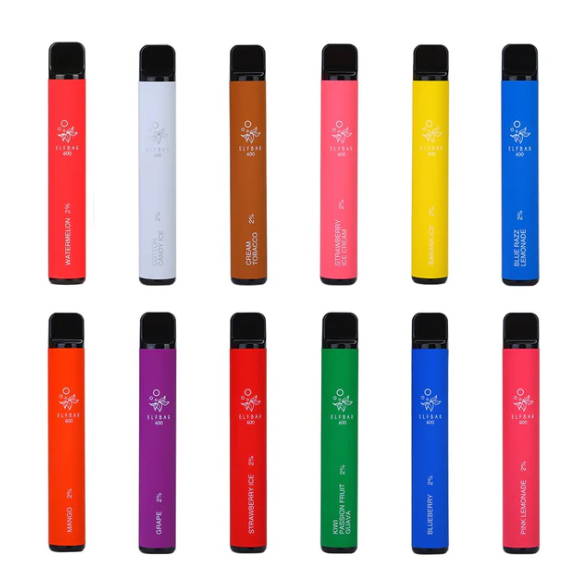 ---
8 Options to verify your Elf Bar disposables
Find the authentication QR code label on the packing box.

Scan the QR code with your phone, ( it may open an age verification page first, just verify it), then it will lead you to a product verification page with your elf bar security code auto-filled, click the "verify " button, just one second, your elf bar will get verified.

If your elf bar is genuine, it will say: "The security code you inquired about is correct." and "the code has been inquired for 1 times". Sometimes one security code can be reused for various fake elf bars, so kindly check the inquired times.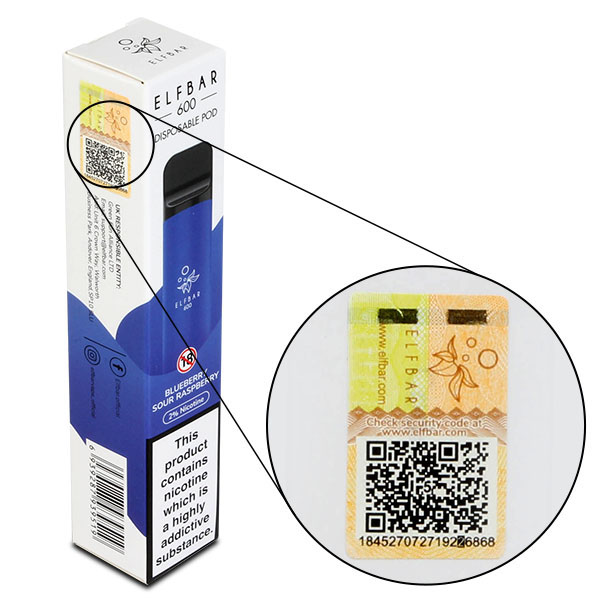 Enter ELF BAR official page, click its menu item, find the "Verify Your ELFBAR" option
to open the product verification page. Find the anti-counterfeit sticker, and Insert the security code to verify.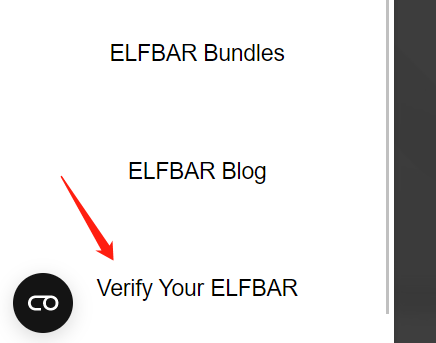 ---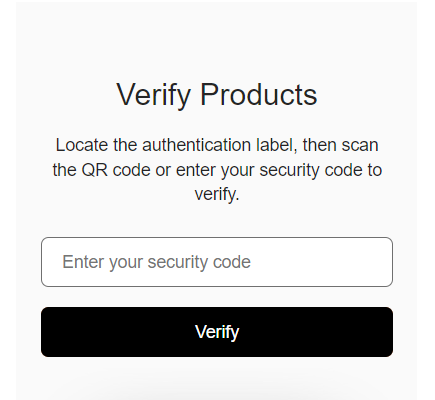 A real Elf Bar features an anti-counterfeit holographic sticker on the side of the wrapping box. It contains many small but distinct elements below, which is less possible to be cloned by fake elf bars :
Holographic laser security thread and colorless fluorescence ---the fake doesn't

Anti-stripping knife

Banknote level anti-counterfeiting pattern---the fake uses ordinary paper, not clear

Thick and thin counterfeiting patterns---the fake use ordinary paper, denser

High anti-latent shadow

Micro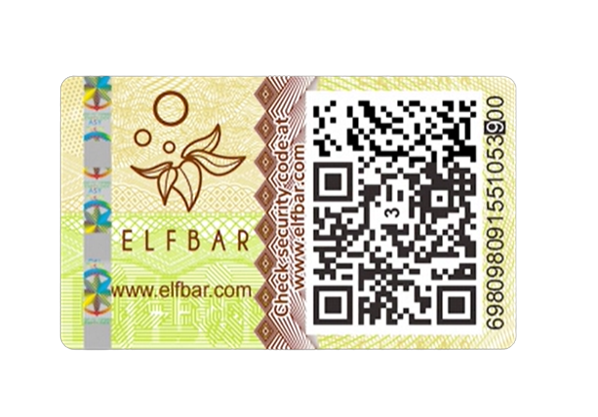 An inkjet code of manufacture and an expiration date are present on the original Elf Bar but not on the counterfeit.
You can scan the EAN code of the packing box, if it provides wrong product information, it can be fake.
The joints of stickers wrapping the vape device are delicate and well-fit, while the fake one may not.
Cloned Elf Bars usually are made with low-quality or different ingredients than the original. It is likely to have a weird taste when vaping counterfeit Elf Bars.
Fake Elf Bars are possibly built with a bad casing which may lead to leakage problems. If you find your Elf Bar disposables leak everywhere, you'd better verify it and return it back.
---
Where to buy authentic Elf Bar disposables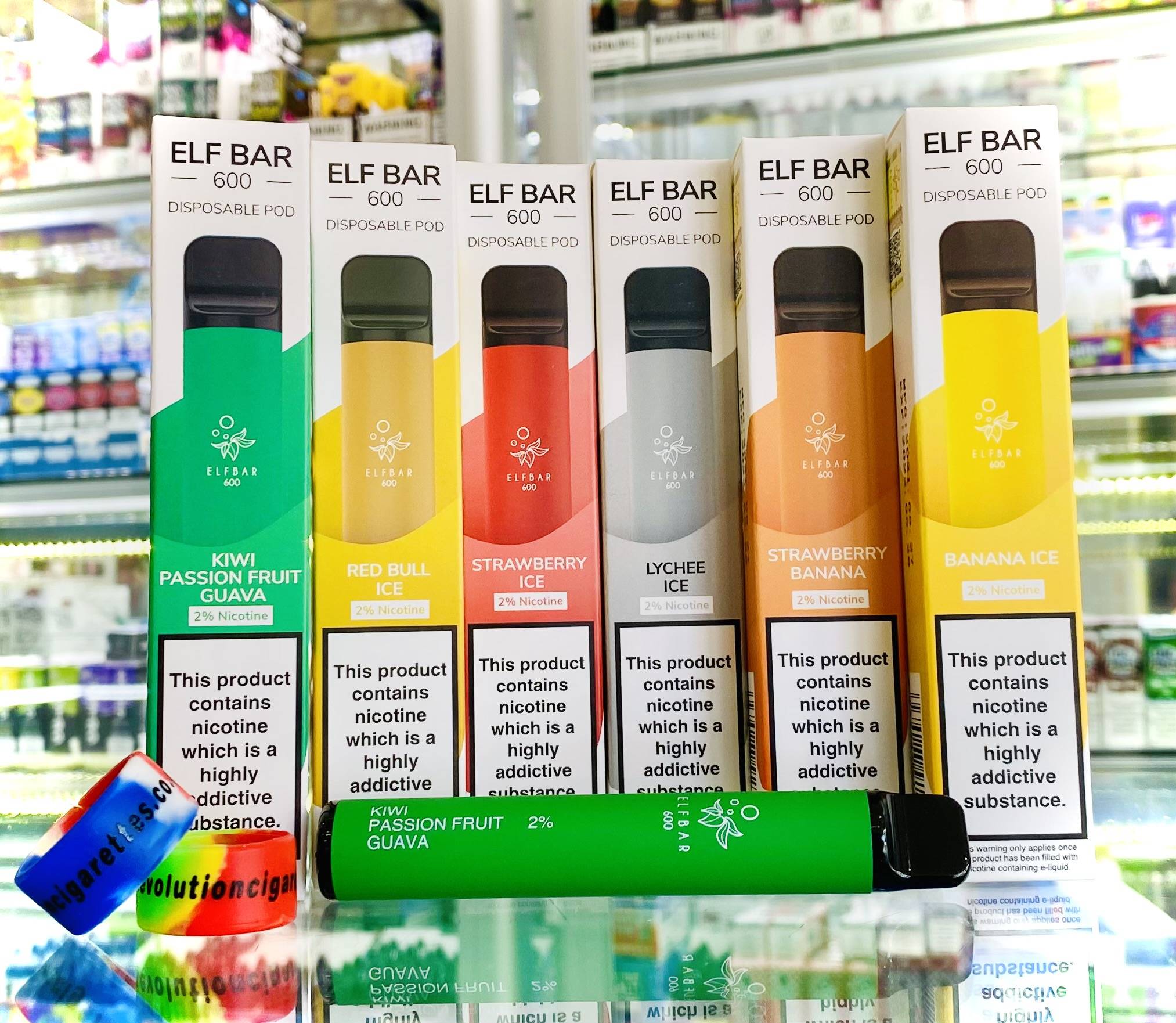 When it comes to shopping, we are likely to think of shopping online or offline. When ordering Elf Bar disposables online, you can go to the official Elf Bar website where no knockoffs exist. To buy Elf bar more economically, you can pick some reliable third-party vape stores like New Vaping. It offers 3 nicotine strengths and Free UK delivery on all orders over £19. Besides, If you prefer to buy things offline, you can go to the local and authorized vape stores.
---
FAQs about spot Elf Bar vapes
Do fake Elf Bars taste different?

Fake Elf Bars, which could be counterfeit or imitation Elf Bars, may taste different from genuine Elf Bars. The taste of vapour can be influenced by various factors, such as the quality and type of ingredients, the manufacturing process, and storage conditions.
How do I know if my Elf Bar is genuine?

To ensure you have a genuine Elf Bar, purchasing from a reputable and authorized seller is best. You can also look for certain features on the packaging, such as a barcode, expiration date, and the Elf Bar logo. Additionally, you can compare the appearance, texture, and taste of the Elf Bar with a previously consumed genuine Elf Bar to identify discrepancies.
Is it safe to use a fake Elf Bar?

Consuming a fake Elf Bar, which could be a counterfeit or imitation, may pose health risks as it may contain unknown and potentially harmful ingredients. Therefore, it is recommended to purchase Elf Bars from a trusted source and verify the product's authenticity.
How long do real Elf Bars last?

The lifespan of Elf Bars can vary depending on which Elf Bar model you get and your vaping frequency. Averagely, each Elf Bar 600 can last you for 1-3 days.
---
Preventing from cheating by fake companies, there are two points that you need to keep in mind. One is getting your Elf Bar in a true way. The other is having your Elf Bar verified.
---