Come and check the latest disposable vape launched by Dinner Lady - Dinner Lady Vape Pen Pro Disposable Vape. Powered by an internal 500mAh battery, pre-filled with 2ml premium Dinner Lady e-liquid at 20mg nicotine strength, Dinner Lady Vape Pen Pro Disposable Vape can deliver up to 600 puffs. It is inhale-activated and there is literally nothing required to maintain or clean it, just unbox it and vape, so it is rather suitable for smokers who are looking for efficient and convenient nicotine alternatives. What's more, there are different ranges of flavours to choose from, including fruit, mint, beverage, and dessert, which are suitable for most vapers' tongues.
It is better to call it a vape bar rather than a vape pen merely from its appearance. Dinner Lady Vape Pen Pro Disposable Vape has a brand new exterior design and more new features compared to its predecessor Dinner Lady Disposable Vape Pen. The Dinner Lady Vape Pen Pro comes in a larger size, and the shape has been redesigned from a pen to a bar with a rectangular body and sleek finish. Still, it is compact and pocket-friendly for daily carry. It is designed to be simple - the brand logo is printed on the upper part of the device, the flavour tag is on the lower part, and the "PRO" is printed below the flavour tag. What's more, the Dinner Lady Vape Pen Pro offers a smooth and comfortable touch, it is a rather exquisite disposable vape for holding in hand.
---
Inhale Activated

Compact to carry

Easy to use

Slim and discreet Stainless Steel+PETG rubber paint with a silk print

Comfortable and ergonomic food-grade mouthpiece

No fuss, no leaks, no refilling

Sealed for freshness

Premium Dinner Lady 2ml E-Liquid

20mg Nicotine Strength

6 Ohm Built-In Coil

500mAh Built-in Battery

Up to 600 puffs

14 trendy flavours to choose from
Dinner Lady Vape Pen Pro is a well-crafted disposable vape that is wrapped in stainless steel and PETG rubber paint with a silk print and equipped with an ergonomic food-grade mouthpiece which is comfortable to use. It has a solid build that hardly any e-liquid leakage can be found in this disposable vape. It is also a fuss-free vape - you do not have to recharge, clean, or refill it, just take it and vape till the last drop. Pre-filled with premium Dinner Lady 20mg nic salt e-liquid, equipped with a 1.6ohm coil, Dinner Lady Vape Pen Pro can deliver an authentic MTL vaping experience with quite a smooth throat hit and intensive nicotine satisfaction, the built-in 500mAh battery can support a long-lasting run. What's more, there are 14 flavours to choose from, catering to different vapers' appetites.
---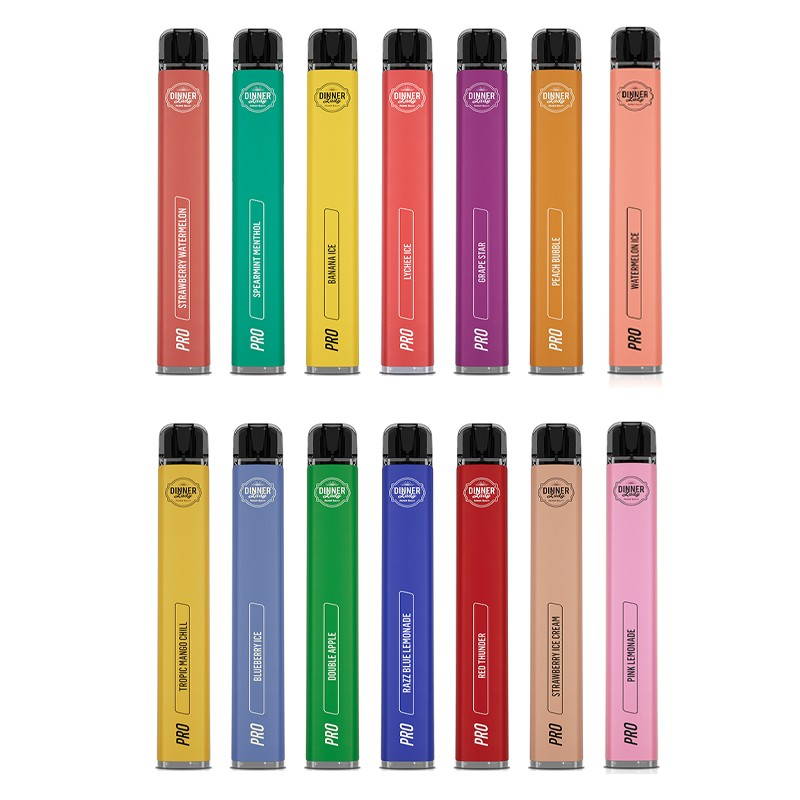 Dinner Lady says: "An incredible fusion of spearmint eucalyptus and menthol. Some might say it's the perfect all day vape of menthol profiles."
I say: "It brings a strong cooling mint sensation as I inhale this flavour and there is a slight sweetness lingering on taste buds, the exhale is full of an icy kickback and menthol aroma, an icy vape lover and menthol fan would love to vape it."
---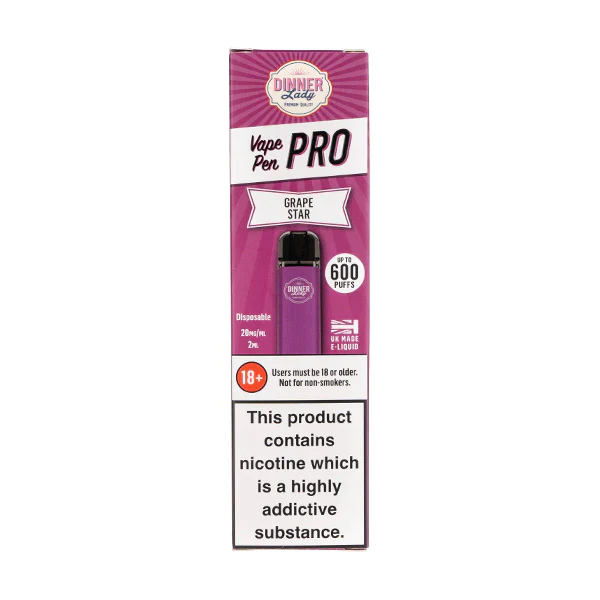 Dinner Lady says: "A truly unique flavour! Chilled fruity red and black grapes, with a touch of aniseed."
I say: " It is a different grape-flavoured vape compared to other grape flavours, besides the tangy aroma of red and black grapes, I can also feel a strong aniseed flavour profile after I take some puffs. There is a slightly chilling sweet and sour grape flavour in the beginning, and the intensive aniseed taste appears as I exhale the vapour."
---
Dinner Lady says: "A sweet combination of banana and vanilla cream chilled to perfection. "
I say: "A full-bodied tangy banana aroma with a creamy and sweet taste, complemented with an icy mint sensation, making the flavour more layered and mouthwatering. The banana scent is vividly expressed, as well as the taste."
---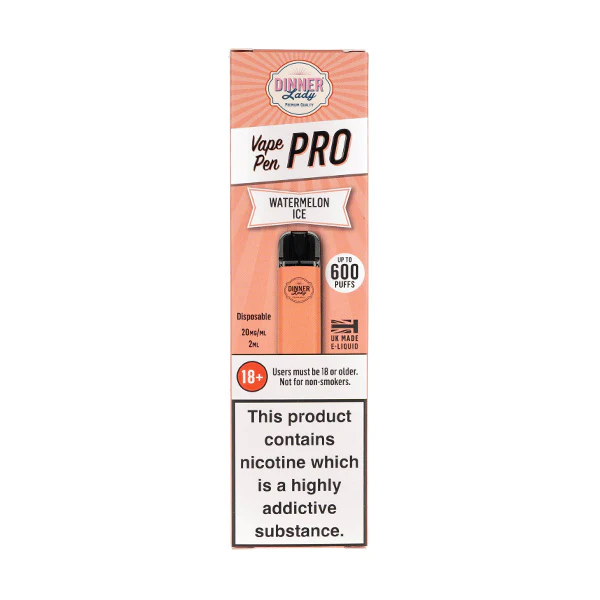 Dinner Lady says: "A newer take on our famous watermelon profile! With sweet cantaloupe, fresh honey dew and crisp watermelon, this trio will have watermelon lovers across the globe hooked. "
I say: "It is not merely composed of one watermelon but more - I can taste the crisp honey melon, the succulent watermelon, and the tangy cantaloupe. It is full of melon flavour and aroma, yet with a mild cooling kickback."
---
High-quality e-liquid makes sure an impressive flavour;
Simple and convenient design, pocket-friendly;
There should be more classic and unique flavours from Dinner Lady, such as Lemon Tart;
---
As the latest disposable vape from Dinner Lady, the Dinner Lady Vape Pen Pro no doubt is a reliable option to choose for most novice vapers since it is made of high-quality e-liquid, is easy to operate and is efficient to hold the nicotine cravings. Well, it could have been better if there are more flavours to choose from.
---