In for review is the latest cute but strong pod vape kit - Vaporesso Luxe QS Vape Kit, it comes in a rather sleek and compact size which is pocket-friendly and convenient for daily carry. What's more, this small cute body can deliver a strong and consistent performance - Vaporesso Luxe QS Vape Kit is powered by an internal 1000mAh battery which can be recharged via a Type-C fast charging cable, delivering a maximumly 21W output, equipped with an anti-leaking and an anti-messing 2ml pod, Vaporesso Luxe QS is capable of offering an authentic MTL vaping and powerful RDTL vaping experiences. And there are many classic features and designs which are inherited from the previous products such as rotation to change the airflow, Corex tech which delivers true taste and consistent performance, smooth metallic texture, and so on, let's see if we can find out more about it!
---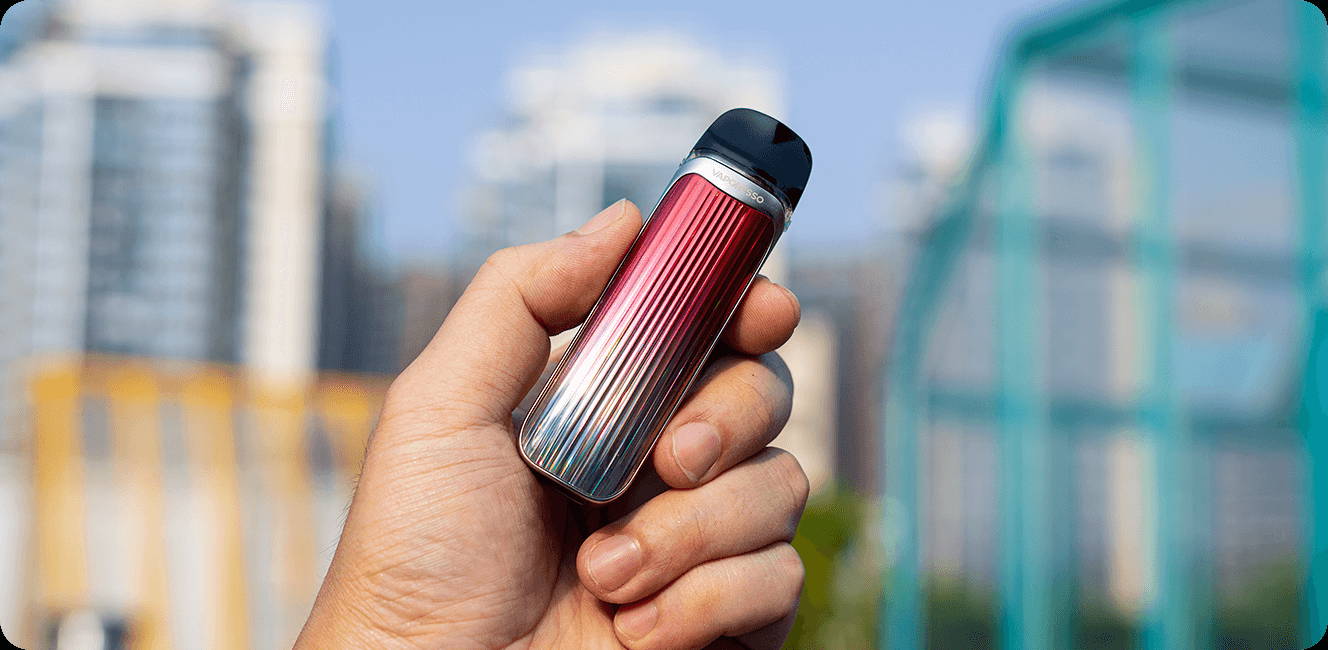 The Vaporesso Luxe QS Vape kit comes in a classic and compact half palm-sized shape which is easy and convenient for holding. There are 6 colours available, 3 of them are pure colours and the rest 3 are painted in gradient colours. For example, the Red Flame colour is a gradient colour from silver to red from the bottom up; The Vaporesso Luxe QS Vape kit has a smooth metallic texture which gives a comfortable grip and exquisite look.
The design of the Vaporesso Luxe QS is simple and clear. It simply consists of two parts - pod and device. On the front side, there is only an LED indicator on the centre, and the logo "VAPORESSO" is printed above the LED indicator. Since it is an inhale-activated device, there is no button on it. There are 2 air holes on the side of the device, and the Type-C charging port is placed on the bottom of the device on the back.
In short terms, Vaporesso Luxe QS vape kit brings an exquisite appearance, the shiny smooth metallic texture offers a comfortable holding experience and solid built. The humble and confident design is suitable for all the vapers.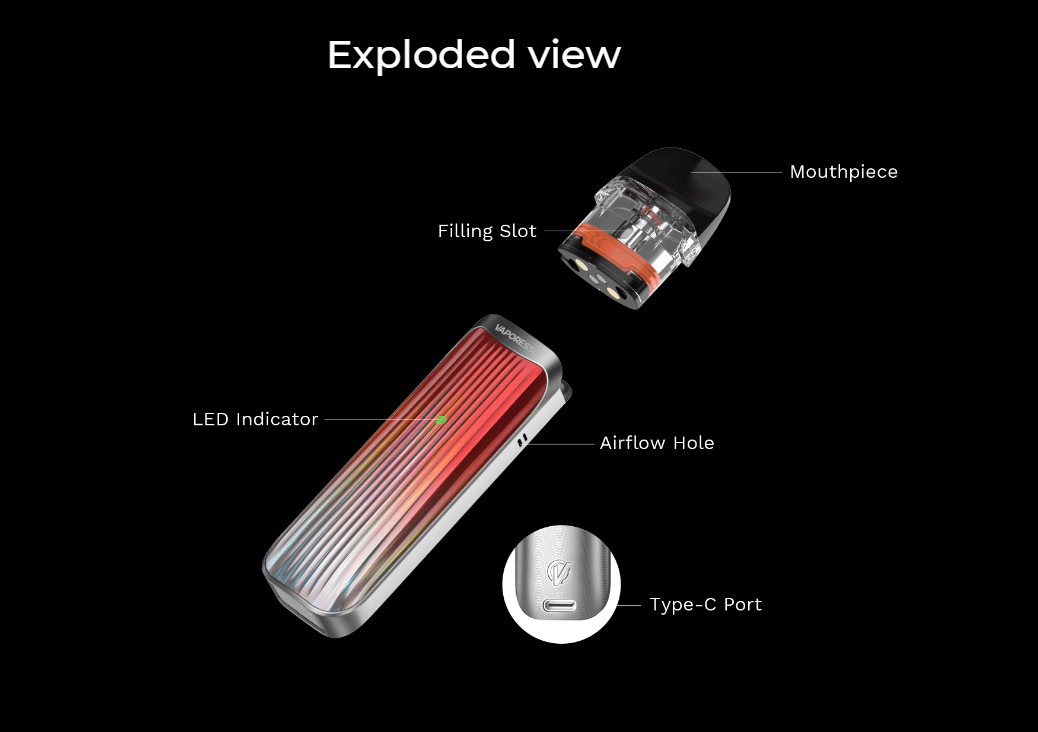 ---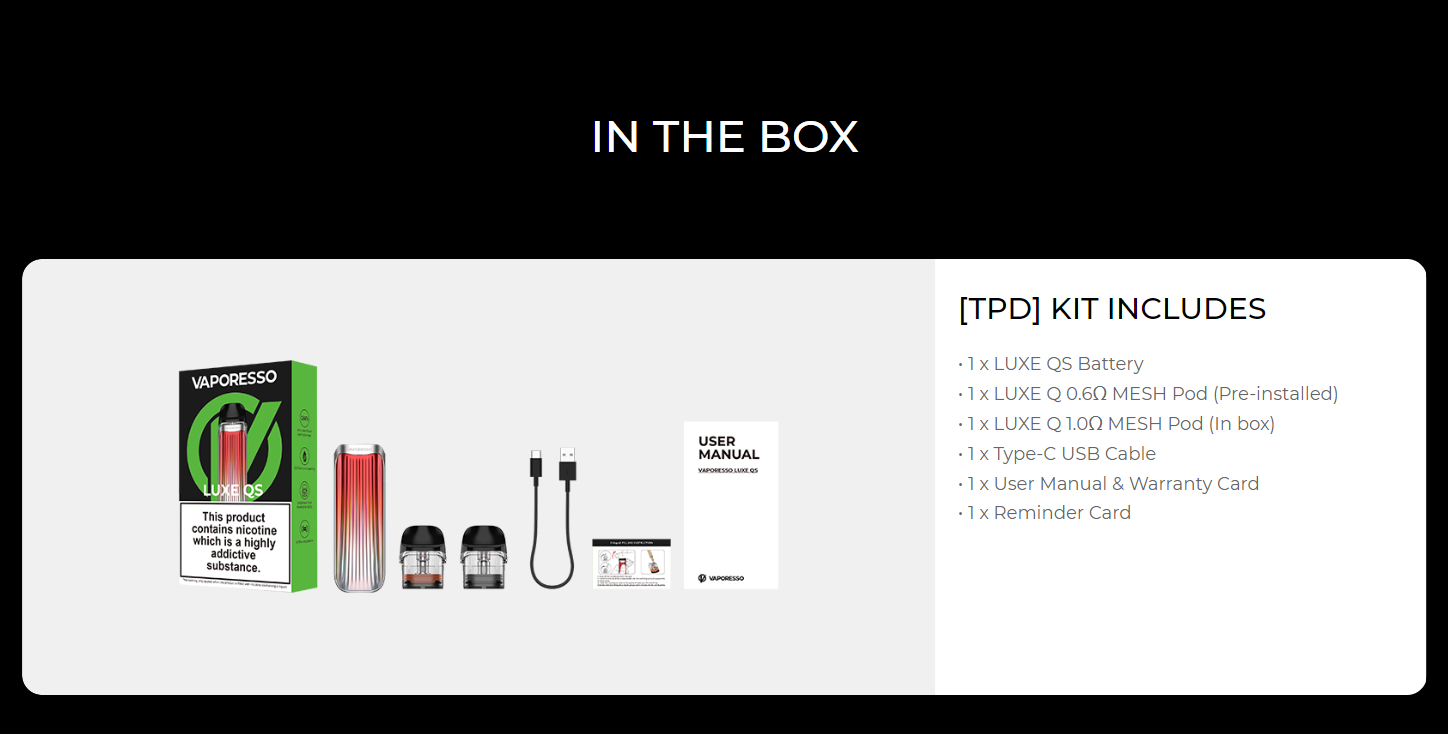 1 x Vaporesso Luxe QS device

1x 6 Ohm Vaporesso Luxe QS Pod

1x 0 Ohm Vaporesso Luxe QS Pod

1x USB-C Charging Cable

1 x User Manual& Warranty Card

1 x Reminder Card
---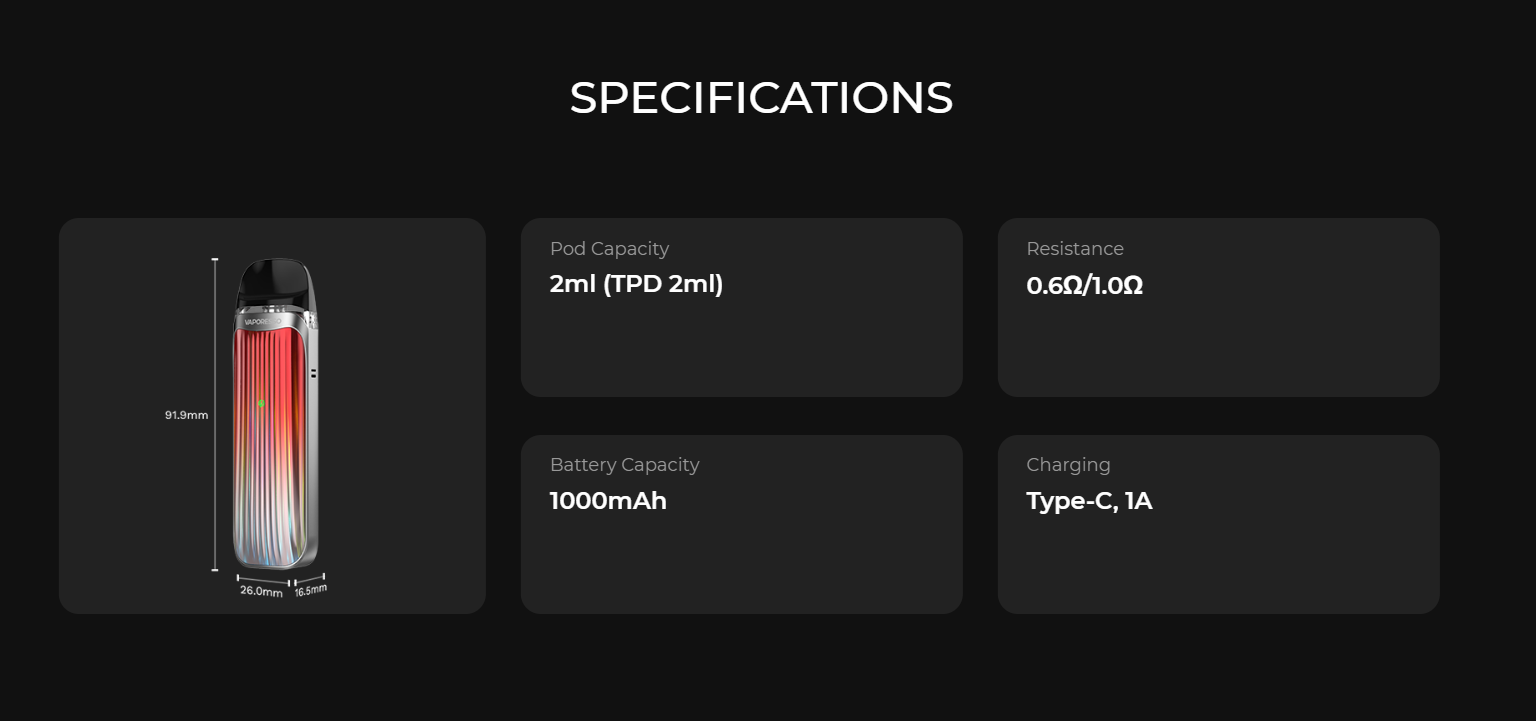 Size: 9.1 x 3.1 x 2.1cm

Weight: 66g

21W Max Power Output

1000mAh Built-in Battery

Pod Capacity: 2ml

Coil: 0.6Ohm &0.1Ohm mesh coil

Attractive Design

Inhale Activation

Anti-leaking and anti-messing pod

MTL&RDTL Vape Style

Refillable Cartridge

Adjustable Airflow

Charging Type: Type-C
Vaporesso Luxe QS vape kit is super lightweight and convenient for daily carry - it only weighs 66g. Meanwhile, it is powerful enough to support dual output modes - the internal 1000mAh battery can deliver a max 21W output and the included 0.6ohm pod and 1.0ohm pod can respectively bring smooth RDTL vaping and authentic MTL vaping experiences. The chip inside the Vaporesso Luxe QS can automatically adjust to the best output wattage according to the coil you use. With the auto-draw feature, a novice vaper can easily handle this compact and easy vape kit.
The airflow controlon the Vaporesso Luxe QS remains the sale - pull out of the pod and rotate it to change the airflow to get a looser or a tighter inhale, it is a great advantage when you want to try both MTL and RDTL vaping styles. Consequently, the Vaporesso Luxe QS suits almost all levels of vapers. The Vaporesso Luxe QS vape kit is powered by a built-in 1000mAh battery which, delivering max 21W output, bringing a natural taste of the e-liquid with consistent and powerful vaping experience. To enjoy MTL vaping or RDTL vaping, nic salt e-liquid or high VG e-liquid are highly recommended to use with the kit.
---
Since it is a compact vape kit with 0.6ohm pod and 1.0ohm pod, nic salt e-liquid and high VG e-liquid are my picks for the Vaporesso Luxe QS vape kit. To get an authentic MTL vaping experience, I adjusted the airflow to the minimal, and it turned out a little bit tight inhale with smooth throat hit and very natural taste. It actually performed well for the MTL vaping. Then I switched to RDTL vaping - pull out of the pod and rotate it, and then put it back to the device. And I filled the 0.6ohm pod with high VG e-liquid, and then a loose RDTL vaping experience was what I got, the flavour was expressed nice, the vapour production was decent.
While vaping, the LED indicator on the centre of the device will glow different colours depending on the battery remaining:
Green = 70% -100% Battery Capacity

Blue = 30% -70% Battery Capacity

Red = 0% -30% Battery Capacity.
---
Portable size with high build quality;

Easy to use - auto draw;

Humble and elegant appearance;

Good MTL and RDTL vaping experience

Good flavour and decent vapour production;
Limited airflow adjustment options;
Unable to replace the coils which means you'll have to replace a new pod when the time comes;
No power output options;
---
Vaporesso Luxe QS is a super compact and pocket-friendly vape kit which features MTL&DTL vaping, a fast Type-C charging tech, easy and effective airflow control, it is a nice vape kit for all levels of vapers who are looking for a compact and powerful vape.
---