Author: Alisa Yin / Category: Review / Published: Feb-26-2020
The SMOK Mag P3 Kit is the upgraded trigger-inspired Mag Kit from the very popular SMOK Mag series, which brought out high-wattage and powerful vape kits. The SMOK Mag P3 modeled after a gun's pistol grip goes with the trigger fire button and features a gun-handle design, which is comfortable to grip. It is more rugged than its predecessors and integrates the IP67 dustproof and waterproof design. Powered by dual 18650 batteries (sold separately) and equipped with the smart IQ-M Chipset, the SMOK Mag P3 Kit continues the aggressively maximum output of 230W and 0.001s fast firing speed. Paired with the SMOK TFV16 Sub-Ohm Tank of 9ml, you will not require to refill the tank in the next few days. The locking system on the top of the tank prevents leaking. The adjustable airflow control system brings you excellent flavor and huge vapor.
Price: £ 55.99 (at NewVaping)
Color: Red Black, Black Red, Green Black, Blue Black, Grey Black
SMOK Mag P3 Kit Specifications
SMOK Mag P3 Mod:
Size: 72.3 x 36.0 x 91.6mm

Batteries: 2 x 18650 (not included)

Wattage Range: 1-230W(VW)/10-230W(TC)

Input Voltage: 6.4-8.4V

Output Voltage: 0.5V-8.2V

Voltage Range: 0.5-9V

Standby Current: <400uA

Charging Voltage: 5V

Charging Current: 1.8A

Fire Speed: 0.001s

Resistance: 0.1-2.5ohm(VW)/0.05-2.0ohm(TC)

Temperature Range: 200℉-600℉/100℃-315℃

Screen: 1.9 inch HD touch screen

Thread: 510
SMOK TFV16 Tank:
Size: 32 x 64.5mm

Capacity: 9ml (Standard)/2ml(TPD)

TFV16 Conical Mesh 0.2ohm coil powered by nexMesh Technology(pre-installed)

TFV16 Dual Mesh 0.12ohm Coil

Drip Tip: 16mm Resin Drip Tip

Material: Stainless Steel + Glass + Resin

Thread: 510
SMOK Mag P3 Kit Package Contents
1 x SMOK Mag P3 Mod

1 x SMOK TFV16 Tank

1 x 0.2Ω Conical Mesh nexMesh Coil (pre-installed)

1 x 0.12Ω Dual Mesh Coil

1 x Silicone Sleeve for Bulb Glass

1 x Replacement straight glass

1 x USB Cable

1 x User Manual

1 x Spare parts
---
Build Quality and Design of SMOK Mag P3 Kit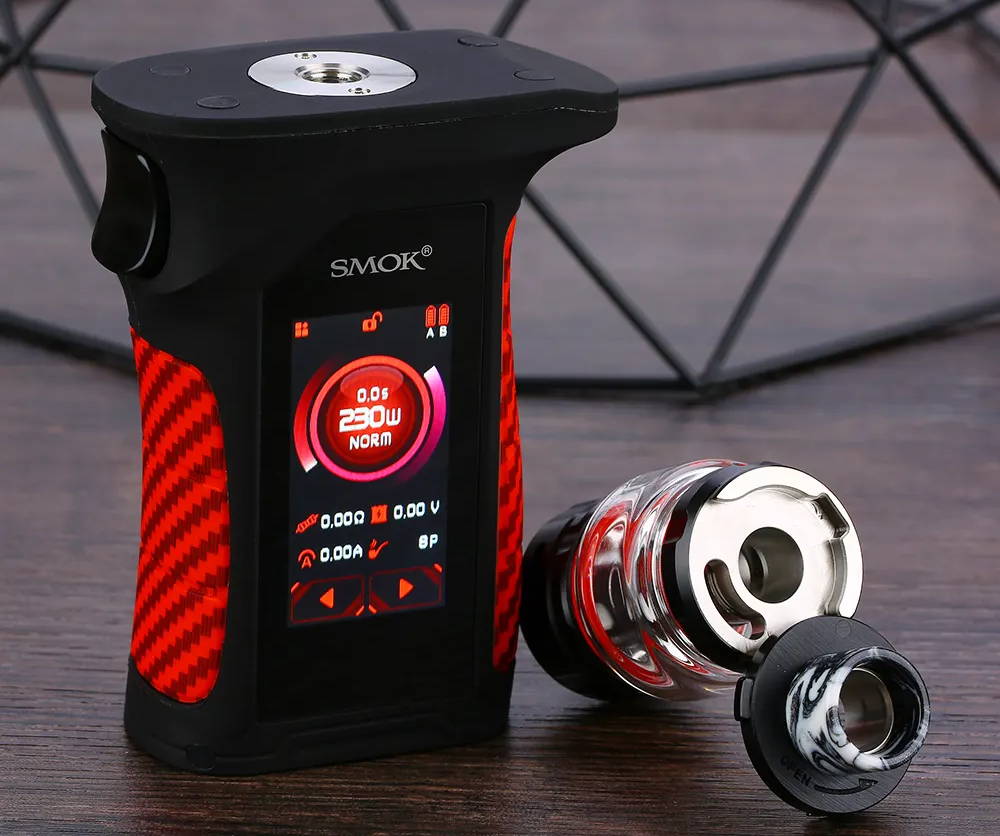 The SMOK Mag P3 Kit features the ergonomic gun-grip design. The top plate extends back over the crook between your thumb and forefinger for a comfortable grip. The fire button sits under your finger like a real trigger. The Mag P3 Mod measures at 72.3 x 36.0 x 91.6mm and weighs 251.5 grams, which feels hefty and fits perfectly in your hands. The mod is covered by a soft-touch with contrasting panels, that feels soft and smooth. The 1.9-inch large touchscreen with a user-friendly UI interface is responsive and locked by the four-digit password to avoid misoperation.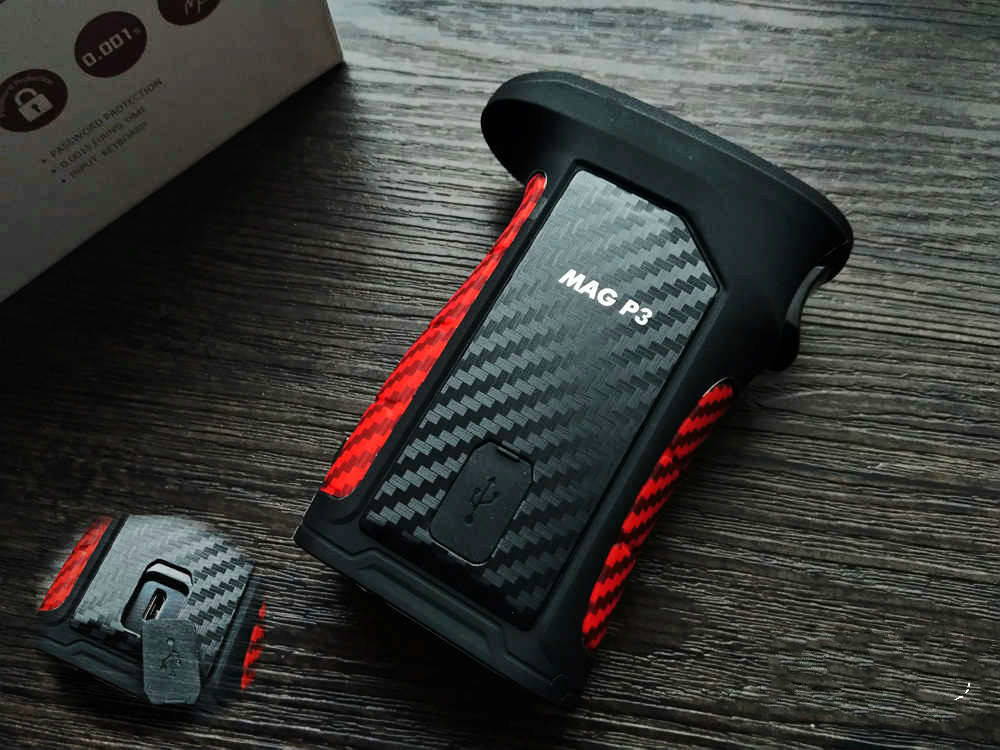 There are the 'Mag P3' branding on the back of the mod. The micro USB charging port stays at the base of the mod with a silicone plug to prevent water and dust. The battery cap is at the bottom of the mod. You can open the bottom-loaded hinged battery door by pressing an ergonomic button. The gold-plated centered 510 connection can accommodate the wide 28mm TFV16 tank perfectly. It can even house up to 35mm tank diameter with no overhang. The TFV16 tank with a sliding top filling system makes refilling a breeze. the adjustable airflow control system allows you to tighten or loosen the airflow according to your preference. The Smok Mag P3 Kit also comes with two coils, providing you the excellent flavor and massive vapor.
---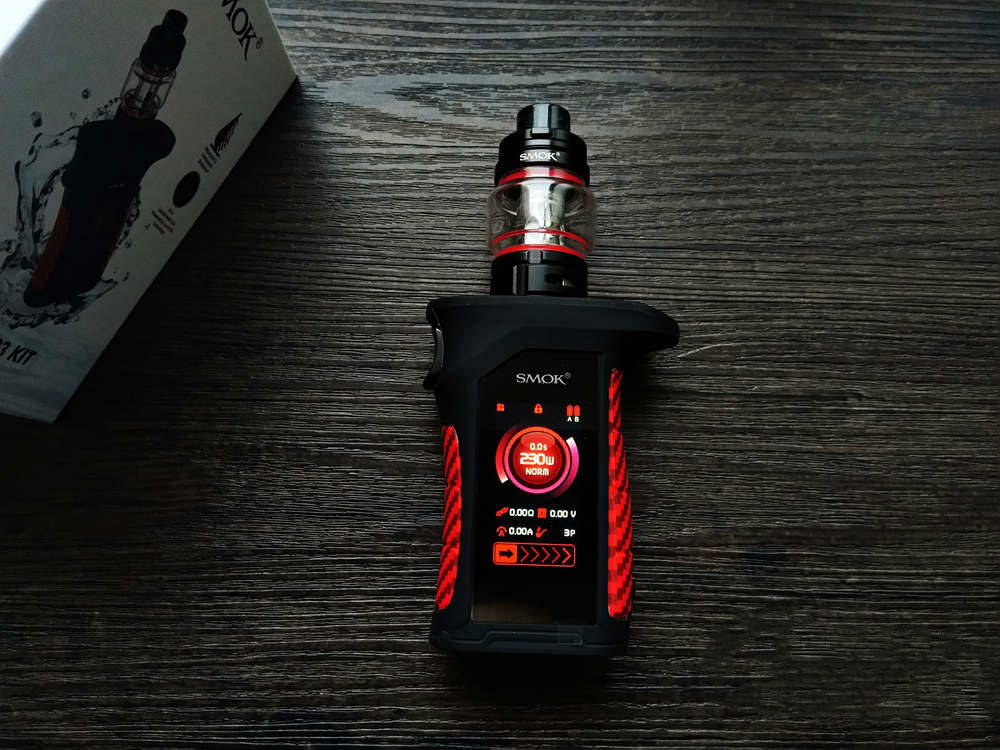 The SMOK Mag P3 is a hefty and rugged box mod that is waterproof, dustproof and shockproof. The durable and sturdy exterior is designed for harsh conditions. The rubber-like chassis is solid and wear-resistance. Its IP67 rating allows the P3 to withstand up to 3 feet or 1 meter of water submersion for up to 30 minutes. The trigger shaped fire button on the side of the mod is clicky and responsive.
The SMOK Mag P3 Mod is driven by dual 18650 batteries and charged via micro USB port with 1.8 amp current. We recommend you to charge the batteries externally. The advanced IQ-M chip provides a speedy ramp-up of 0.001s and powerful performance. The Mag P3 can fire from 1W to 230W and handle a variety of heating elements including stainless steel, nickel, and titanium. The mod can automatically recognize the resistance of an atomizer and offers several safety protections like overheating, short circuits and accidental puffing, etc. The 1.9-inch HD touchscreen is responsive and straightforward, allowing you to control all of the settings. The slide-to-open function that appears when you click the fire button, avoiding you from accidentally changing settings.
Operation Guide of SMOK Mag P3 Mod: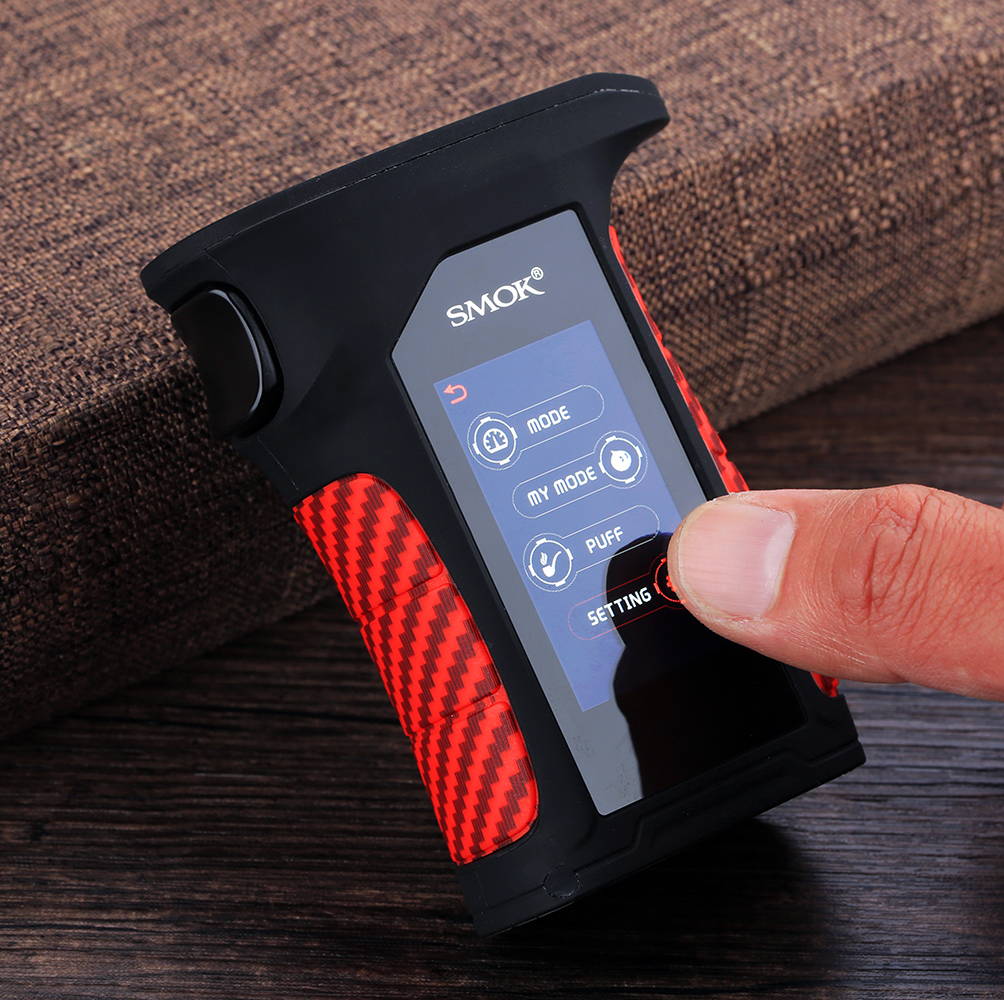 The Fire Button Operation:
5 clicks of the fire button to turn on or turn off the mod

3 clicks of the fire button to lock the fire button

2 clicks of the fire button for stealth mode and screen off
The Screen Displays When Vaping:
Menu

Lock icon

Two Battery indicators

Last puff duration, wattage and fire mode

Coil resistance,

Resistance of coil, Volts being drawn, current in Amps and Puff counter

Slide-to-Unlock indicator
The Main Screen Displays:
Mode - Wattage Mode (normal, hard, soft, temp mode)

My Mode (4 custom settings)

Puff Counter/Limit

Settings - set 4-digit password
---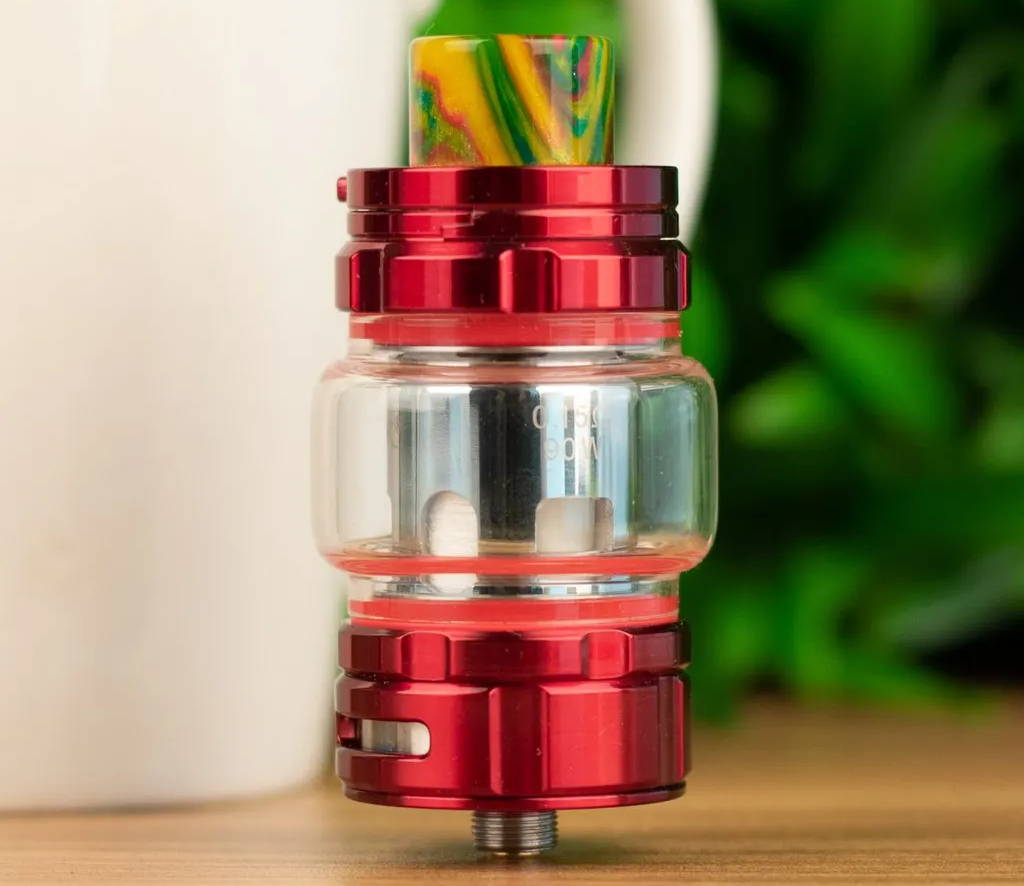 I will not go into detail about the SMOK TFV16 tank, as we have previously covered it in great detail. You can click here to check the detailed SMOK TFV16 review.
The SMOK TFV16 Sub-Ohm Tank is an absolute monster. It measures 28mm in diameter and has 9ml large capacity, which is great if you don't like filling tanks frequently. Made of Pyrex glass and superior stainless steel, the TFV16 tank is solid and strong. The childproof and top-filling design can handle a chubby gorilla tip or glass dripper easily. The increased base of the TFV16 improves the airflow intake to bring you huge and flavorful clouds.
---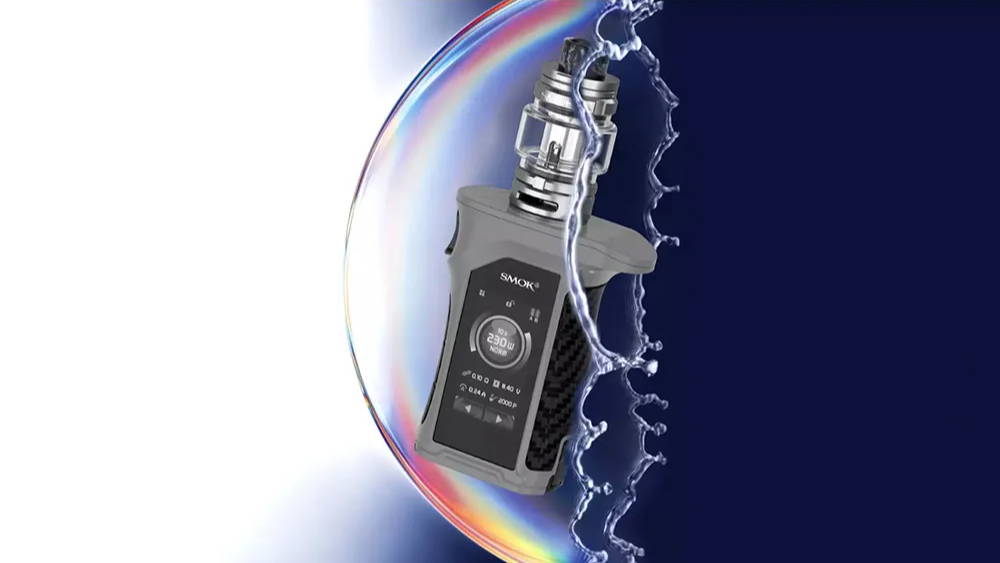 The SMOK Mag P3 Kit performs very well, especially with TFV16 attached. It is a solid and rugged vape device that brings you a lot of useful functions and various modes for different vaping needs. The dual 18650 batteries with upgraded IQ-M chip offers you up to 230W output at 0.001s ultra-fast speed. The IP67 waterproof and dustproof design make it great for outdoor usage. The 2-inch large screen is vivid and easy to operate. The trigger-inspired fire button is responsive and innovative. Overall, the SMOK Mag P3 Kit comes with all of you want most from a vape device. It is perfect for someone who is looking for a high-performance and powerful device.
Pros and Cons of SMOK Mag P3 Kit:
Pros:
Good build quality

Waterproof, dustproof and shockproof

Comfortable to grip

The bottom-loaded hinged battery door

Can accommodate most of the atomizers

IQ-M chip provides the various modes and safety protections

2-inch large touch screen for easy operation

Child-proof top filling system

Large airflow intake for flavorful taste

9ml large e-liquid capacity
Cons:
Only 18650 rather than 21700

Larger for small hands