Author: Alisa Yin / Category: Review / Published: Feb-06-2020
SMOK Nord 2 Pod Kit is the latest upgrade to the very popular SMOK Nord Pod Kit, which has been fully improved. SMOK Nord 2 has a more powerful battery, larger e-liquid capacity and higher power output compared to the original Nord. The built-in advanced chipset allows for more power for excellent flavor and massive vapor production. Both the hardware and the software have been improved. SMOK also boasts a 0.69inch OLED side screen and attractive panels. If you are a fan of the SMOK Nord, you will be interested in this new release. Let's check it out!
Price: £29.99 (at NewVaping)
Color: Red, Black Cobra, 7-Color Oil, Gold, 7-Color Cobra, White Cobra, 7-Color Resin, Black Stabwood, Red Stabwood
SMOK Nord 2 Pod Kit Specifications
Size: 95 x 30.5 x 20mm

Capacity: 4.5ml/2ml(TPD)

Battery: 1500mah

Output Power: 1 - 40W

Resistance Range: 0.3 - 3.0Ω
SMOK Nord 2 Pod Kit Package Contents
1 x SMOK Nord 2 Device

1 x Nord 2 RPM Pod (RPM Mesh 0.4Ω Coil Pre-installed)

1 x Nord 2 Nord Pod (Nord DC 0.8Ω MTL Coil Pre-installed)

1 x USB Cable

1 x User Manual
---
Build Quality and Design of SMOK Nord 2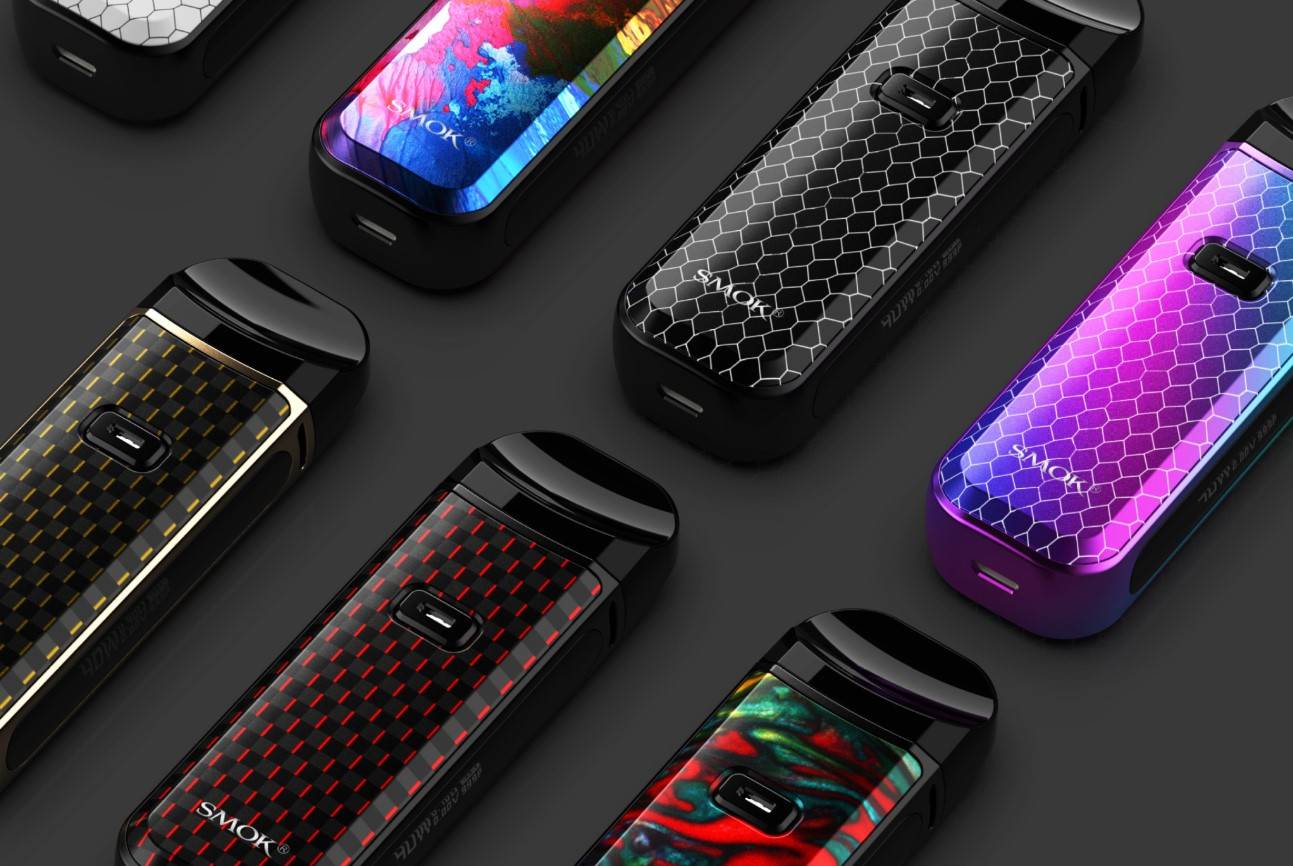 The SMOK Nord 2 Pod System measures at 95mm x 30.5mm x 20mm, which is a little bit thicker and taller than the original SMK Nord 2 due to the larger battery and display. The Nord 2 made of strong zinc alloy weighs only 79 grams, which is still ultra-portable and pocketable. The PC pattern panels on both sides feel comfortable to grip. The overall appearance and color matching are similar to its predecessor.
The SMOK Nord 2 has a larger capacity battery of 1500mAh and features a higher maximum output of 40W. The original Nord with 1100mAh battery only fires at 10 - 15W. It is still a button-triggered pod system. The SMOK Nord 2 has an upgraded chipset and 0.69-inch side-mounted OLED display screen. It comes with two pods - a Nord 2 RPM pod and a Nord 2 Nord pod, which offer you more pod and coil options. The USB charging port is on the bottom of the device. When you charge your SMOK Nord 2, you will see the battery power percentage and the estimated charging time from the screen.
---
SMOK Nord 2 Battery and Airflow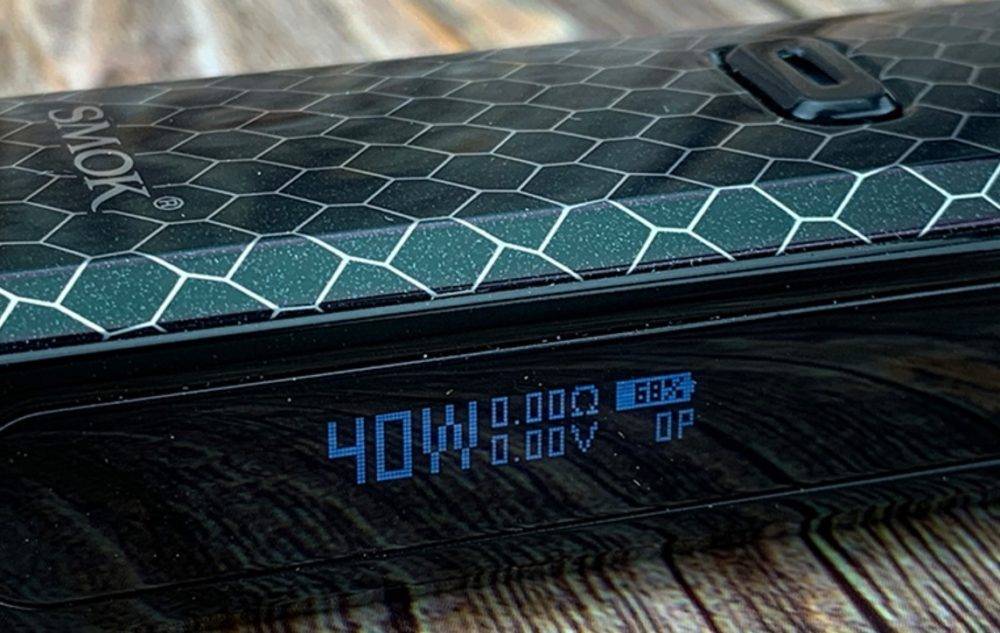 The SMOK Nord 2 is a versatile but simple device. The 1500mAh built-in rechargeable battery is much bigger than the previous Nord. The maximum output has been improved to 40W, which is the same as the SMOK RPM40. The SMOK Nord 2 is a single-button device, which is simple to use even for a beginner. Five clicks to turn on or turn off the Nord 2, keep pressing to vape. Click the button three times to adjust the wattage output. There is a 0.69-inch OLED screen on the side of the body, which is bright and clear.
There are two airflow holes located at the same place with the original SMOK Nord Pod Kit. But it is wider, which allows for more airflow intake for its higher wattage and massive vapor production. The SMOK Nord 2 battery and the pod are clipped in place instead of the regular magnetic connection, which is firm and reliable. There are also several safety protections to ensure safe vape - pod detection, short circuit protection, 8s cut-off, low voltage protection.
---
SMOK Nord 2 Battery Pod Cartridge
You will receive two pods in the box - an RPM Pod with RPM Mesh 0.4ohm coil and a Nord Pod with Nord DC 0.8ohm MTL coil. Both of the pods can hold 4.5ml e-liquid. The pods feature flat and comfortable drip tips that are not removable. Both of the coils offer you the intense flavor and massive cloud. The taste is concentrated and saturated.
The SMOK Nord DC 0.8ohm MTL coil is suitable for MTL vapers, which provides you more cloud and flavor, and features a longer lifespan. The SMOK Nord 0.4 ohm RPM Mesh Coils feature a honeycombed mesh design and are optimized for flavor chaser.
---
SMOK Nord 2 Pod System Review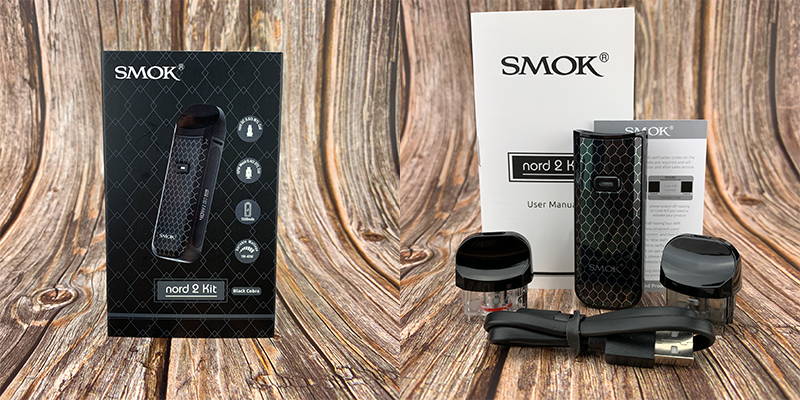 The SMOK Nord 2 is a compact and simple device but features powerful functions. The airflow of the Nord 2 is smooth and rich that even can catch up with the SMOK RPM40. The small OLED side screen shows the vaping information clearly and straightly. The 1500mAh battery is sufficient for a pod kit and the power range of 1 - 40W is powerful for a beginner or an experienced vaper. The 0.4ohm RPM Mesh coil and the 0.8ohm Nord DC MTL coil provide you a satisfying vape experience. If you are a fan of the SMOK Nord, I highly recommend you to try its new version - SMOK Nord 2. It will bring you a better flavor and vapor with its higher wattage. The improvements are noticeable and hit the spot.
Pros and Cons of SMOK Nord 2 Pod Kit:
Pros:
Zinc alloy construction with PC sides, solid and comfortable to grip

1500mAh large battery for a pod system

Single button design for easy operation

Comes with two coils for different experience

Higher power output of 40W

Wide airflow holes for smooth and flavorful vapor

4.5ml large e-liquid capacity

Side OLED screen displays your vaping data, easy to read

Several safety protections
Con:
Hard to see the e-juice level