SMOK is popular with vapers for its premium brand in the industry. Today, I'd like to introduce the new SMOK Nord Pod, a perfect vape for all you fashion chasers out there. Keep reading, and I'll tell you all about what makes the Smok Nord Pod so good!
With compacted design and a high quality of manufacture, SMOK Nord measures 94mm in height, 30mm in width, and 18.8mm in-depth with the pod attached, weighing in at around 80g.
This device utilizes 3 ml pods and different types of replaceable coil heads, suitable for both direct lung and mouth to lung vaping. It has an 1100 mAh battery capacity with the battery life all-day-vaping splendid and an output of up to 15 watts.
The Nord has a similar durable plastic outer shell but with a slightly chunkier body. It fits very comfortably in my hand and is easy to slip into my pocket. And it's easy to fill, be sure to do it on a slight angle to fill it up to max capacity. You can actually get the rubber plug to stay in place by folding it over and hooking it under the black part of the mouthpiece. The fill port is large enough to accommodate most normal dropper bottles.
Besides, there are 13 different colors offered, featuring a cobra pattern or resin-style design. Its flavor is excellent, the draw, while a tad loose for a pure MTL vape, is superior. To be honest, this is the most flavorful pod system I've ever tried.
Now, you know more about the SMOK Nord Pod, I bet you also need a quality atomizer for your vape. Let's find out how amazing the Wotofo Recurve RDA it is!
The Recurve Dual is a 24 mm RDA with a postless deck and side airflow that builds upon the well-thought-out design of its predecessor.
Compared with the original, it features a similar form factor but remains different in the following aspect:
Firstly, its dimensions are 24 x 34 mm, keeping it a rather compact size.  
Secondly, an enlarged postless build deck makes it incredibly easy to install your coil builds.
Thirdly, its massive juice well, which is definitely an improvement from its predecessor.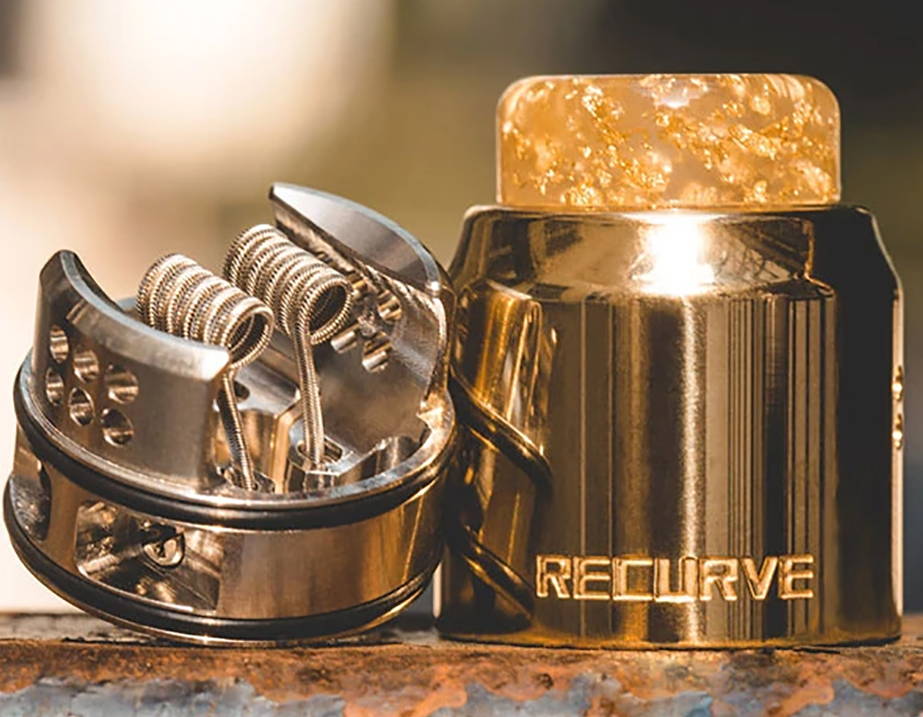 The Recurve Dual RDA does come pre-installed with a full bore 810 resin drip tip, so you'll be able to drip e-juice right through the center quickly. A BF pin is included as well, allowing you to use it on all of your favorite squonk mods. The airflow design is somewhat similar to the original with its dotted slant airflow slots.
It is fully adjustable as well, and hits the coil perfectly, ensuring excellent flavor. You'll receive Quad Core Fused Clapton coils and a coil trimming tool inside of the packaging. Furthermore, it works smoothly enough, and it is more convenient to adjust than the Recurve RDA's AFC.
Having used it for several months, the Wotofo Recurve RDA is a stellar rebuildable atomizer that I've ever used.
How do you like Smok Nord & Wotofo Recurve RDA? Did have a try? Let me know your thoughts in the comments below.