Author: Alisa Yin / Category: Reviews / Published: Apr-28-2020
Pozz X is the latest AIO device from the leading vape manufacturer SMOK in celebration of their 10th anniversary. Over the past few months, they have provided the vaping community with a diverse range of vape kits like SMOK Nord 2, Fetch Pro, Alike, RPM80, and RPM80 Pro, which are impressive and highly acclaimed. SMOK obviously cater to transitioning smokers and virgin vapers in 2020 and they have certainly gained a reputation as a player in the pod devices with the very popular RPM series.
The new SMOK Pozz X is a small and compact pod vape. It looks quite similar to SMOK Nord 2 but comes with higher power output, more airflow, and e-liquid capacity. The Pozz X runs on a built-in 1400mAh battery that helps to fire up to 40W and features long-lasting vaping time on a full charge. It is simple to use with a single button design while including two sub-ohm coils to carter more for the advanced vapers by providing a DTL draw.
Price: £ 36.99 (at NewVaping)
Color: Black, White, Purple, Blue, Orange, Yellow, Gray and 7-Color, Green Camouflage, Black and White Camouflage
SMOK Pozz X Pod Kit Specifications
Dimensions - 97.3mm by 33.6mm by 22mm

Integrated 1400mAh Rechargeable Battery

Wattage Output Range: 5-40W

Voltage Output Range: 1V-4.0V

Resistance Range: 0.3ohm - 2.5ohm

Zinc-Alloy Chassis Construction

Single Firing Button

0.96 TFT Display Screen

4.5mL Refillable Pod

Side Fill System - Silicone Stoppered

SMOK RPM Coil Series

0.4ohm RPM Mesh Coil - rated for 25W

0.6ohm RPM Triple Mesh Coil - rated for 25W

Bottom Coil Based Airflow Adjustment Ring

Press-Fit Coil Installation

Magnetic Pod Connection

Intelligent Atomizer Recognition

Puff Monitoring System

MicroUSB Port
SMOK Pozz X Pod Kit Package Contents
1 x SMOK Pozz X Device (1400mah)

1 x Pozz X RPM Pod (RPM Mesh 0.4ohm coil pre installed 4.5ml/2ml)

1 x RPM Triple coil 0.6ohm

1 x USB cable

1 x User manual
---
Build Quality and Design of SMOK Pozz X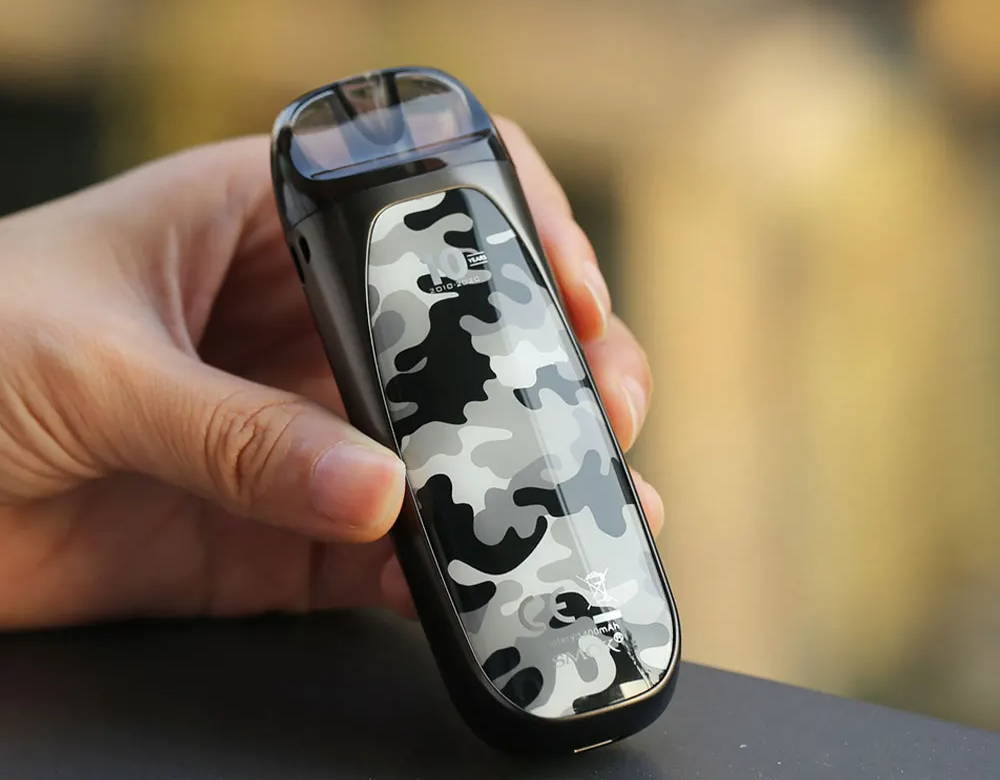 The SMOK Pozz X Pod System is a good-looking and well-made device. It's got a rounded and oval shape with an ergonomic and curvy design for a comfortable grip. The front and back panels are made up of four layers, including a hardened inner layer, PMMA, PC, and a process layer for great build quality. It is very slim and easily slips into your pocket with only 0.6mm thickness. The dimensions are 97.3mm x 33.6mm x 22mm, making it a little bit larger compared to the Nord. It weighs about 97g and feels a bit of hefty in hands.
The electroplating wraps around the sides and bottom of the Pozz X to provide a shiny and metallic finish with different color schemes. There are three symmetrical airflow holes on either side of the device to bring you the fantastic flavor and loose DTL draw. The round fire button on the front of the device is tactile and clicky. The 0.96-inch TFT screen beneath the fire button displays the vaping information. The micro-USB charging port sits at the contoured underside of the device. There are no battery venting holes visible on the device.
---
Features and Usage of SMOK Pozz X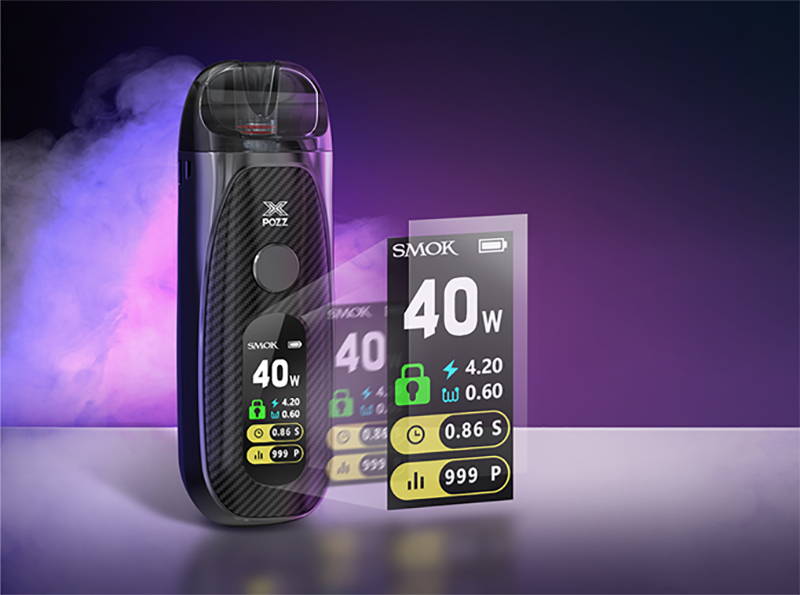 As with most pod AIOs, the SMOK Pozz X feels more like a full-fledged device. Driven by 1400mAh built-in battery, it can output a satisfying 5W to 40W and 0.3ohm to 2.5ohm. The device has a color screen on the front that is bright and easy to read. It shows basic info like battery life, wattage, voltage, resistance, puff duration, and puff counter. The display will standby after 15 seconds of inactivity to preserve battery life.
A single button operates everything on the device with the number of clicks. There are no adjustment buttons. The fire button takes on the menu functions. As far as operation goes, it is innovative and pretty easy to use, which is different to be the regular "five clicks to turn on/off" routine. The Lock Mode helps to prevent unexpected adjustments.
Quick Guide of SMOK Pozz X:
Five clicks of the fire button to turn on the device

In standby mode, five clicks of the fire button to enter into the main menu

Press the upper or the lower part of the fire button to cycle through To Lock, Power Off, Puff Clear

Press the fire button to confirm your choice

Three clicks of the fire button to adjust the wattage output from 5W to 40W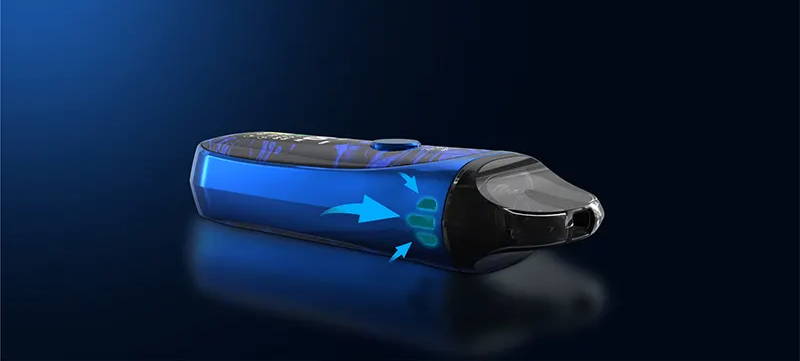 The airflow is radically increased, which is much more open than the Nord. The unique symmetrical three-spoke air slots on either side of the device effectively enhance the air channel for better flavor. It is supposed to provide a very efficient DL vaping.
---
SMOK Pozz X Pod Cartridge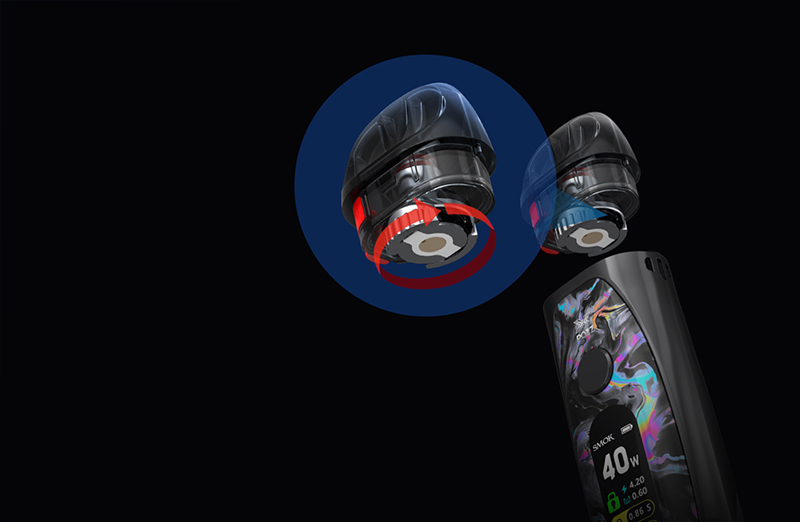 The SMOK Pozz X RPM pod is held in place very firmly with two notches that align to the inside of the battery section. It holds 4.5ml of e-liquid and comes with a wide and duck-billed mouthpiece, which is comfortable between lips.
Made of good-grade PCTG material, the Pozz X RPM Pod is clear and lightly dark-tinted, making it easy to see the juice level. The bottom of the RPM pod is incorporated with a fully adjustable airflow ring, which has a decent knurling and smooth tolerance for easy adjustment. So you have the option to enjoy a very restrictive DL hit. There is a rubber fill plug on the side of the pod, which is pretty standard for a pod device. You have to remove the pod to refill it.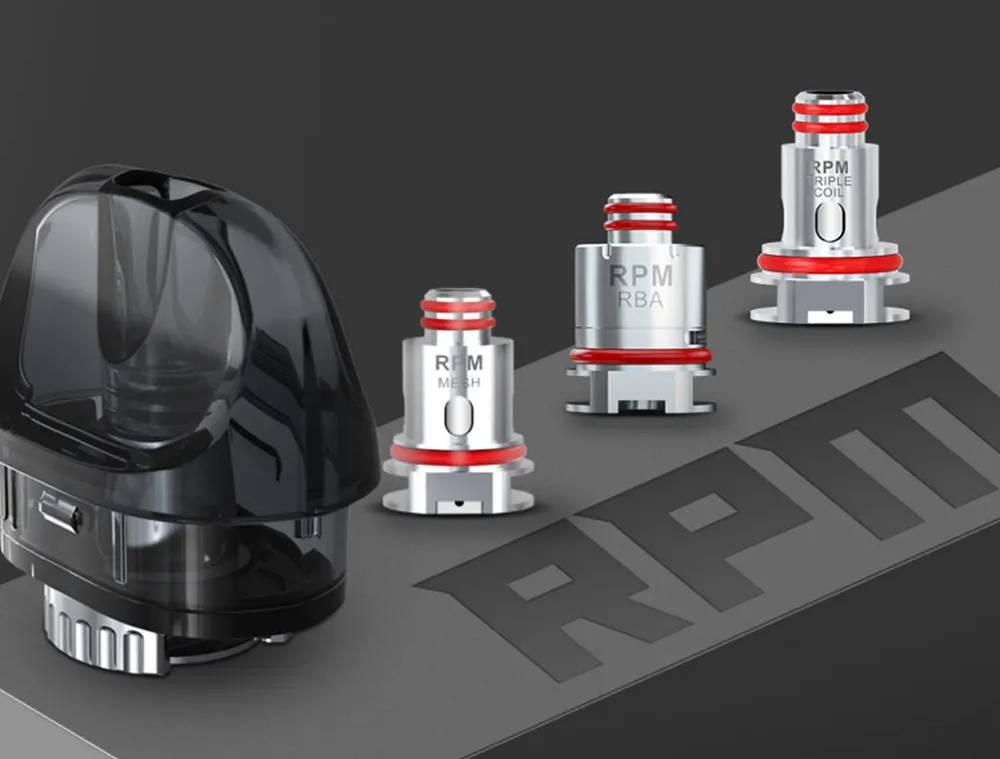 The coil is replaceable and features the plug and play method but you may require to rotate the coil into position, which is very convenient. The RPM pod cartridge is compatible with all of the RPM coil range including an RBA deck. The kit comes with two RPM coils - a pre-installed 0.4ohm RPM mesh coil and a 0.6ohm RPM Triple Ceramic coil, which bring a good amount of airflow for a slightly restricted DL draw and a very loose MTL vape.
0.4ohm RPM Mesh Coil rated at 25W gives you a massive cloud with a smooth and flavorful draw. It is the standard DTL vape. With a halfway of airflow, it provides a warm vape and restrictive lung hit with a stronger taste.
0.6ohm RPM Triple Coil rated at 25W has more restriction than the 0.4ohm coil. The flavor is average and the vapor production is decent. You will get a very loose MTL vape with the tightest airflow restriction, which is not bad for me.
---
SMOK Pozz X Pod Kit Review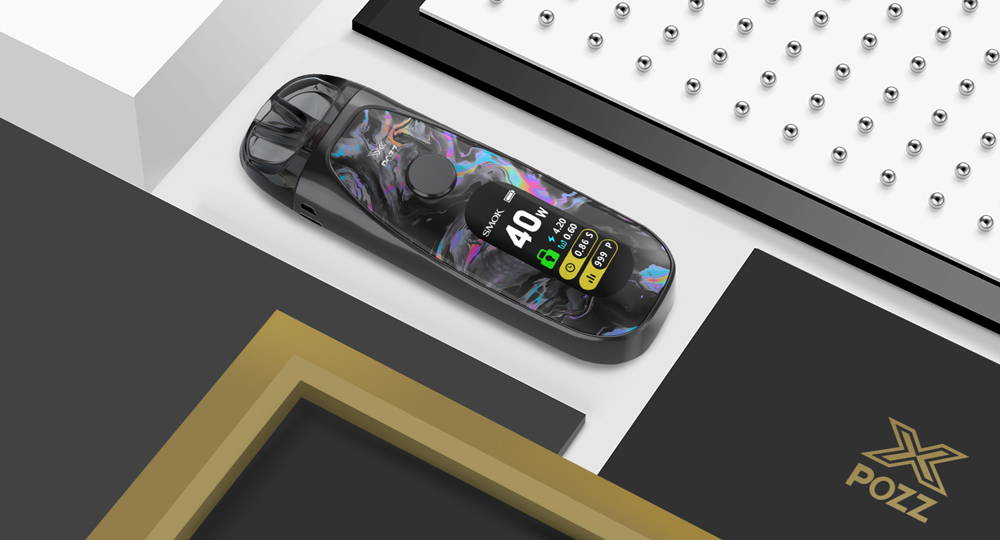 The SMOK Pozz X is a powerful pod-style device that can satisfy your everyday use. It is a bit bulky but feels comfortable in hands. The innovative 4-layer structure creates a thinner, harder, and shiny panel. It is slightly heavier than Nord but it is still portable for on-the-go use. The 0.96-inch TFT screen is clear with a straightforward UI interface. SMOK eliminates the adjustment buttons and uses a more convenient and innovative operation, which will not let you down.
The RPM pod is compatible with all of the RPM coils. Both of the coils included in the kit provide a superb vapor production. The unique three-spoke air intake channels help to provide a fully blown DL vape. The 0.4ohm RPM mesh coil replicates the flavor very well with a pure and strong taste. It drains the battery a little bit faster. The 0.6ohm RPM triple coil lacks flavor and has leaking issues.
Although you have several degrees of restriction, you cannot get a good MTL draw with SMOK Pozz. But the DL experience is very impressive. Overall. The SMOK Pozz is a powerful and reliable pod kit for both new vapers and experienced vapers. You can directly regard it as a DTL device.
Pros and Cons of SMOK Pozz X Pod Kit
Pros:
Good build quality

4-layer structure

Very thin, easy to take anywhere

Metallic and shiny panel

Single-button design for easy operation

0.4ohm coil performs well with great flavor

Huge vapor production

1400mAh large battery

Excellent DTL vape

Compatible with RPM coil range
Cons:
Lower battery life with 0.4ohm coil

0.6ohm coil lacks flavor

Not true MTL vape

A little bit bulky