Author: Alisa Yin / Category: Review / Published: Jun-18-2020
The Gen Nano is the latest vape device from well-known vaping manufacturer Vaporesso. As the name tells you, it is the follow-up mini version of the popular Gen of 2019. The Gen Nano is a fully adjustable device capable of up to 80W and comes equipped with the advanced Axon chip for full features and reliable performance. The Nano integrates a 2000mAh built-in battery with a solid 3.5ml GTX tank along with two GTX coil options. The shape and design of the Gen Nano are almost identical to the original Gen, but it is much smaller and lighter. It is designed to be lightweight and portable for on-the-go usage.
Vaporesso have become one of the top hardware makers in the vaping industry with over 13 years of experience in designing and manufacturing vape device. They have established a tradition in making reliable and high-performing devices and have made some very attractive devices recently like Gen S, Xtar, and Osmall. The Gen Nano comes in 6 colors and I received the silver. Let's see if it can live up to the standards set by Vaporesso's previous kits? As always, I will give my own honest opinion after a considerable testing period.
Price: £ 43.2 (BUY NOW at NewVaping) Use Code: NANO (20% off)
Colors: Black, Silver, Blue, Red, Green, Purple
Vaporesso Gen Nano Kit Specifications
Dimensions: 115.0 x 40.3 x 24.2mm

Coils: GTX 0.2Ω MESH Coil

GTX 0.6Ω MESH Coil

Compatible with other GT coils

Tank Capacity: 3.5ml

Output Power: 5-80W

Battery Capacity: Built-in 2000mAh

Display: 0.91" OLED Screen

Charging Current: DC 5V/2A, Micro USB
Vaporesso Gen Nano Kit Package Contents
1 x GEN NANO MOD

1 x GTX TANK 22 (3.5ml)

1 x GTX 0.2Ω MESH Coil

1 x GTX 0.6Ω MESH Coil

1 x Glass Tube (2ml)

3 x O-ring

1 x USB Cable

1 x GTX Coil Reminder Card

1 x User Manual

1 x Warranty Card
---
Build Quality and Design of Vaporesso Gen Nano
I always like the design of Gen series, but the Gen Nano feels a bit top-heavy with the GTX 22 tank. The Gen Nano mod is a pretty small and portable compared to regular box mod on the market. It is basically rectangular with smooth and rounded edges, which feels quite comfortable in the hands. The Nano stands only 115mm x 40.3mm x 24.2mm with a tank attached and feels more like a small pod system than a mod. It is surprisingly lightweight!
One of my favorite things about Gen Nano is the paint. It feels like a soft rubberized material yet looks like a metal body. Vaporesso claimed that there is a four-layer tactile coating and I believe them. The paint gives a soft rubber-like feel and makes the device less likely to slip out of your hand. I am pleased to hold it anywhere. The Nano may not be certified rugged, but it did survive a few drops without a scratch or wearing.
The mod comes in six colors with the blue, red, green purple ones fading into black at the bottom. I have the silver one which looks clean and solid, but the "green to black fade" is my favorite. The branding Vaporesso is in the middle of one side, and a small V logo is on the bottom of the other side. The centered and gold-plated 510 connection is great and can handle up to 25mm atomizer without overhang.
The fire button and the adjustment buttons are well placed on the front of the device. They are clicky and responsive. It is more suitable for thumb-firing than index-firing because it is so small. The 0.91-inch small OLED screen in black and white is bright with a simple menu system. The readout is large and clear. It's nothing fancy but it gets the job done well. On the bottom of the device, you can see the manufacturer's information as well as battery venting ports. The micro USB port sits on one side of the panel.
The overall build quality is excellent. The 510 pin works well. There is no movement from side to side when a tank was attached.
---
Features and Functions of Vaporesso Gen Nano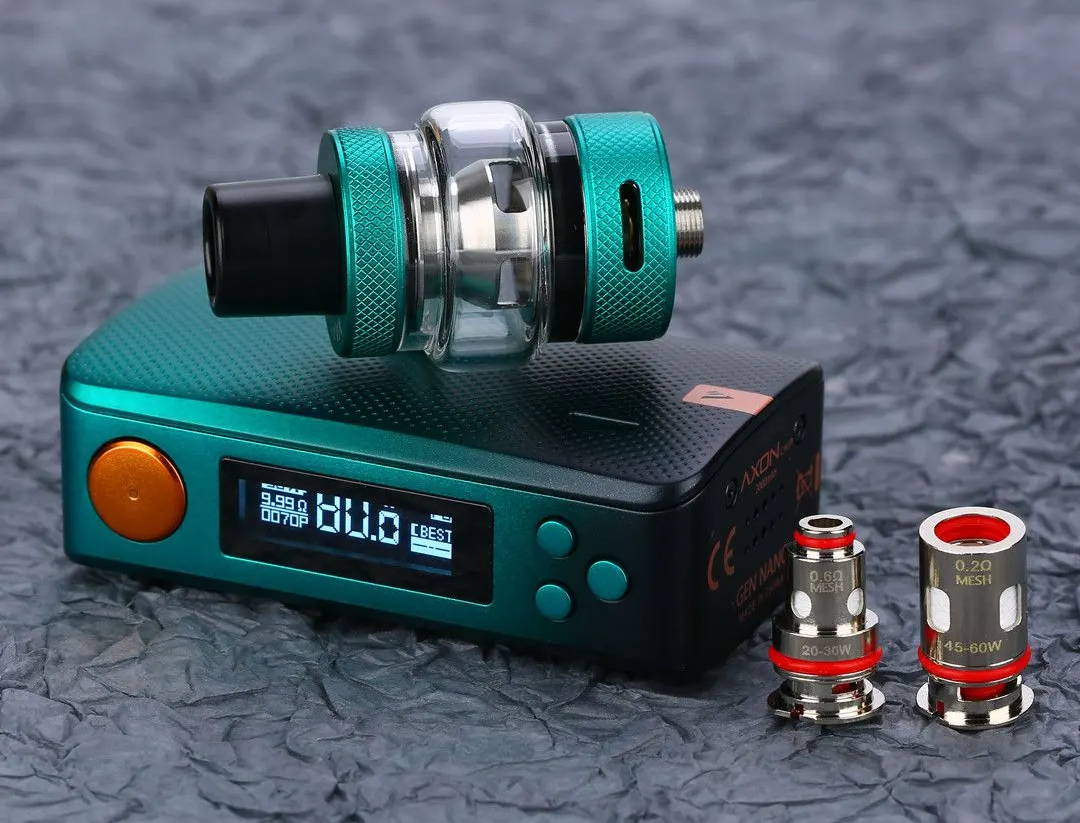 The Vaporesso Gen Nano is packed with full features and modes like most of their device. You have Pulse Mode, Power Eco, Smart TC, DIY mode, and System Set. You can pick the standard mode for variable wattage (normal, hard, and soft), temperature control (SS, Ni200, Ti, and a memory slot), variable voltage, watt curve mode, bypass mode, and super player mode. In the settings menu, you will also find the Smart and Auto Modes. The Nano uses a standard TCR system, which is fully adjustable across all vape modes.
In short, this small Nano mod has pretty much features and modes out there. It's cool to have many different features, but everything you need is hidden in the DIY mode. You may need to learn the tutorial carefully if you use the Vaporesso mod for the first time. It is a bit complex for a beginner. Here we will introduce the main functions of Vaporesso Gen Nano.
Main Features of Vaporesso Gen Nano:
Pulse Mode: It activates the boost feature by pulsing the power output every 0.02 seconds when you press the fire button
ECO Mode: It is a power-saving feature that helps to prompt power efficiency when it detects low battery levels
Smart TC: It automatically detects the coil in your atomizer and sets the optimal TC modes
Super Player: As the name tells, it is Power mode with lower resistance
DIY Mode: It allows you to set your preferred temperature, wattage, voltage or lets them in bypass, curve or Super Player
System Settings: It allows you to adjust the screen brightness, flip screen, clear puff counter, restore default settings, and check the firmware version, etc.
Quick Start Guide of Vaporesso Gen Nano Mod:
Five clicks of the fire button to turn on or turn off the device

Three clicks of the fire button to lock or unlock the wattage

Three clicks of the middle menu button to enter into the menu system

Use the adjustment buttons to scroll through different options and use the menu button to confirm

Use the adjustment buttons to adjust the wattage output

Enter the DIY mode to find the regular modes (VW, VV, TC, Bypass)
---
Vaporesso GTX Tank 22 Tank and GTX Coils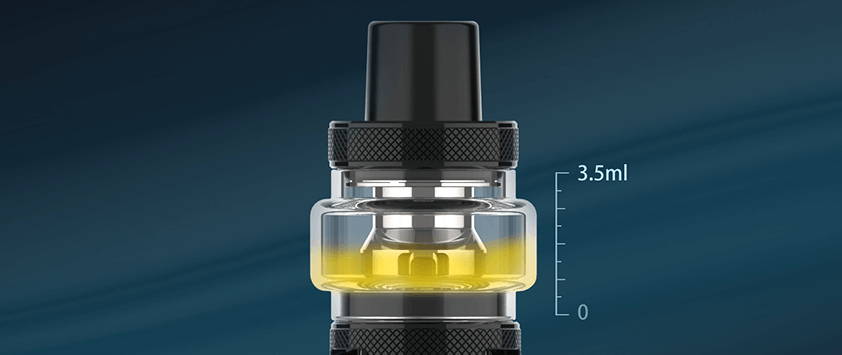 The Vaporesso Gen Nano Kit comes with the GTX 22 sub-ohm tank that features two GTX coils - a 0.2ohm GTX mesh coil and a 0.6ohm mesh coil as well as two glass tubes. It gets a 22mm base diameter and feels heavier in hands than the Nano mod. The GTX 22 tank comes pre-installed with the 3.5ml bubble glass and uses a wide-bore comfortable 510 Delrin drip-tip that is press-fitted into the top of the tank. It is removable and feels comfortable between lips. The tank features three large bottom airflow holes that are fully adjustable.
There are some beautifully interwoven patterns on the top cap and on the airflow control ring for styling and easy grip. The branding Vaporesso is engraved on the threaded top cap. The filling port is very generous that can accommodate all of the bottles so there are no issues with filling. The airflow control ring is smooth and easy to adjust. The GTX Tank is also compatible with all GTX coil series so you will have more choices.
---
Performance of Vaporesso Gen Nano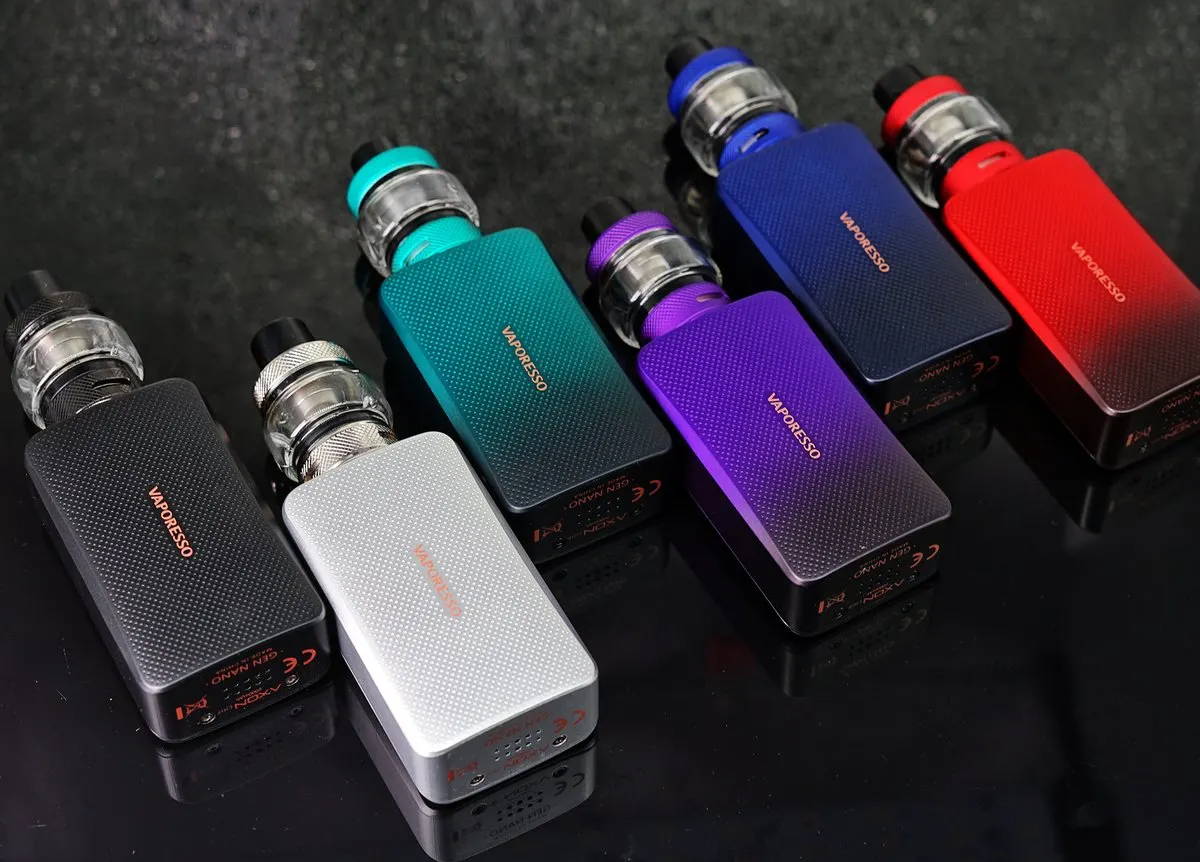 The AXON chip is very accurate that deserves to be called high-end chip out there. The small OLED screen is easy to operate for different options. The Nano Kit comes with two coils. Both of the coils are large in size and have multiple wicking ports.
Vaporesso Gen Nano Kit 0.2ohm GTX Mesh Coil: Rated for 45W - 60W
Start with 60W and fully open the airflow. I got a very flavorful and warm vape. The vapor production is massive. I enjoyed it more at 80W, which is 20W more than recommended. The taste was very strong and the vapor production was fairly great. Of course, vaping at 80W may drain your battery life faster, but I have nothing to complain about when a small device like Nano is delivering a very flavorsome vape and a surprisingly dense vapor to boot. The 0.2ohm GTX coil is certainly more of a cloud-chasing coil for sure.
Vaporesso Gen Nano Kit 0.6ohm GTX Mesh Coil: Rated for 20W - 30W
At the minimum recommended 20 watts, with the airflow wide open, you will enjoy a thick cloud and intense flavor. Upping the wattage to 30W then to 35W, I was able to get an intense flavor. The sweet dessert really popped, the vapor production surprisingly massive. Very satisfying!
---
Vaporesso Gen Nano Review

Vaporesso did a great job with the Gen Nano. It is a small, well-built and reliable portable sub-ohm vape. The 2000mAh large built-in battery with the 3.5ml GTX tank can provide all-day vape. The Axon chip is accurate and high-performing. You will get a ton of modes and features in a simple and clean looking mod. It's hard to complain, but I would like a larger TFT screen. If you looking for a portable and solid performer, the Gen Nano will satisfy your needs when on the go. It really did a great job! I'd like to hear from you. Are you planning to buy the Gen Nano? Let me know in the comments below.
Pros and Cons of Vaporesso Gen Nano:
Pros:
Good build quality

Soft-touch coating

Ultra-portable and lightweight

Equipped with Axon chip for full features

Both coils work well

Very flavorful with massive cloud

Clicky and responsive buttons

Clear and bright screen

Easy to operate

Fully adjustable airflow

2000mAh large battery capacity

Comfortable 510 drip tip

Compatible with all GTX coils
Cons:
A bit leaking

Looks a bit top-heavy