QUICK LINKS
Price: £ 79.99 (at Newvaping)
Colours: Classic Black, Matte Gold, Space Grey, Sapphire Blue
The GEN X Kit is a well build and good design vape product from famous vaping company Vaporesso. The Vaporesso GEN X Kit is a completely adjustable device with the capacity of firing from 5W to 220W and utilizes dual 18650 batteries with a superb tank along with two coils alternatives. It really is designed for DTL vapers.
Vaporesso GEN X Kit Specifications:
Size: 27.6 x 49.4 x 144.8mm
Battery: dual 18650 batteries(Not included)
Output: 5-220W
Tank capacity: 8ml(standard) / 2ml(TPD)
Display: 0.91 inch OLED Screen
Resistance Range: 0.03-5Ω
Charging Current: 5V/2.5A
Chipset: AXON Chip
Mode: Pulse Mode/Power ECO/Smart TC/DIY
Coils: GT Meshed Coil (0.18Ω, 50-85W)
GT4 Meshed Coil (0.15Ω, 50-75W)
Thread: 510
Vaporesso GEN X Kit Package Contents:
1 x Vaporesso GEN X Mod
1 x Vaporesso NRG-S Tank
1 x 0.18ohm GT Meshed Coil
1 x 0.15ohm GT4 Meshed Coil
1 x 5mL Glass Tube
1 x 4 O-Ring
1 x Micro USB Cable
1 x User Manual
1 x Warranty Card

Build Quality and Design of Vaporesso GEN X Kit
The Vaporesso GEN X Kit is definitely an operating and solid kit with the size of 27.6 x 49.4 x 144.8mm. Made of Zinc Alloy, the Vaporesso GEN X Kit possesses an ergonomic declare that suits your palm correctly.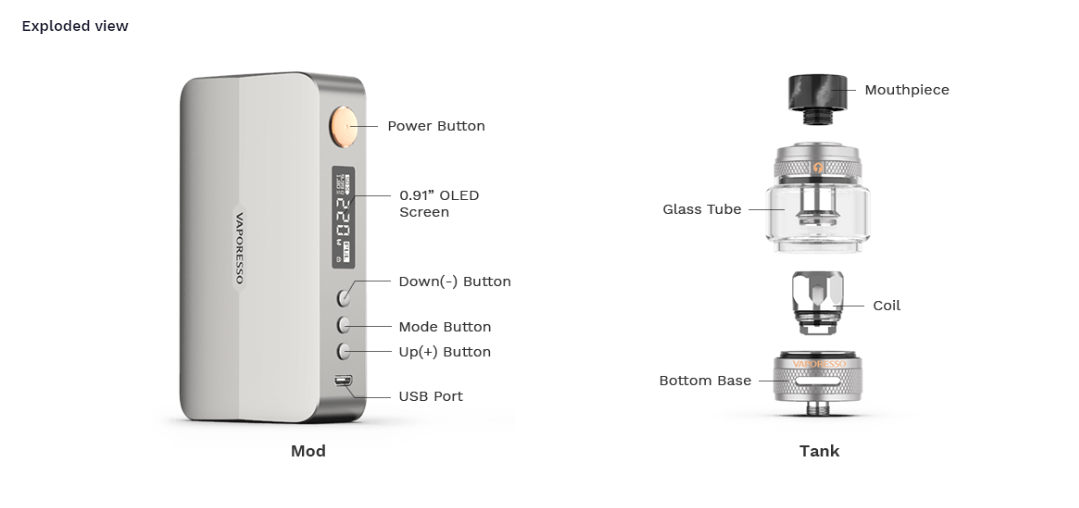 Throughout everything is incredibly flawlessly toned. The spring-loaded 510 connector can pair with 27.6mm tanks without overhang. The Vaporesso GEN X Kit features fire button and up/down button, which is normally clicky and responsive. The OLED screen is bright, clear and also easy to read. Vaporesso GEN X Kit is currently offered in seven colour combinations. Some colours are solid like black, silver, and gold while the other four colours – blue, green, purple, and red – have a gradient with specks of black.
Functions and Features of Vaporesso GEN X Kit
The Vaporesso GEN X Kit is powered by dual 18650 batteries and maintains top-tier efficiency through the complete experience. The 0.91 inch OLED Screen shows your vaping details like battery level, resistance, wattage and voltage. The operation of the menu is generally great. No concerns to scroll through the menu options at all.
More features, stronger hit, richer flavour, and improved Slide-N-Fill technology have allowed GEN X to become the undisputed leader in GEN series. 
The Vaporesso GEN X Kit is paired with the Vaporesso NRG-S Tank and includes two coils: 0.18ohm GT Meshed Coil and 0.15ohm GT4 Meshed Coil. It is a great choice for both effectiveness and construction. It provides an easy top filling design. The drip tip is in good shape and meets my lip in a very comfortable way. As we took a closer look, we realized it's because of coils' larger than usual mesh hole size and increased sets of ports on both coils that allows better wicking.
Filling on NRG-S Tank is easier than ever. You simply have to slide the top cap and quench your tank's thirst for e-juice. The use of revolutionary Slide-N-Fill technology ensures Vaporesso GEN X remains spill-free no matter how and where you vape.
To start vaping, you should get your coil with a few drops of e-juice, then put it into the tank, fill up your selected e-liquid, finally, hold it at least 4min to make the coil fully saturated.
Performance of Vaporesso GEN X Kit
Owing to the advanced mesh technology of the coils, Vaporesso GEN X offers a strong hit of flavour as the meshes are crafted to enrich the flavour.
Moreover, the insulated layers within the tank allow an insane vaping experience as the mod does not get heated but the flavour gets pleasantly warm.
Vaporesso GEN X Kit Battery Life
The Vaporesso GEN X Kit is powered by dual 18650 batteries. The battery life can be affected by different factors such as battery type, coil type, and usage frequency. I think it performs really nice as for dual 18650 batteries. I can use it for all day without recharging.
Vaporesso GEN X Kit Review
The Vaporesso GEN X Kit is a concise and reliable device. The flavour and cloud creation are excellent. With all the above features included, I really enjoy the performance of it and using it. It's truly a stunning device in my mind. If you're buying functional and smart kit, I'll recommend you to seize the Vaporesso GEN X Kit. So what accurately will be your opinions on the Vaporesso GEN X Kit? I want to know it by your comment!
Pros and Cons of Vaporesso GEN X Kit
Well-build and good design
Great flavour and cloud
220W max output wattage
Impressive battery performance
Functional and smart
Intelligent Axon chip
Widely compatible with GT coils
Easy top screw-up refill design
Adjustable bottom airflow system
Smart Temperature Control to prevent overheating
Support PULSE Mode, SMART TC, POWER ECO, DIY modes
Only for DTL vapers
A bit heavy for me
Not Groundbreaking
Not a good MTL experience
What age can you start vaping?
The legal age in most countries to buy e-cigarettes is 18 to 21, depends on your countries, but online stores don't always ask for the proof of age.
Is Pod better than mod kits?
Pod systems offer many advantages over other mod kits, such as convenience, portable and user-friendly. If you are an advanced vaper and prefer better vapour and settings, then mod kits are better for you.
Which coil is best for DTL?
Vape devices which have tanks that use under 1-ohm coils are the best for DTL. Because they can keep the right temperature to produce a good flavor.
What's the difference between Podsystem and mod kits?
Many mod kits are designed for sub-ohm vaping, so they are usually used with a higher VG e-liquid. Pod systems are best used with nic salt e-liquids.
How much are vape kits?
Vape kits range in price from $15 to $100. At the low end, you will find the relatively simple vape pens and pod systems which are great for beginners.