Author: Alisa Yin / Category: Review / Published: Apr-16-2020
Vaporesso has released a couple of full-featured pod mods with a single 18650 battery, making the lines between vaping styles become blurry. The pod kit had changed into a relatively powerful device for cloud chasing. That almost diverge from its original target audience who want a simple and discreet smoke cessation tool. Now, Vaporesso is back again with the new Xtra Pod System, which marks a welcome return to basics.
The Vaporesso Xtra is a small and compact pod device with a 900mAh internal battery for an entire day vape. The sleek and ergonomic design fused with the stylish anti-skid fabric panel brings you perfect hand feel and comfortable grip. There are 2 different types, a normal version and a resin version. The Xtra Pod Kit comes with two 2ml replaceable pod - a 0.8ohm Mesh UNIPod and a 1.2ohm UNIPod while utilizing the upgraded cotton material for both DTL and MTL vape.
Price: £ 29.99 (at NewVaping)
Colors: Grey, Rainbow, Silver, Grey Resin, Rainbow Resin, Silver Resin
Vaporesso Xtra Pod System Specification
74 x 38 x 17mm Dimensions

900mAh Integrated Battery

11W Maximum Output: Unipod with 1.2ohm Coil

16W Maximum Output: Unipod with Mesh 0.8ohm Coil

2mL Vape Juice Capacity

Upgraded Cotton Coil Material

Ergonomic, Anti-Slip Design

Compact & Pocket-Friendly Design

Fixed Coil Pod System

Coil Options: 1.2ohm or 0.8ohm

3-Color LED Battery Indicator

On-Off Button At Base

Draw-Activated Firing Mechanism

Comfortable Mouthpiece Design

Dense Vapor & Pure Flavor

Refillable Pod with a Simple Side Fill Design

Easy, Snap-In Pod Connection

Fast-Charging Micro USB Port

Easy-To-Use Six

Color Designs
Vaporesso Xtra Pod System Package Contents
1 x Vaporesso Xtra Pod Device

1 x Vaporesso Meshed 0.8ohm Unipod

1 x Vaporesso 1.2ohm Unipod

1 x USB cable

1 x User Manual

1 x Warranty Card
---
Build Quality and Design of Vaporesso Xtra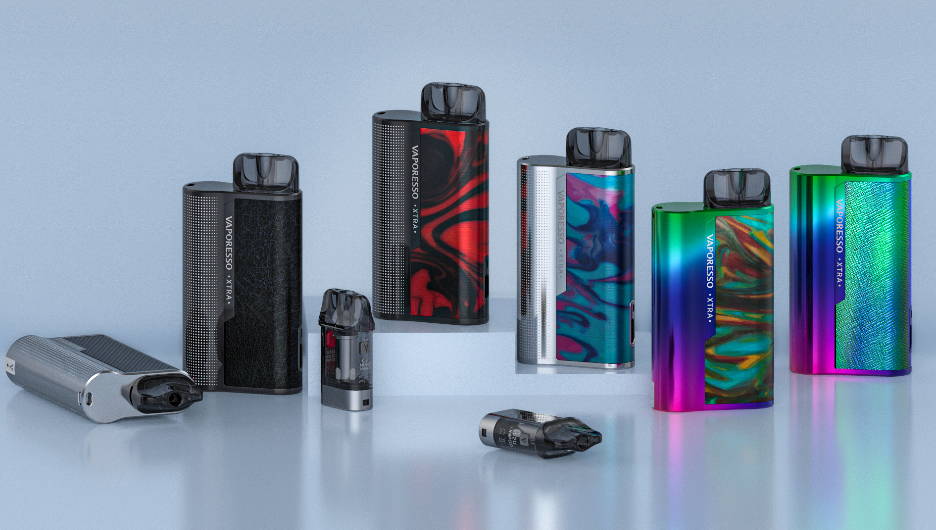 The Vaporesso Xtra Pod Kit is a stylish and pocket-friendly device. It is available in a range of eye-catching styles and colors. Shaped in ergonomic rectangle with rounded curve on both sides, the Xtra is sleek and streamlined without sharp corners. The curved camber with beautifully crafted patch appears a striking design aesthetics. The exquisite and anti-skid textured side panel is designed to fit your fingertips and reduce the chance of slipping out from your hand. The woven-fabric panel on the front is silky in profile and provides soft touch without indentation.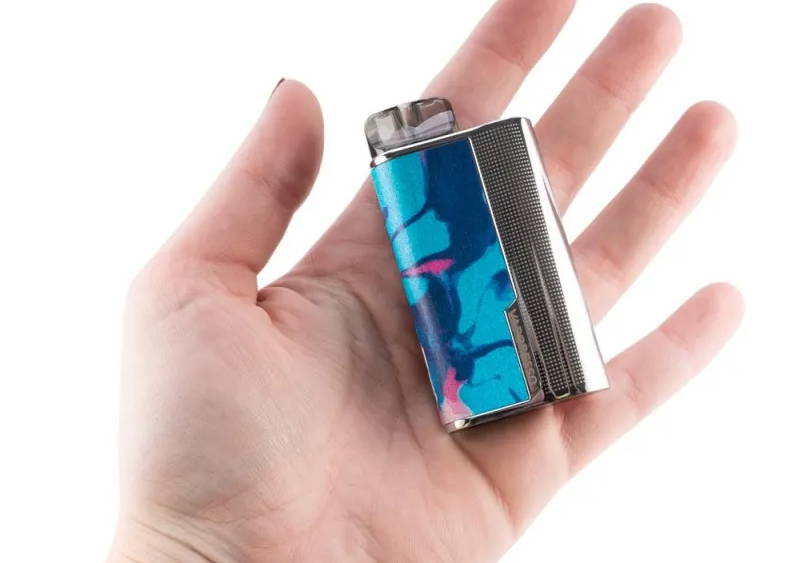 Measuring at 74mm x 38mm x 17mm, the Xtra is extremely compact and lightweight. The flat and slim shape means that you can easily put it into your pocket or purse. It is also pretty short compared to other pod kits. I consider it a stealthier kit for outdoor uses. The frame is made of sturdy metal with a grid of dots imprinted onto it, which can withstand a few drops. The metal bulging is clear like a mirror. The build quality and the machining are perfect.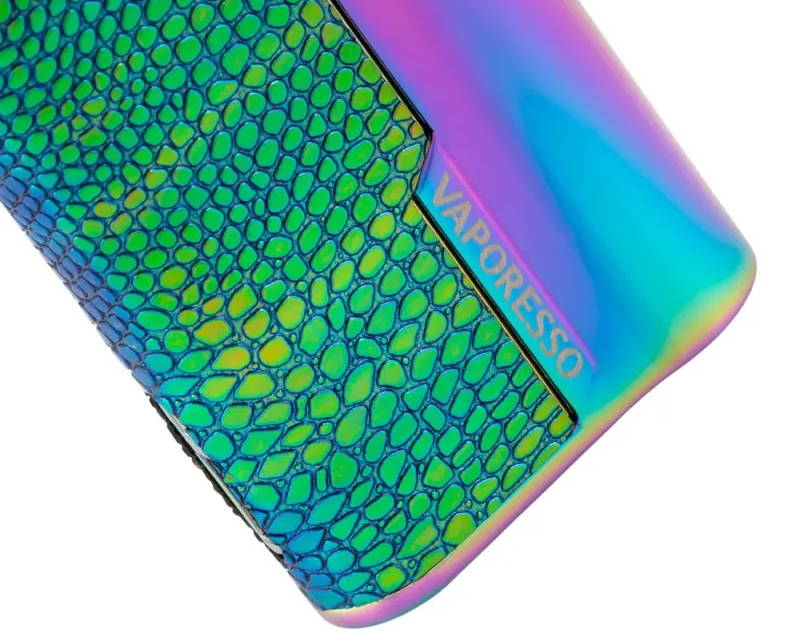 The small branding 'Vaporesso Xtra' is printed on the front of the device. The power button sits at the base of the device. The LED indicator and the Micro-USB port are on the side of the mod. So you can charge the pod device vertically at a rate of 5V/1A. There is an open slot on the top that slides into the pod. The strong magnets hold the pod in place without wriggle. There are some vent holes on the bottom to pevent battery errors.
---
Vaping the Vaporesso Xtra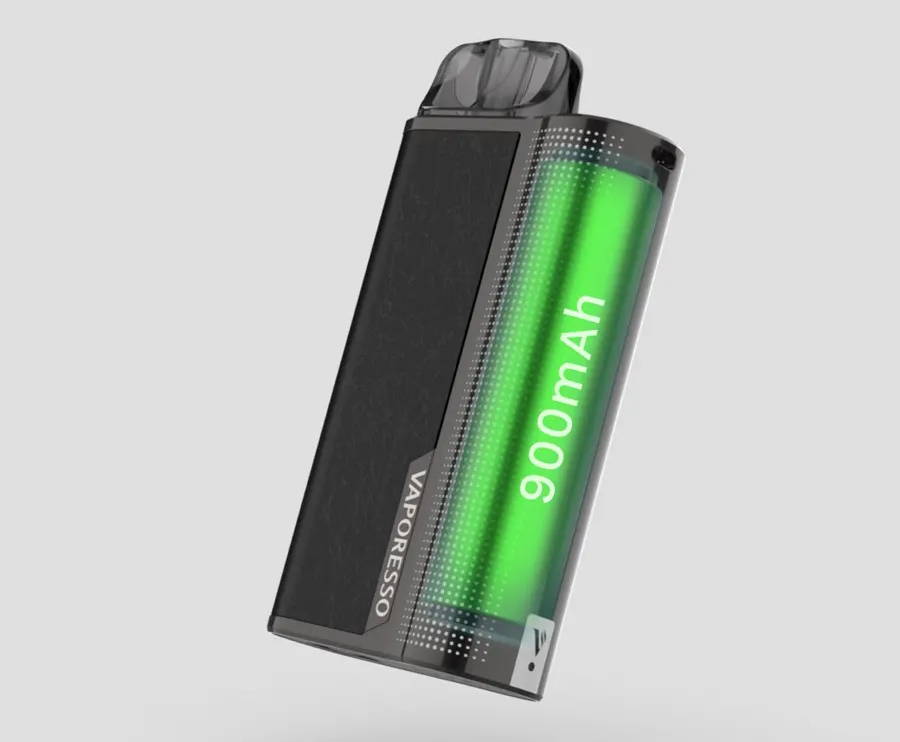 The large 900mAh is packed into a small body, which is impressive compared to other pod kits of the same size. The power output is 11W with the 1.2ohm Unipod and is 16W with the Meshed 0.8ohm Unipod. I vaped almost three full pods with 1.2ohm coil, which is amazing. I got a slighter shorter battery life with the 0.8ohm mesh pod, which can be expected but still last over 2 full pods before requiring to recharge. Generally, you can expect two or three days of vaping in a full charge with moderate use.
The Vaporesso Xtra is draw-activated and extremely simple to use. Simply press five times to turn on or turn off the device. Inhale on the mouthpiece to take a draw. The LED light on the side indicates the battery life in three colors: green, blue and red.
Green Light - 74 - 100%

Blue Light - 31 - 70%

Red Light - Below 30%
---
Vaporesso Xtra Pod Cartridge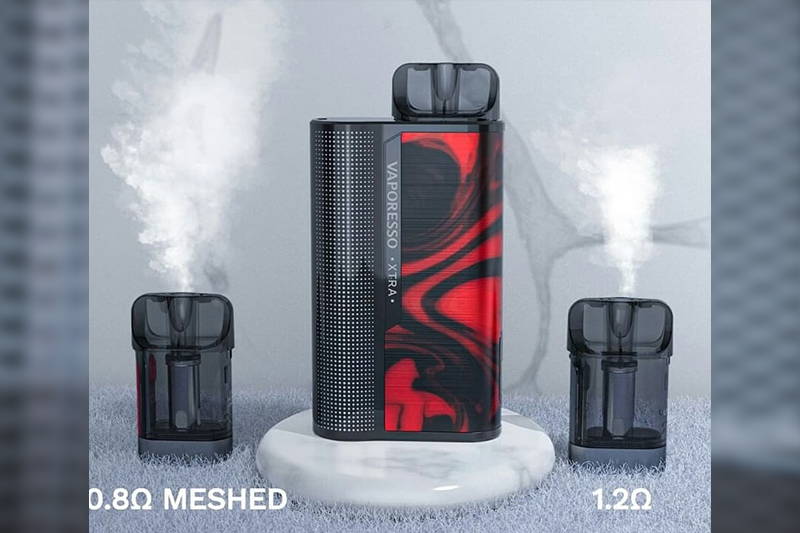 The kit comes with two pods - a 0.8ohm meshed Unipod and a 1.2ohm regular Unipod. Both of the pods hold 2ml of e-liquid and feature a decent-sized side filling port with a rubber plug. You can easily fill the pod with any size of bottles. The pods are held in place with strong magnets without popping out during the test. But it is a little bit hard to get the pod out. The wide and duck-billed mouthpiece is ergonomically curved and comfortable between lips. The pod is clear and slightly tinted, you can easily view the juice level.
Both of the pods have fixed coils, which are non-replaceable. Vaporesso claimed that the pods utilize the upgraded cotton material for better flavor. The 0.8ohm mesh coil with 16W output is meant for freebase vape juice with lower nicotine strength while the 1.2ohm coil with 11W output is used to work with high nicotine nic salt. The two pods have the same airflow control.
The flavor and vapor production of both coils are great. The 0.8ohm mesh coil wicks faster and produces bigger clouds. It brings a more open DTL draw. The 1.2ohm coil as a regular MTL coil provides a slightly tighter vape. It is perfect for those who like a high nicotine level. The flavor from both coils is pure and strong. The smooth airflow improves nicotine satisfaction dramatically.
---
Vaporesso Xtra Pod System Review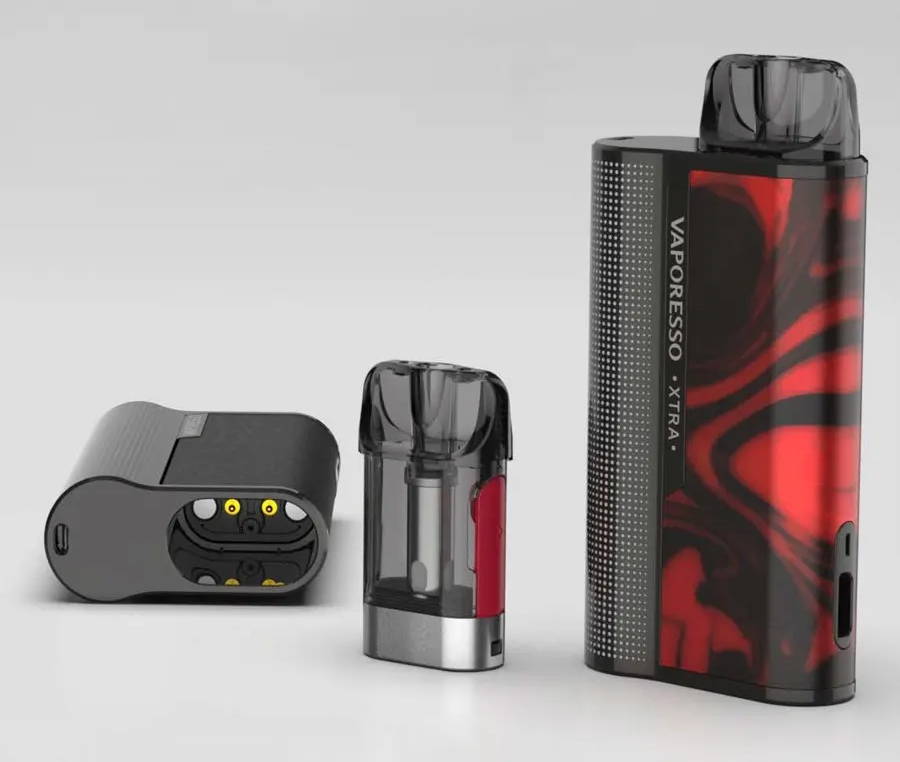 The Vaporesso Xtra Pod System is a super compact and modern device. Driven by a large 900mAh battery, it can last 2 or 3 days according to your vaping habits. The metal frame is strong and durable. The textured and beautiful panel makes it stand out. The 0.8ohm Meshed Unipod and the 1.2ohm Unipod bring you both DTL and MTL vape. The draw-activated and single-button design is easy to use for a new vaper. It does what a pod device is supposed to be and looks really nice. And the price is relatively cheaper.
If you look for a portable pod vape in 2020, you should consider the Xtra.
Pros and Cons of Vaporesso Xtra
Pros:
Good build quality

Lightweight and portable

Great flavor

Long battery life

Both MTL and DTL vape

Strong metal construction

Attractive panel

The soft and comfortable hand feel
Cons:
Hard to remove the pod from the device

A little bit leaking