Description
The VOOPOO DRAG 3 Kit is powered by dual high amp 18650 batteries (sold separately), the DRAG 3 Mod utilizes the upgraded GENE.FAN 2.0 chipset to reach up to max 177W output with multiple working modes such as Super Mode, Smart Mode and RBA Mode to provide an ultimate solution for performance and ease-to-use. Following the original DRAG, the DRAG 3 is constructed from platinum colored metal and leather, features a beautiful chassis with improvements in details for a visually stunning looking. Utilizing the innovative TPP atomization system which is born for big clouds, the DRAG 3 TPP Tank can hold up to 2ml of your favorite E-juices, adopting the new TPP mesh coils to deliver unexpected flavor burst in a smoother way.

Quick links:

Specifications:

Dimensions: 122 x 50.25 x 25mm
Wattage Range: 5 - 177W
Voltage Range: 6.4 - 8.4V
Resistance Range: 0.1 - 3.0ohm
Woking Modes: Super / Smart / TC / RBA
Temperature Control: 100 - 315°C / 200 - 600°F
Dual High-Amp 18650 Batteries (Sold Separately)
Advanced GENE.FAN 2.0 Chipset
0.001s Instant Fire Speed
Superior Zinc Alloy Construction
Elegantly Rounded Corners
1.08 inch TFT Color Screen
Dual Magnetized Battery Door
2ml TPP Tank
Exclusive TPP Atomization Tech
Adjustable Bottom Airflow
Type-C Charging Port
Spring Loaded 510 Connection
Overtime Protection
Short-Circuit Protection
Overcharge Protection
Over Current Protection
Over-Discharge Protection
Over Temperature Protection
Battery Reversal Protection

Main Features:
TPP Atomization System
New Coil Bring Better Flavor
Innovative Super mode+Smart/RBA/TC mode
Leading, Again - Upgraded GENE.FAN 2.0 Chip

Package Contents:

1 x DRAG 3 Device
1 x TPP Pod Tank 
1 x TPP-DM2, 0.2ohm
1 x TPP-DM1, 0.15ohm
1 x Type-C Cable
1 x User Manual
Legend as Always
Featuring:
High Burst Super Mode | Max 177W Output Power | Dual 18650 Battery
Compatible with TPP, PnP & 510 platform | Advanced GENE.FAN 2.0 Chip | Compatible with TPP Coils
Unique Logo of the Drag
The luxurious leather and delicate metal, with hard geometric lines and brushed patterns, creates the stylish and powerful aesthetics of the Drag 3.
Compatible with Three Powerful Platforms
The Drag 3 is compatible with all TPP coils and the TPP (tank pod push) atomiser, which is designed with reference to "Aerodynamic Simulation" and a new "Two-way Convection" airway structure, to maximise the overall efficiency of the atomiser.
Also compatible with the universal 510 connector, which can be matched with your favourite tank.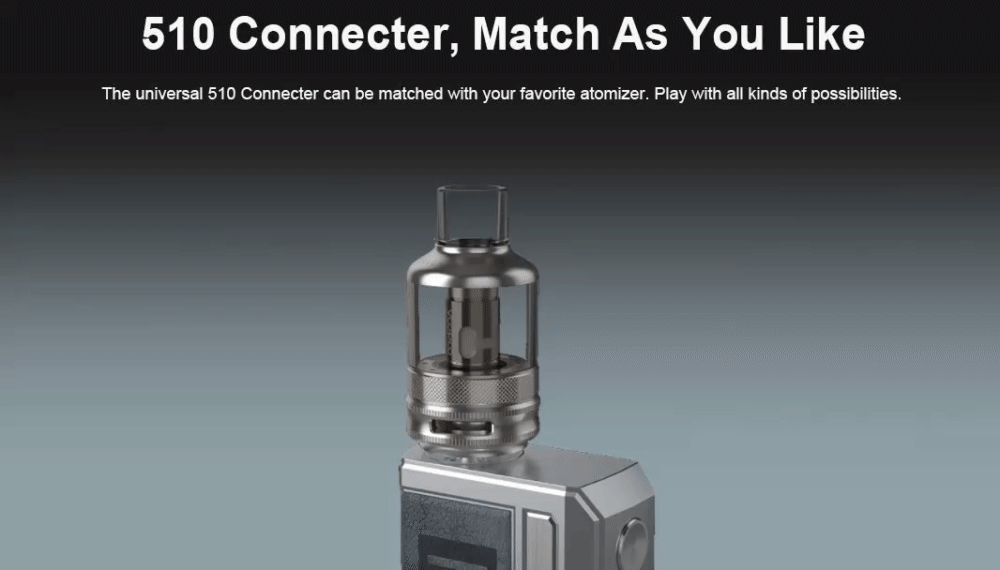 Unprecedented TPP Flavour
The TPP series use VooPoo's new patented technology, which increases the atomisation area inside of the coil and improves the heating speed. Performance meets speed; flavour like never before.
The Drag 3 comes with two new TPP atomiser coils.
TPP-DM1 0.15ohm and TPP-DM2 0.2ohm.
Powered by the GENE.FAN 2.0 Chip
The newly upgraded GENE.FAN 2.0 chip features a stronger explosive power, a more stable output and richer intelligent functions.
Super Mode
The super mode is designed to give users the ultimate cloud vaping experience. The Drag 3 supports the easy-to-use smart mode for beginners and the power-free RBA mode for professional users. When the Drag 3 is at 80 watts in RBA mode, it will automatically turn the super mode on and the maximum power up to 177 watts.
Eight Safety Protections
Overtime Protection | Short-circuit Protection | Overcharge Protection | Output Over-current Protection
Over Discharge Protection | Over-temperature Protection | Reverse Polarity Protection | Balance Charge with Different Battery Brands
Payment & Security
Your payment information is processed securely. We do not store credit card details nor have access to your credit card information.
SIGN UP & SAVE 10%
Sign up to our newsletter today and receive 10% off your first order.