Every time when we talk about Elf Bar, the Elf Bar disposable vapes always firstly come to our mind. Since the Elf Bar disposable vapes are so popular in the vape market, we hardly think of their rechargeable and pod-replaceable vape devices. However, recently there is an Alpha pre-filled pod vape kit-Elf Bar Elfa Pod Kit popping in the vape market silently. As their poster said: "Pod The Sustainable; Idea Of No Wasted Battery; Your economical choice as well." Apparently Elf Bar is expanding their market by diversifying their product range, by the way, their Elf Bar FB1000 is also a great rechargeable and refillable pod vape device. And today we are going to take a look on the newly released Elf Bar Elfa Pod Kit.
---
Elf Bar Elfa Pod Kit comes in 2 versions: Elfa 2ml and Elfa 4ml. Apparently Elfa 2ml version is for the European market for fully compliant with the TPD Compliance. Therefore in the following text, we'll be talking about the Elf Bar Elfa Pod Kit 2ml version. As you can see from the picture, the Elf Bar Elfa Pod Kit is much like the very classic Elf Bar 600 disposable vape from its exterior because it is inspired by the classic Elf Bar 600 disposable vape range, the difference is that there is an Elfa logo on the side of the device instead of flavour tags. The Elf Bar Elfa Pod Kit has a matte surface which makes it anti-fingerprint and anti-skid. There are 6 colours available which are Aurora Blue, Aurora Purple, Black, Navy Blue, Orange, and White.
The trendy and gorgeous gradient colour design is popular among the younger adult vapers, well if you like humble and classic style, the pure colour range is also available.
---
---
Built-in rechargeable 500mAh battery

Fast and sensitive inhale activation

MTL vaping

Compatible with the Elfa Pods

Comes with a prefilled pod

Lightweight, compact design suitable for on the go vaping

Fast-charging USB-C charging cablefully charged in 30 minutes(charging cable not included in the kit)

6 colours available: Aurora Blue, Aurora Purple, Black, Navy Blue, Orange, and White
---
Thanks to the inhale activation feature and convenient pre-filled pod, it is rather easy to operate and use this device. Simply unbox the kit and pre-filled pod and plug the pod into the device, then you are free to vape. Every kit is packed with a Blue Razz Lemonade flavoured cartridge. There is a built-in rechargeable 500mAh battery, with a 2ml pre-filled pod, Elf Bar Elfa Pod Kit can deliver up to 600 puffs just like the disposable vape does. The continuous and stable output make sure that the Elf Bar Elfa Pod Kit is capable of providing a solid and satisfying MTL vaping experience, hence we can put it this way, Elf Bar Elfa is a more ecological and more economical pod kit compared to disposable vapes. There are also a bunch of colourful flavours to choose from and it is definitely not less than the regular Elf Bar or Geek Bar disposable vapes that you can find in the vape shop. And I have tried the following flavours:
Strawberry Kiwi: Sweet strawberry plays a main role in this flavour, yet with mild fresh and sour kiwi aftertaste when you exhale the vapour.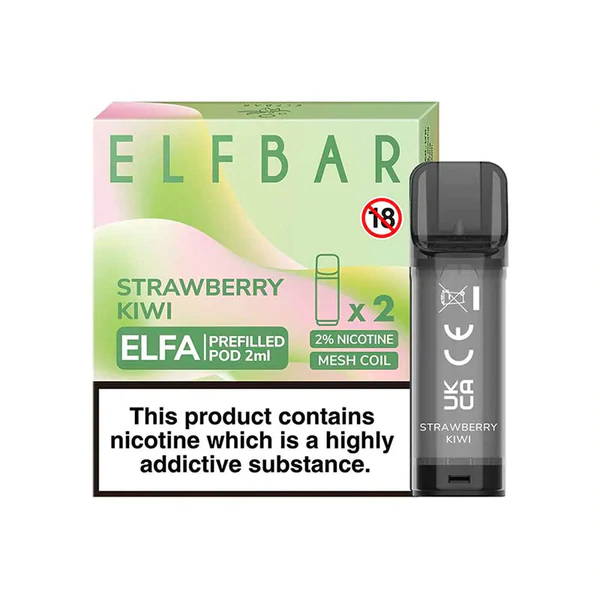 Blue Razz Lemonade: Blue Razz Lemonade is mixed with blueberry, raspberry and lemonade flavours, expresses sweet, sour and juicy taste. The Blue Razz Leonade is guaranteed to satisfy your taste buds for the naturally sweet flavours of the berries provide a delicious vape, leaving me longing for more.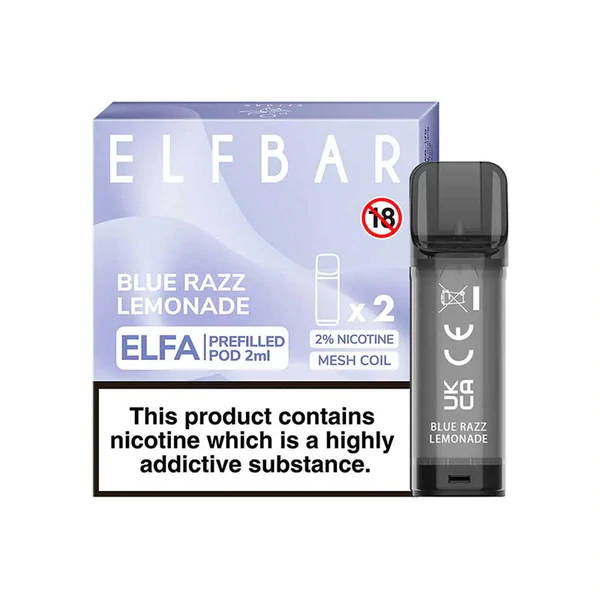 Blueberry Sour Raspberry: If you are a berry lover, this flavour surely gets you satisfied with every inhaling and exhaling. The sweet blueberry and sour raspberry are perfectly balanced, you will experience the fragrant aroma of berries when you inhale, the sour & sweet taste of berries kicks back when you exhale, in the meantime you will also enjoy the smooth throat hit and sweet vapour that the vapourized e-liquid brings. Hence you mustn't miss this great flavour if you are a berry lover.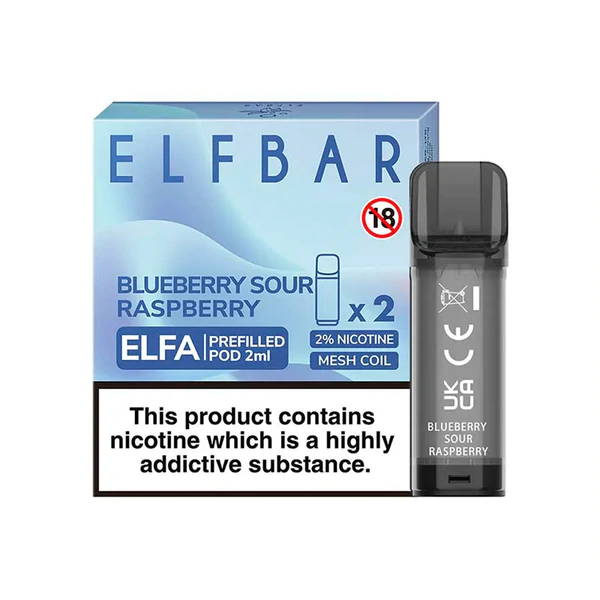 Watermelon: Watermelon always reminds us of care-free summer days, sit in front of TV enjoying the cooling wind from the air conditioner and eating a bowl of watermelon, we can't be freer and easier than that. Now watermelon ice flavor not only brings you the fresh watermelon fragrance note but also leaves a strong cooling menthol aftertaste with your every vape.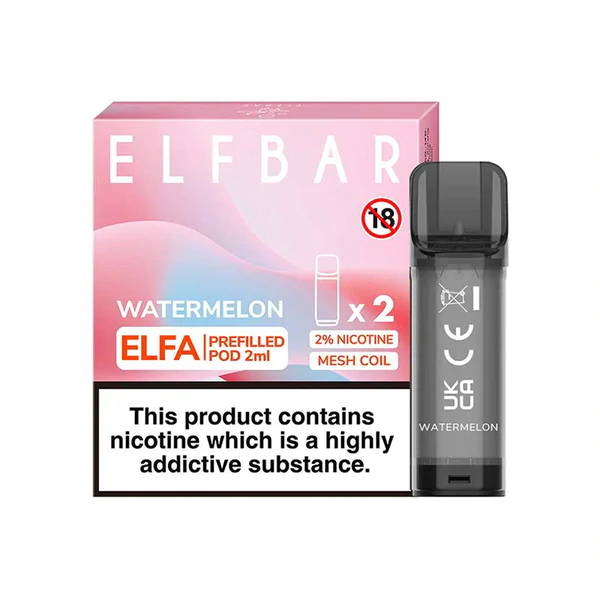 Kiwi Passion Fruit Guava: This is the most popular flavour among the Elf Bar series in the market. Kiwi, passion fruit, and guava are classic tropical fruits, the sour and fresh kiwi mixed with fragrant juicy passion fruit and sweet guava, every puff is warm and full of fruity aroma, shortly you would get the ultra tropical fruity banquet and get your nicotine cravings satisfied.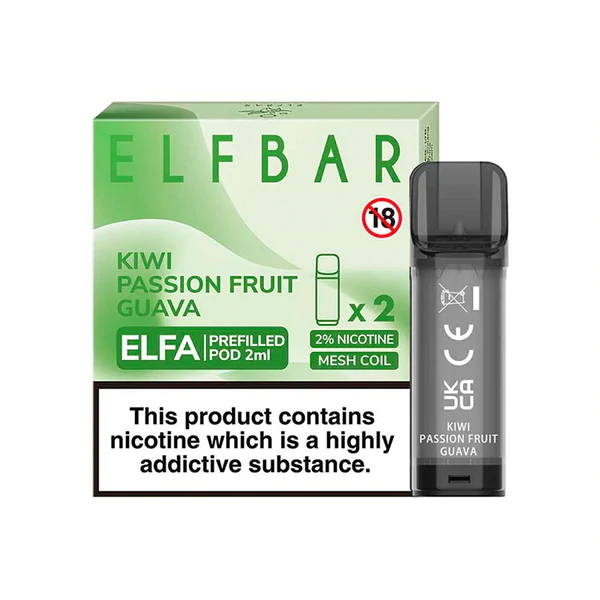 ---
Elf Bar Elfa Pod Kit definitely reduces the battery waste via its rechargeable battery, the kit is charged via USB-C(charging cable not included in the kit) and will charge in around 30mins from 0-100%. Compared to disposable vapes, the pre-filled cartridges also could save your money in a long run. No messy refills or fiddly coil changes, these are the most practical advantages of the compact Elf Bar Elfa Pod Kit. Simply replace the old pod with a new one once it's run out of e-liquid. It is a much more economically and environmentally efficient way of vaping without the hassle of changing coils or re-filling your pods and produces less waste. In short, if you are a chain smoker and want to quit smoking, then go switch for a true MTL vaping device, the Elf Bar Elfa is an economically and environmentally worth buying Pod Kit.
---