10 Best Vape E-liquid Brands in UK (Updated to 2022 July)
Author: Ash Zhu / Category: Review / Date: 2022
---
For a beginner of vaping, one of the most confusing questions may be what the heck is e-liquid? First of all, I want you to know that e-liquid, e-juice, vape juice and juice all refer to one thing, they are all the same, an indispensable part of vaping bringing vapers different tastes and feelings according to different vape juice recipes.
Now you know e-liquid, e-juice, vape juice and juice are the same thing, but what is it mainly composed of? Unlike cigarette and tobacco which contains over 4,000 chemicals, including 43 carcinogenic compounds and 400 other toxins. These include nicotine, tar, carbon monoxide, as well as formaldehyde, ammonia, hydrogen cyanide, arsenic and DDT. The ingredients of e-liquid are rather simple and food grade: PG(Propylene Glycol), VG(Vegetable Glycerin), Nicotine(Optional) and flavouring. Those terms seem technical, while you just need to know that PG and VG can make mass cloud/vapour, and more specifically, PG carries the flavour and VG is thicker and produces more vapour than PG. And it would bring you more "throat hit" feeling if it contains more PG in the juice.
There are two types of nicotine used in e-liquid, free base nicotine and nicotine salt. Nicotine salt is more commonly used for its numerous advantages. The most used nicotine strength ratio in a vape juice is between 0mg-50mg, it differs from the appetite of vapers.
One last thing is flavouring, over seven thousand flavourings exist including cherry, coconut, berry blast, fresh apple, sweet tarts, cinnamon and even tobacco. The flavours used in e-liquid are food-grade, while not all food grade flavours will work in a vape liquid.
Knowing "what is e-liquid", let's have a look what are the best vape e-liquid brands in UK.
---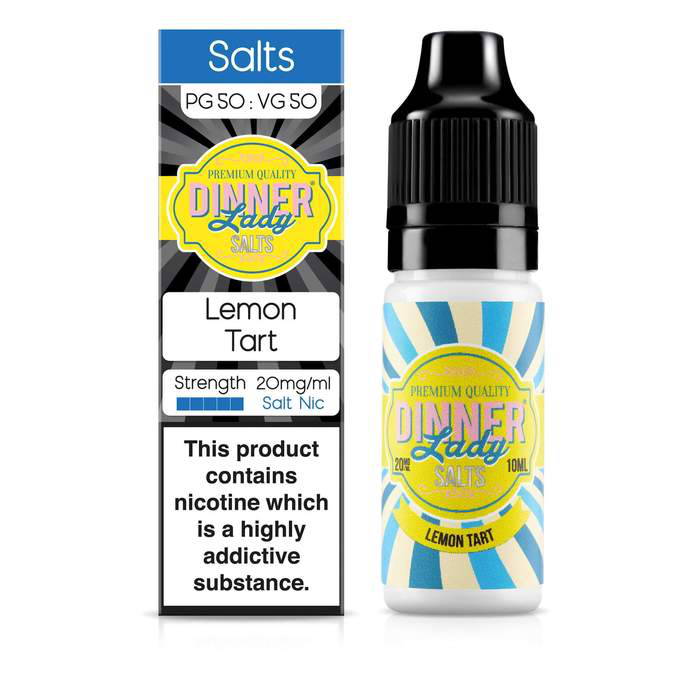 Her story began in 2016, when Dinner Lady introduced Lemon Tart e-liquid to the world. Initially available in 30:70 Shortfill, Lemon Tart quickly gained popularity and became one of the world's most iconic vaping flavours. Of course now you can afford £3.99 for a incredible flavour of Lemon Tart 50VG/50PG with an option 10mg/20mg nicotine in 10ml bottle. Lemon Tart reminds vapers of a sweet yet bitter meringue treat with a butter biscuit crust, it is a firm favourite of those sweet lover. You can also find Desserts, Fruits, Ice, Menthol, Sweets and Tobacco flavours here which are also popular and every one can find one best suits them.
---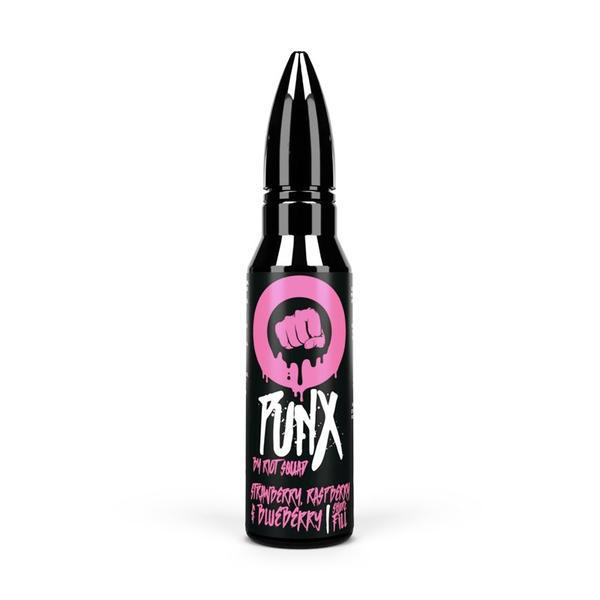 Established in 2016, you will never taste a flavour like a Riot Squad flavour made in UK. All of their flavours are developed from the ground up. The boldest award-winning vape flavours contained in their patented bullet bottles. Riot Squad can help you quit smoking by using its menthol vape flavours with nicotine. One of their most popular vape juice is Punx Shortfill 30PG/70VG, 0%, 3% and 6% nicotine strength in 50 ml bottle at price £12.99. High content of VG allows it produces mass vapour and here are the 6 refreshing flavours you may choose: Blue Burst, Cherry Fizzle, Pink Grenade, Tropical Fury, Sublime and Purple Burst. Riot Squad isn't an e-juice, it's a lifestyle.
---
The company first set up in July 2015 and released their first official range of e-liquids in December 2015. It's a Malaysian e-liquid company that has reached worldwide fame with their range of exotic and fruity juice flavoured e-liquids, their vape juice container is a tinware, with the larger bottles coming in either genuine Chubby Gorilla bottles to keep the e-liquid in great condition. One of their sought-after product is Yummy Fruity Cush Man Shortfill 50ml which contained in a solid tinware and has an exotic tropical juicy mango flavour, just spend £13.99 then you can inhale every puff of exotic taste!
---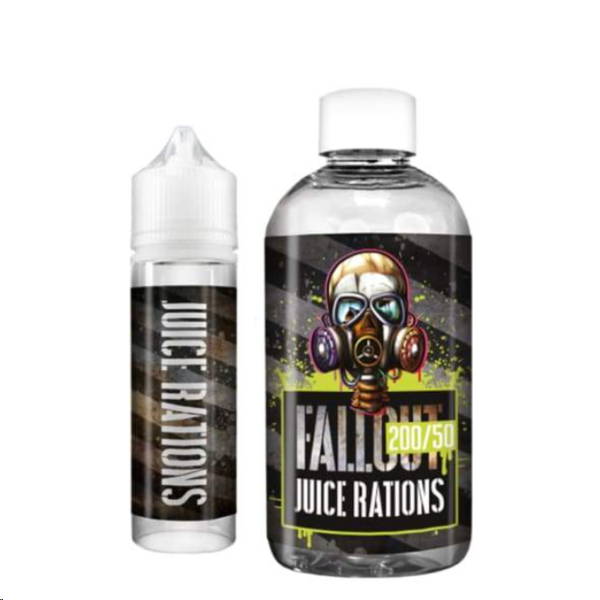 One of the most popular products from Fallout Juice is Rations series, and it's famous for its marvelously numerous good taste flavours up to 13 flavours which are Summer Soda, Tropical Bubblegum, Blackcurrant Ice, Boston Cream Pie, Strawberry Milk,Frosties Cereal, Blue Raspberry Rancher, Cola Cubes, Grape Berry Soda, Lemon , Sherbet, Raspberry Ripple, Cookie Dough. More importantly, it only costs £15.99 for one, and each one has big dose of 200ml and packaged with a 50ml small container so that you can put it in your pocket. It's 30PG/70VG shortfill, thus you can enjoy the amazing flavour while puffing a mass of vapour!
---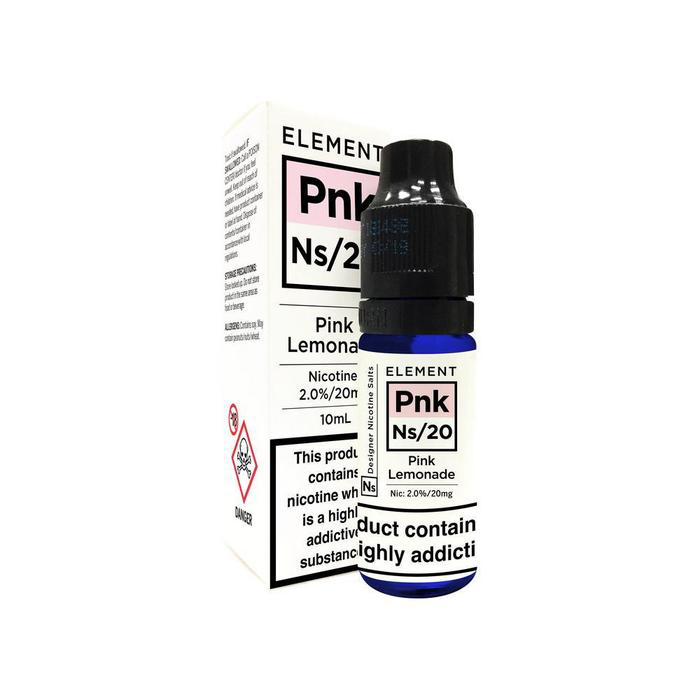 Element mainly works in high quality shrotfill and high nic salt e-liquids. It's a well-known American e-liquid brand and it's also a popular vape juice brand in UK. It's purpose is to cater all the vapers with different good taste and precise ratios of vape juice recipe. Its identical product is definitely for those vapers like floating in the clouds, £4.99 of the Element Emulsions comes with 4 extraordinary tastes and 80VG/20PG, 3mg, 6mg nic strength in 10ml bottle you may choose from.
---
Jack Rabbit Vapes is a Premium UK E-liquid manufacturer based in Oxford, started in 2015 and designed their flavours to have a layered approach so that different elements of the flavour will come forward during the inhale and exhale to give a real and authentic taste! Jack Rabbit Vapes keep the sweetener very low to increase coil life and make so balanced taste of every vape liquid. Shortfills and nic salts are their main products, and there is one amazing product that I want to share: Jack Rabbit Cyber Rabbit Series, there are 3 styles of flavours: Neon, Xenon and Argon. With 50PG/50VG, 10mg/20mg nic strength in 10ml e-liquid, you only cost £3.99 to enjoy a vapouring experience in CyberPunk!
---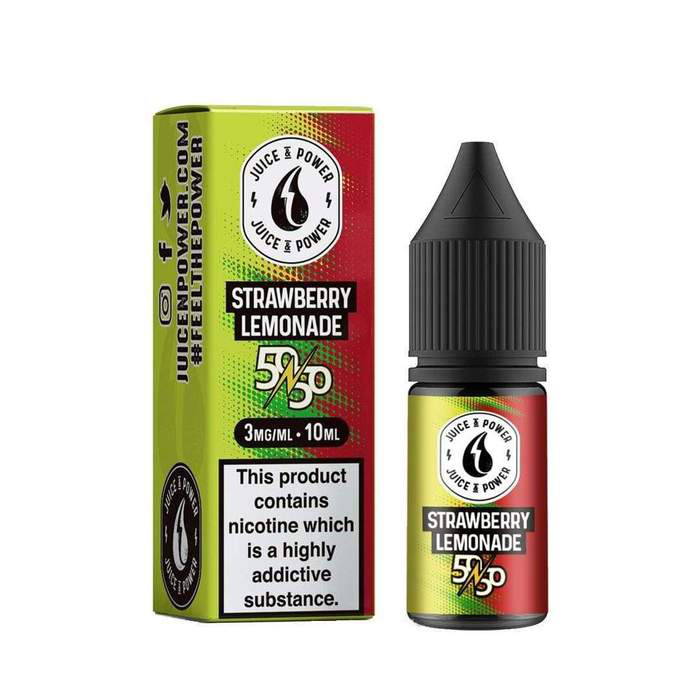 Juice n power formulates and manufactures a range of natural colourings and flavourings for the vapological industry for e-liquids. Juice n power produces their fruits range, milkshake range and the shock series. The most impressive e-juice is Strawberry Lemonade 50/50 E-Liquid 10ml, nic strength 3mg/6mg/12mg at a price £2.99. The high quality of the ingredients are just adjusted fine in a balanced yet refreshing taste by Juice n power.
---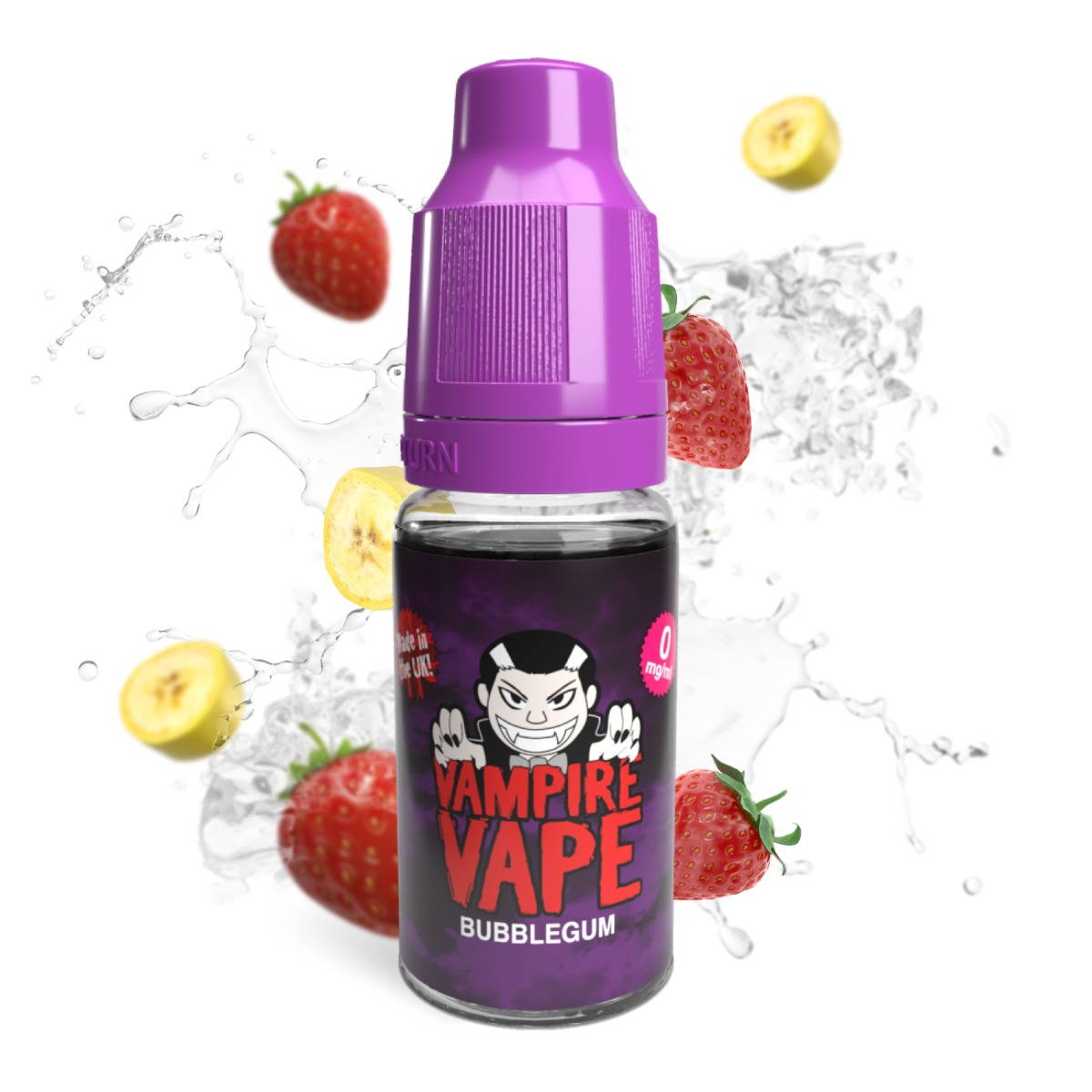 Vampire Vape is relatively a rather long history vape brand which established in 2012, and manufacture over 20 different ranges, now grows up to 54 flavour options. With a numerous variety of flavors, I recommend the Pinkman E-Liquid for its mix fruits flavor, 50PG/50VG or 60PG/40VG, nic strength 0mg/3mg/6mg/12mg/18mg at a price £3.99. You can totally choose the nic strength from 0 to high, 60PG would gives you more intensified throat hit as if you were kissed by a vampire!
---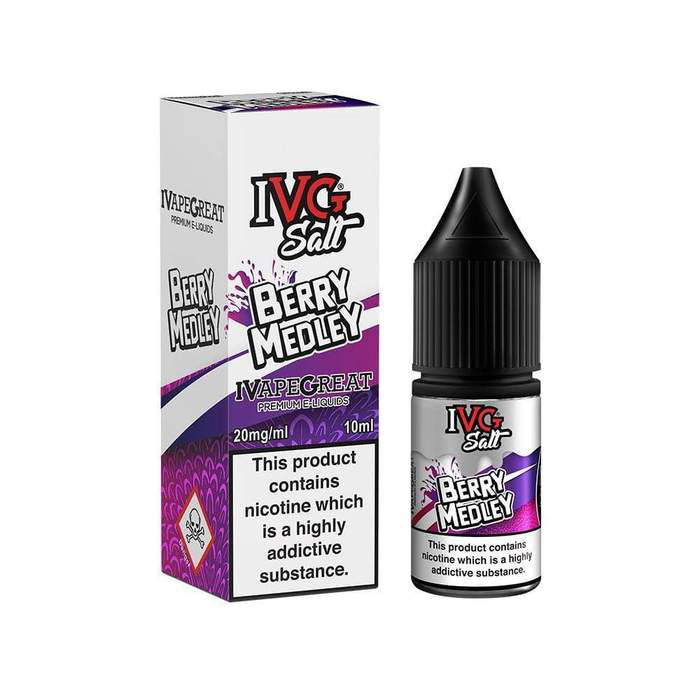 IVG also known as I Vape Great, the company was established in 2016. IVG not only produces vape kit but also manufactures delicious vape juice. If you have a vape device from IVG, why not try their Berry Medley Nic Salt E-liquid, it's made in UK with 50/PG 50/VG and 10mg/20mg nic strength to choose at price £3.99, Berry Medley is fruity, sharp and crisp. Combining fresh raspberry and blackcurrant with crisp green apple, for a sweet meets sour vape.
---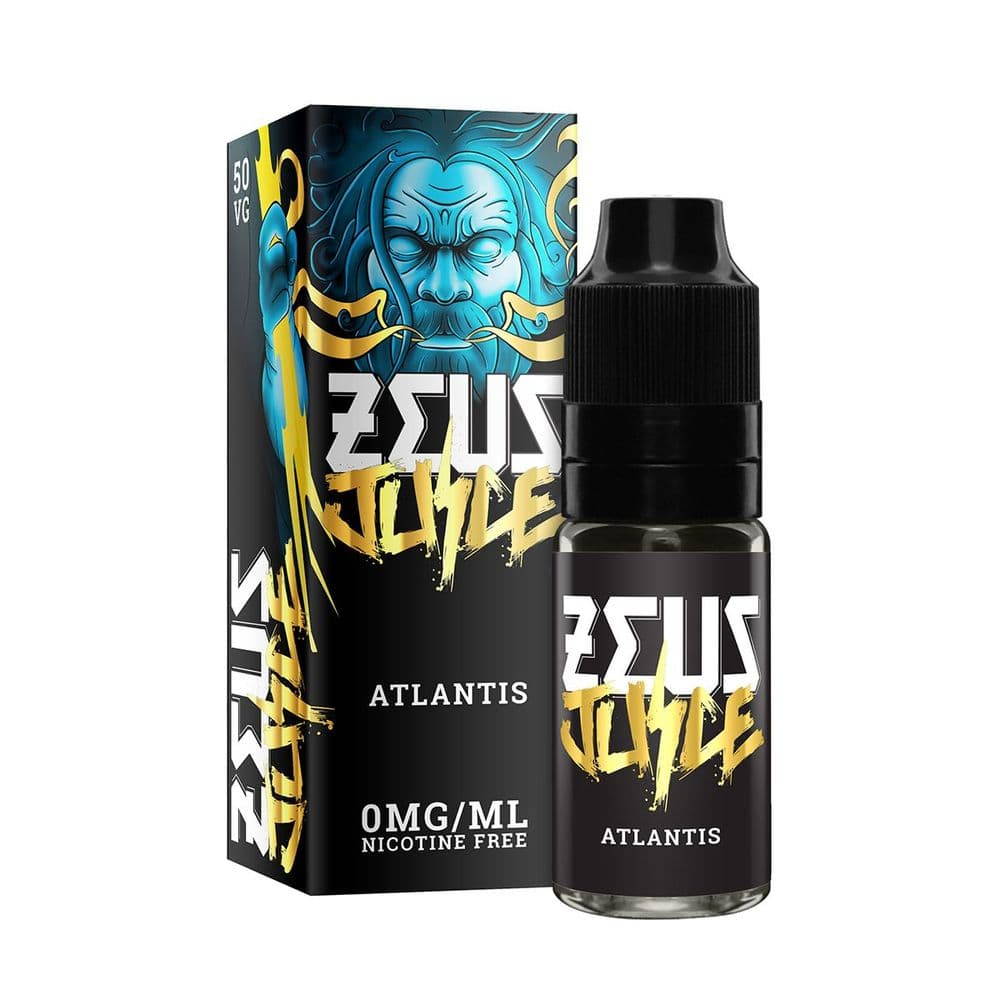 Zeus Juice, known as the gods of vapour and the gods of flavour. Zeus Juice was established in 2011 in UK. It's background story is about switching smoking to vaping for fighting back cancer and improving health. Let's experience the bliss of gods, Atlantis 50/50 E-liquid 10ml, 6mg/12mg nic strength at price £2.99, a combination of sharp blueberry and sweet raspberry slush is finished off with every icy inhale and exhale.
---
PG(Propylene Glycol): Propylene Glycol is used as a flavouring carrier in food products, as an ingredient in food colouring and also used as an additive in various medicines. PG provides the throat hit sensation and is thinner in consistency than Vegetable Glycerine. Propylene Glycol is non toxic.
VG(Vegetable Glycerine): Vegetable Glycerine is a sweet, vegetable based liquid. VG provides the vapour production which simulates smoke and is thicker than Propylene Glycol. Vegetable Glycerine is non toxic and the more VG in an e-liquid, the smoother it will be to vape.
What is Nic Shot and how to match use with Shortfill?
Basically, nic shots are small, 10mL TPD compliant bottles of unflavoured nicotine e-liquid. Not intended to be vaped on their own, they're made to be mixed with larger bottles of shortfill (nicotine free e-liquid). When combined, you get the same large juice bottles you'd get pre-TPD.
What are the recommendations for different levels of nic strength?
3-5 mg - Suitable for sub ohm tanks due to their low concentration. Nic salts provide a cleaner taste and is less noticeable than freebase nicotine. This is ideal for flavor chasers.

20-35 mg - By nicotine salt standards, this is the middle of the road. Ideal for people who don't want to do 50 mg, but still need a substantial dose of nicotine. In Europe, 20 mg is the highest level you can get.

50+ mg - Recommended for transitioning smokers who need the maximum dosage of nicotine. Not recommended for non-smokers or low-nicotine vapers. Suitable for low-powered MTL devices only.
People often question whether vaping nicotine is dangerous, and especially whether nicotine causes cancer or has the potential to cause death. Many studies have shown that smoking cigarettes will likely have a negative outcome on your health. However, it is currently unproven that nicotine by itself, or through vaping, will cause cancer. Cigarettes contain a large variety of different chemicals and produces tar, which are a much larger factor in cancer production that nicotine alone.
It is safe to say that nicotine from vaping is no more likely to cause cancer than other nicotine delivery replacement devices including nicotine patches and nicotine gum. While it is possible to overdose on nicotine, the amount of nicotine it would take to do so is much higher than what your body will ingest through vaping. According to WebMD, "The CDC says 50 to 60 milligrams of nicotine is a deadly dose for an adult who weighs about 150 pounds. But some research suggests a lethal amount may be a lot higher." Even if you vape frequently at a vaping nicotine level of 12mg/mL, your body only absorbs a small percentage of that nicotine. Also, nicotine has a very short half-life, meaning that the amount of nicotine within your body declines rather quickly once your vape session has ended.