Author: Alisa Yin / Category: Review / Published: July-03-2020
The FreeMax Maxus 100W Kit is the latest release from FreeMax that incorporates many eye-catching features, such as a SmartLoad Tech and a soft-touch resin panel. It houses a 21700/20700/18650 battery and an advanced FM chipset that allows you to pick between various vaping settings, including power, VPC, Bypass, Temp Control, and TCR modes. It offers the maximum wattage output of 100W and is compatible with coils made of SS, Titanium, Nickel, and other materials. Sitting atop the Maxus is a new Fireluke 3 Sub-Ohm Tank. The kit also comes with the new COILTECH 4.0 mesh coil heads which are made of high-grade SS904L mesh and Tea Fiber Cotton formula.
FreeMax is a well renowned Shenzhen-based brand especially when it comes to DTL (Direct to Lung) vape. They have released a number of top-rated sub-ohm tanks over the years including the Fireluke Tank and the Mesh Pro Tank. I have to admit that I am a fan of FreeMax. I have reviewed the Autopod50 recently and was really impressed with its intense and crispy flavor, so I had high expectations for the FreeMax Maxus 100W Kit.
FreeMax sent me this device for the review. As always, I will give my honest opinion based upon the experiences I have encountered with the FreeMax Maxus.
Price: £ 46.99 (at NewVaping)
Colors: Blue-Green, Green-Orange, Orange-Black, Black-Red, Red Yellow, Yellow-Blue
FreeMax Maxus 100W Kit Specifications
Size: 134.5* 27.9* 37.5mm

Battery: single 21700/20700/18650 battery(not included)(SmartLoad Tech-Load at Will)

Output: 5-100W

Output voltage: 0.7-7.5V

Input voltage: 3.3-4.2V

Modes: Power/ VPC/ Bypass/ TC(Ti, SS, Ni)/ TCR modes

Temperature range: 100-315℃/200-600℉

Resistance range: 0.1-3ohm

Charging: 5V/2A

Capacity: 5ml/3ml

Resistance: FreeMax 904L X1 0.15ohm mesh coil

FreeMax 904L X2 0.2ohm mesh coil

FreeMax 904L X2 0.5ohm mesh coil

FreeMax 904L X3 0.15ohm mesh coil

FreeMax 904L X4 0.15ohm mesh coil
FreeMax Maxus 100W Kit Package Contents
1 x FreeMax Maxus VW 100W mod

1 x FreeMax Fireluke 3 tank resin edition(FreeMax 904L X2 0.2ohm mesh coil pre-installed)

1 x Extra FreeMax 904L X1 0.15ohm mesh coil

1 x Extra glass tube 5ml

1 x Extra O-ring

1 x Type-C USB cable

1 x Warning card

1 x Warranty card

1 x User manual
---
Build Quality and Design of FreeMax Maxus 100W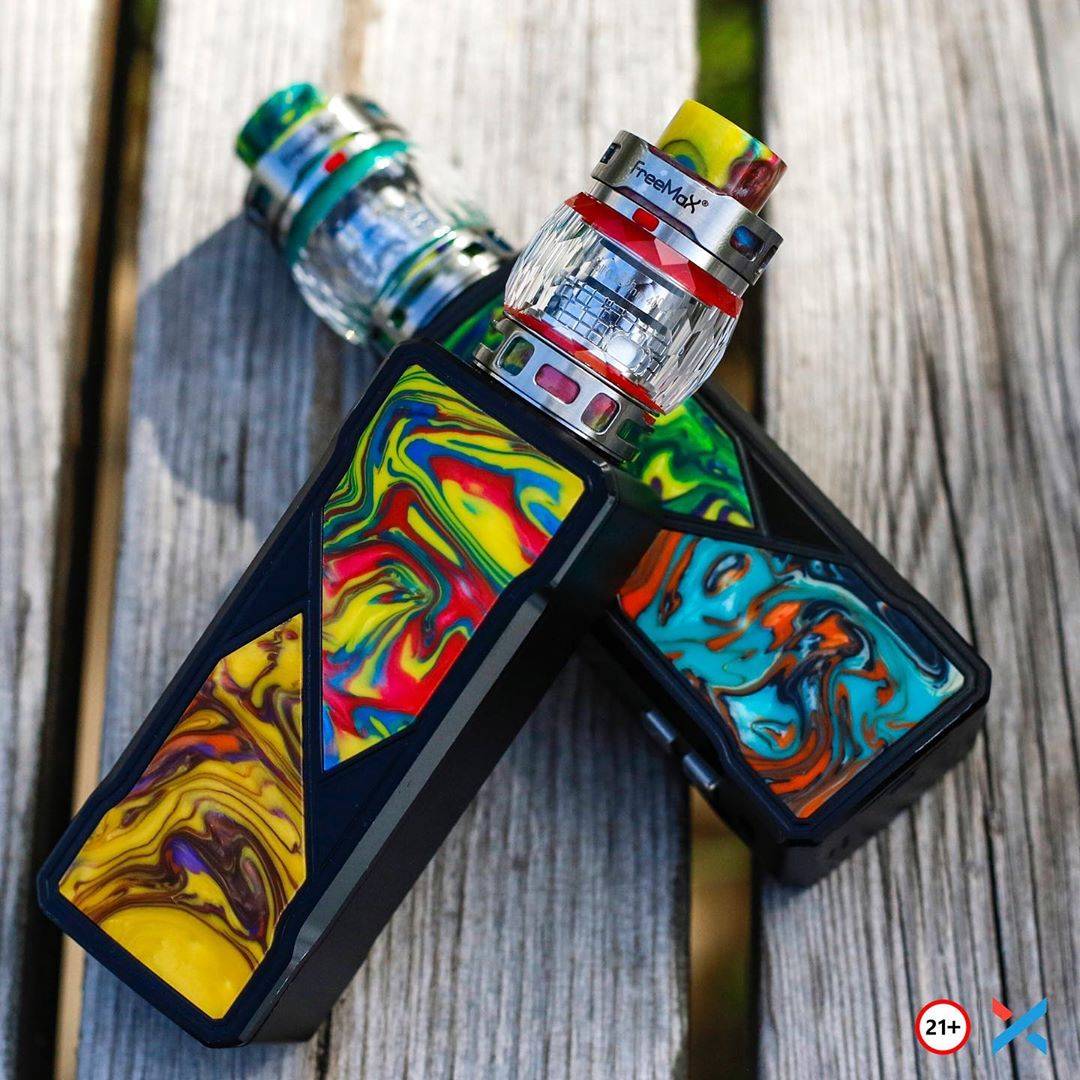 The FreeMax Maxus is a super sexy, sleek, and fantastic mod after my heart! I absolutely love its design. Admittedly, it might not be everyone's cup of tea but the beautiful resin panels, for me, is an innovative style to hit the shelves in 2020. Moreover, it provides a great hand feel. I just like to keep stroking it. Measuring in 134.5mm x 27.9mm x 37.5mm, it's not a huge device but feels much heavier even with no battery loaded in. The size makes for easy carrying in your pocket or bag. The rounded rectangular shape is comfortable to hold. The texture of the panels makes it easy to grip. It is finished nicely, with no sharp corners or awkward protruding edges. The mode name "Maxus 100W" is printed on one side of the panel.
Looking into the top of the mod, the gold-plated 510 connector is nicely centered on top of the Mod which is the perfect location for me on all devices. On the bottom of the Maxus, as well as five battery venting holes, you can also see a small notch to easily pull away the battery door. The battery cap is a standard magnetic side plate that houses a single 21700/20700/18650 battery. The black ribbon attached to the plastic battery tray helps to remove the battery easily.
The control panel consists of a square firing button along with the two adjustment buttons and a small screen. The Type-C charging port at the base of the mod is used for fast charging and firmware upgrades. The overall build quality of FreeMax Maxus is superb. No rattles or lose parts to be seen.
---
Features and Functions of FreeMax Maxus 100W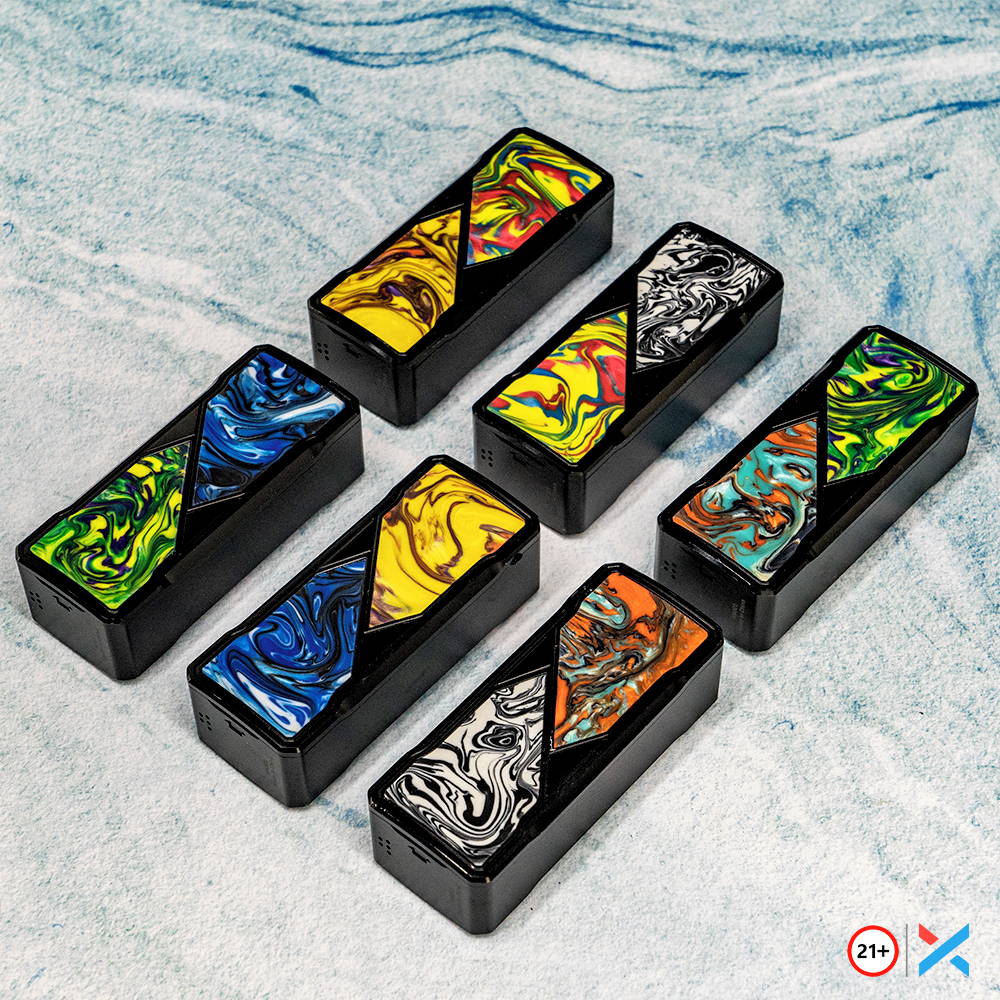 The FreeMax Maxus 100W is packed with features and modes like most of TC mods. You have Power, VPC (Watt Curve Mode), Bypass, TC-TI, TC-SS, TC-NI, and TCR. It uses a standard TCR, which is fully adjustable. The recommended values are provided on the screen in the TCR mode. The Maxus did have pretty much every mode out there vapers would need without being overbearing. Powered by a single 21700/20700/18650 battery, it can fire from 5W to 100W. The Smartload Tech means that the mod will work well whatever you place the battery. There is no difference between the negative and positive.
The screen in black and white displays your important vaping information like battery life, wattage output, puff counter, coil resistance, and voltage. The mod with a smart FM chipset can detect the TC heating element and will adjust to the TC mode automatically. They list Type-C 2.0-amp charging on this mod and I don't recommend charging the mod internally. It does charge very fast, But still, it's always the best practice to use an external charger.
As far as the menu goes, the Maxus mod is straightforward and very easy to use. Five clicks of the fire button to turn on and off. Three clicks of the fire button to enter the menu system. Use the Up and Down buttons to scroll through different options. You can easily set the wattage, TCR settings, reset puff counter and check the info, etc.
---
FreeMax Fireluke 3 Tank and 904L Mesh Coils
The FreeMax Fireluke 3 is the new sub-ohm tank which now has multiple mesh coils. The pre-built glass tube has an innovative honeycomb pattern. FreeMax have started to gain a great reputation and a lot of vapers are huge fans of the original Fireluke tank. The Fireluke 3 tank is available in many colors. They are simply beautiful, I really love its resin style. FreeMax introduced some new coils made from SS904L mesh in the Maxus kit. The kit includes 0.2ohm 904L X2 double Mesh and 0.15ohm 904L X1 single Mesh. There are also 0.5ohm X2 Dual Mesh coils, 0.15ohm X3 Triple Mesh coils, and 0.15ohm X4 Quad Mesh coils which you can purchase too. Most importantly, the Fireluke 3 Tank is compatible with older Fireluke coil ranges and the new 904L Mesh coils are cross-compatible with the Fireluke 2 and Fireluke M Tanks.
The standard capacity of Fireluke 3 is 5ml but there is also a bubble glass option for 3ml. The wide-bore 810 drip tip looks nice and fits my lip comfortably. It is integrated, so you cannot use other tips. The threading is very smooth. The slide-to-open filling method is very convenient. The filling port is generous that can accommodate most of the bottle droppers. There are two large adjustable airflow holes at the base of the tank for more airflow intake. You can rotate the airflow control ring from very loose to relatively tight. Overall, the Fireluke 3 is a well-built tank with great coil performance.
New Coil Range of Fireluke 3 Sub-Ohm Tank:
FreeMax 904L X1 0.15ohm Single Mesh coil(40-80W, best 70W)

FreeMax 904L X2 0.2ohm Dual Mesh coil(40-80W, best 70W)

FreeMax 904L X2 0.5ohm Dual Mesh coil(20-50W, best 45W)

FreeMax 904L X3 0.15ohm Triple Mesh coil(50-90W, best 80W)

FreeMax 904L X4 0.15ohm Quad Mesh coil(40-80W, best 70W)
How to Fill the Fireluke 3 Sub-Ohm Tank:
Find the read mark on the top cap of the tank

Simply slide the top cap to reveal the filling port

Fill the tank with your desired e-liquid

Wait at least 10min before vaping since it takes a while to get the e-juice to get through the cotton wicking

Take a few puffs without pressing the fire button to try
You would better empty the tank before changing the coil

Remove the tank from the mod

Remove the top cap and unscrew the bottom part

Screw out the coil head out of the tank base

Screw a new coil head into the tank base

Add a few drops of e-liquid onto the cotton

Install the tank base and the top cap

Fill the Fireluke 3 tank as described above
FreeMax Maxus 100W Kit Review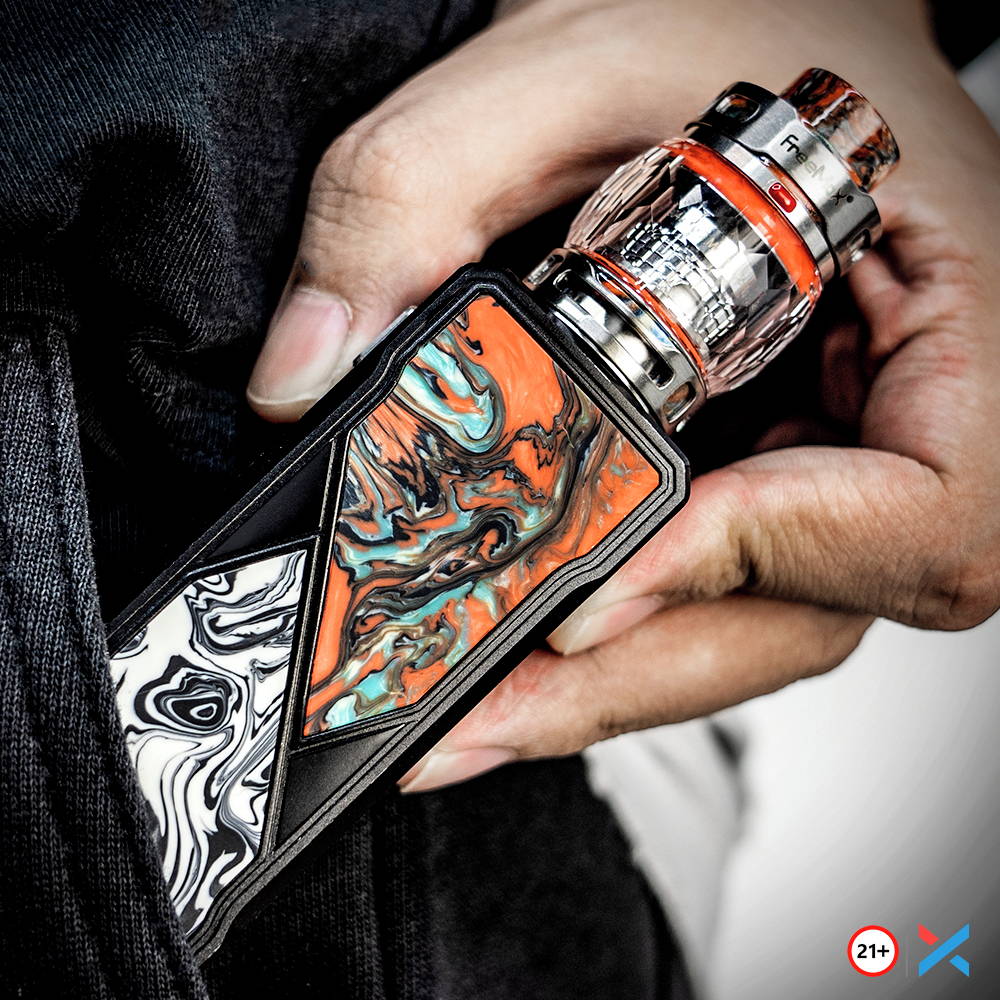 FreeMax did a good job in this kit. The new X2 double mesh coil gives a solid flavor in a smooth warm to hot vape. It tastes amazing and the vapor production is huge! I would love to try the triple and the quad mesh coils as well. Sadly these were not included in the kit, which is disappointing. I might spend my money on the 0.2ohm double mesh coil as I already know I love it. Everything else about this kit is incredible. The cross-compatible coils are satisfying. FreeMax did introduce another winner! Are you planning to buy the FreeMax Maxus 100W Kit? Let me know your thoughts in the comments.
Pros and Cons of FreeMax Maxus 100W:
Pros:
Good build quality

Comfortable resin panel

Driven by a single 21700/20700/18650 battery

SmartLoad technology

Multiple safety features

2A Type-C charging

Clear screen with an easy menu system

Plenty of coil options

Cross-compatible coils

The Fireluke 3 tank can use with the old coil range

Comfortable 810 drip tip

Slide-to-open filling port

Ample airflow intake
Cons:
The display scratches easily