Author: Alisa Yin / Category: Review / Published: August-03-2020
The Freemax Twister 30W Kit is the latest release from Freemax. It keeps most of the aesthetic design of the original Twister 80W and comes with an inbuilt 1400mAh battery. The Twister 30W is a tube battery and tank combo, heavier than you would probably expect but it is a sturdy bit of steel. Sitting atop the Twister 30W is the new Fireluke 22 Tank. It provides variable wattage from 7.5W to 30W. 2.5W per click with the twist-style battery for MTL and DTL vape. I received the Twister 30W Kit in black but the kit does come in 6 colors there is bound to be one you will like.
Freemax have been in the game now from 2015, probably one of the most popular household vape names in the business. They are well known for flavourful sub-ohm vaping and now getting more involved in the MTL market. Freemax have a number of recent releases out there and I have tested the Maxpod, Autopod, and Maxus 100W kit. So let's get underway and find out how this new Twister performs and if it is one of the best vape pens in 2020. As always, I will give you my honest opinion after considerable testing periods.
Freemax Twister 30W Kit Specifications
Size: 122 x 78.3mm

Output: 7.5-30W

Battery: 1400mAh

Display: LED indicator

E-liquid capacity: 3.5ml (standard) / 2ml (TPD)

Coil options: 0.5ohm DTL Mesh coil, 1.5ohm MTL Mesh coil

Resistance range: 0.5-3ohm

Adjust wattage by twisting the base

FM Coiltech 4.0 SS904L Mesh coil technology

DTL and MTL compatible

Childproof and leakproof

1.5A fast charging

Top fill tank

Adjustable airflow
Freemax Twister 30W Kit Package Contents
1 x Freemax Twister 30W mod

1 x Fireluke 22 tank

1 x MTL 1.5ohm Mesh coil

1 x DTL 0.5ohm Mesh coil

1 x DTL 510 drip tip

1 x MTL 510 drip tip

1 x Spare glass

1 x Spare O-rings

1 x USB cable

1 x User manual
---
Build Quality and Design of Freemax Twister 30W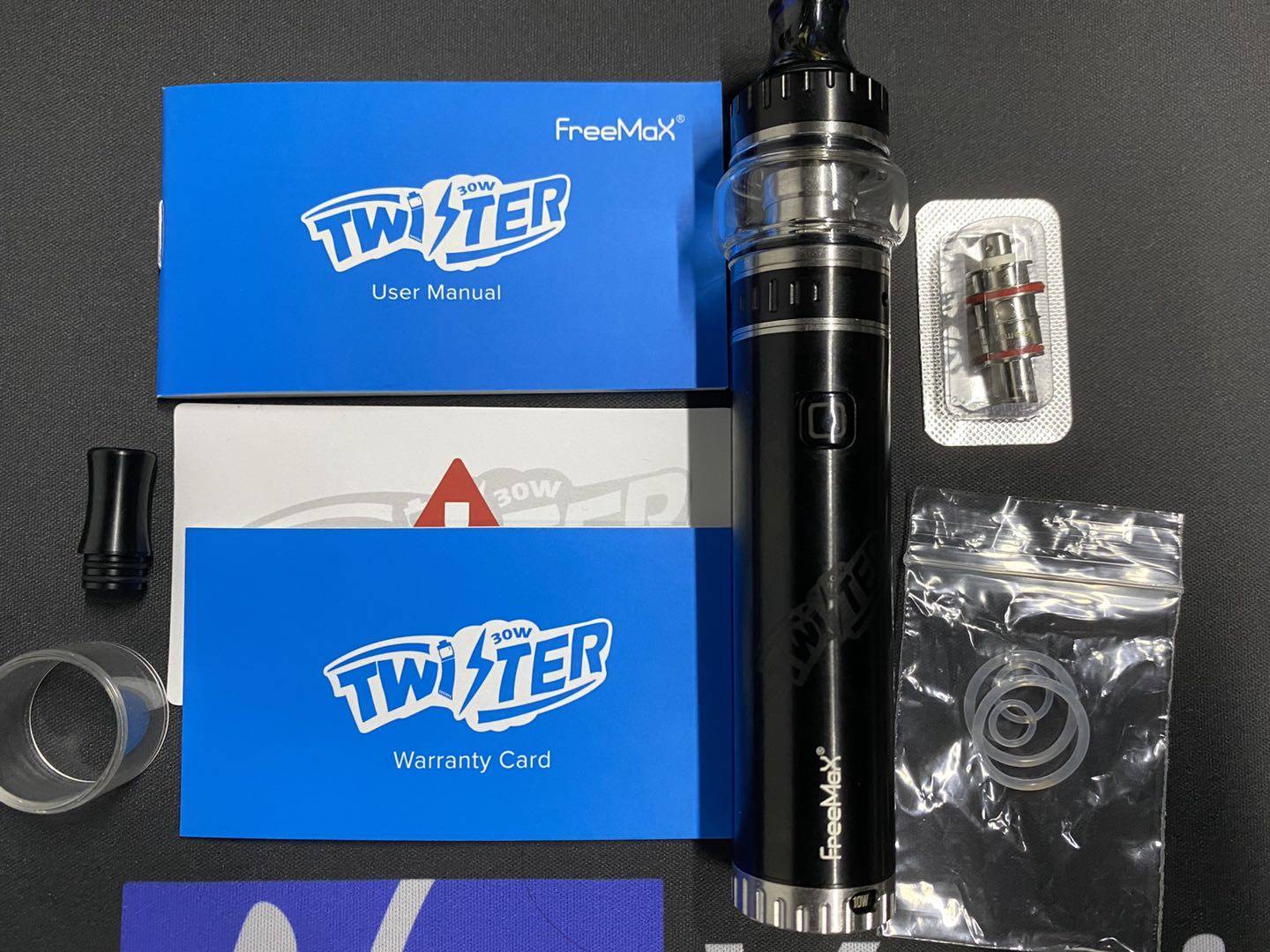 The Freemax Twister 30W is an excellent size, portable, and a great starter kit for beginners or a great carry around for experienced vapers alike. It has a tried and proven tube style, which is almost the same as its predecessor. Measuring in 122mm x 78.3mm, the kit sits in the hand comfortably with the size making for easy carrying in your pocket or bag. I am quite a fan of it. Made of sturdy steel, the Twister 30W feels good and hefty in the hand. The matte finish is superb with the decorative 'TWISTER' print, providing a nice solid touch. The overall build quality is excellent, with no sharp corners or awkward protruding edges and not a hint of a rattle loose parts to be seen or heard.

The square fire button on the battery is perfectly placed to be used with either the finger or the thumb. You press the fire button to instantly fire the device and 5 clicks turn the Freemax Twister 30W on and off. The micro-USB charging port is placed directly behind the fire button. The LED light surrounding the fire button indicates battery life. On the base where you adjust wattage, the turn dial feels solid and provides a very satisfying clicky feedback every 2.5 watts, after one week of twisting and turning, there are no signs of weakness. At the base of the device, you will find 6 battery venting holes.
---
Freemax Fireluke 22 Tank and Coils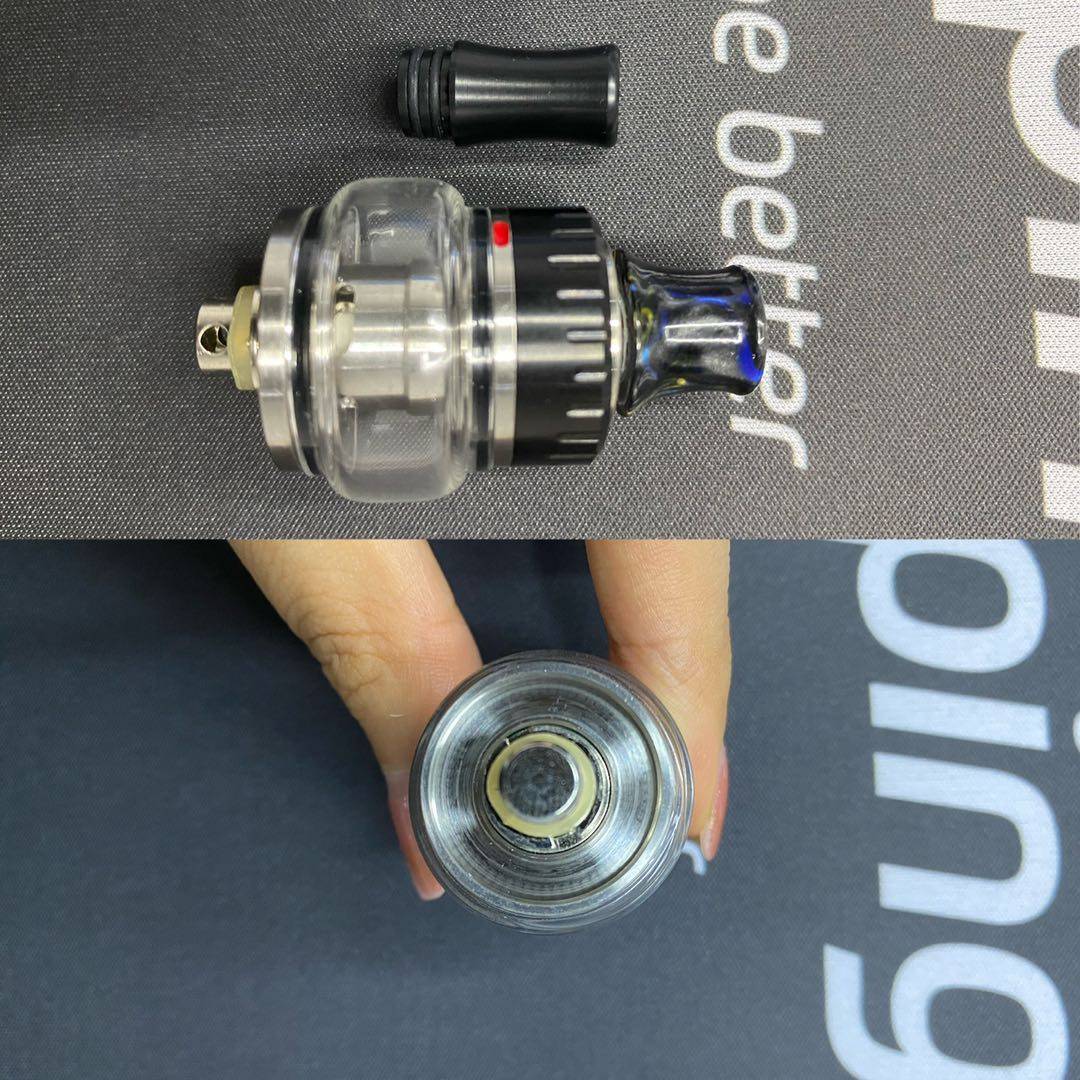 The new Freemax Fireluke 22 Tank looks department as it matches seamlessly with the Freemax Twister 30W battery. It screws onto a spring-mounted 510 connector, meaning you are not stuck with just the Fireluke 22, anything up to 22mm in diameter will give you zero overhang. The Fireluke 22 holds 3.5ml of e-liquid and the kit also comes with a spare 2ml bubble glass though, which sweetens the deal a bit. The pre-installed round drip tip is comfortable between lips, which is made for MTL vape. It is a replaceable standard 510 drip tip. You will also get a more slender drip tip for DTL vape.
You get two coils with this kit, a 1.5ohm mesh coil, and a 0.5ohm mesh coil. Both of the coils utilize the Tea Fiber Cotton for top-notch flavor and super smooth vape, which is a patented design from Freemax. You can use the Fireluke 22 with both freebase e-liquids and high-strength nic salts. The 1.5ohm MTL coil comes pre-installed in the tank. I recommend starting with this coil to get the full potential of the Fireluke 22 tanks flavor and vapor production.
How To Fill the Freemax Fireluke 22 Tank: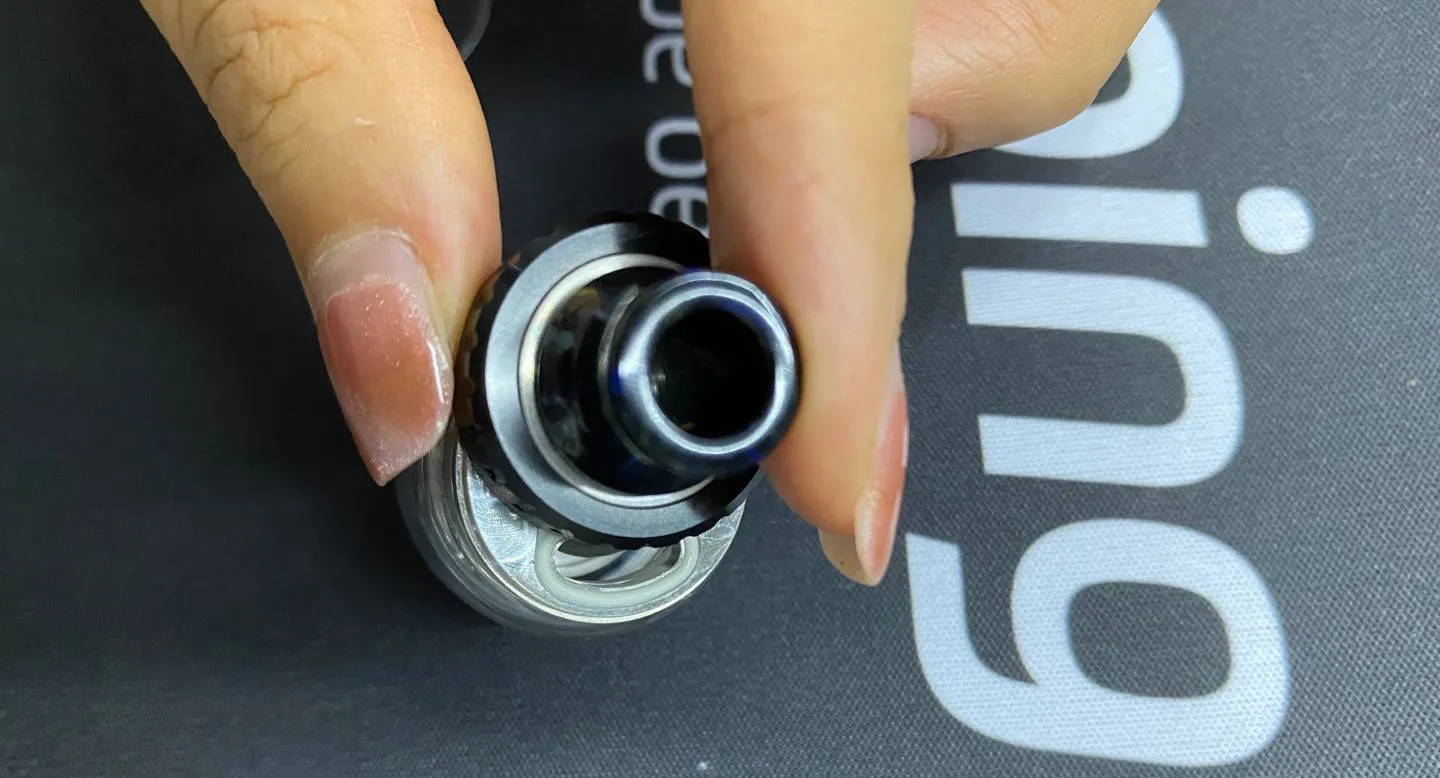 Lift the top cap at the red dot until the cap goes back no further

Slide the top cap to reveal the sizeable filling port

Add your desired e-liquid to the tank

Close up the top cap

Leave it for five or so minutes to get the coil saturated
How to Change the Freemax Fireluke 22 Tank Coil:
It is quite simple to replace the coil. The innovative Leak-Proof Mechanism allows you to change the coil without emptying the juice left in the tank. Because the e-liquid feeding holes will automatically shut down when pulling out the coil.
Unscrew the bottom of the tank

Unscrew the expiry coil from the base

Prime the new coil with a few drops of e-liquid

Screw-in a new coil, and re-screw it all onto the Fireluke 22 tank
---
How Does Freemax Twister 30W Perform?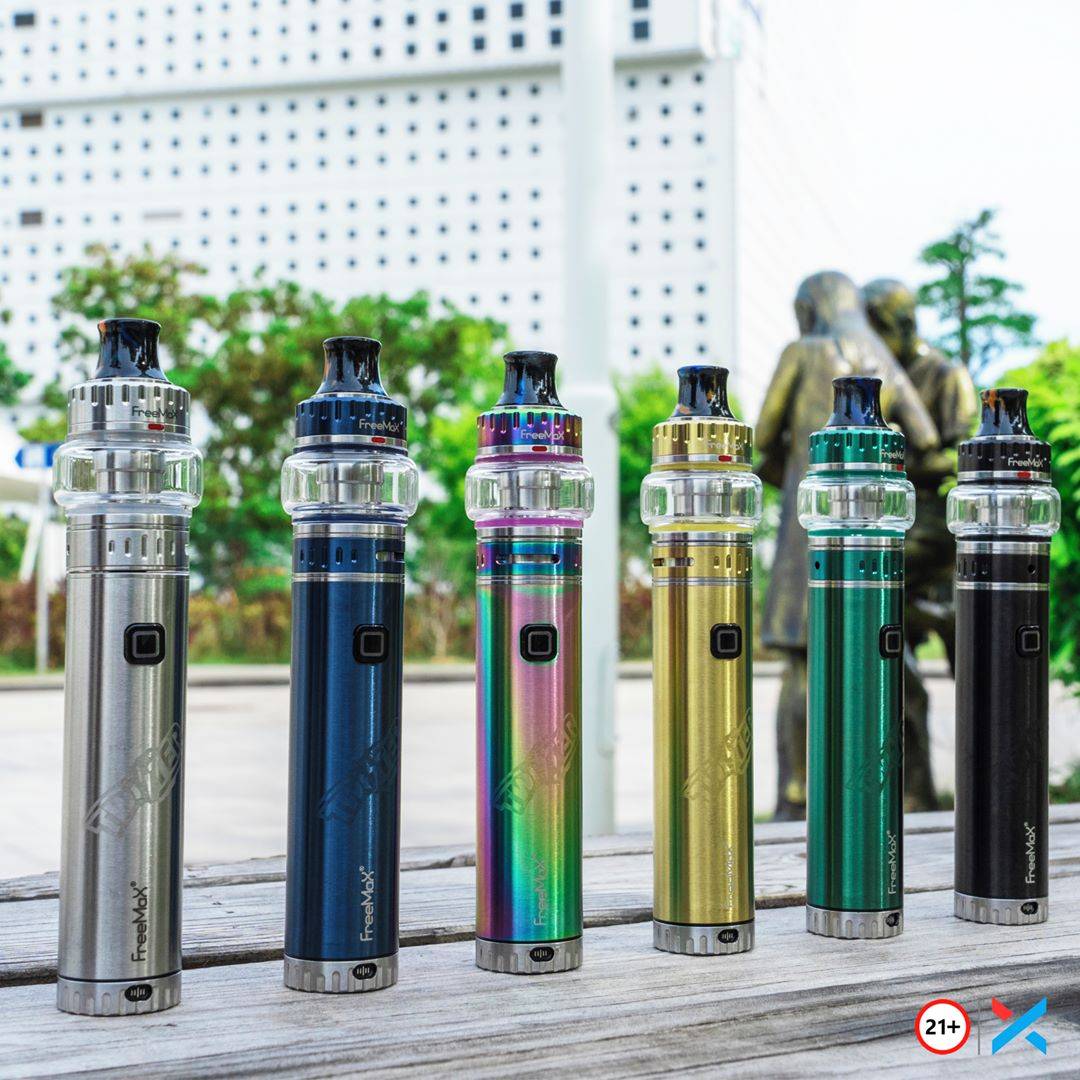 As a Freemax device, you can be pretty confident that the flavor is going to be spot on. There is not much to discuss about the Twister 30W battery. It works as a regulated VW tube mod should. The Twister 30W is very responsive and the wattage seems accurate as of the original Twister 80W. It is simple to use. A simple twist of the base adjusts the wattage, which increases in 2.5 watts. No complicated menu system, no fighting with how to handle it. The instant you press the fire button the coil is going to heat up, it is an impressively fast ramp up! For me, there is nothing to complain about performance-aspect.
The sub-ohm tank from Freemax doesn't disappoint in flavor and vapor production over the past year. So when I received the Freemax Twister 30W, I was quite excited when I saw the new Fireluke 22 tank. I have used some of the Freemax sub-ohm tanks this year. They have always had fantastic flavor and massive cloud production. So let's see if the Fireluke 22 could be another winner.
Flavor and Vapor Production:
The flavor is first-class from both variants of coils. The cloud production is massive, nice thick bellowing cloud, you'll hotbox a small room in a few puffs. I have tried a few different juices over the last week, both coils show no signs of a drop in flavor or vapor production. I would confidently say you could get a couple of weeks with moderate usage. I have to say, these tea fiber mesh coils did provide a super smooth vape with fully adjustable airflow control. For me, I prefer the 1.5ohm coil as it provides an airy MTL draw with a wide-open airflow.
---
Freemax Twister 30W Review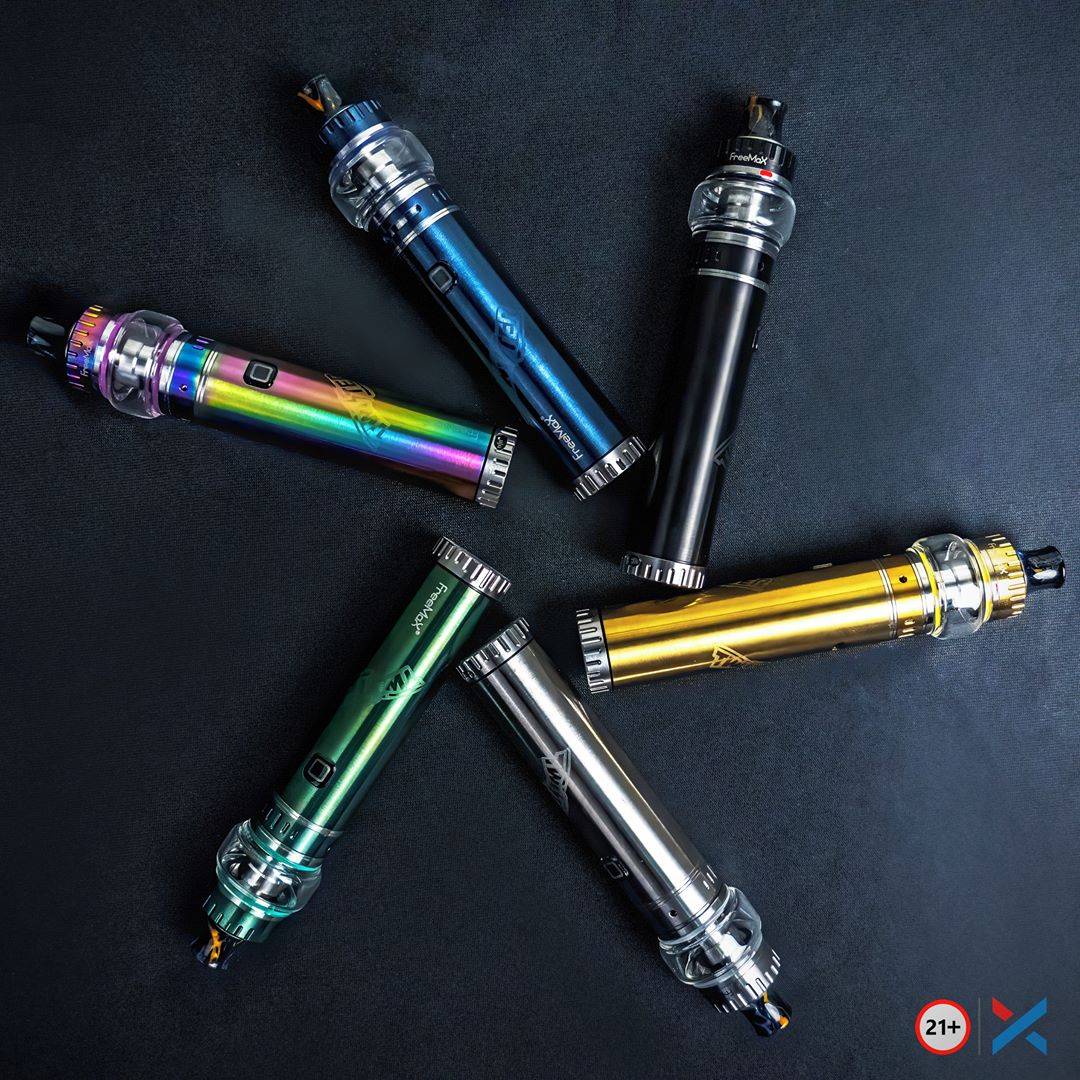 The Freemax Twister 30W is an excellent performer that I have fully enjoyed using and will continue to use when going out. I love its classic design. It looks small but feels hefty in hands. It is very simple to use, perfect for anyone wanting to break into DTL vape. It is great for all levels of vapers. The new Fireluke 22 performs well and its coils are great both for flavor and vapor production. I haven't had a problem at all during the testing period. If you are switching from smoking to vaping or looking for a portable vape pen, this kit should be in your arsenal.
Pros and Cons of Freemax Twister 30W:
Pros:
Good build quality

Sturdy and durable

Excellent flavor with massive cloud

Comes with 2 drip tip

Comes with 2 coils

Can be used with freebase e-liquids and nic salts

Support MTL and DTL vape

Simple twist to adjust wattage

1400mAh large battery capacity

Long coil lifespan

LED indicator

Fully adjustable airflow

Child-proof top filling design

Ideal for all levels of vapers
Cons:
No innovation

A bit heavy for a 30W AIO