Best E-liquids & Top CBD Vape Juice UK in 2021
Author: Ash / Category: Guides/ Date: 3/8/2021
---
Stuck in a dilemma? Don't know what vape juice to choose from thousand of different flavors? Then congratulations! Here we got you covered, basically, we have all categories of vape juices including:  Berry, Beverage, Candy, Menthol/Mint, Tropical, the list goes on! Besides flavors, we also include different types of e-liquids: Shortfills, Nic Salts, Nic Shots, High VG E-liquids and DIY&Concentrates. Whoever you are-a beginner or an advanced vaper, you can get what you want here.  
---
Best E-liquids for you in the UK 2021
Note: All of our vape products are TPD compliant.
Riot Squad Punx Strawberry, Raspberry & Blueberry Nic Salt 10ml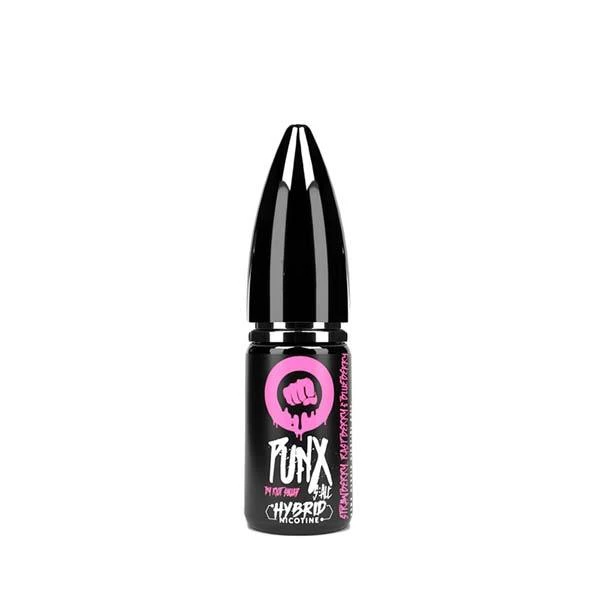 Strawberry, Raspberry & Blueberry e-liquid by Riot Squad Punx is a berry fruit blend known for its ripe flavour. A sweet strawberry, juicy raspberry and tart blueberry complement each other without overpowering, for a complex e-liquid. 50VG/50PG, 5mg/10mg/20mg nic strength to choose from, this juice definitely satisfies berry lovers!
---
Billiards Soda Range 70VG/30PG Shortfill 100ml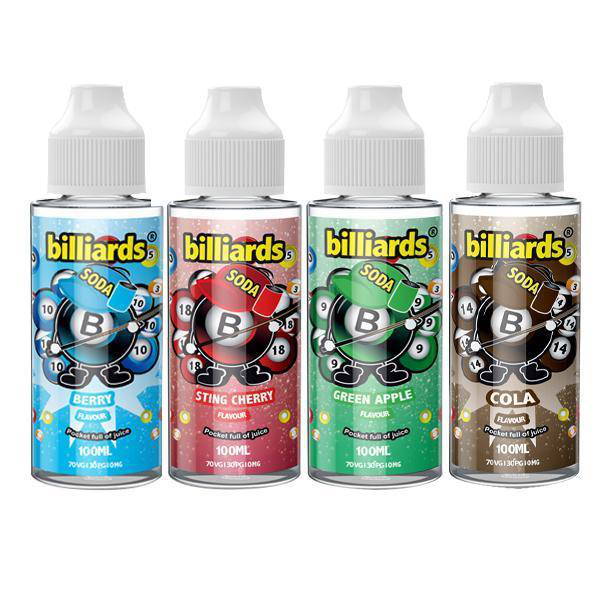 The Billiards Soda Range 70VG/30PG shortfill is supplied as 100ml of zero nicotine e-liquid in 120ml bottle. You can add your nic shots into shortfill to increase the nicotine content of your e-liquid to your required nic strength. The soda juice includes 15 different flavors such as Cola, Lemonade, Energy, Vimto and so on. 70VG/30PG works best with Sub-Ohm Tanks and Kits at higher Wattage. If you are a vapour epigone and not addicted to nicotine, this vape juice is a great choice!
---
Zap! Juice Melonade Nic Salt E-liquid 10ml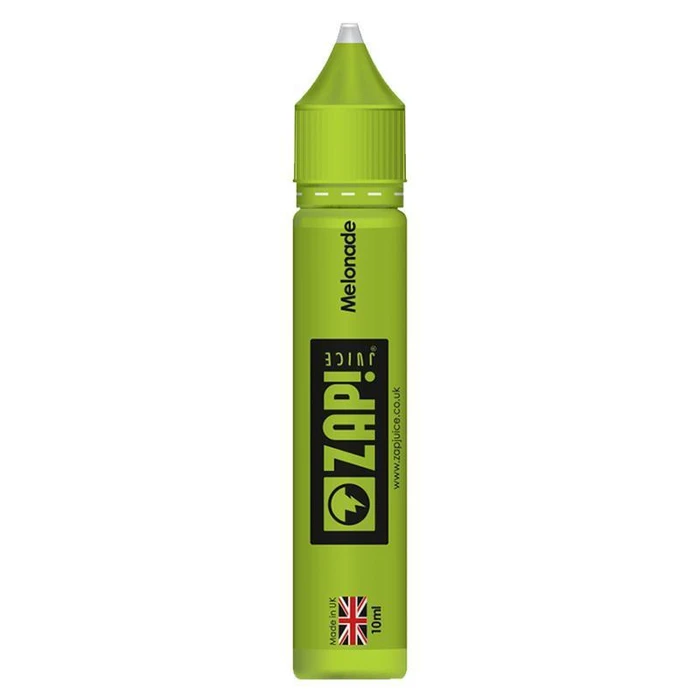 The Zap! Juice Melonade Nic Salt E-liquid is the luscious blend of honeydew melon and thirst-quenching lemonade that floods your taste buds. The Nic Salt of 20mg nic strength extracted directly from the natural tobacco leaf can be absorbed by your body quickly to keep away your nicotine carvings. While this flavor is composed rather simple but tasty, honeydew melon mixed with refreshing lemonade makes it an exotic and tropical vape juice, if you were a smoker switching to vaping and craving for nicotine, this vape juice won't let you down.
---
Juice N Power Rainbow Fizzy 50/50 E-Liquid 10ml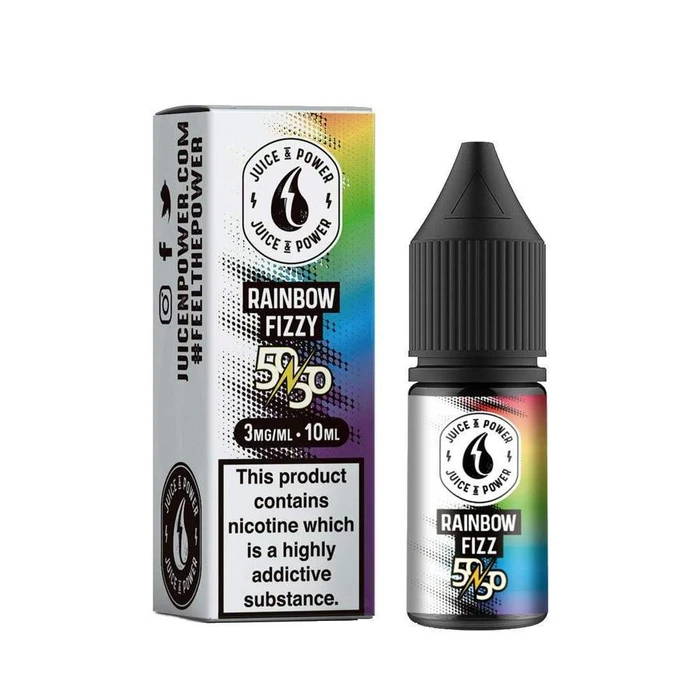 Rainbow Fizzy e-liquid by Juice N Power 50/50 is a confectionery medley with juicy layers. A sweet candy base, containing an added fizz, is complemented by a ripe-tasting concoction of mixed fruits for an authentic e-liquid.
Rainbow Fizzy e-liquid is available in 10ml bottles with nicotine strengths of 3mg, 6mg and 12mg, the relatively lower nic strength would bring less throat hit compared to 20mg nic salt and traditional tobacco.
With a 50% VG ratio, these e-liquids provide clear flavour with minimal cloud production, ideal for use with pod devices and starter kits. The candy based rainbow fizzy e-liquid would bring you back to your childhood as you take a puff.
---
Dr. Frost Strawberry Ice E-liquid 100ml
The Dr. Frost Strawberry Ice E-liquid is the blend of the sweet summer strawberries infused with a touch of chilling blast menthol for a chilly flavorful fruit taste that will satisfy your taste bud. Containing 100ml of vape juice, the bottle is 120ml capacity which means you can add nic shots in by your desired nic strength. The sticky strawberry candy gives a thick and delectable fruity inhale followed by a pure chilly feel on the exhale.
Since this is shortfill without nicotine content, we recommend to match use with nic shot if you were craving for nicotine. And 70VG works best with Sub-Ohm Tanks and Kits at higher Wattage for producing mass of cloud. As the name "frost" clearly indicates, this vape juice will surely delight your taste buds with frozen fruit flavor and substantial vapour!
---
With the explosive growth of vape industry recent years, tons of different usage vaping devices and mass flavors of e-liquids came into being. As such, the listed CBD vape juice or CBD vape oil appears.
CBD is a compound found in cannabis plants that provides proven therapeutic benefits. Because it doesn't have the same intoxicating effects as its cannabinoid cousin THC (tetrahydrocannabinol), CBD (cannabidiol) is more lightly regulated, and can be sold without a prescription in most EU countries. Even high CBD strains of cannabis can be purchased online without a medical marijuana card.
---
Top CBD vape juice in the UK 2021
After understanding the basic knowledge of CBD vape juice, let's take a look at the top CBD vape juices in the UK.
---
CBD Asylum Sub Ohm E-Liquid Mango FANDANGO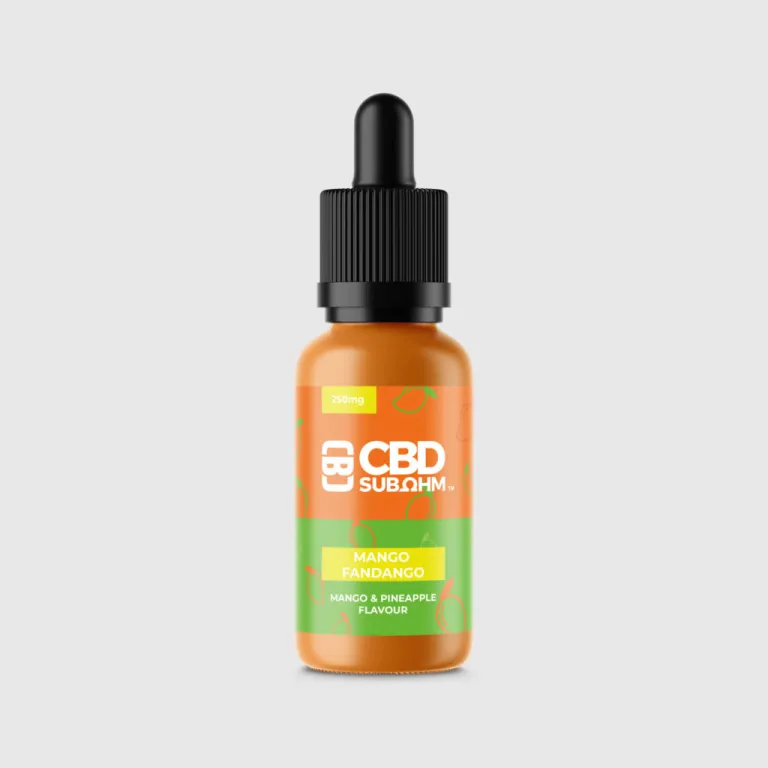 CBD Asylum definitely is one of the top CBD e-liquid suppliers in the world for the WORLD'S ONLY CBD sub-ohm e-liquid. They created the very first CBD sub-ohm e-liquid so you can now enjoy your daily dose with an unsurpassed smoothness and real cloud capability.
Whereas the CBD strength is optional: 250mg/500mg/1000mg/2000mg. 70VG/30VG brings you mass of cloud, with mouthwatering tropical mango&pineapple flavor, just take a puff, then you'll find yourself as if enjoying your vacation on the sunny beach.
More interestingly, you can add 25ml shortfill or 5ml nic shot to create a CBD nicotine hybrid e-liquid. A sub ohm tank is recommended to match use with this e-liquid to utilize its best performance.
---
Cannavape Blue Dream Slush 120ml CBD Vape Juice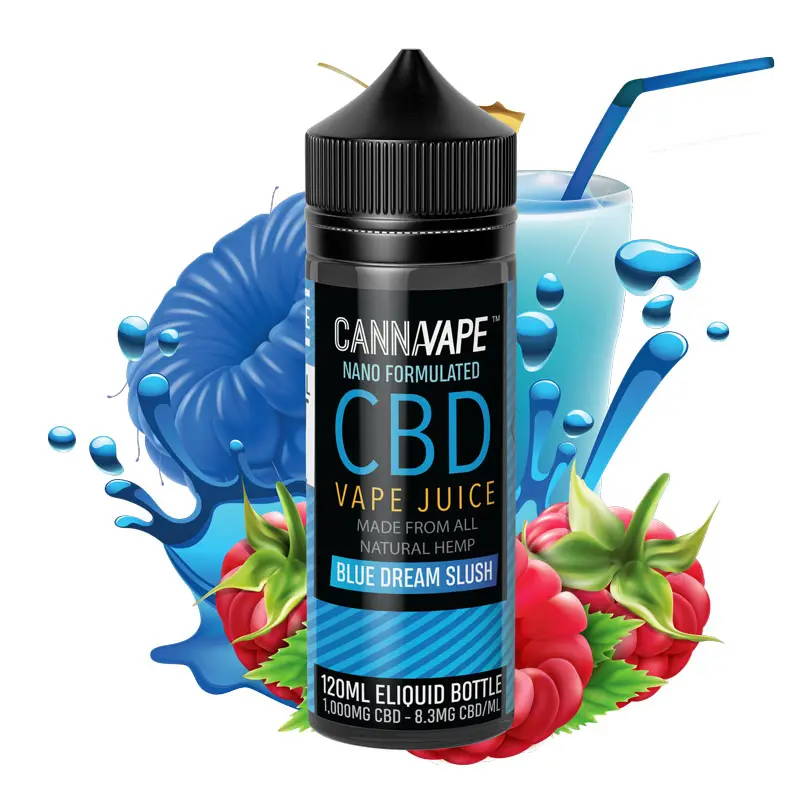 Lab tested Cannavape Blue Dream Slush 120ml CBD Vape Juice, all of their classic vape juice is created with a 80VG/20PG ratio to produce luscious clouds while maintaining the therapeutic benefits of CBD. This 120ml vape juice contains 1000mg CBD which extracted from industrial hemp, 100% natural, non-intoxicative and organically grown on Colorado farms.
This CBD vape juice is specifically designed to work well with an organic cotton-based coil system. All the lab tested CBD e-juices just to make sure every vaper can enjoy the therapeutic benefits of CBD and the joy of producing mass cloud safely.
---
Harmony Cannabis Originals Super Lemon Haze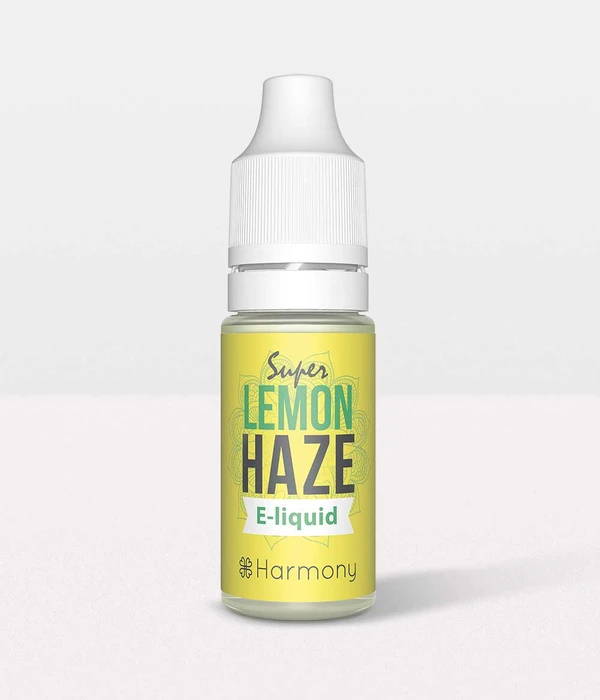 Harmony Cannabis Originals Super Lemon Haze is a 10ml CBD vape juice and was crafted with vapers in mind, and hemp at heart. Its aroma is derived from the same compounds of the beloved Super Lemon Haze cannabis strain and comes with various of CBD strengths (30mg, 100mg, 300mg, 600mg). This unique aroma is created from terpenes, the compounds that bring smell and flavouring in Cannabis. 20VG/80PG makes it creates nearly smokeless environment, while higher PG and CDB content would give you an intensive throat hit with brain-refreshing experience!
---
Should I concern the safety and validity of CBD?
Of course you should. Hemp-extracted CBD oil is highly unlikely to make you fail a drug test. While as long as the CBD vape juice you choose has been tested by a third party, get the permission from TPD(Tobacco Product Directive) and is sold by a reputable supplier that stands behind its products, you can use it with confidence and enjoy the benefits CBD offers.
Is it legal to use CBD? Back to 2017, products containing Cannabidiol are to be classified as medicines according to Sky News(products containing Cannabidiol are to be classed as medicines). Just keep it in mind, choose a reputable CBD vape juice supplier to make sure it's a legal CBD juice and high quality.
What is difference between CBD oil and CBD vape oil?
Actually, CBD vape oil is also known as CBD vape juice or CBD e-liquid, all the terms generally refer to any vape juice that contains CBD. The key here is that unlike CBD oils that are tinctures, CBD vape juice is designed for vaping and it's soluble in water. CBD vape liquids can be used as a tincture, but CBD oil tinctures are not to be vaped.
CBD Dosage-How Much Should You Be Taking?
Some dosages that have been used in research studies for some conditions are:
Bowel disease: 10mg daily

Anxiety: 300 to 600mg

Psychosis: 600mg daily

Cancer-related pain: 50 to 600mg daily

Poor sleep: 25mg daily

Parkinson's disease: 75 to 300mg daily