Batteries appear in almost every electronic that we presently use. We hardly get a normal life without the batteries, I mean our cell phones, laptops, lights, vape devices and so many other daily use electronics are powered by batteries, things would get messed up if we live without batteries. Battery is extremely important in our daily life without saying, so the battery safety is also a vital aspect that can never be neglected.
All the vape devices are powered by external batteries or internal batteries, most external batteries(18650s, 20700s and 21700s) are in cylinder shape and rechargeable via battery charger, and internal batteries are partially rechargeable based on the vape type, for instance, internal batteries in most of disposable vapes are not rechargeable. To be more specific, we will talk about the battery safety when using vape devices-dos and donts in the following text.
---
Do purchase the right battery from reliable supplier
There is no doubt that buying a right battery that fits your vape device is vital. For example, most pod mod vape devices support single 18650 battery, while most mod vape devices are dual 18650 batteries required because mod vapes are high wattage devices that need strong enough energy to power up. And the main differences among 18650, 20700, and 21700 batteries are size and electric capacity. So before purchasing batteries for your vape device, you should look for the manual and find the right battery size that fits your vape device. In NewVaping, you can find not only reliable batteries but also chargers and other useful accessories for your vape device.
Do make sure the battery is intact
Generally speaking, batteries should be used in good condition. If there is a breakage on the wrap of the battery, the safe way to continue using the battery is to get it a new wrap. A breakage on the wrap of the battery may lead to overheat, rupture, and ignition when using.
Do properly store your battery
As a qualified advanced vaper, there must be more than a couple of rechargeable batteries in your drawer. Then properly store your battery is necessary. The best way to store your battery is to put the battery in a insulation material box, a plastic battery case will do. And do store the battery in a cool and dry area, avoid exposing to the sun light.
Do use a reliable battery charger
Since most mod vapes are powered by dual external batteries, it is important to get a good battery charger for your battery health and long run. What's more, most advanced battery chargers are equipped with smart chip which helps to prevent circuit short cut, overheating and other safety concerns.
Do use the same type batteries
If you are using a mod vape device which requires dual batteries, then please keep it in mind, use the same type batteries in a device. The same type here means, the same use date, the same size, and the same brand. This will ensure that the cells get the same number of charges/discharges and help delay imbalances in capacity and performance, it's also a safe practice of using batteries.
Do Keep batteries out of reach of small children
Should a child swallow a battery, consult a physician immediately.
Do recycle waste batteries
Never throw away old batteries in a trash can, or the lithium battery may cause serious hazardous effect. You can also find garbage sorting bin on the street, so please properly wrap your old batteries and recycle them. Here is an example on how to properly dispose your waste batteries. (Info From Panasonic)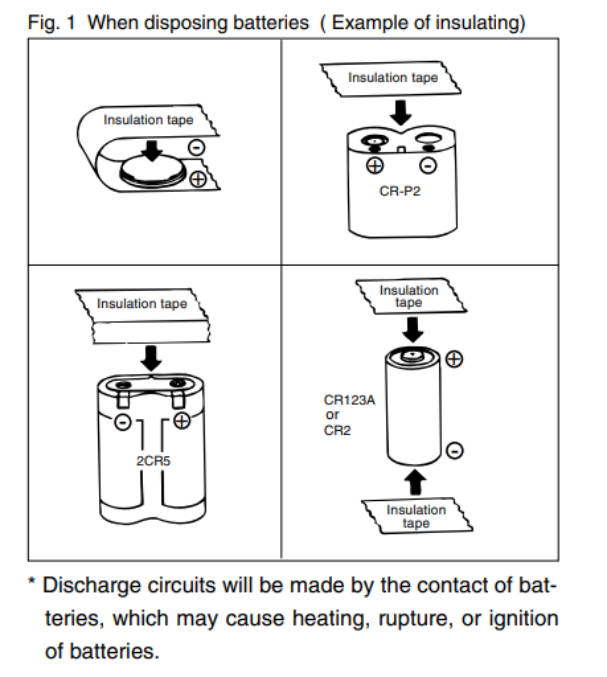 ---
It may cause rupture or ignite:
Do not throw batteries into fire.

Do not connect positive and negativeelectrodes to each other with metal or wire.

Do not carry or store batteries together with a metallic necklace, etc.

Avoid inversed connection of and terminals to devices.

Avoid mixed use of new and old batteries or batteries of other series.

Avoid direct soldering to batteries.

Non-rechargeable batteries should not be charged.
Always remember that safety is the first step to access the enjoyable vaping experience. And battery safety, as the fundamental part of a vape device, you should never neglect it.
---