How to vape: A Beginner's Guide to Vaping (Updated to 2021)
Author: Ash Zhu / Category: Guide / Date: 7/27/2021
---
World is changing quickly with the stronger and stronger technology development, more and more new technologies and concepts come into being. Before you know how to vape, I would like to tell you what on earth is vaping? Dated back to 2014, the Oxford English Dictionary defines "vape" as a verb meaning "to inhale and exhale the vapour produced by an electronic cigarette or similar device." Added in August, "vape" is a utilitarian noun brought about by new technology. Although "vape" is no longer a new word now, I believe readers here must be new to vape. Here are some guides on how to vape for newbies.
---
What's the difference between smoke and vape?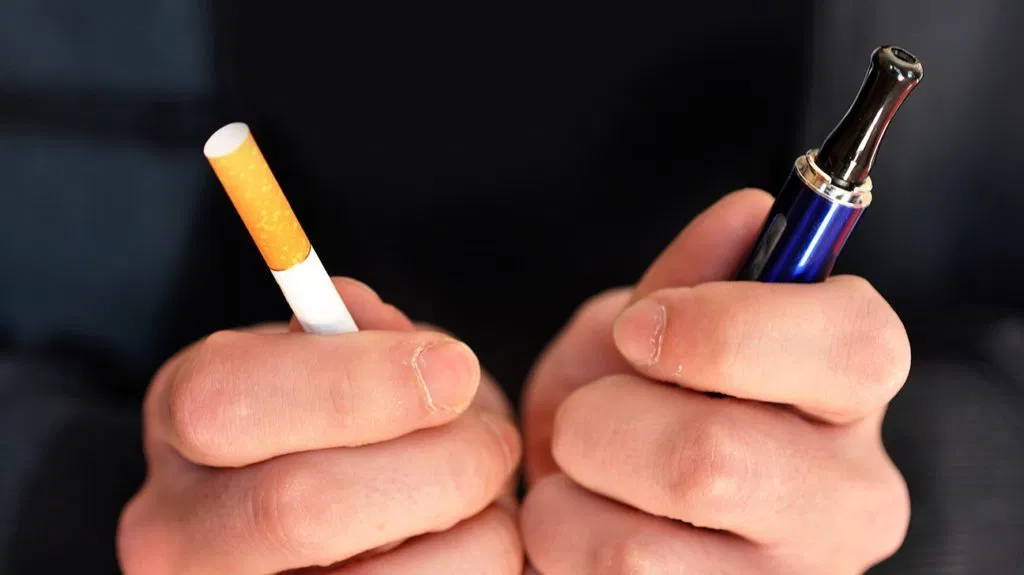 The first thing I want you to know is that the difference between smoking and vaping, which is that smoking delivers nicotine by burning tobacco, which can cause smoking-related illnesses, and vaping can deliver nicotine by heating a liquid in a much less harmful way, according to VAPE FACTS. Why is that? The reason is obvious: tobacco ingredients are much more complicated than vape juice, there are over 4,000 chemicals, including 43 carcinogenic compounds and 400 other toxins. These include nicotine(fixed), tar, carbon monoxide, as well as formaldehyde, ammonia, hydrogen cyanide, arsenic and DDT. While for the ingredients of e-liquid, there are merely 4 basic food grade chemicals which are: VG, PG, nicotine(adjustable) and flavouring. "There is now general agreement that vaping use exposes the user to fewer toxicants than smoking tobacco cigarettes." (McNeill 2015; RCP 2016. Cochrane Review.) Shortly, vaping causes much less harm than smoking does.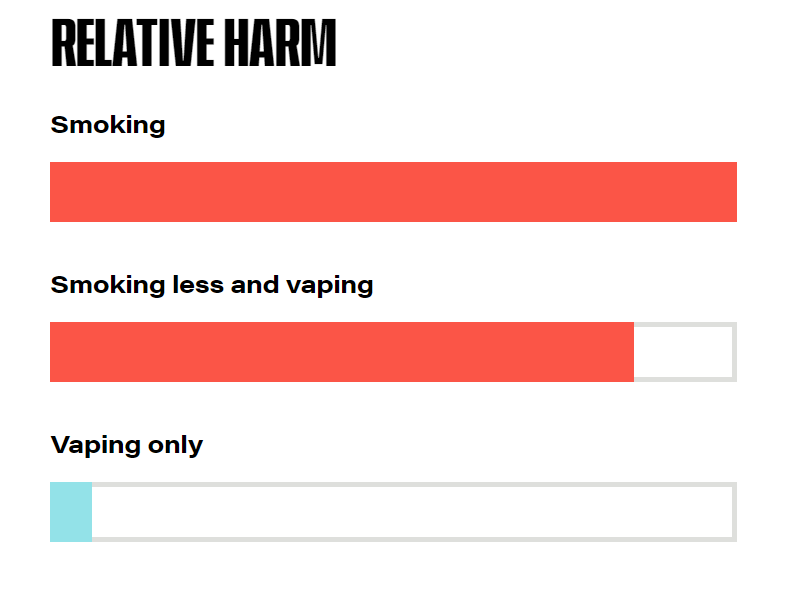 ---
How to vape: for quitting smoking or for fun?
If you know how to smoke, then you know how to vape. Is that so? Not exactly. I bet you don't know there are mainly two major groups for vapers, the one who wants to quit smoking and the other one is the playability epigone of vaping. Speaking of the former one who wants to find cigarette alternatives like vape, there are several vaping devices and knowledge that I would like to impart to you. As cigarette alternatives, vaping devices must be compact so that easy for daily carry. Generally, smoking is MTL(mouth to lung) which means you'll need a device with higher resistance above 1ohm and tight airflow so that you'll have similar inhaling experience to smoking. As I mentioned above, nicotine strength is in accordance with your own need, just remember, add it into your juice in a safe range, I'll show you in the following text. Devices recommended for MTL: disposable vape pod, pod kits and pod mod(AIO) kits.
If you like vaping because it produces mass of cloud and vapour or just want to sit at the cool boys' table, then you'll need sub ohm vaping devices which is DTL(direct to lung). Generally speaking, a sub ohm vaping device requires higher wattage and lower resistance thus you'll need a powerful device like pod mod kit or mod kit. However, producing mass of vapour also concerns with the ingredients ratio of e-liquid, higher VG content would produce more vapour. While there is one thing you must know, a DTL device usually uses zero or lower content of vape juice because you will inhale lots of vapour into your body, and if nicotine content is excessive, that would cause a series of risks like dizziness even nausea.
---
What is e-liquid and how to choose your own e-liquid?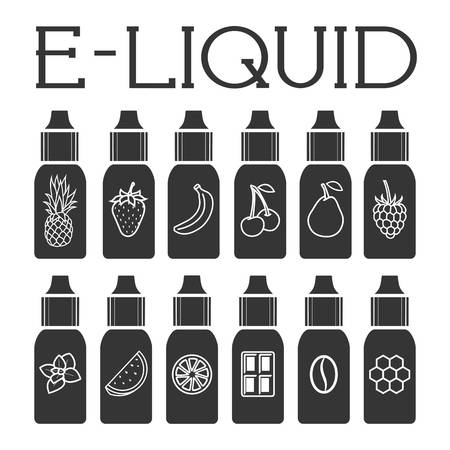 First of all, I want you to know that e-liquid, e-juice, vape juice and juice all refer to one thing, they are all the same, an indispensable part of vaping bringing vapers different tastes and feelings according to different vape juice recipes. The ingredients of e-liquid are rather simple and food grade: PG(Propylene Glycol), VG(Vegetable Glycerin), Nicotine(Optional) and flavouring. Those terms seem technical, while you just need to know that PG and VG can make mass cloud/vapour, and more specifically, PG carries the flavour and VG is thicker and produces more vapour than PG. And it would bring you more "throat hit" feeling if it contains more PG in the juice.
Compared with cigarette, vape juice carries more acceptable scent for the crowd. In the massive e-liquid market, countless flavors of vape juice leave you in choice. For a starter who wants to quit smoking, 50VG/50PG, 6mg-50mg nicotine strength ratio juice with a pod kit(or disposable vape) is recommended. If you want to be a DTL vaper, you can choose 80VG/20PG, 70VG/30PG and 50VG/50PG. The above PG/VG ratios are commonly seen in the market, as I said before, if you want more cloud, go for a higher VG juice and if you want more intensive "throat hit", then get a higher PG/nicotine strength juice. Generally, the suggested nicotine strength for a DTL device is 0mg-6mg.
---
Start and enjoy your vaping journey
After studying the above basic knowledge about vaping, I am sure you already have fundamental understanding on how to vape thus it's time to make your choice for a suitable device and e-liquid then start a refreshing vaping journey!
---
MTL: Inhaling from the mouth to the lungs is referred to as mouth-to-lung inhaling. You draw the vapour into your mouth as you MTL inhale. After that, you keep it in your mouth and inhale it into your lungs.
The MTL feeling is much closer to that of a cigarette due to its tighter, more limited draw.
Furthermore, the combination of less air pulled over the coil, higher PG ratios, and inhaling technique results in a stronger throat strike.
DTL: When you inhale the vapour straight into your lungs without first keeping it in your mouth, you're doing a direct-lung inhale. It's almost as if you're taking a deep breath while pursing your lips.
To cool down the vape, direct-lung vaping necessitates more airflow. As a result, DL systems are designed to pull more air into the coil. Straight-to-Lung inhale is another name for Direct-Lung inhale.
What are the recommendations for different levels of nicotine strength?
3-5 mg - Suitable for sub ohm tanks due to their low concentration. Nic salts provide a cleaner taste and is less noticeable than freebase nicotine. This is ideal for flavor chasers.
20-35 mg - By nicotine salt standards, this is the middle of the road. Ideal for people who don't want to do 50 mg, but still need a substantial dose of nicotine. In Europe, 20 mg is the highest level you can get.
50+ mg - Recommended for transitioning smokers who need the maximum dosage of nicotine. Not recommended for non-smokers or low-nicotine vapers. Suitable for low-powered MTL devices only.
The term throat hit describes a phenomenon that the majority of vapers crave for. Throat hit simply refers to the sensation vapers feel at the back of their throat when they inhale from any vaping device. A throat hit differs completely from a lung hit. A lung hit involves direct vapour delivery to the lungs as you inhale (DLT). A throat hit is closely similar to a mouth to lung (MLT) process. The sensation experienced can vary from a smooth and satisfying feeling to an irritating, cough-inducing one. It all depends on the vaper's personal preference and experience. Several variables play key roles in the quality of the hit. Variables such as the type of device, nicotine level and concentration, type of flavour, VG/PG ratio, and the type of coil key into the strength of the hit. On the whole, vapers are able to customize the strength of the throat hit to meet match their taste.