Though vaping has a long history, the unprecedentedly rapid development of vaping market just occurred in recent years. More and more people are diving into the vape circle accompanied with the emerging innovative vaping products. Therefore in the relatively new field, there are much to learn if you are one of the vapers. Today we are going to talk about the differences between CBD e-liquid and nicotine e-liquid.
---
What is Nicotine E-liquid?
Nicotine e-liquid namely it's the e-liquid contains nicotine. Generally we can find nicotine contained e-liquid like nic shot, nic salt, and there is also nicotine-free vape juice like shortfill. While e-liquid is also known as e-juice, vape liquid, vape juice thus wherever you see those terms, you'll know they all refer to the same thing. Compared to traditional cigarette, the ingredients of vape juice is rather simple. Generally speaking, vape juice is composed of 4 major chemicals which are: PG(Propylene Glycol), VG(Vegetable Glycerin), Nicotine(Optional) and flavoring.
Those terms seem technical, while you just need to know that PG and VG can make mass cloud/vapour, and more specifically, PG carries the flavor and VG is thicker and produces more vapour than PG. And it would bring you more "throat hit" feeling if it contains more PG in the juice. We can find the ingredient PG in almost every daily personal care products like shampoo, toothpaste, and make up.
There are two types of nicotine used in e-liquid, free base nicotine and nicotine salt. Nicotine salt is more commonly used for its numerous advantages. The most used nicotine strength ratio in a vape juice is between 0mg-50mg, it differs from the appetite and demand of vapers.
One last thing is flavoring, over seven thousand flavorings exist including cherry, coconut, berry blast, fresh apple, sweet tarts, cinnamon and even tobacco. The flavors used in e-liquid are food-grade, while not all food grade flavors will work in a vape liquid.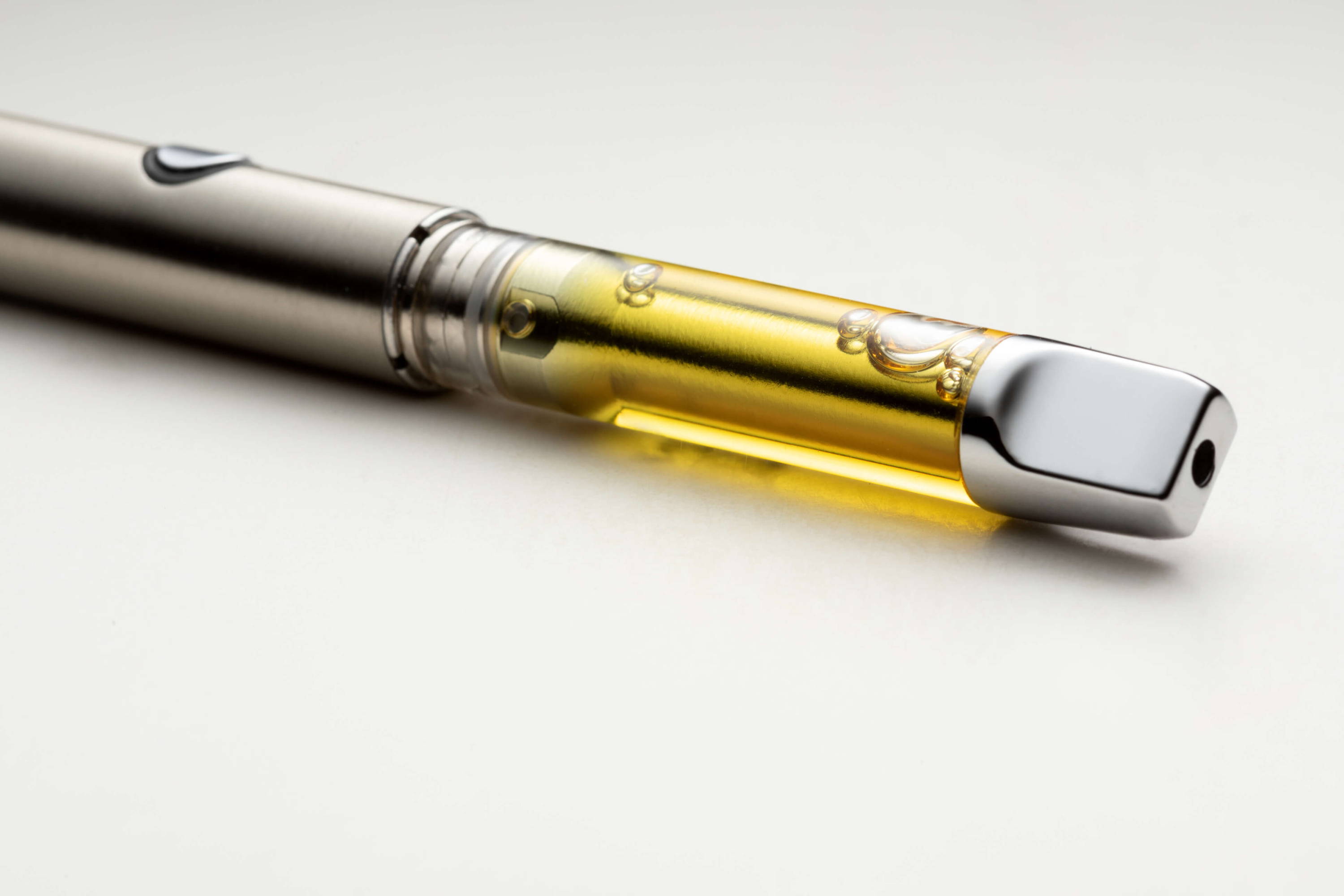 ---
Before we know "what's CBD e-liquid", let's learn about "what's CBD oil", because most people would feel confused when meet the terms "CBD E-liquid and CBD oil" at the beginning.
CBD Oil is made from the CBD extract of the cannabis plant which is isolated with the help of CO2. When the CBD molecules are separated from other cannabinoids and terpenes, it is suspended in a carrier oil like olive oil, coconut oil, or hemp seed oil. The pure, distilled form of CBD along with the carrier oil makes it an ingestible form of cannabinoid which can be consumed sublingually (under the tongue) or added to a meal. But can you vape the CBD oil? The answer is NO. Vaping CBD oil is harmful because the vegetable oil that is mixed with the CBD extract is made up of triglycerides which contains three fatty acids. Burning or heating them produces a dangerous byproduct that would not be ideal to inhale. The reason for using vegetable oil is because they are easily absorbed and digested by your body. However, they should not be heated and vaped in any case.
CBD E-liquid is made vape-friendly by removing the fatty acids from the triglycerides found in vegetable oil. The resultant is a sugary backbone called glycerol(VG). This is popularly used to make your vaping experience more enjoyable and worthwhile. CBD E-liquid or Vape juice is be made by the main following three ingredients - PG (Propylene Glycol), VG (Vegetable Glycerine), CBD and MCT Oil.
CBD, short for cannabidiol, is a naturally-occurring cannabinoid found in hemp, a type of cannabis plant. Cannabidiol is known for its therapeutic properties and has been growing in popularity in recent years. CBD oil has a range of benefits used to relieve symptoms associated with inflammation, anxiety, depression, pain and epilepsy.
MCT Oil is considerably new when compared to other compounds, but it is quickly on the top popularity. Extracted from coconuts, it is a colourless solution that acts as a thinning agent for the CBD oil. MCT oil is one of the fastest ways to administer CBD throughout the body, and is completely natural.
---
Differences Between CBD E-liquid and Nicotine E-liquid--Which One Should You Choose?
Nicotine is one of the most addictive substances in the world. While CBD is not addictive. It's also worth noting that in the UK, CBD vapes do not contain nicotine. So, there is nothing added into the CBD vape juice that will cause users to become addicted. In fact, CBD vape oil has been shown to reduce the effects of addiction, it also relieves a couple of ailments, anxiety, nausea, and pain for instance. What's more, vaping CBD will not get you high as well, unless it is derived from marijuana containing THC. Most CBD formulated for vaping is derived from industrial hemp. It contains trace amounts of THC (up to 0.3%) which isn't enough to get you high.
Here comes to the conclusion, nicotine vape juice and CBD vape juice play totally different roles in vape products. Nicotine vape juice is a great choice for those smokers who want to quit and this could fulfill their nicotine cravings so that help them to cease smoking gradually. However, if you do not smoke and do not have nicotine need, so do not try nicotine vape juice. As for the CBD vape juice, it not only has faster effects and higher bioavailability compared to other CBD products like capsules, but also has multiple curative effects, relieve anxiety, nausea and pain like mentioned above. Hence know about your need first then make your decision.