Starting from 15 December, shop for Christmas Sales at NewVaping and enter the discount code XMAS10 for 10% off on all vaping hardware in NewVaping! Browsing our best-selling vape kits, including pod systems, mod kits, AIO(all-in-one kits) kits and vape accessories such as tanks, pods/cartridges, coils, and batteries.
Please note that the discount code XMAS10 cannot be used together with Special Offer and Multi-buy products. You can enjoy free UK shipping if your order is above £20.
---
The special offer continues to make your day - Buy Vape Kit and Get 2PCS Free E-liquids!
Come and check out the great special offer where you can get 2pcs free nic salt e-liquids by purchasing any vape kit in this collection. These pod vape kits are from reputable vape brands including Uwell, Elf Bar, VooPoo, SMOK, GeekVape, MOTI, and so on. And you can choose 2pcs free nic salt e-liquids in the following popular e-liquid brands: Riot Squad, IVG, Billiards, and Dinner Lady.
---
Flash Sale for disposable vapes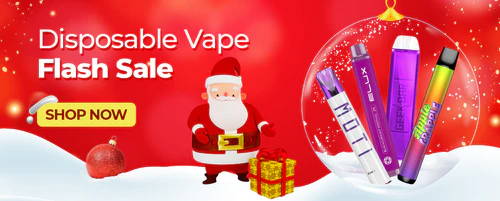 To celebrate this grand festival and give back to our customers, we have selected a variety of popular disposable vapes and the best disposable vape brands include ELUX, Doozy Vape Co, Innokin, Geek Bar, Moti, and so on. Enjoy the most favourable prices for the above-mentioned disposable vapes ever! If you are new to vaping and have no idea what to choose, a compact and convenient disposable vape is a perfect choice!
Beginner-Friendly

Inhale Activated

Zero Maintenance

Various flavours

Up To 400 Puffs

20mg Salt Nicotine

260mAh Battery

1.6ml e-liquid
---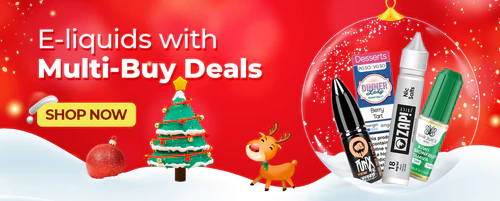 There are a variety of different types of e-liquids available in the special offer including shortfill, nic salt e-liquid, nic shot, high VG e-liquid, and so on which can be used with all kinds of vape kits. And the brand is various, as well, for example, Dinner Lady, Riot Squad, and Bar Juice. The Multi-buy deals offer a rather cost-efficient way for vapers to purchase e-liquids, the deals include Buy 3pcs of e-liquids for £10 and Buy 4 for £10.
Supplied in 60ml bottle

50ml of 0mg E-Liquid

Space for 1 x 10ml Nic Shot

70% VG / 30% PG

Suitable for DTL vaping
Bottle Size: 10ml.

Nicotine Strength: 3mg, 6mg, 12mg, 18mg.

Nic salt e-liquid

Suitable for MTL vaping
---
When does Christmas sale begin?
Christmas sale starts from 15 December, 2022.
How to use the XMAS10 coupon code?

As the pictures shows, in the Checkout page, enter the code "XMAS10" into the "Gift card or discount code" frame and click Apply to enjoy the 10% off discount.
Can XMAS10 coupon code be used with other discounts?
No, the discount code XMAS10 is for the vaping hardware in NewVaping and cannot be used together with Special Offer and Multi-buy products.
What does the special offer of the "Buy Vape Kit Get 2PCS Free E-liquid" include?
The vape kits are our well-selected pod systems and some of them can deliver both MTL and RDTL vaping styles. The free e-liquids are nic salt e-liquids which are best for MTL and RDTL vaping and the nicotine strength is various including 5mg, 10mg, and 20mg.