What is World No Tobacco Day?
World No Tobacco Day (WNTD), established by the World Health Organization in 1987, is now celebrated on May 31 every year. The first World No Tobacco Day was held on April 7, 1988. The meaning of World No Tobacco Day is to promote the idea of not smoking. Each year there is a central theme, indicating a topic of particular interest in tobacco and non-smoking in that year. In response, various promotional activities will be held around the world on that day. For example, the previous years of themes on the World No Tobacco Day are accordingly: Commit to Quit(2021), Tobacco Exposed: The Secret's Out(2020), Tobacco and Lung Health(2019).
Today comes the 35th World No Tobacco Day, as the title showed, it is themed Tobacco Threat to Our Environment.
---
World No Tobacco Day 2022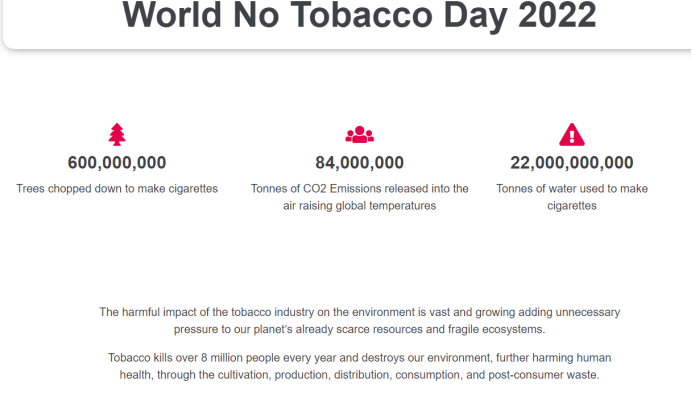 Tobacco through the cultivation, production, distribution, consumption, and post-consumer waste not only damages our nature environment but also destroys human body. As the WHO stated: Annually there are 600,000,000 tress being chopped down to make cigarettes, 84,000,000 tonnes of CO2 emissions released into the air raising global temperatures, 22,000,000,000 tonnes of water used to make cigarettes, and over 8,000,000 people was killed by tobacco. Facing the vast numbers of people killed, resource consumed, nature polluted, what can we do to stop it and make it a better place for us and for our mother planet? Let's see the proposals from the WHO.
Make the tobacco industry clean up their mess
The tobacco industry is making profit by destroying the environment and needs to be held accountable for the environmental destruction and made to pay for the waste and damages, including to recover the cost of collecting these wastes.
Quit tobacco to save our planet
Every cigarette smoked or tobacco product used wastes precious resources that our existence depends on. Quit tobacco for your health and the health of our planet. Tobacco smoke contributes to higher air pollution levels and contains three kinds of greenhouse gases.
Help tobacco farmers switch to sustainable crops
Governments and policy makers should support tobacco farmers to switch to alternative, more sustainable livelihoods to reduce the environmental impact of tobacco growing, curing and manufacturing while continue to implement tobacco control measures.
---
What can we do for our health and our environment via vaping?
Well if you are a chain smoker and it is rather hard for you to quit smoking for good, you can try switching to an e-cigarette which is also know as vape. Why is it so hard for a heavy smoker to quit is that the nicotine is a highly addictive chemical substance in the tobacco products. However, nicotine in the tobacco is not the substance that put our health at risk, but the burnt hazardous chemical substances like tar, polycyclic aromatic hydrocarbons, n-nitrosamines, and volatile organic compounds that tremendously harm our health.
According to the information by FDA: "Combustible products that burn tobacco, like a cigarette, are the most harmful to a user's health, while noncombustible products, such as e-cigarettes, may be less harmful."
Unlike cigarette and tobacco which contains over 4,000 chemicals, including 69 carcinogenic compounds and 400 other toxins, these include nicotine, tar, carbon monoxide, as well as formaldehyde, ammonia, hydrogen cyanide, arsenic, volatile organic compounds, metal elements and DDT. The ingredients of e-liquid in a vape are rather simple and food grade: PG(Propylene Glycol), VG(Vegetable Glycerin), Nicotine(Optional) and flavouring. So we highly recommend smokers to make a switch to vaping not only account to "vaping is at least 95% safer than smoking" Public Health England (PHE) had officially declared in 2015, but also to create a better place for our environment.
If you never tried vaping before and want to quit tobacco for good, a disposable vape is the best option as a starter kit for its simplicity and portability. In the UK vape market, the disposable vapes are usually pre-filled with 2ml vape juice in 20mg nicotine strength of nic salt, there are also 0mg disposable vapes available if you want to quit nicotine as well. In order to keep the pace of creating a more environmental-friendly products, more and more recyclable material made disposable vapes are surging into the market, like the Riot Squad Q Bar Disposable Vape and DotMod Dot E Disposable Vape, their shell are made of cardboard and recyclable materials, once the device is depleted, it can be partly recycled and reduces resource waste. Let's create a tobacco-free world to make it a better place for you and for me!
---
You May Also Want to Know