Bar Juice is born in Great Britain and aims to make irresistible vape juices. And Bar Juice claimed that just one of their bottles of vape juice is equivalent to 5 disposable vapes which is so true because Bar Juice 5000 is the latest nic salt e-liquid launched by Bar Juice and it is packed in a 10ml unicorn bottle. To be more specific, a TPD Compliant disposable vape generally contains 2ml e-liquid, therefore, one bottle of Bar Juice 5000 nic salt e-liquid is equivalent to 5 disposable vapes. Numerically, Bar Juice 5000 nic salt e-liquid is 5 times better than a TPD disposable vape, but how about the performance and taste? Today we are going to take a brief look at Bar Juice 5000 nic salt e-liquid.
---

Flavour Range: Berry, Fruit, Citrus, Tropical Fruit

Nicotine Type: Salt Nicotine

Bottle Size:10ml

Mix: 50VG/50PG

Nicotine Strength:20mg

Suitable for MTL vaping

Use with pod vape kits
Bar Juice 5000 nic salt e-liquid is a balanced 50VG/50PG blend, each bottle is packed with 10ml e-liquid in 20mg nicotine strength which means there is 20mg nicotine content in 1g e-liquid, so we can also say it has 2% nicotine strength. Nic salt e-liquid is often used with pod vape kits to create a smooth throat hit and quick nicotine satisfaction due to the features of nic salt. And the tight MTL vaping method is much similar to the inhaling of smoking a traditional cigarette. There are different ranges of flavours to choose from including berry, fruit, citrus, and beverage. What's more, Bar Juice 5000 offers a series of similar flavours to the classic Elf Bar 600 disposable vapes including Apple Peach, Energy Ice, and Kiwi Passionfruit Guava.
---
To fully activate the flavour and performance of Bar Juice 5000 nic salt e-liquid, you should choose a reliable and powerful pod vape kit that can deliver a consistent output. Uwell Caliburn GK2 Pod Vape Kit is what I choose to test the nic salt e-liquids.
Bar Juice 5000 Apple Peach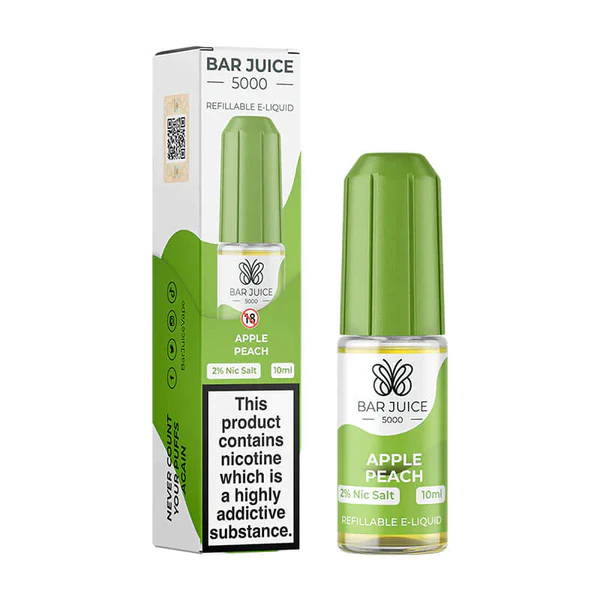 As the name implies, it is a fruity nic salt e-liquid mixture of crisp apple and ripe peach. Firstly I can smell the tangy and enthusiastic sweetness of the fruity e-liquid without vaping, and the feeling of sweetness got strengthened when I inhaled, and a sense of icy and smooth throat hit appeared as I exhaled. Compared to the same flavour of disposable vapes, the apple peach flavour of Bar Juice 5000 nic salt e-liquid is much sweeter and more fragrant, when you take a puff, it is like you are stepping into a big orchard that is full of ripe apple trees and peach trees. However, I am personally not a fan of sicky-sweet e-liquid, so the apple peach is not for me. If you like sweet and fragrant e-liquids, apple peach is highly recommended.
---
Bar Juice 5000 Strawberry Ice Cream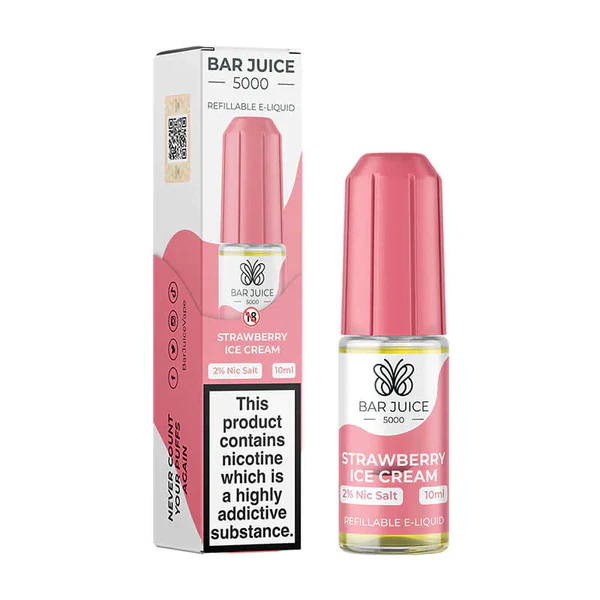 It is an authentic Strawberry Ice Cream dessert flavour. The sweet and refreshing red strawberry is accompanied by a creamy and milky cream, delivering a creamy and smooth strawberry flavour, complemented well by the icy exhale. All the fresh strawberry, sweet cream, and cooling ice are well-balanced, it is not too sweet or too creamy, and I bet the flavour of Strawberry Ice Cream must be popular among novice vapers. In the same way, I also love this flavour and definitely will recommend it to others.
---
Bar Juice 5000 Energy Ice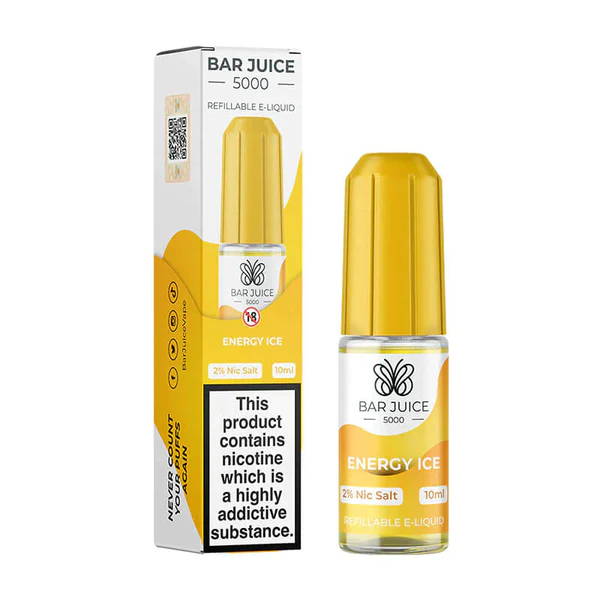 Energy Ice is a juicy blend of tasty mixed fruits with a sugary soda note, complemented by a cooling menthol and brings a frozen exhale for a fruity vaping experience, and it is much close to an iced energy drink flavour. What's more, the icy menthol works well in the e-liquid, and for me it is too sweet. After I took more puffs, I found there were some mixed berries notes, though it is so sweet, the sour berries' flavour and cooling menthol perfectly balanced the sweetness. Energy Ice of Bar Juice 5000 does taste similar to the flavour of energy ice of disposable vapes, it's nice.
---
Bar Juice 5000 Watermelon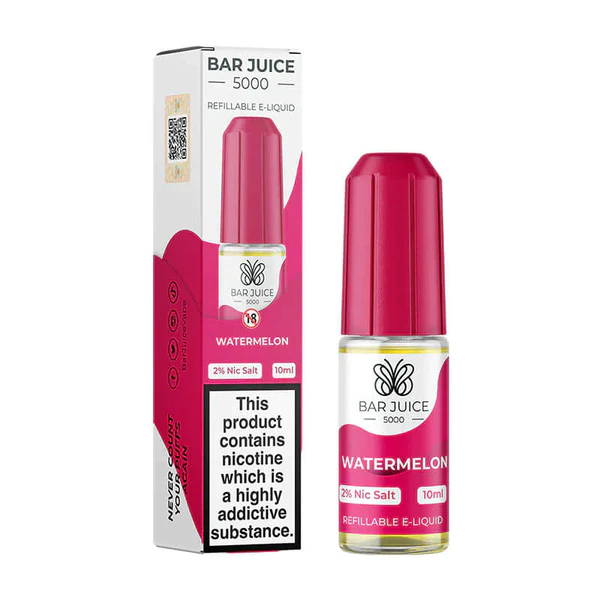 There is no doubt that watermelon is one of the most popular flavours among vast options of e-liquids. I have vaped a number of watermelon-related flavours of e-liquids including lush ice, honeydew melon, and watermelon ice. These flavours also brought me pleasant vaping experiences, sweet, succulent, and refreshing. Well, this watermelon flavour from Bar Juice 5000 did not let me down. It was a rather natural succulent watermelon aroma as I smelt it, and things got interesting when I inhaled, it was just like you were enjoying a piece of fresh watermelon, not eating but vaping, and the watermelon flavour did not go too far, it was well balanced. Therefore, if you like a sweet and fresh vape, you must try the watermelon flavour provided by the Bar Juice 5000.
---