Founded in 2015, UWELL is a high-tech enterprise brand specializing in electronic cigarettes. Innovation and user experience have always been UWELL's passions. With innovative vape technology, a strict quality control system, and exquisite manufacturing, UWELL, transcending national boundaries with ingenuity, and achieving excellence with service, has become one of the top brands in the global vape market. Today we are going to review a UWELL product which is also full of innovation and ease of use - the Uwell Cravat Pod Vape Kit.
---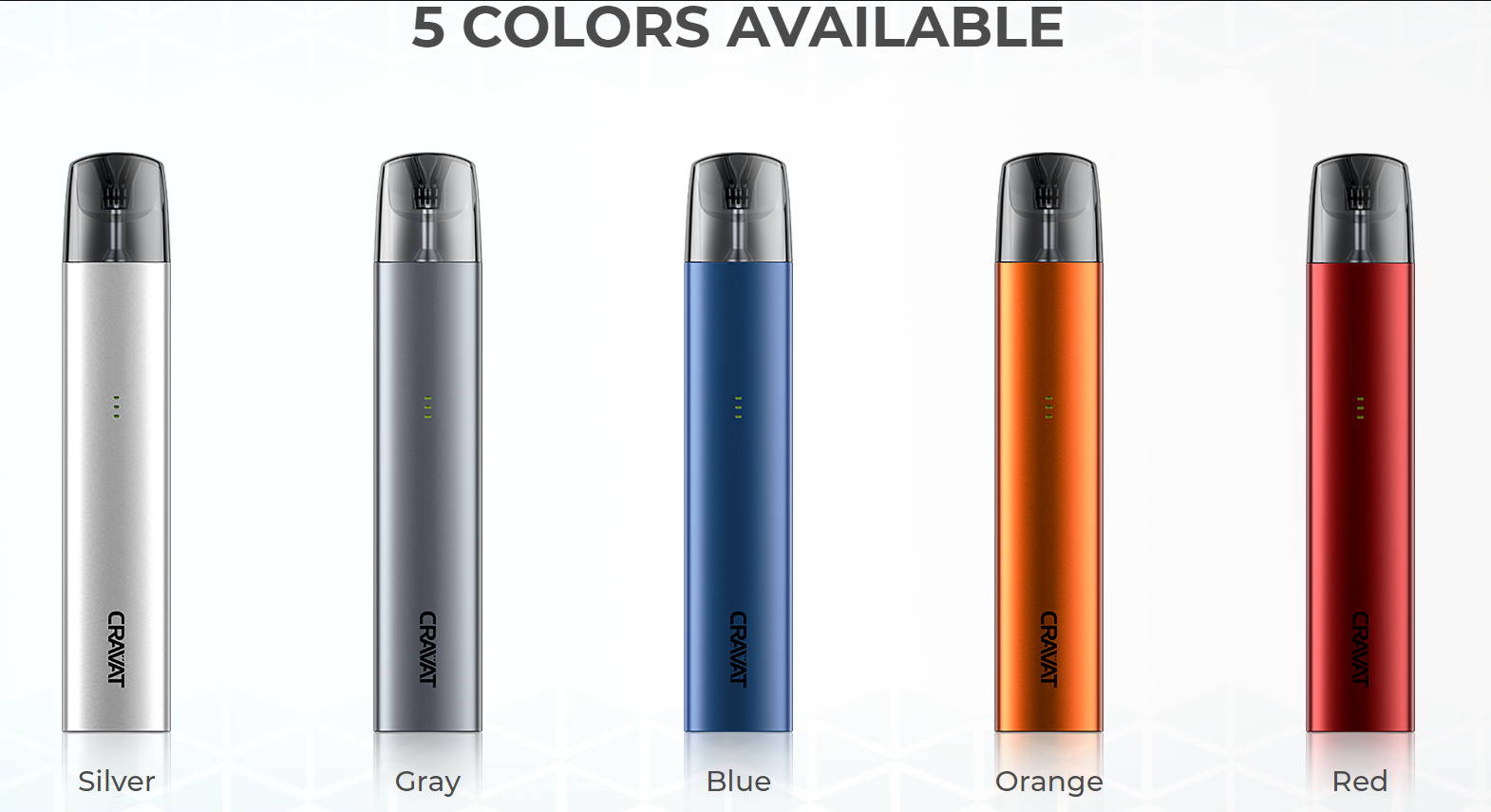 Uwell Cravat Pod Vape Kit comes in 5 colours which are Silver, Gray, Blue, Orange, and Red. There are 3 LED lights and the "CRAVAT" logo on its front side, it is inhale-activated thus there is no fire button on it. And the back is printed with the brand name "UWELL", there is only one air hole on the side, and the type-c fast charging port is placed on the bottom of the device. The whole design is simple and graceful, the Aluminium Alloy body makes it rather lightweight and solid, and the device only weighs 20.5g. What's more, the Uwell Cravat Pod Vape Kit has a transparent cartridge which brings much convenience for your vaping and refilling.
However, the Uwell Cravat Cartridge can only hold up to 1.5ml e-liquid. It is worth mentioning that the Uwell Cravat Pod Vape Kit is much smaller and more stealthy than the Uwell Caliburn A2S Pod Vape Kit, smaller body comes with more compromises, consequently, the Uwell Cravat Pod Vape Kit is powered by a smaller built-in battery and equipped with a smaller capacity of the cartridge.
---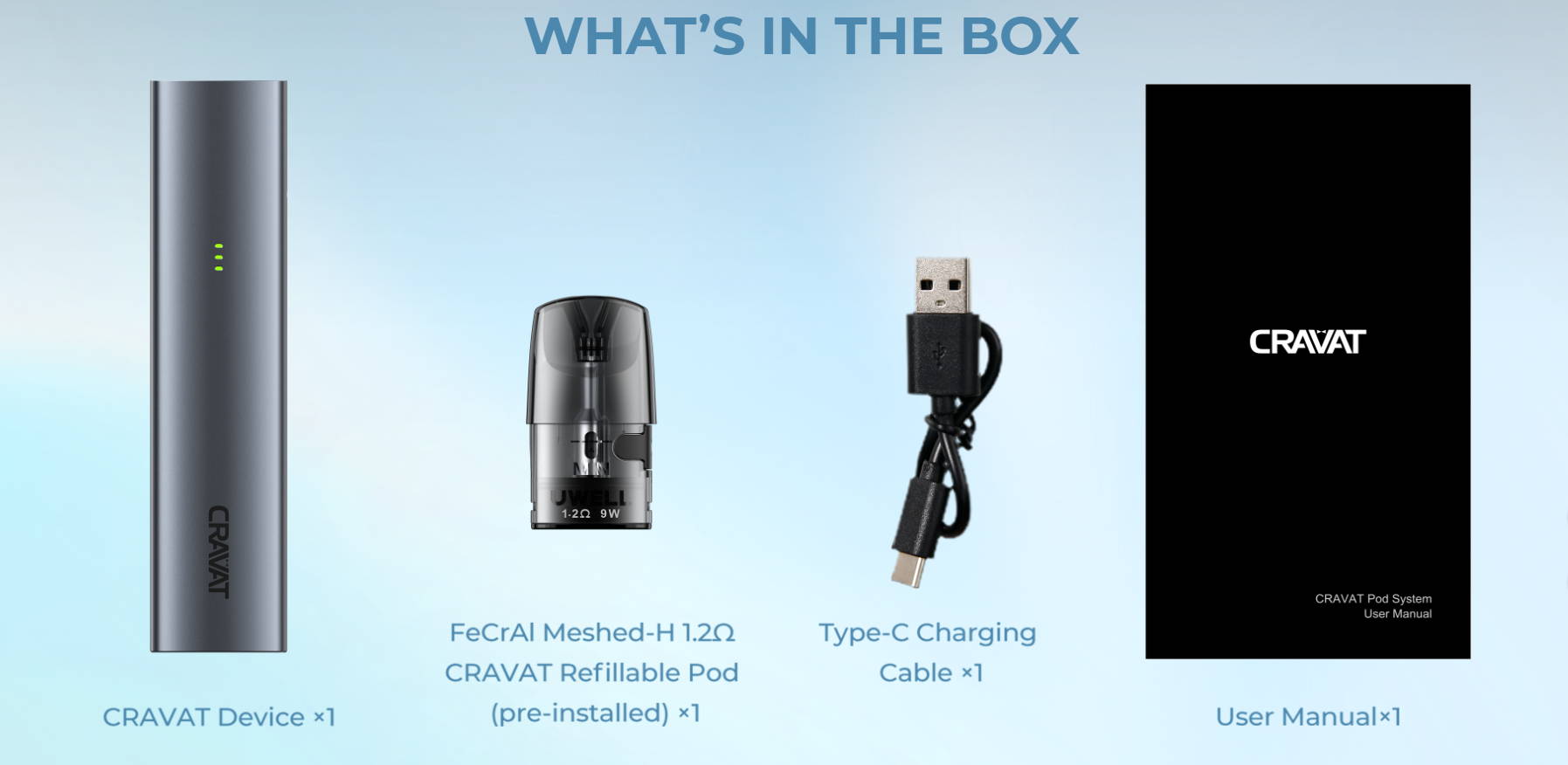 The package content is simple as the device itself, including a Cravat device, a 1.2ohm Cravat refillable pod, a Type-C charging cable, and a user manual. That is nice to see that Uwell can give you a Type-C charging cable for this little compact pod vape kit.
---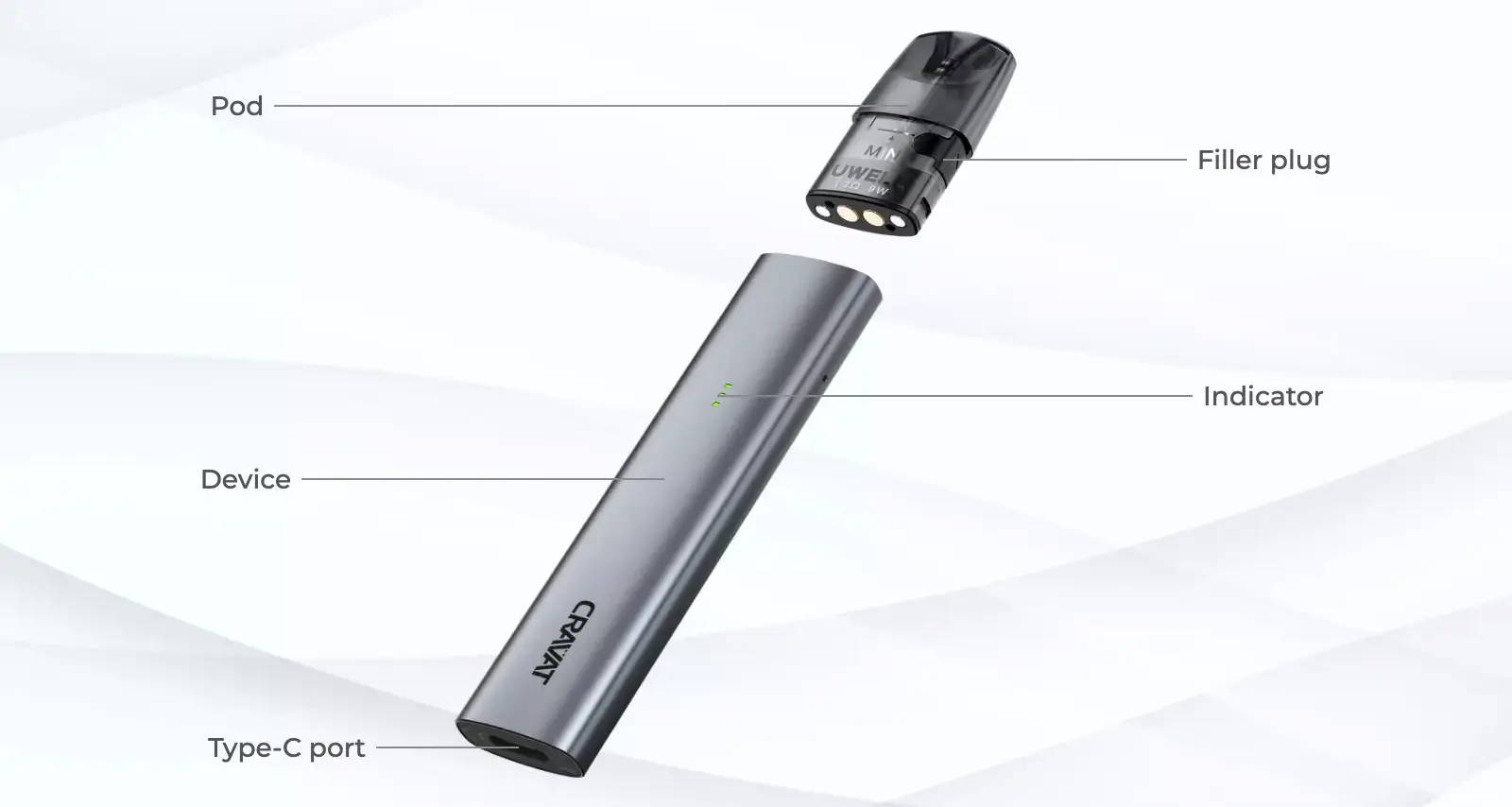 Beginner-Friendly

Inhale Activated

Side-refilling

MTL Vaping

Flavour-Boosting Mesh Coils

Slim and simple

Pocket-friendly

Weight: 20.5 grams

Battery Capacity: 300 mAh

Output Power: 9W

E-Liquid Capacity: 1.5 ml

Dimensions: 103 mm x 19.3 mm x 9.0 mm

Materials: Aluminium Alloy, PCTG
For me, the biggest surprise of the Uwell Cravat Pod Vape Kit is the super lightweight which only weighs 20.5g and is very suitable for daily carries and for stealth vaping. However, every coin has two sides - the lightweight and compact body means there is no more space for a bigger battery and extra functions. Consequently, the Uwell Cravat is powered by an internal 300mAh battery, providing a maximumly of 9W output. And the pod can only hold 1.5ml e-liquid which means you'll need to refill the pod more often, thanks to the side filling port design, refilling the pod is not fussy. The Aluminium Alloy and PCTG make sure the Uwell Cravat Pod Vape Kit is lightweight and solid.
It is an inhale-activated pod system and there is no button or menu on the device, just put your mouth on the mouthpiece, then inhale and go! Since there is only one airhole on the side of the device, the Uwell Cravat Pod Vape Kit offers a rather tight MTL vaping experience. Some people enjoy a tight inhale while others don't. For me, I like the tight MTL inhale as hell. What's more, the dimension (103 mm x 19.3 mm x 9.0 mm) of the device is compact enough for hiding in a small palm - you can easily stealth vaping with it.
---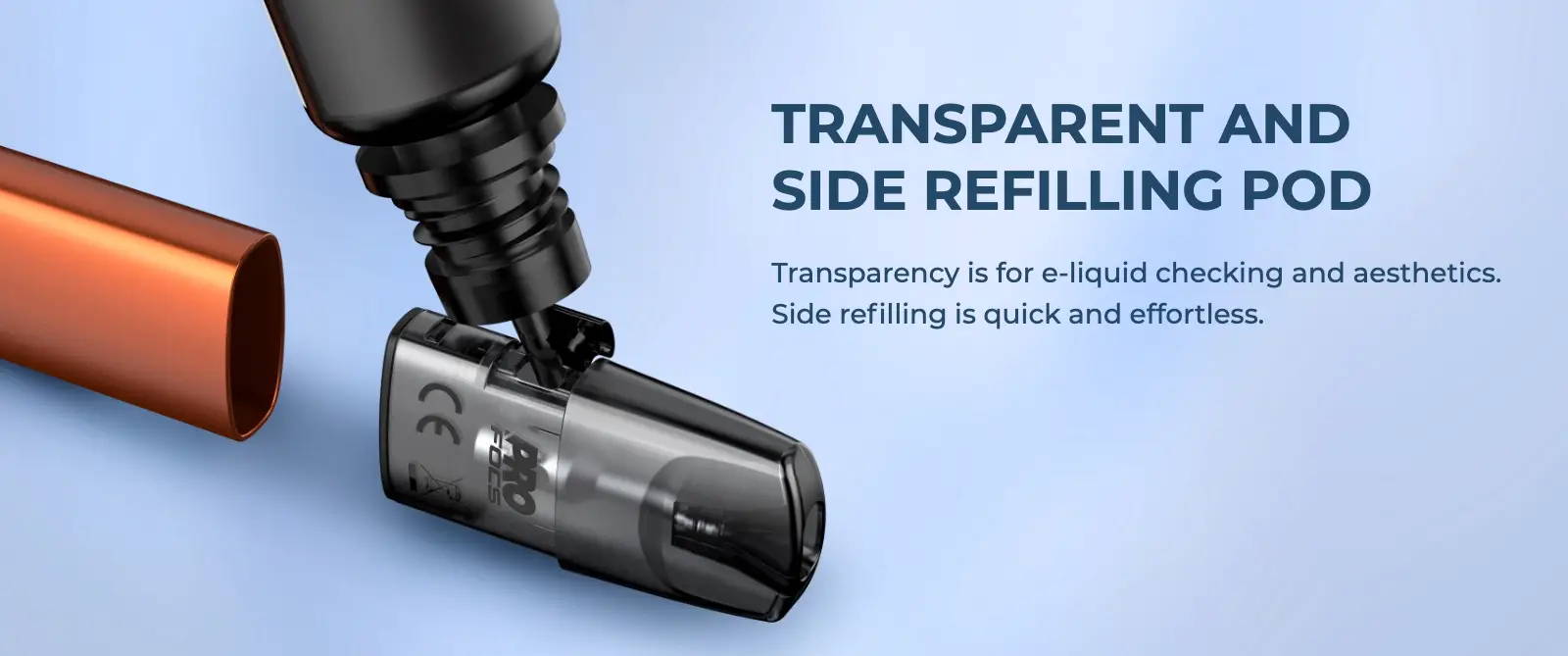 Before we use the Uwell Cravat Pod Vape Kit to take a puff, we should fill the pod first. Since it is a pod system which delivers an authentic tight MTL vaping experience, a nic salt e-liquid is highly recommended to use with the kit. And it takes some steps to fill the pod, it is easy:
Pull out the pod/cartridge;

Open the side filling port;

Squeeze the nic salt e-liquid in the pod/cartridge till it is full;

Put the pod/cartridge back on the device and it will be magnetically connected;

Prime the coil, let the coil be soaked with e-liquid, and wait about 5 mins;

Then you can grab it for some puffs.
The 50/50 e-liquid at 20mg nicotine strength worked very well with the Uwell Cravat Pod Vape Kit, the tight MTL inhale was so much similar to the inhale of smoking a cigarette, and the 20mg nic salt satisfied my cravings so fast, the 1.2ohm coil also had an impressive performance for bringing a consistent MTL vaping experience. Though the battery only has a 300mAh capacity, I think it is enough for a full day's run and capable of consuming 1-2 pods of e-liquids. It is a quite powerful yet compact pod vape kit. And the LED lights tell the present battery status:
Green: 60-100%

Blue: 30-60%

Red: 0-30%
Therefore, when you find that the light glimmers red, it is time to feed the battery!
---
Super compact and lightweight it only weighs 20.5g;

Rather tight MTL vaping(it is a plus to me);

Solid built, Aluminium Alloy device and PCTG pod;

Great coil performance and life span;

Suitable for stealth vaping;
Small battery capacity only 300mAh;

Small pod capacity only 1.5ml;

Only one pod is included in the package;
---
If you are looking for a super compact and lightweight pod vape kit, Uwell Cravat Pod Vape Kit is definitely worth buying, if you also enjoy a tight MTL vaping experience, Uwell Cravat Pod Vape Kit is a perfect choice for you! Though it comes with a small battery and small pod capacity, one flaw cannot obscure the splendour of the jade.
---