VooPoo Argus MT is the latest mod vape kit provided by VooPoo, featuring a holeless and compact design, equipped with a large built-in 3000mAh battery, delivering a consistent, powerful, and long-lasting performance, bringing up to max 100W output. And there are 4 practical modes to choose from including Smart mode, RBA(variable wattage) mode, TC(temperature control) mode, and Turbo mode. Let's see what else new can we expect from the VooPoo Argus MT Mod Kit.
---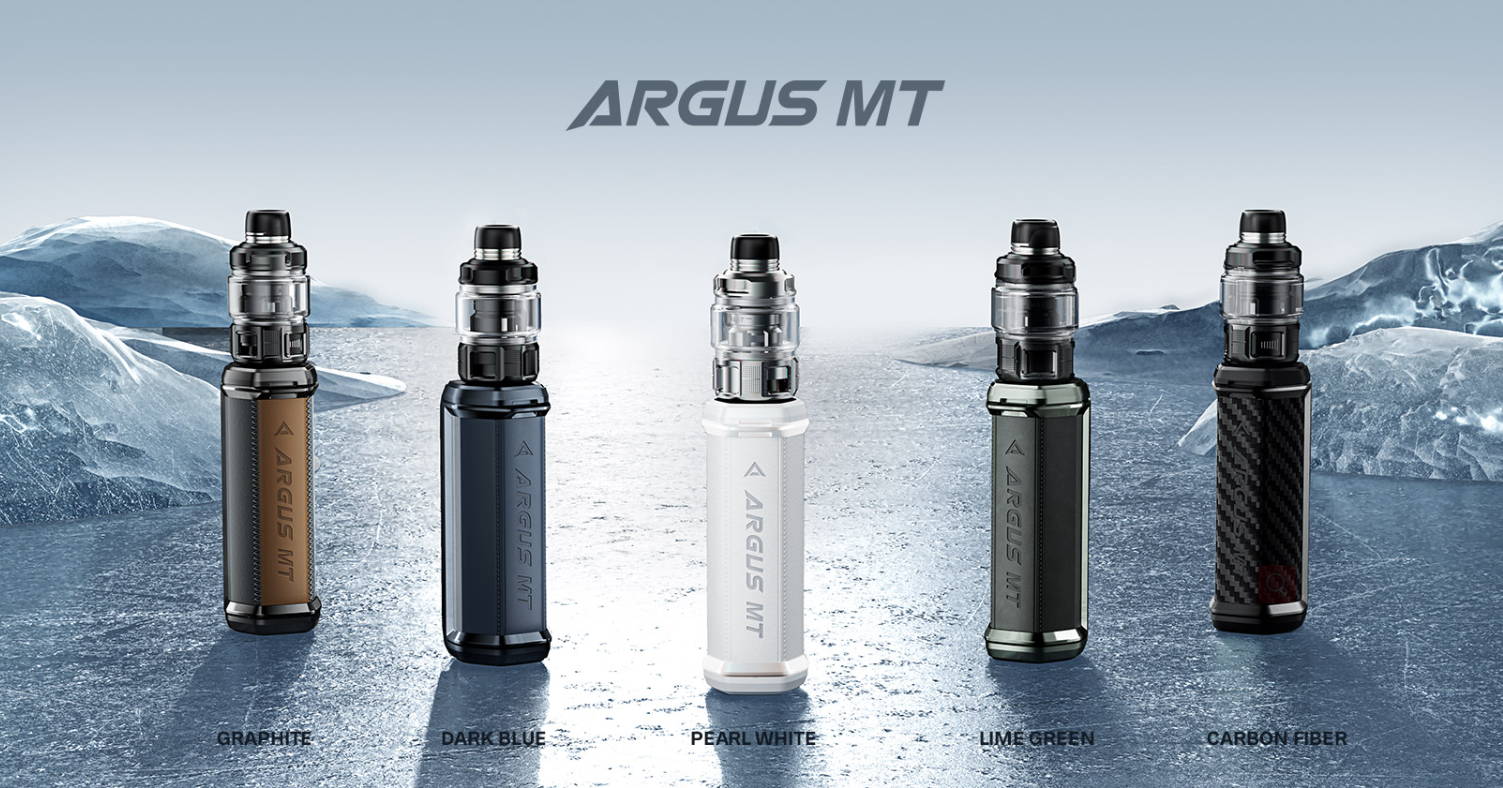 This time VooPoo simultaneously released VooPoo Argus MT and VooPoo Argus XT on the market, they are the same mod kit that has the same features and functions but they are also different - VooPoo Argus MT is powered by an internal battery and the VooPoo Argus XT is powered by external 18650 or 21700 battery(sold separately), and the place of the QS Lock slide is different, as well. The QS Lock slide control is placed on the top of the VooPoo Argus XT and the VooPoo Argus MT has the QS Lock slide control below the screen.
The VooPoo Argus MT mod kit comes in a mechanical and glossy metal design which offers a rather solid and humble look. Meanwhile, the VooPoo Argus MT mod is compact and fit for holding in hand, the leather side is printed with the bold logo "ARGUS MT" which offers a soft, smooth grip and striking identification. Since it is an IP68 rating device, the VooPoo Argus MT mod is holeless. All the buttons, slide, and screen are on the same front side - the fire button is on the top, and the small screen is in the centre which shows the main setting parameters and mode of the device. Below the screen is the QS Lock button which can lock the device quickly and conveniently, this function can prevent most misfiring situations from happening. The lowest part is the Type-C charging port which is covered by an alloy lid - to make an authentic IP68 rating device.
VooPoo Argus MT mod vape kit is available in 5 humble colours: Graphite, Dark Blue, Pearl White, Lime Green, and Carbon Fiber.
---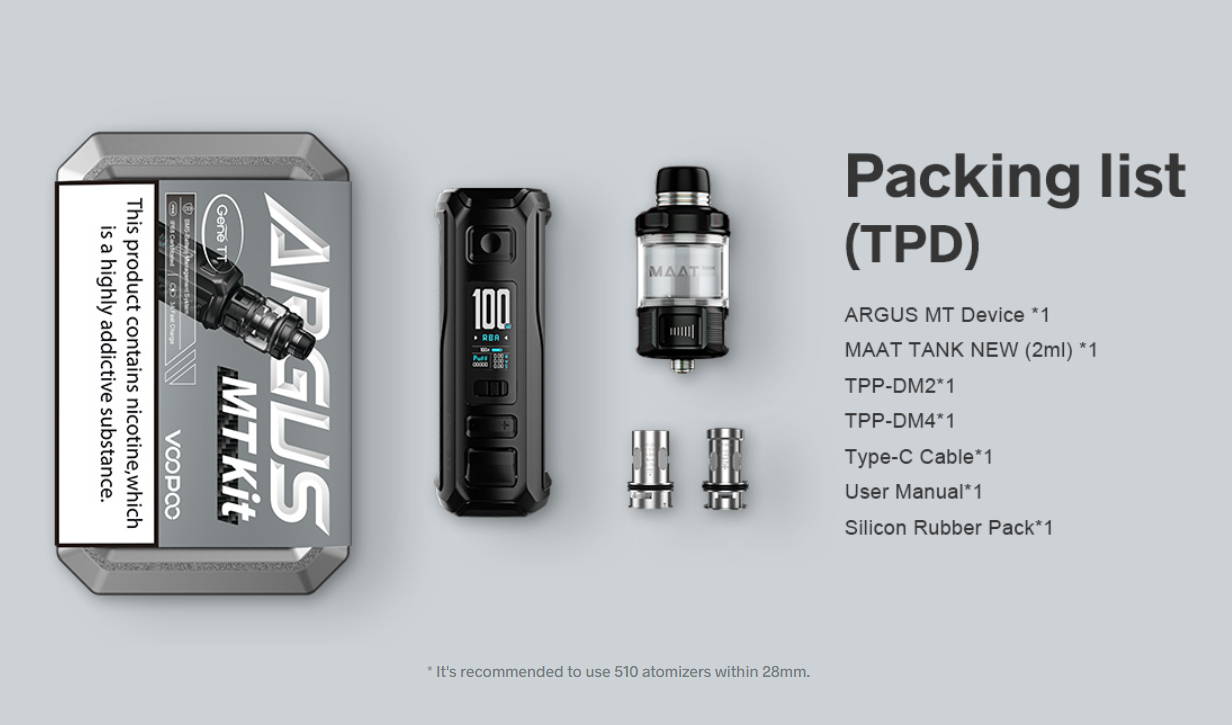 VooPoo Argus MT Mod

VooPoo 2ml MAAT Tank

USB-C Charging Cable

VooPoo TPP DM2 0.2 Ohm Coil

VooPoo TPP DM4 0.3 Ohm Coil

User Manual
---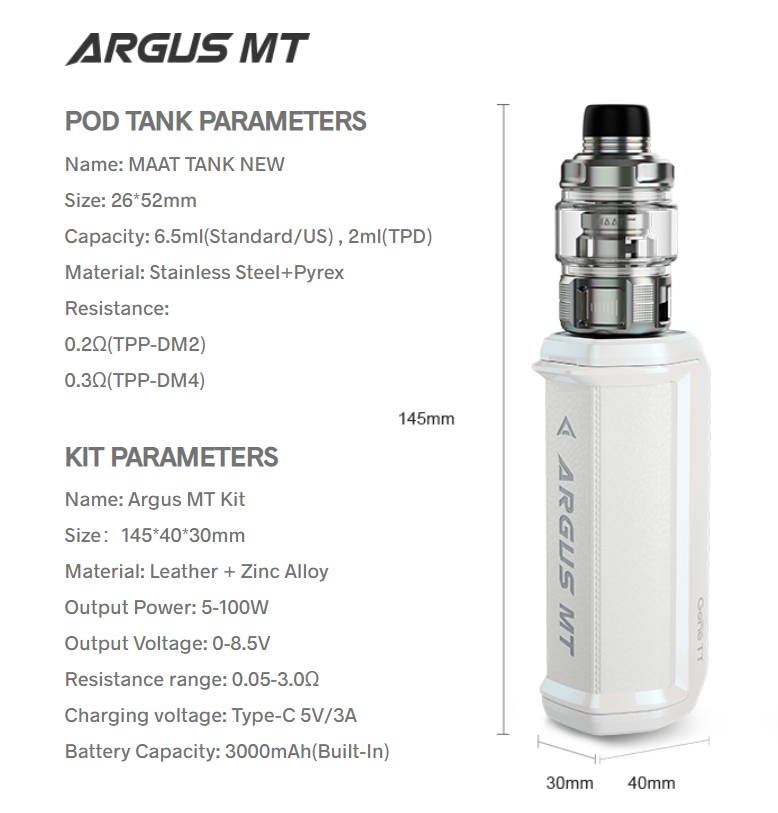 Features and specifications
Features
VooPoo Sub Ohm Vape Kit

5-100W Variable Output

3000mAh Built-in Battery

Advanced Chipset

Variable Wattage & Temperature Control

Smart Mode & Boost Mode

VooPoo 2ml MAAT Tank
Specifications
Tank Parameters
Name: MAAT TANK NEW

Size: 26*52mm

Capacity: 2ml(TPD)

Material: Stainless Steel+Pyrex

Resistance:

2Ω(TPP-DM2)

3Ω(TPP-DM4)
Kit Parameters
Name: Argus MT Kit

Size:145*40*30mm

Material: Leather + Zinc Alloy

Output Power: 5-100W

Output Voltage: 0-8.5V

Resistance range: 0.05-3.0Ω

Charging voltage: Type-C 5V/3A

Battery Capacity: 3000mAh(Built-In)
VooPoo Argus MT Mod Vape Kit features a large built-in 3000mAh battery. VooPoo Argus MT Mod Vape Kit has a compact body and is sleek with powerful output and multi-functions, it is a powerful sub-ohm vaping device suitable for DTL vaping. This kit features an IP68 rating which is waterproof, dustproof, and shockproof. The internal 3000mAh battery enables the VooPoo Argus MT Mod to deliver a variable wattage of 5W-100W, and this kit is compatible with MAAT vape tanks and mesh TPP coils, bringing an amazing DTL vaping experience. Furthermore, VooPoo Argus MT Mod Vape Kit offers 4 output modes, including Turbo, Smart, RBA, and TC(temperature control) modes.
The VooPoo MAAT tank has a 2ml e-liquid capacity and it is designed with a volcano-shaped airflow that prevents the formation of condensation, and the mesh coil can improve the vapour production and flavour profile, a high VG e-liquid is highly recommended to use with this kit.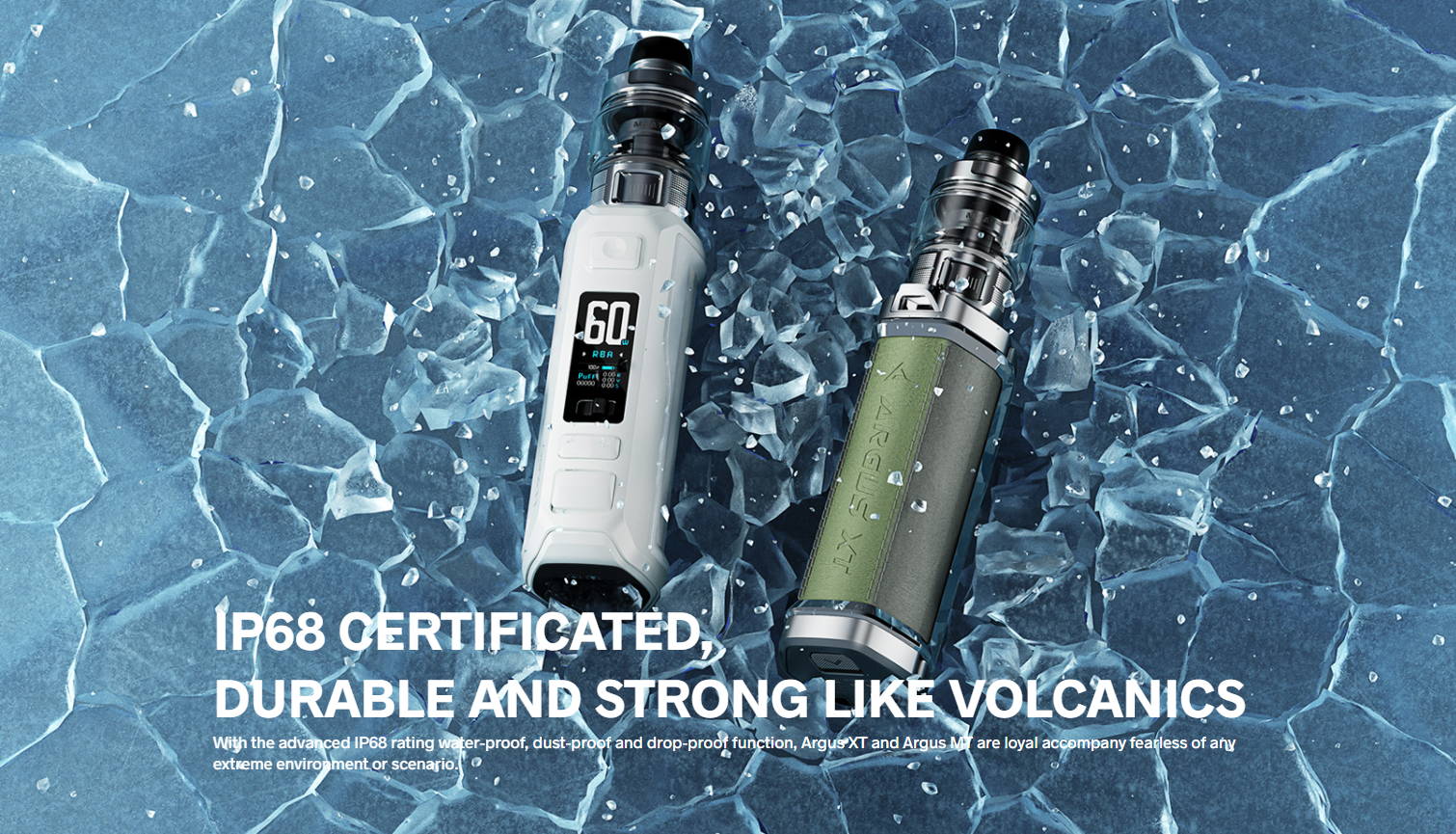 ---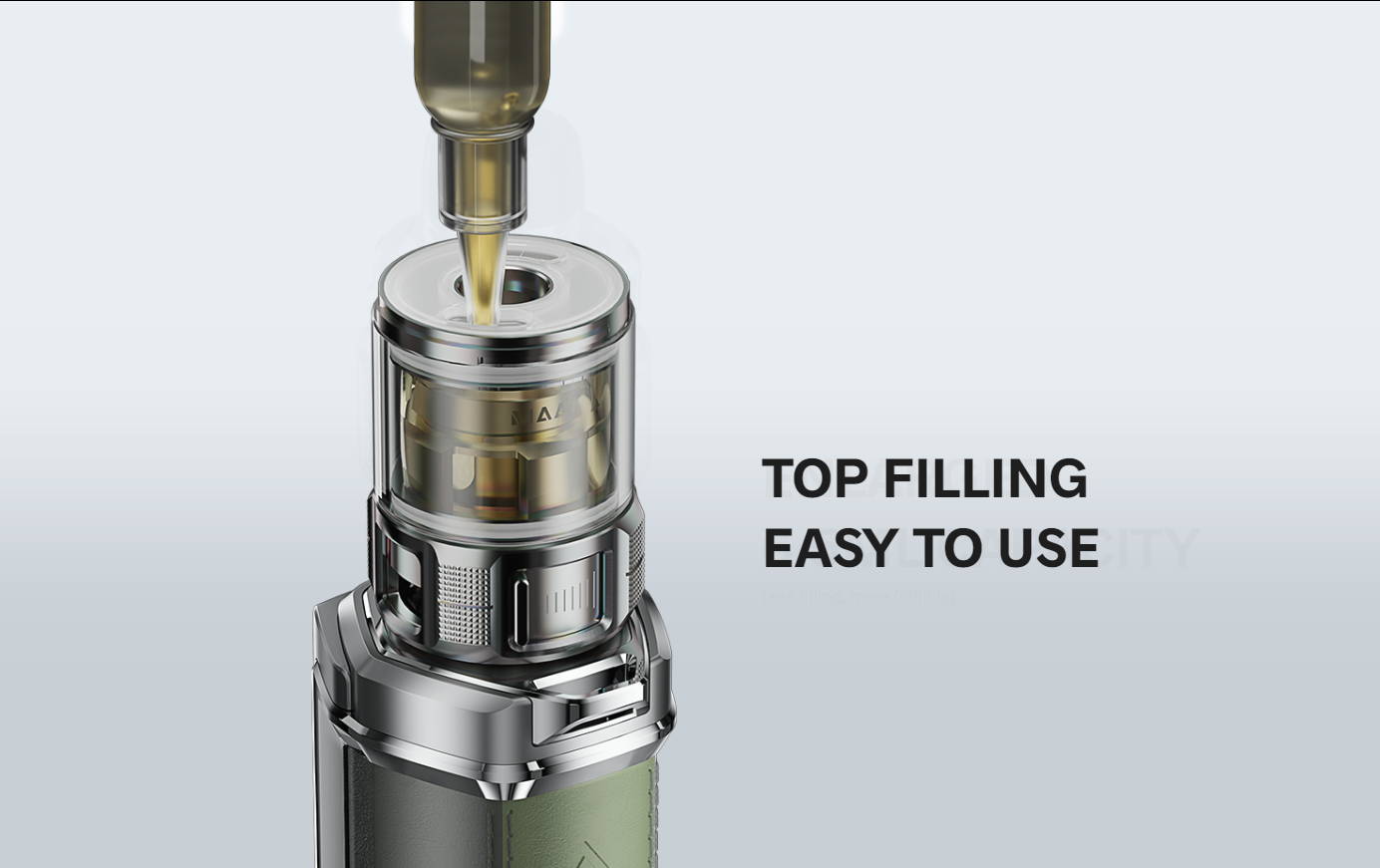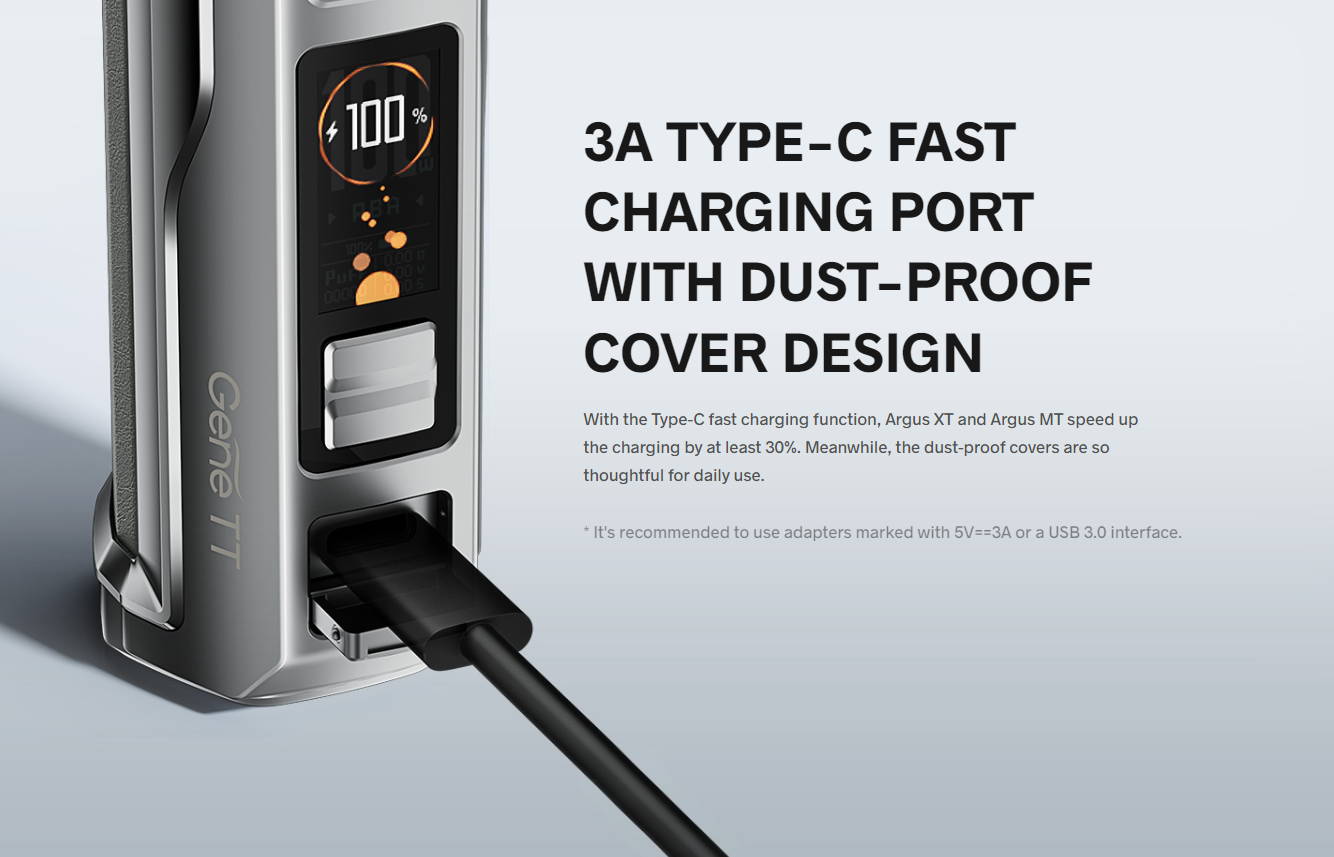 The Voopoo TPP range coils are "Plug and Play" so installing the coil is easy.
Openthe deck of the tank by twisting it clockwise;

Insertthe coil up into the chimney section of the tank and press the coil for ensuring a firm seal;

Closethe deck of the tank by twisting it counterclockwise and make sure it is closed tightly;
The MAAT Tank features a top filling port which is also easy to operate.
Open the top cap by turning it counterclockwise;

Slowlysqueeze e-liquid through the fill port until the tank is full;

Putthe top cap back by turning it clockwise and make sure it's firmly sealed;
---
Rapidly hit the fire button five times to turn on/off the Mod;

Hold the "+"and "-" buttons to enter the main menu;

Use the "+" or "-" button to switchmode, and setting, about the device or to exit;

Selecting 'mode' will allow you to choose from Smart, RBA, Turbo or temperature control;

Press the fire button when you have selected an option;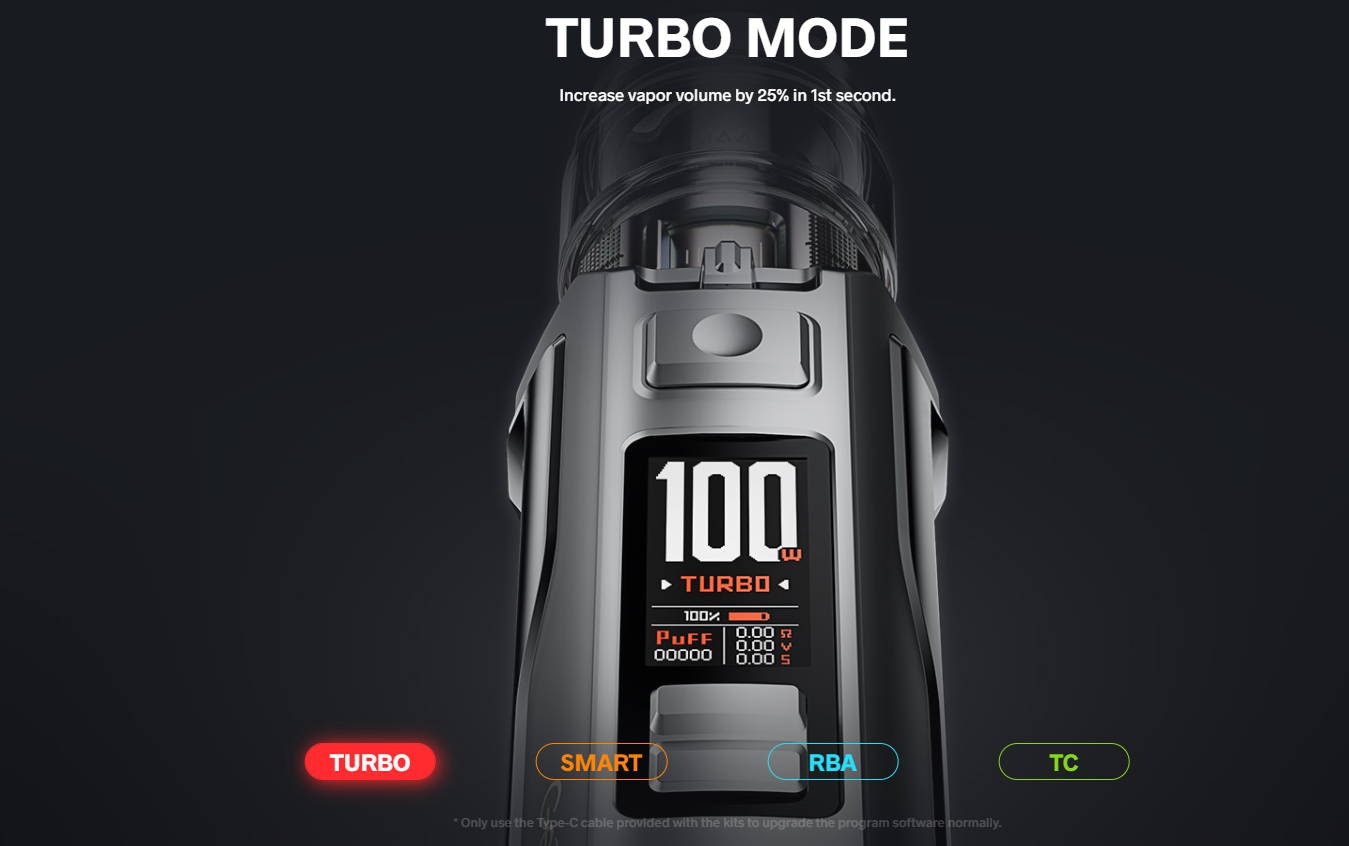 Smart, RBA, TC, and Turbo Modes
The Smart mode is great no matter you are a novice vaper or an experienced vaper. It is simply because there is no way of accidentally dry burning the coil or excessive output to burn out the coil. The maximum output is limited because of the resistance of the coil, let's put it in another way, in Smart mode, the device will automatically adjust to a suitable output according to the coil you are using, you do not have to concern which wattage suits what resistance. Therefore, Smart mode is a great function for inexperienced vapers.
RBA mode is easy - you have full control of adjusting the wattage, so you will decide to choose suitable output and ideal settings for different coils. RBA mode is suitable for those advanced vapers who have a deep understanding of ohm laws and this mode can bring considerable vapour and nice flavours if it is settled properly.
Turbo mode is designed to offer a one-second boost in power to enhance cloud production by 25%. Anyway, the Turbo mode can bring an unrivalled DTL vaping experience with insane fluffy clouds and warm vapours. However, the battery is consumed fast in this mode, you will have to recharge the device from time to time.
TC mode is also known as the temperature control mode. It mainly aims to set a peak temperature to prevent your coils from burning out, this mode also can bring a strong performance with great vapour production and nice flavour.
---
QS Locking is a great function which prevents misfirings from happening;

Fast ramp-up time, mass vapour production, and nice flavour delivery;

The screenis superb;

It is solid with an IP68 rating which can prevent most accidents;

Smart modebrings much convenience and prolongs the coils' life;

No e-liquid leakagefrom the tank;
The modes are too varied to choose from;

Though it is compact as a mod vape, it is heavy and inconvenient for daily carry;
---
No doubt the VooPoo Argus MT is a great Mod Vape Kit that has multi-functions and surprising innovations, it is a compact mod vape kit with a variety of convenient features and the 4 different output modes bring so much convenience to all levels of vapers. Whether you are a novice vaper or an experienced vaper who is looking for a powerful mod vape kit with multi-functions, the VooPoo Argus MT mod vape kit is the choice.
---