Overview and Specifications
The Smok Novo X is another new member from the full-fledged Novo series. It is a stylish and ergonomic pod system powered by an 800mAh built-in battery with an output power of 1 – 25W so can be used for the excellent mouth to lung vaping with a satisfying throat hit. The Smok Novo X uses two 2ml 0.8-ohm pods. The Smok Novo X adopts a clicky and responsive power button and a 0.49-inch OLED display to present a sweet appearing pod system and making this a very versatile vaping system.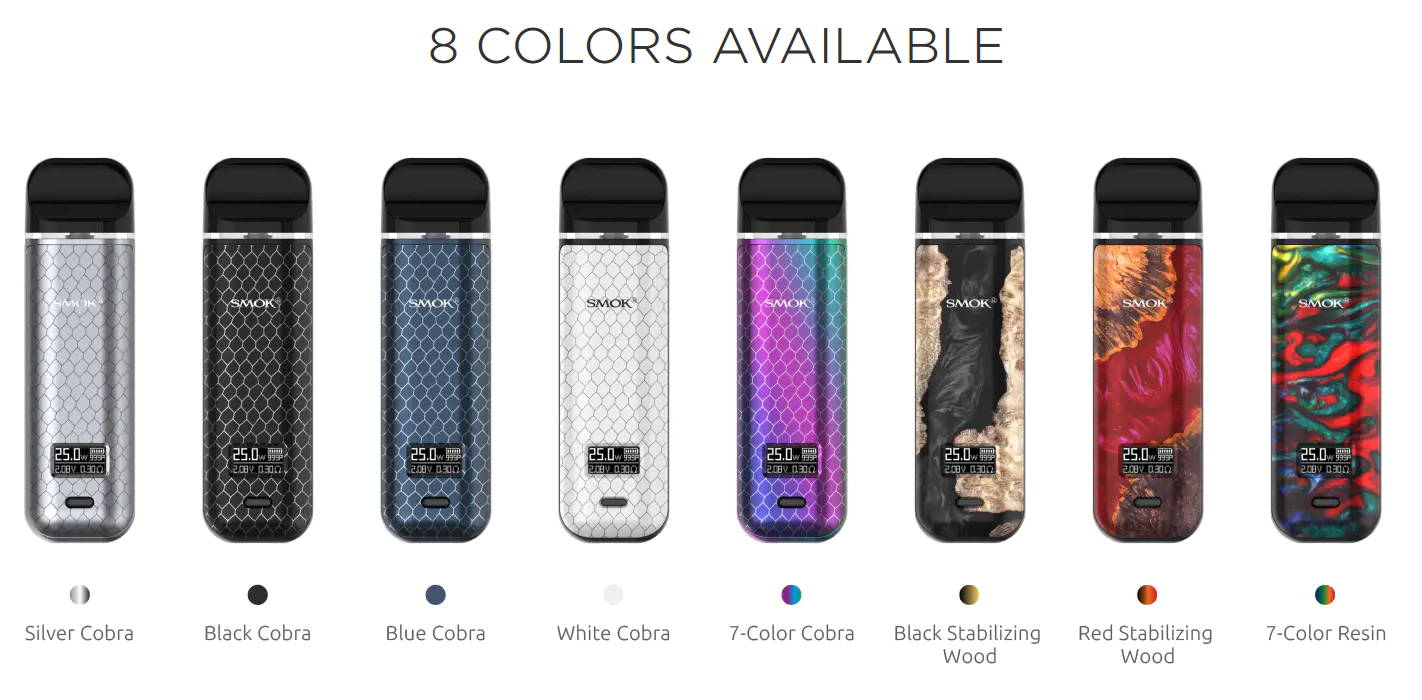 Price: £29.99 (at New Vaping)
Colors: Black Cobra, Silver Cobra, Blue Cobra, White Cobra,
Black Stabilizing Wood, Red Stabilizing Wood, 7-Color Resin, 7-Color Cobra.
Smok NOVO X Pod System Specifications:
Dimensions: 92mm x 26.5mm x 16.5mm
Integrated 800mAh Rechargeable Battery
Draw-Activated Firing Mechanism
Wattage Output Range: 1-25W
Zinc-Alloy Chassis Construction
0.49" OLED Display Screen
Single Button Operation
LED Indicator Light
0.8ohm Novo X Mesh Pod
0.8ohm Novo X DC MTL Pod


Smok NOVO X Pod System Kit Includes:
1 x Novo X device(800mah)
1 x Novo X DC 0.8ohm MTL pod(2ml)
1 x Novo X meshed 0.8ohm pod(2ml)
1 x USB cable
1 x User manual
Build Quality and Design of Smok Novo X
The Smok Novo X is a classical pod system but also portable with a tiny measurement of 92mm x 26.5mm x 16.5mm and super lightweight of the only 50.2g. The Smok Novo X redefines the pod system with an impressive appearance. It adopts the classic exterior design to maintain the integrity of the series. The Smok Novo X comes with a zinc-alloy chassis construction, which provides durability and great hand feel. It features an elegant metallic body with fine CNC cutting and plating/painting finish.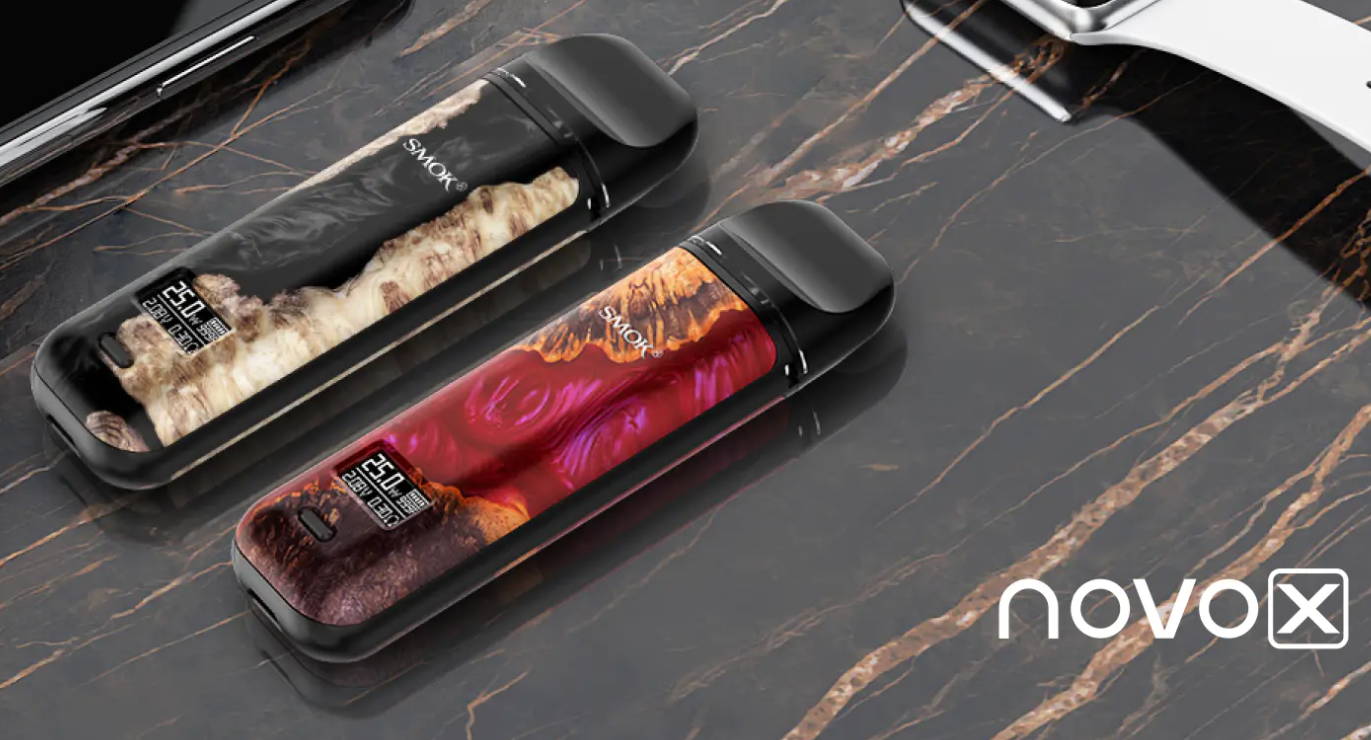 The 0.49 inch clear and bright OLED screen shows the key vaping info including the wattage, voltage, resistance and puff count. The charging status will be displayed on the screen when charging. The Smok Novo X utilizes a delicate power button and uses a trigger system enabling vapers to easily power it on/off and adjust the power wattage from 1w to 25w. Simply pressing the power button twice or three times will activate the power adjustment mode.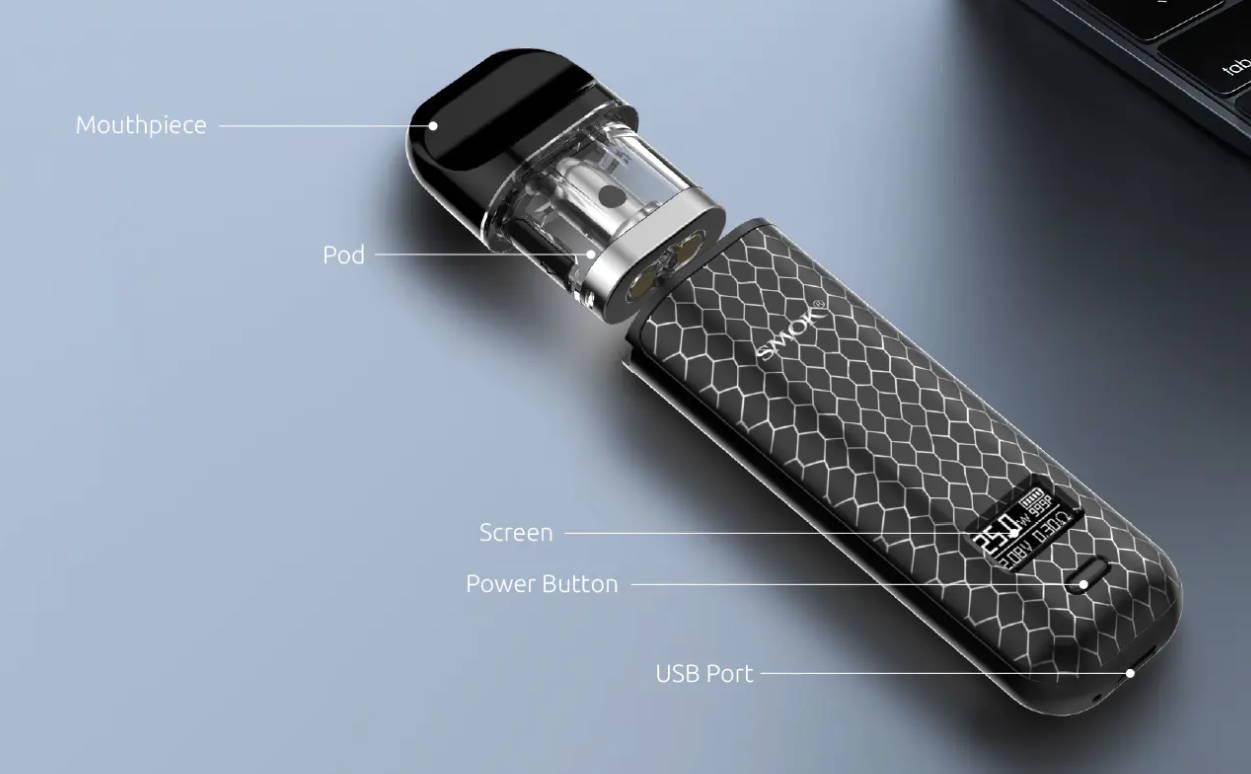 Functions and Features of Smok Novo X
The Smok Novo X can produce vapor on demand and is sure to be a reliable pod system. Packed tightly with an integrated 800mAh battery, you will fire a maximum wattage of 25w. The operation of Smok Novo X can be fired via draw-activated, which is definitely easy to use. This device boasts high-quality craftsmanship and excellent performance.
For ensuring safe vape, the Smok Novo X provides a variety of protective functions including short-circuit protection/ low voltage protection/ intelligent atomizer recognition/ lithium-ion protection and 8 seconds cut-off.
Smok Novo X Pod
The Smok Novo X utilizes a 2ml capacity refillable empty pod cartridges that can be filled with your favorite e-liquid. The SMOK Novo X comes with two pods that are only compatible with Novo X Kit. The pods are designed to deliver a satisfying throat hit and colossal flavor.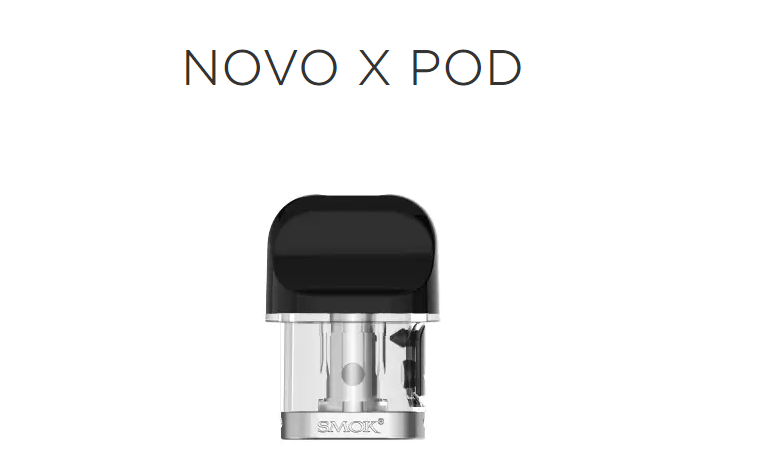 The dual-coil 0.8ohm pod and a single-mesh 0.8ohm pod, bringing a smooth MTL vaping experience. Air is drawn in through the U-shaped airflow control channel and the two side slots, which is perfect for a huge throat hit. The DC 0.8ohm MTL pod features the highest degree of taste restoration with the recommended power of 12w - 25w. Make sure the pods have been primed for five to ten minutes before vaping and make sure that the e-liquid has wicked fully into the coil.
How to fill with E-liquid:


Step 1: Pull out the pod; 
Step 2: Pull out the rubber plug on the slot and add e-liquid through the slot;
Step 3: Press the ribber plug back.
Battery Performance and Charging
The Smok Novo 2 is based on a powerful 800mAh battery that can be charged through a MicroUSB cable with a maximum charging current of 6.8A for minimum downtime, keeping you vaping all day without worries.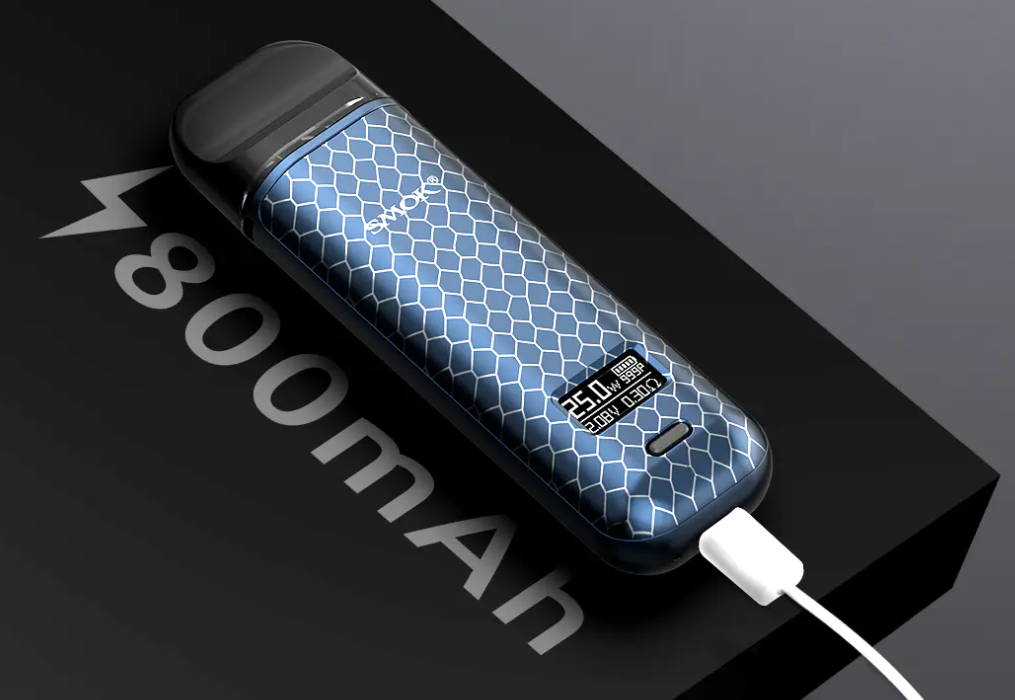 The Smok Novo X is an impressive vape kit, which aims at providing a perfect combination of portability and excellent performance. If you are a vape starter or you are interested in pod vapes, the Smok Novo X is a perfect option for you.
Pros and Cons
Pros:
Portable
Well build quality
Various color options
Great Loose MTL
Excellent flavor
Airflow adjustment
Impressive MTL draw
No dry burn hit
No leakage
User friendly
Easy to navigate
No Type-C charging
Undetectable pod
A bit pricey
Not Groundbreaking
Pod cartridge is only compatible with Novo X Kit
Q & A
What are Pod Vapes?
Pod vapes have two types: open and closed pod systems:
Closed pod systems have replaceable pod cartridges that aren't refillable.
But you can refill your flavored juice in the open system pod vape.
What are the benefits of Pod Kits?
Pod kits usually feature small size and pocket friendly, offering lesser vapor production, which is suitable for stealth vaping.
With a firing button or auto-draw designs or just press the firing button, the pod kits are easy to use.
What's the difference between a cartridge and a pod?
There is no need to swap out coils or prime wicks. So the vape pens and pods are simple to use. Vapers don't have to fill tanks by themselves in pens and closed pods with prefilled cartridges.
How do you use vape pods?
Firstly, hold the vapor for a few moments;
Inhale into the lungs before exhaling;
Pod vapes feature higher nicotine levels, tighter draw and better throat hit than that larger vaping devices.
What is a pod system?
A pod system utilizes a pre-filled cartridge or cartridges, which is used to hold the juice. The cartridge snaps into a small battery that powers the device.