Product Introduction and Specifications
The Smok RPM 2 kit, maintaining a great balance in the RPM series, presents full-fledged technology with decent visual sensation. Powered by a built-in 2000mAh capacity, the Smok RPM 2 is capable of maximum output to 80 watts. It comes standard with two pods and two mesh coils, which are specially designed for DTL and MTL vaping styles, making it a very versatile vaping system. What's more, the Smok RPM 2 features a large 7ml e-liquid capacity, a firing speed of 0.001s and a stable Type-C, further improving the vaping experience.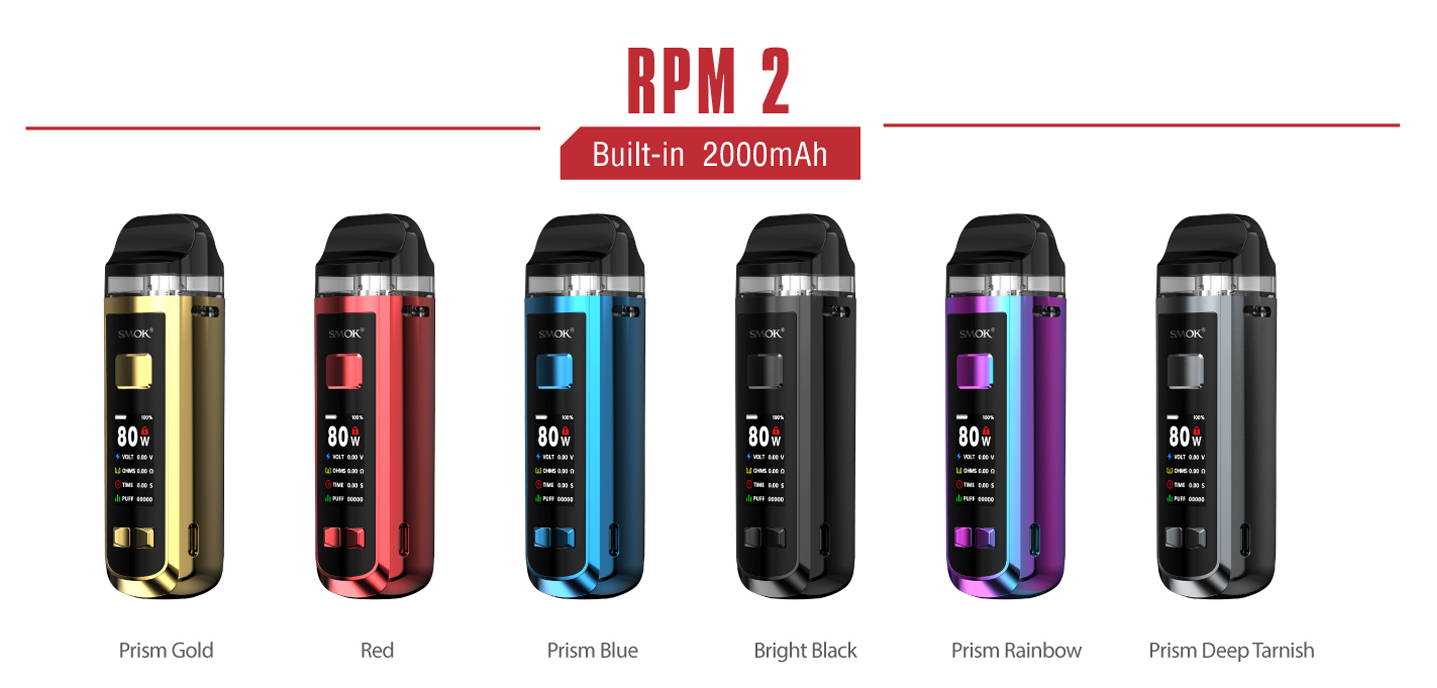 Price: £ 32.99 (at NewVaping)
Colors : Prism Gold, Red, Prism Blue, Bright Black, Prism Rainbow, Prism Deep Tarnish
Smok RPM 2 Pod Kit Specifications:
Dimensions: 108.48mm x 31.02mm x 28.95mm
Integrated 2000mAh Rechargeable Battery
Voltage Output Range: 0.5-4.0V
Resistance Range: 0.15-3.0ohm
Wattage Output Range: 1-80W
Firing Speed: 0.001s
7ml RPM 2 Pod Capacity
1.14" OLED Display Screen
Zinc-Alloy Chassis Construction
Remaining Puff Counter (0.2ohm Resistance / 60W Output)
Single Firing Button and Two Adjustment Buttons
SMOK RPM 2 Coil Series:
0.4ohm RPM Mesh Coil - recommended rated for 25W
0.16ohm RPM 2 Mesh Coil - recommended rated for 25-50W
Bottom Press-Fit Coil Installation
Type-C USB Port
Side Fill System
Smok RPM 2 Pod Kit Contents:
1x RPM 2 Device
1x RPM 2 RPM 2 Pod
1x RPM 2 RPM Pod
1x Type-C USB Cable
1x User Manual
Build Quality and Design of Smok RPM 2
The Smok RPM 2 is a very portable and user-friendly vape kit, which remains fairly compact with its overall measurements with 108.48mm x 31.02mm x 28.95mm and lightweight of 134g that fit in your palm and pocket. The entire construction of the Smok RPM 2 is well made and the machining is excellent top-notch. It is constructed by durable zinc-alloy chassis and comes with an impressive appearance. Each panel is meticulously crafted to perfectly present a balance between aesthetics and performance. The fluid patterns on the back and solid color on the front offers a fantasy of nature with vitality shining.

The Smok RPM 2 adopts a clicky and responsive single firing button and two adjustment buttons. You can adjust the power within the range of 1w - 80w by pressing the UP/DOWM button. Press the fire key button and the "+" button at the same time to check the battery details and the remaining puff. It has a clear and bright 1.14inch display screen showing the detailed info like working power, puff time, working voltage and resistance.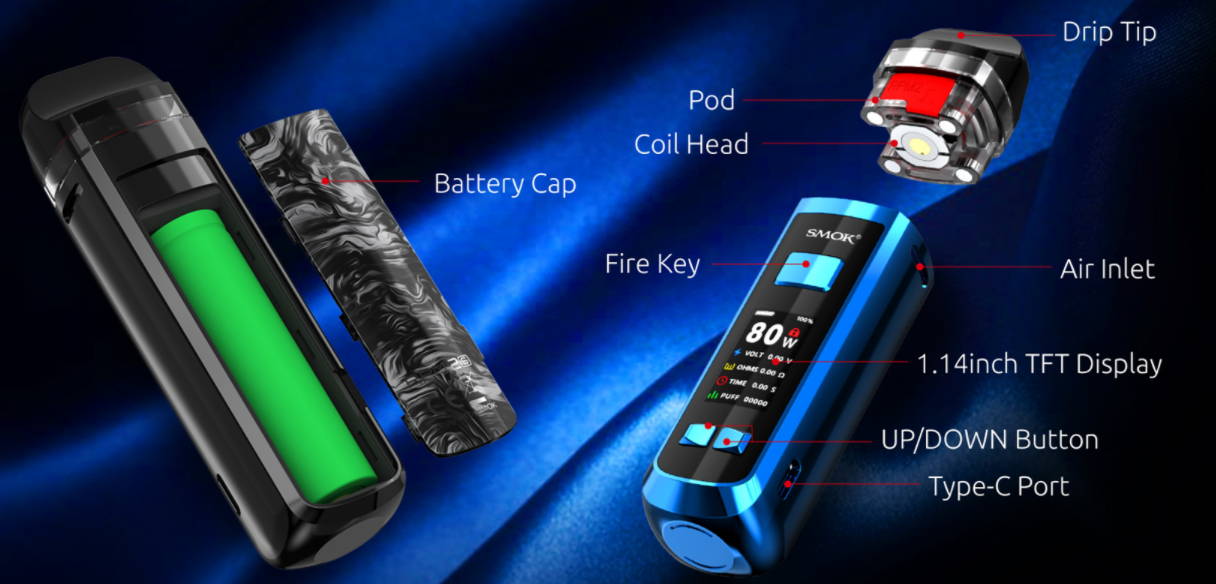 Functions and Features of Smok RPM 2 
The Smok RPM 2 is a powerful and compact pod kit, which aims at providing a perfect combination of portability, ease of use, and a rich flavor with a decent chassis. It is capable of 1 to 80W of output, 0.5 to 4.0V of input voltage and 0.15 to 3.0ohm of resistance range. It also features a super-fast firing speed with only 0.001s. The Smok RPM 2 utilizes a draw activated firing mechanism that makes general use feel jorganic and natural.

Intelligent Atomizer RecognitionThe Smok RPM 2 also providing you various fundamental and safety protections:
Over-discharge Protection
Over Heating Protection
Short-Circuit Protection
Lithium-Ion Protection
8S Cut Off Protection
Low Battery Warning
Overcharge Protection
Overcurrent Protection
Pod Cartridge and Coils
The Smok RPM 2 Pod features a large and ergonomic mouthpiece with an oval-shaped aperture of 9.5mm x 5.6mm, offering more airflow and inhalation. It utilizes strong magnets to match the vaping device with the pod perfectly, so there is no fiction sound. The Smok RPM 2 comes with a huge 7ml e-liquid capacity refillable pod cartridges that may be filled with your favorite juice, which will definitely satisfy your whole day long vaping.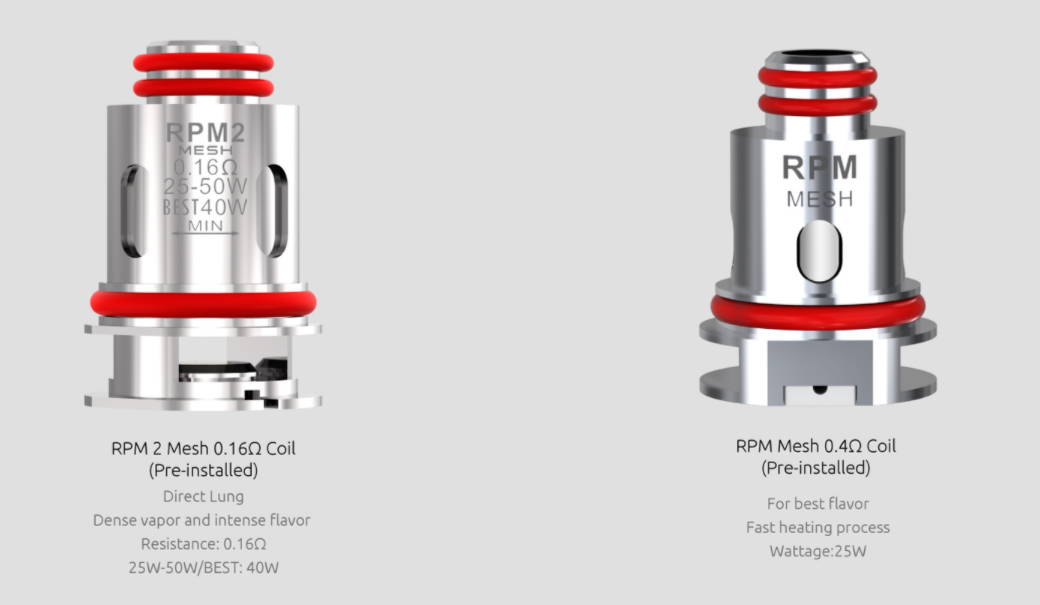 The replacement pods utilize two different coil styles supporting both MTL and DTL vaping styles. One of which is the Pre-stalled Smok RPM 2 Mesh Coil 0.16ohm for Direct to Lung, which is best used at 25 to 50W and providing dense and intense flavor. The other variation is the Smok RPM Mesh Coil 0.4ohm which is suggested to be vaped at 25W to offer the best flavor.
The RPM 2 Pod is designed with a transparent area for better checking the e-liquid consumption. Through the visible e-liquid level window, you can clearly and easily view the juice level.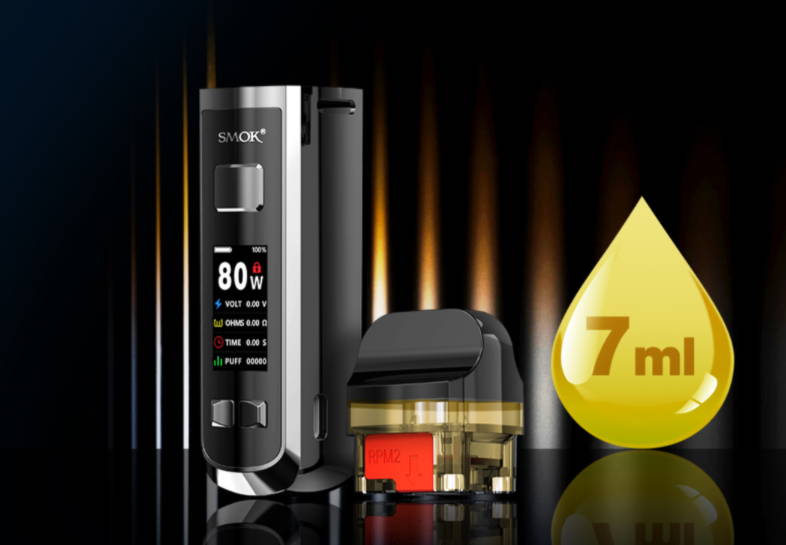 How to fill with your favorite juice
The Smok RPM 2 features a convenient side filling system. After full filling the pod, letting the device wait for two to three minutes to completely saturate the cotton.

Step 1: Pull out the pod;
Step 2: Pull out the rubber plug on the slot and add juice through the slot;
Step 3: Carefully and firmly press the ribber plug back.
Battery Performance and Charging
Excellent long battery life is supported by high capacity battery can provide, which allows you to keep going all day long. Paired with a powerful integrated 2000mAh battery and utilized Type-C charging, the Smok RPM 2 can carry stable power and faster transfer speed, ensuring convenience and ease on the user end. It supports forward and reverses charging for more convenient use. The charging efficiency is increased greatly.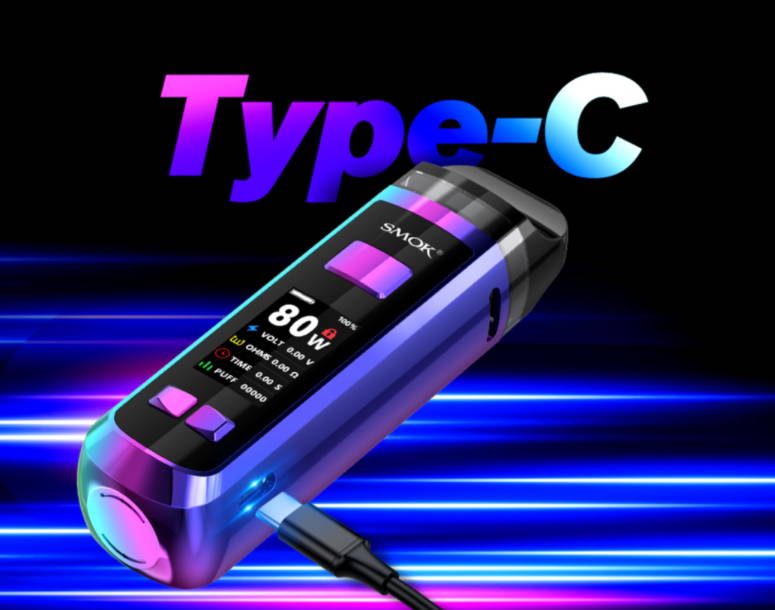 Lithium-ion protection prevents the lithium-ion battery from overcharge, over-discharge, over-current and short-circuits conditions. The Smok RPM 2 supports pass-through vaping, which means that you can vape it while charging. It boasts high-quality craftsmanship and excellent performance.
Pros / Cons
Pros:
Great flavor and vapor production
Beautiful color options
Type-C charging cable
Easy to use
Intelligent chipset
Powerful pod kit
Huge juice capacity
Two coils included
Well build quality and design
No adjustable airflow
Integrated battery
A bit dim screen
Little pricey
Prefer top-fill design
Q & A
What is a vape pod kit?
A pod vape is available in pre-filled or refillable designs.
They consist of a pod filled with e-liquid that snaps into a small battery.
Can you put regular vape juice in a salt vape?
Nic salts can be used in any mod designed for vaporizing e-liquid, whether it is freebase nicotine or otherwise.
Many devices may be inefficient at vaping nic salts and could not deliver excessively strong doses.
Which is a better pod or mod vape?
Mod is utilized with more technology offering higher wattage, better firing power, more temperature control that pod. Mods are also provided more pull and larger vapor than a Pod.
What does the coil do in a vape?
  The coil is an important part of the atomizer, which allows for resistance to be achieved so the tank can serve as a delivery mechanism for the consumption of vapor. Coils are made of absorbent material and resistive wire.
Why does vape burn throat?
When the e-liquid can't be transferred to the coil, it will cause a burning hit. Increasing power with a mod will increase the temperature, which causes a stronger throat hit. The stronger flavor will offer a strong throat hit, while smoother flavors weaken the hit.