SMOK Thallo S is a versatile and stylish 100W all-in-one kit, which is the battery replaceable version of Thallo. Powered by an external 18650 or 21700 battery, it boasts a max output to an impressive 100 watts. Equipped with the advanced IQ-XS Chip, it features a 0.001-second firing speed. The 0.96" TFT Color Screen displays all your important vaping data, including battery life, wattage output, voltage output, resistance range, puff counter etc. It comes with a 5ml refillable Thallo RPM2 pod capacity, which can fill with stronger nic salts or regular vape juice. Thallo S is also compatible with RPM 2 coils, offering a wide range of vaping preferences. Today I'm going to talk about the SMOK Thallo S, which I've been using for three weeks.
Price: £29.99 (at NewVaping)
Colors: Fluid Black Red, Fluid Gold, Fluid Green, Fluid Blue, Fluid 7-Color, Fluid Black Grey
SMOK THALLO-S 100W Pod Mod Kit Features:
IQ-XS Chipset
Dimensions - 123.5mm by 37.7mm by 30mm
Single High-Amp 18650/21700 Battery - Not Included
Wattage Output Range: 1-100W
Firing Speed - 0.001s
Zinc-Alloy Chassis Construction
Intuitive Firing Button
Color Display Screen
Two Adjustment Buttons
5mL THALLO RPM Pod
Bottom Fill System
SMOK RPM2 Coil Series
0.16ohm RPM 2 Mesh Coil - rated for 20-25W
0.6ohm RPM 2 DC MTL Coil - rated for 12-25W
Press Fit Coil Installation
Magnetic Pod Connection
Low Voltage Protection
Short-Circuit Protection
8S Cut-Off Protection
Temperature Protection
MicroUSB Port
SMOK THALLO-S 100W Pod Mod Kit Package Contents:
1x Thallo S Device
1x 5mL Thallo RPM2 Pod
1x 0.16ohm RPM2 Mesh Coil
1x 0.6ohm MTL Mesh Coil
1x Type-C Cable
1x User Manual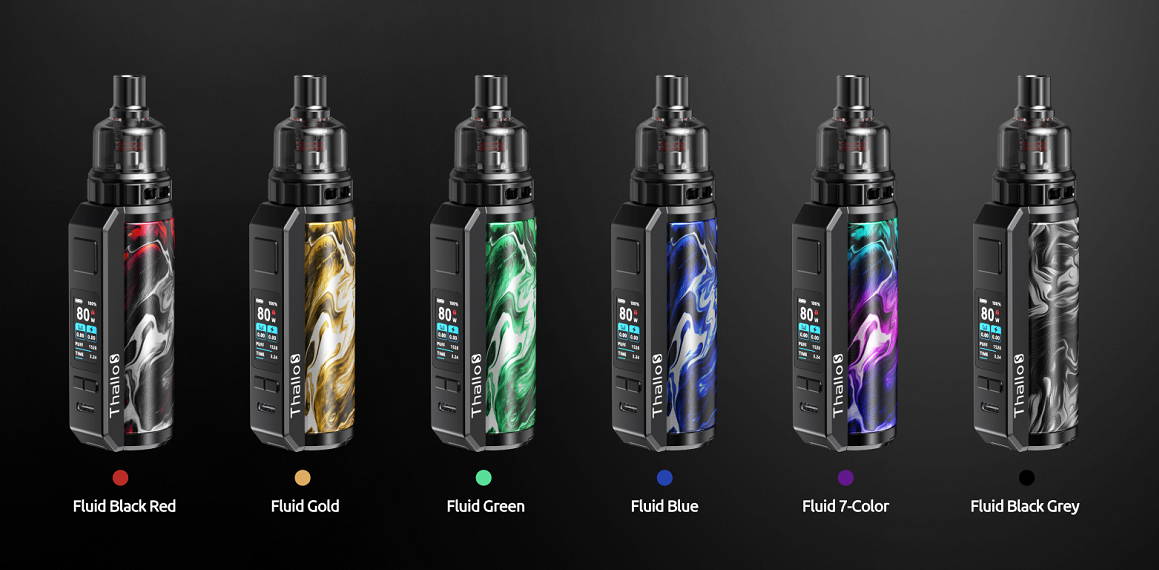 Construction and Design of SMOK THALLO-S
---
This is a really compact pod mod measuring just 123.5mm length, 37.7mm width and a depth of 30mm. It is a portable thanks to its lightweight of only 107g. The SMOK THALLO-S is constructed by durable zinc alloy chassis quite comfortable to hold. The entire construction is fairly well made and the machining is excellent top-notch. The resin is really exquisite and beautiful. The Fire Main and Up/Down buttons are well-made and responsive. The colour display screen comes with a beautiful layout and is easy to read the vaping statistics like battery life, wattage, voltage and resistance. You are able to change the colours from Red, Green, Purple, Yellow, Blue, White.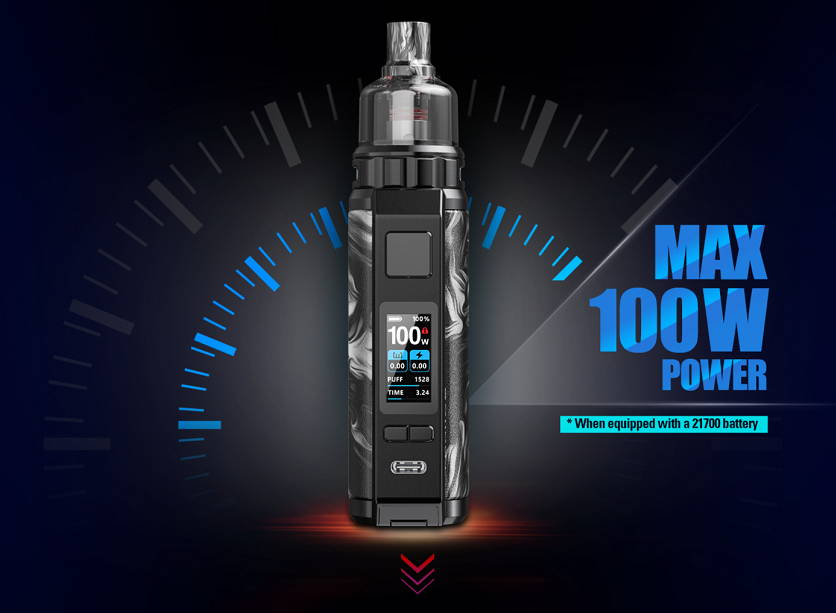 Functions and Features of SMOK THALLO-S
---
Housed with Smokbrand-new Smart IQ-XS Chipset, THALLO-S features an instant firing speed with only 0.001s. t offers a seamless way to ignite the vaping function and savour an intoxicating flavour. It features adjustable airflow with a sturdy and large airflow control ring that will deliver some excellent flavour. The strong magnet design between the pod and device features easy installation, removal and reinforces the stability as a whole.
SMOK THALLO-S Button Operation
Press the FIRE button for 5times to turn ON/ OFF;
Press the FIRE button for 3 times to lock the power;
Press UP and DOWN button to lock wattage;
Press DOWN and Fire button to reset puff counter;
Press UP and Fire button to change screen colour.
SMOK THALLO-S Pod Cartridge and Coils
---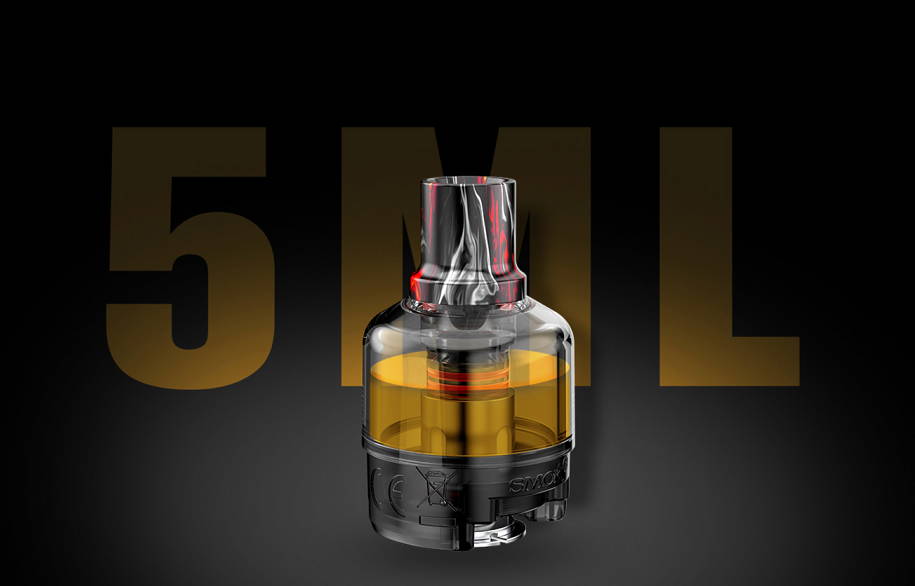 The THALLO RPM pod is made of PCTG plastic material so that you can easily see the juice level. It comes with a 5ml juice capacity that supports a long vape trip.
There is a large fill port on the side of the pod, you can easily refill with your favourite vape juice. The kit includes two drip tips: plain black plastic tip and resin tip, which perfectly match the design of the device.
The kit includes two coils - 0.16ohm RPM2 Mesh Coil and 0.6ohm RPM2 DC Coil, both of them offering fantastic flavour. The 0.16Ω RPM2 mesh coil is recommended to vape between 25-50 Watts. Personally, I think it is the best flavour at 40 wattages. It has a better performance over other MTL coil with amazing vapour production and flavour. The 0.6Ω RPM2 DC Coil is recommended to use between 12-25 Watts. I think it is a little bit lose for an MTL vapour and more like a restricted DTL coil.
How to fill with E-liquid?

Step 1: Pull out the pod;
Step 2: Pull out the rubber plug on the slot and add your favorite e-liquid through the slot;
Step 3: Press the rubber plug back carefully and firmly.
Battery Performance of SMOK THALLO-S
---
Compared with the original Thallo, Thallo S supports both 21700 and 18650 battery with a battery sleeve, delivering longer battery life and higher wattage range. With a 18650 battery, it can fire a maximum wattage to 80 watts and with a 21700 battery, it is capable of 100 wattage output. Thallo S can be charged via a fast Type-C cable with 1.4 Amps charging rate. The battery door on the bottom of the device features a simple design that is easy to slide out and open.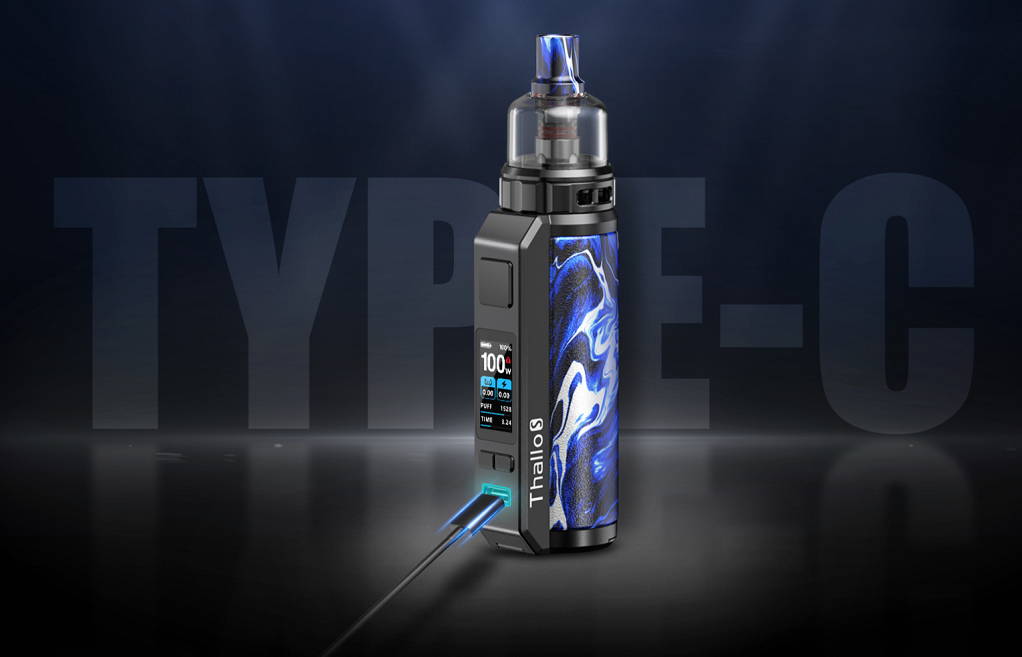 Pros and Cons of SMOK THALLO-S
---
Pros:
Comfortable hand feel
Great battery performance
Supports 21700/18650 battery
External AFC
Type C charging
Excellent flavour
Large 5ml juicecapacity
Easy to see e-liquid level
Cons:
Not a true MTL experience
Doesn't snap into place very well