Production Introduction and Specification
---
Nord 4 pod system is another amazing device from the leading vape manufacturers Smok, who is known for high-quality design and innovation. Powered by a 2000mAh internal battery, it is capable of a whopping output range between 5-80W. Smok Nord 4 is compatible with two proprietary pods for the RPM Coil and RPM 2 Coil Series, offering dense flavours and massive cloud production. It looks similar with the original Nord with the same rectangular shape with rounded edges. But it keeps surprising vapers with upgrades and awesome functionalities. Following this post to find out what's up with this Smok Nord 4!
Price: £23.99 (at NewVaping)
Colors: Blue Grey Armor, White Amor, Black Armor, Red Grey Armor, Rasta Green Armor, 7-Colour Armor, Fluid 7-Colour, Fluid Black Grey, Leather Brown, Leather Red, Leather Blue, Leather Black.
Smok Nord 4 Specifications and Features:
Dimensions: 104.9mm by 33.7mm by 24.4mm
Integrated 2000mAh Rechargeable Battery
Wattage Output Range: 5-80W
Voltage Output Range: 0.5-8.4V
Resistance Range: 0.15-2.5ohm
Zinc-Alloy Chassis Construction
Intuitive Firing Button
OLED Display Screen
Two Adjustment Buttons
Dual Airflow Adjustment Dials
4.5mL Refillable Pod - RPM 2 & RPM Pod
Proprietary Coil Use
0.16ohm RPM 2 Mesh Coil
0.4ohm RPM Mesh Coil
Press-Fit Coil Installation
Magnetic Pod Connection
Type-C Port
Smok Nord 4 Kit Contents:
1x Nord 4 Device
1x Nord 4 RPM2 Pod
1x Nord 4 RPM Pod
1x 0.16ohm RPM 2 Coil
1x 0.4ohm RPM Mesh Coil
1x Type-C Cable
1x User Manual
---
SMOK Nord 4 features an exact dimension of 104.9mm by 33.7mm by 24.4mm, a suitable size that is perfectly proportioned and sits comfortably in hand, making it a portable and ideal device for stealth vaping. Build quality of Smok Nord 4 is top-tier. It comes with a strong zinc-alloy chassis construction and is available in plentiful colour options. You can always to choose the beloved one! The intuitive firing button is firm and clicky for easily activated. The clear OLED display screen looks super cool and shows the vaping data like wattage, battery capacity, voltage and so on.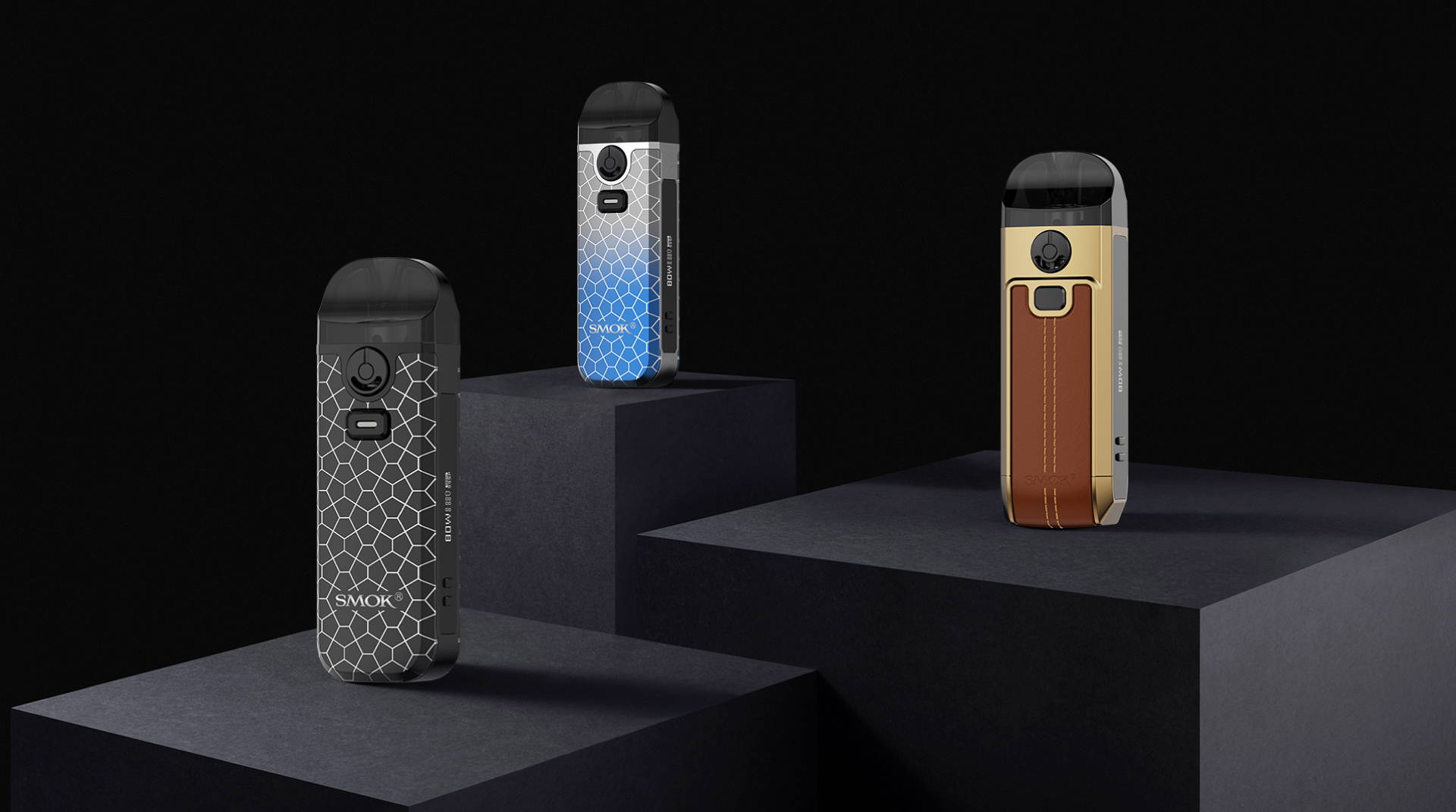 ---
Compared with other Nord devices, Smok Nord comes with more powerful output wattage that has been increased to 80w, which can definitely meet different vaping styles, permitting you to inundate in the tremendous mists and fulfil your taste. It adopts intelligent detection to better understand the device status and provide a more enjoyable vaping experience. It also adopts various protections to prevent the device from damage, including 8-second cut-off, low voltage protection and shortcircuits protection.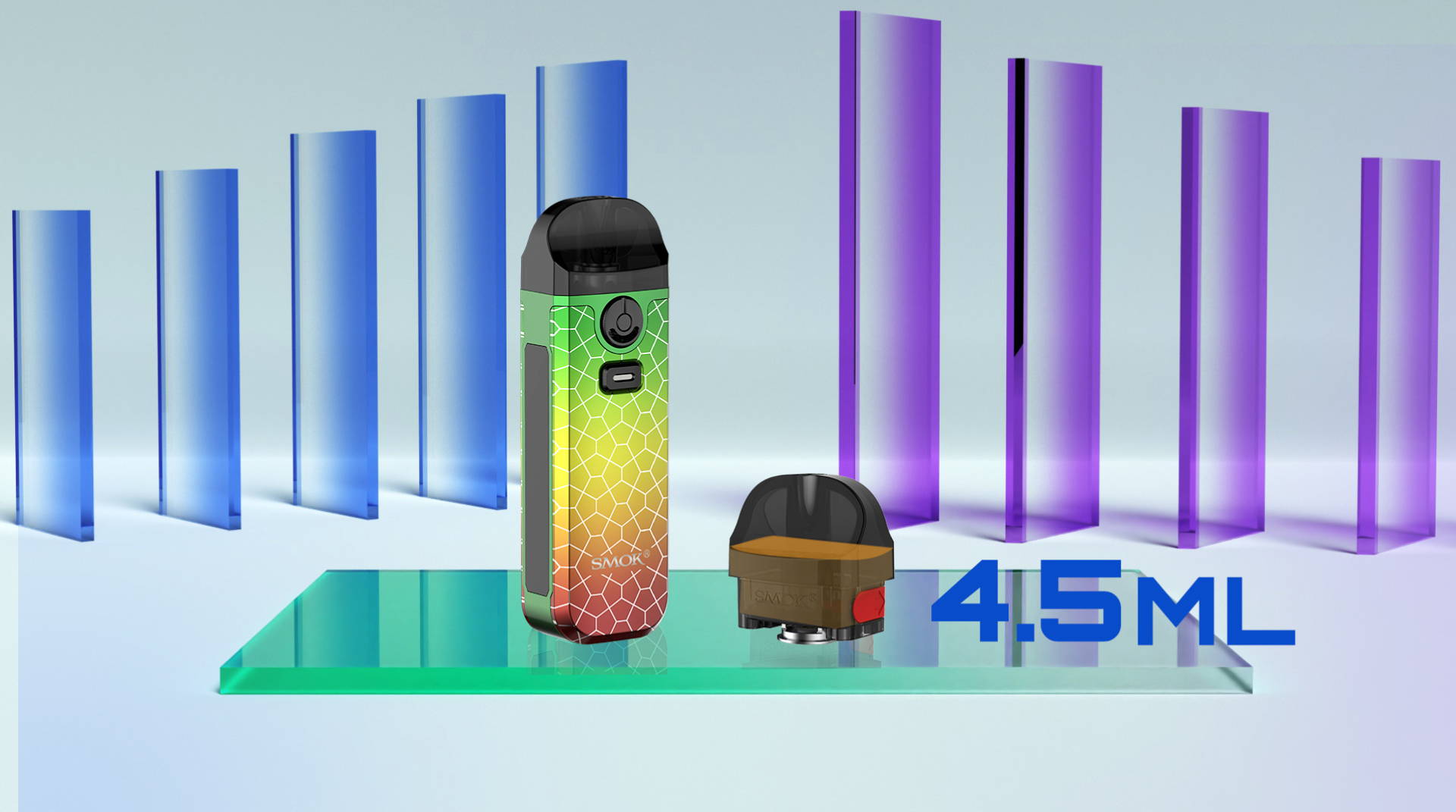 SMOK Nord 4 Pods and Coils
---
Smok Nord 4 comes with two pods, including the RPM 2 Pod and RPM Pod. The coils simply push into the bottom of the pod thanks to its press-fit coil installation. Both pods have a 4.5ml vape juice capacity that supports a long time vaping without frequently refilled. The RPM 2 Mesh 0.16ohm Coil is recommended to use between 25-55w. In my testing, I can get the best flavour when it is rated for 40w. It is designed for direct to lung vaping, offering intense flavour and dense vapour. The RPM mesh 0.4ohm coil is designed for mouth to lung vaping, providing a satisfying flavour and gentle throat hit.

It features an airflow adjustment mechanism that upgrades the comprehensive performance to a brand new level. On both sides of the battery module,  there is an airflow adjustment valve that allows users to adjust the airflow to find the best vaping experience dependant of their different vaping styles. It utilizes a side filling system that makes filling an easier task.
How to fill with E-liquid?
Step 1: Pull the pod out from device.
Step 2: Pull out the rubber plug to open the filling port; then insert the nozzle of an e-liquid refill container into the filling port.
Step 3: Push back and press firmly the rubber plug to close the filling port of the pod.
Step 4: Install the pod back to the device.
---
SMOK Nord 4 Kit runs on an integrated 2000mAh rechargeable battery, which can charge via Type-C port with faster-charging speed and reliable power to achieve smooth charging. It is capable of a 1.4A fast charging brings constant power to support efficient vaping life. The maximum 80 output wattage acts as a strong backup to meet different vaping requirements, offering dense flavour and vapour production.  
---
Pros
Excellentflavour
Great vapour
No leaking
Decent battery performance
2 coils and 2 pods included
Adjustable Airflow
Plentiful colour options 
Cons
N/A
---
The SMOK Nord 4 is a solid vape with well-built quality. It features a surprising performance, offering a wide wattage range to satisfied different vaping needs. It also comes with great battery life and long-lasting pods. There are also plentiful colour options that you can choose from. I would be happy to recommend the Smok Nord 4 if you are looking for an easy to use the device.
Have you tried the SMOK Nord 4? Share your thoughts in below comments!