Author: Alisa Yin / Category: Review / Published: Dec-26-2019
Sleek and portable, the SMOK Nord Pod Kit for UK is the lightweight and compact pod system, ideal for MTL and DTL vaping. It measures in 94mm by 30mm by 18.8mm that can easily slip in your pocket and comfortably fit in your hand. The SMOK Nord Kit for UK utilizes 2ml pods and various types of coils. The different SMOK Nord colors with cobra pattern or resin-style design offer you plenty of choices.
Price: £ 15.99 (at NewVaping)
SMOK Nord Colors: Black, prism rainbow, prism gold, bottle gold, red, white black
SMOK Nord Resin Color Editions: Black/white, red/yellow, blue/black, green red, yellow/purple, blue/brown, 7-color rainbow resin streak
Dimensions: 94 x 30 x 18.8 mm

Weight: 80 g

E-liquid capacity: 3ml

Wattage output: 10 - 15 W

Battery capacity: 1100 mAh
SMOK Nord pod system

0.6-ohm mesh coil

1.4-ohm regular coil

USB charging cable

User manual
Basic Specs and Build Quality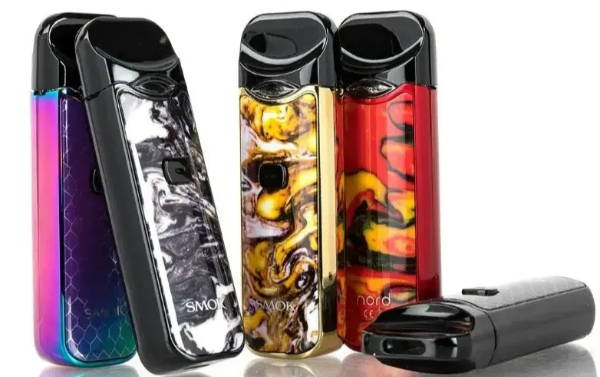 The SMOK Nord Kit weighs about 80 grams, and its dimensions are 94 x 30 x 18.8 mm, which can easily slip into your pocket. The cobra-style panels and rounded rectangular shape fits comfortably in your hands. The plastic plastic outer shell with a slightly chunkier body is lightweight and durable. There are also plenty of color options for you to choose.
The SMOK Nord Kit (UK Edition) powered by built-in 1100mAh rechargeable, is capable of firing from 10W to 15W. It comes with a 0.6 ohm mesh coil for sub-ohm vaping (DTL vaping), and a 1.4ohm regular coil for MTL vaping. The USB charging cable and a user manual are also included in the package.
---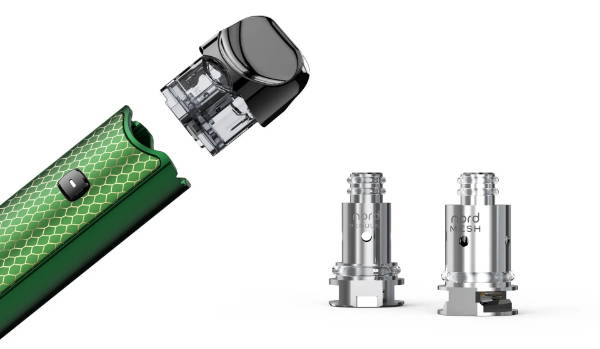 The SMOK Nord Pod cartridge (TPD Edition) featuring the durable plastic shell can hold 2ml maximum e-juice. These SMOK Nord tanks with a widened duck-billed mouthpiece features the simple side e-juice filling system that can house various of nicotine salt e-liquids and regular e-liquids. The filling port is large enough to use with most dropper bottles.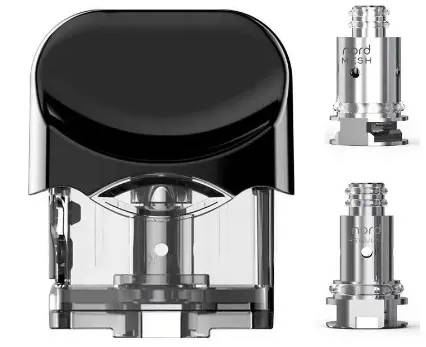 There are four types of replacement coils compatible with the SMOK Nord. The 0.6ohm Nord DTL Mesh Coils and 1.4ohm Nord Regular MTL Coils are included in the SMOK Nord kit, while the 0.8ohm Nord Mesh MTL Coils and 1.4ohm Nord Ceramic MTL Coils are sold separately.
With a rubber plug on the pods, you can easily pull it out to remove and replace the coils in a second.
The 0.6ohm Nord mesh coil brings you the intense flavor and massive cloudy vapor. It delivers the real DTL vaping experience like a small box mod.

The 1.4ohm Nord Regular MTL coil is ideal for discreet stealth vaping style. It provides you the pure and concentrated flavor while the vapor production is small.

The 1.4ohm Ceramic coil with great stability and high-temperature resistance is strong and durable. It provides you the optimal flavor and features longer lifespan.
3. Best E-juice for SMOK Nord
The SMOK Nord Pod System is mostly a MTL Pod Kit but comes with both 1.4 ohm MTL coils and 0.6 ohm DTL mesh coils. So you are able to use high VG juices in the 0.6 ohm coils. The recommended juice mix is 70VG/30PG for 0.6 ohm Coils. The 1.4ohm and 0.8ohm Nord Coils are made for using with nic salts to enjoy more faster nicotine satisfaction.
4. How to Change SMOK Nord Replacement Coils
The user-friendly plug and play coil connection allows you to switch out or replace the Nord Coils easily. When refilling the SMOK Nord Pod, you should let the cotton wicks fully saturated in the e-juice at least 5min before using, which can prevent the burnt or dry hits
---
SMOK Nord Battery and Output
Powered by built-in 1100mAh battery, the SMOK Nord Pod Kit features an input voltage from3.3 volts to 4.2 volts and an output wattage from 10W to 15W. You are able to vaping most of a full day on a single charge. If you are vaping all day, the Nord Kit might run out of power in the evening especially when you are using the mesh coils.
The exact battery lifespan depends on the coil resistance you choose. The MTL coil (0.8ohm/1.4ohm) gives you about 8h of vaping time while the DTL coil (0.6ohm) allows for 4h vaping. The SMOK Nord charging time is around 2h.
Switch the SMOK Nord on by pressing the fire button 5 times. The 3 LED light indicates the battery life.
Green Light: 70 - 100%

Yellow Light: 30% - 70%

Red Light: Below 30%
---
SMOK Nord Pod Kit Reviews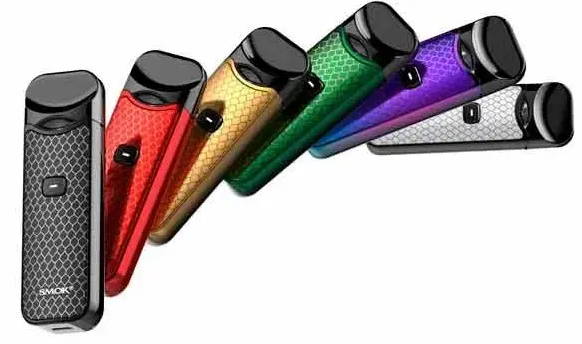 The SMOK Nord is a portable pod system device with built-in 1100mAh battery which is powerful among pod systems. It has a single button-triggered design with a LED indicator.  
The mesh coil provides a relatively loose, restricted lung hit. The MTL coil seems to be a little tighter, but it still much looser than normal cigarette.
The flavor on both coils are intense and pure. The vapor production is impressive with the MTL coils, you will get more cloudy vapor than the traditional pod system. The 0.6 mesh coils put out an even more massive cloud but not comparable to the sub ohm tank.
Pros and Cons of SMOK Nord Pod Kit
Pros:
1100mAh powerful battery capacity for long vaping time

Sleek and portable for comfortable grip

Compatible with both MTL Pods and DTL Pods

0.6ohm Nord Mesh Coil for massive vapor production and intense flavor

Can be used with regular e-juice and nic salt

Convenient and wider side refill design without leakage

Various colors with resin edition for you to choose

The LED indicator shows the battery life
Cons:
The airflow is not adjustable, too much airflow for MTL vaping

The black pod window prevents the remaining e-liquid estimation

The SMOK Nord charging time is quite longer.
---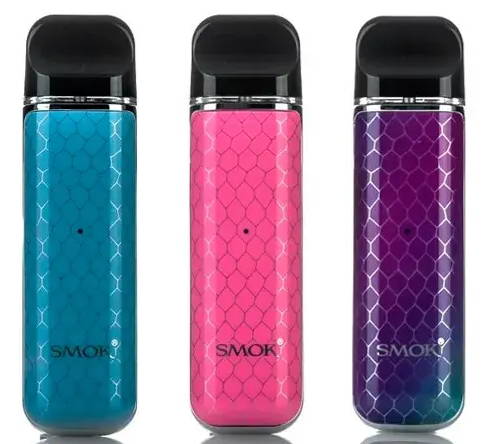 The SMOK Nord and the SMOK Novo performs well. They are both feature the sleek and stylish appearance to attract your eyes. SMOK Nord Pod Kit is the advanced rendition of SMOK Novo Pod Kit. They have some similarities and differences.
SMOK Nord Pod Kit
SMOK Novo Pod Kit

SMOK Nord allows you to change and replace the coils

SMOK Novo utilizes the integrated pod, you cannot replace the coil

SMOK Nord features a single firing button for easy operation

The Novo features the draw-activated firming mechanism.

The SMOK Nord with 1100mAh battery can fire from 5W to 15W

SMOK Novo with 450mAh can fire from 10W to 16W

80g, the SMOK Nord doubles the weight of the Novo

Only 40g, the SMOK Novo is more compact and lightweight

The SMOK Nord Pod Kit is compatible with a sub-ohm coil

for high VG e-juice while providing DTL vaping.

The SMOK Novo doesn't support sub-ohm vaping

38 colors with resin edition

Only has 8 colors available