QUICK LINKS
Price: £ 33.99 (at Newvaping)
Colours: Black Cobra, 7-Color Cobra, White Cobra, 7-Color Spray, Fluid 7-Color, Fluid Red, Fluid Blue, Fluid Gold

The Smok Nord X Kit is merely a little and light pod system. It truly is built for both DTL and MTL vapers. The Smok Nord X Kit uses a 1500mAh built-in rechargeable battery with a maximal wattage up to 60W. It features 2ml pods with two coils and a side filling design. You can recharge it with Type-C charging cable. The Smok Nord X Kit is generally button-activated, which is pretty simple to operate.
Smok Nord X Kit Specifications:
Dimensions: 100mm x 31mm x 23mm
Pod capacity: 6ml(standard) / 2ml(TPD)
Battery Capacity: 1500mAh built-in
Output Wattage: 5W-60W
Resistance Range: 0.2ohm-3.0ohm
Charging Port: USB-C Port
Output Voltage: 0.5-4V
Resistance Range: 0.2-3.0ohm
0.16ohm RPM 2 Mesh Coil: 25-50W
0.4ohm RPM Mesh Coil: 25W
IP67 Rating: Water/Dust/Shock Proofing
Smok Nord X Kit Package Contents:
1 x Nord X Device 
1 x Nord X RPM Pod
1 x RPM Mesh 0.4Ω Coil
1 x Nord X RPM 2 Pod Cartridge
1 x RPM 2 Mesh 0.16Ω Coil
1 x USB Cable
1 x User Manual
Build Quality and Design of Smok Nord X Kit
The Smok Nord X Kit stands at approximately 100mm x 31mm x 23mm, which is compact and portable. The ergonomic design fits my hand properly and is very convenient to carry. The body of Smok Nord X Kit is manufactured out of Zinc Alloy that gives durability. The construction of Smok Nord X Kit is pretty good and the machining is truly top-notch. In simpler words, Nord X, albeit small, is glittered with an elegant, luxurious feel.
SMOK was setting the stage for its latest release, Nord X, which would usher in a new period for "N" series. Traditionally, in the vaping world, X versions foretell unlimited functions, monstrous performance, and a lot of "X-citement".
Smok Nord X Pod Cartridge and Coils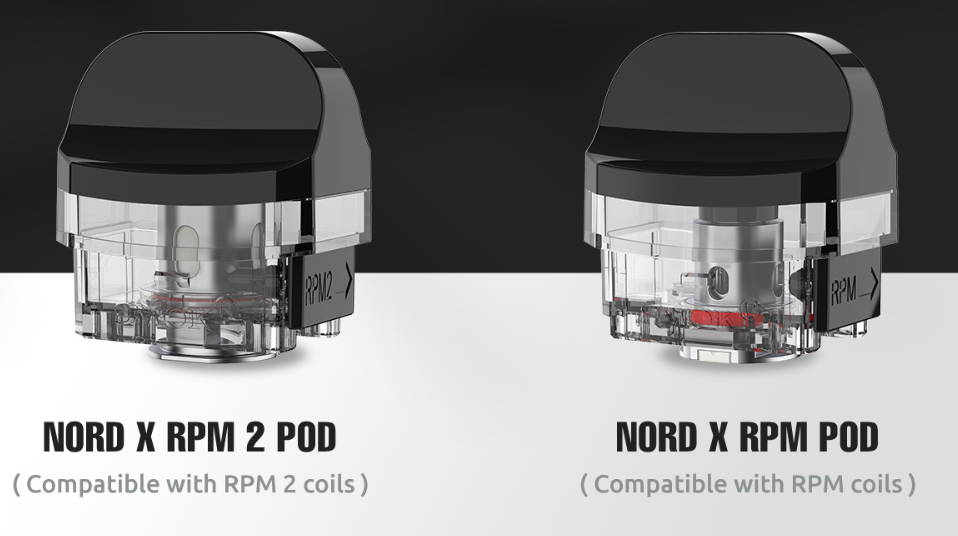 The Smok Nord X Pod retains 2ml of e-liquid and is very located setup firmly. It uses ergonomic mouthpiece and side filling design with a rubber plug. The produce and quality of the pod is very great. The Smok Nord X Pod comes with two coils - RPM Mesh 0.4Ω Coil and RPM 2 Mesh 0.16Ω Coil. Owing to two pod options, SMOK Nord X, with all its versatility and freedom, allows you to choose between Direct to Lung (DL) and Mouth-to-Lung (MTL) vaping styles.
To start vaping, you should get your coil with a few drops of e-juice, then put it into the pod, get rid of the rubber plug and fill up your selected e-liquid, finally, hold it at least 4min to make the coil fully saturated.
Functions and Features of Smok Nord X Kit
The Smok Nord X Kit is a lightweight and solid product. It's waterproof and provides water resistance for water levels of up to 1 meter for 30 minutes. SMOK Nord X is dustproof so no dust ingress can adversely affect your mod. Lastly, the shockproof body is built to withstand strong shocks that are caused due to accidental drops.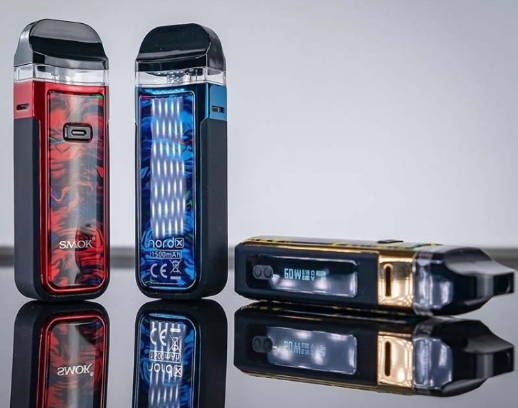 SMOK Nord X is the ultimate outdoor vaping machine. With 1500mAh built-in rechargeable battery, you will discover an outstanding wattage of 60W. Nord X is equipped with armor that is sure to last you no matter how rough your journey is. It adopts button-activated design, you can just press the fire button to take a draw. The utilization of Smok Nord X Kit is really straightforward and basic for beginners.
Performance of Smok Nord X Kit
With 60watts of output and minimum resistance of 0.2-0.3ohm, Nord X offers a vaping experience that is unlike any other.
The "smok" formation is huge, throat hit strong, and flavor most aromatic and rich. For both beginners and veterans, SMOK Nord X has offered a highly satisfying mod.
Battery life of Smok Nord X Kit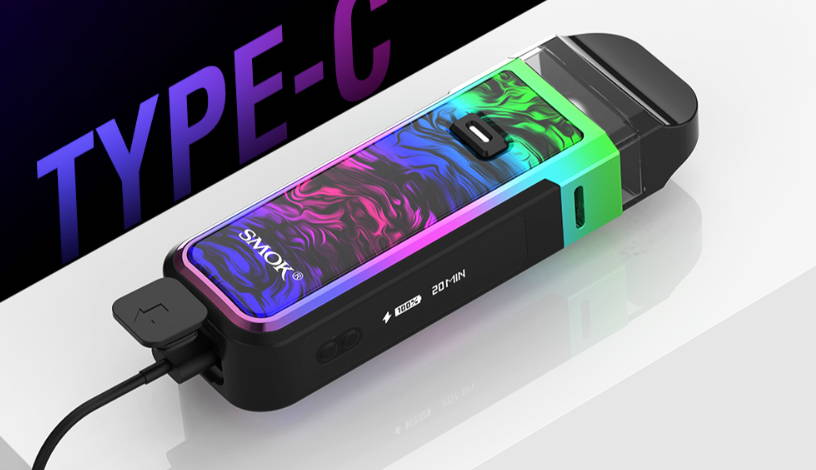 The Smok Nord X Kit is powered by 1500mAh built in battery which adopts 1.2A quick charge. It can be fully charged within 75 minutes with Type-C Cable. The battery life can be affected by different factors such as battery type, coil type, and usage frequency. I think it performs really nice as for 1500mAh built in battery. I can use it for all day without recharging.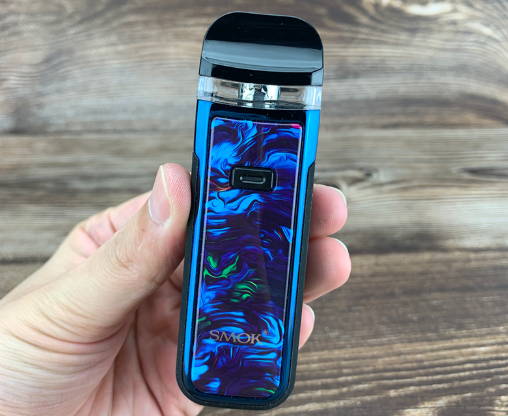 The Smok Nord X Kit is a concise and simple product. The flavour and vapor creation are excellent. With all the above features included, I really enjoy the performance of it and using it. The new RPM 2 coil and airflow design and triple protection against outdoor environments make SMOK Nord X an absolutely must-have for all mod vape enthusiasts. If you are consider to acquire a light in weight and ergonomic device, I'll allow you to try the Smok Nord X Kit. What accurately are your opinoin on the Smok Nord X Kit? I want to know by your comment!
Pros and Cons of Smok Nord X Kit
Pros:
Portable and user-friendly
Easy to use, suitable for beginners
Well-build and good design
Great flavour and cloud
Dustproof, Shockproof and Waterproof
Compact and smart, 60W max power
Fully charged in only 75 minutes
Support both DTL and MTL
Only DTL coils included
Not Groundbreaking
Airflow is not tight enough
The charging port is on the base
Screen a little dim in the sun
Is Pod system better than mod kits?
Pod systems have many advantages over other mod kits, such as convenience, portable and user-friendly. If you are an advanced vaper and prefer better vapour and more settings, then mod kits are better for you.
What age can you start vaping?
The legal age in most countries to buy e-cigarettes is 18 to 21, depends on different countries.
What's the pod system?
Instead of using the tank like the mod kits, a pod system is a small vape comes with pod cartridge to hold the e-liquids.
What's the difference between Podsystem and mod kits?
Many mod kits are designed for sub-ohm vaping, so they are usually used with a higher VG e-liquid. Pod systems are best used with nic salt e-liquids.
How much are the pod system?
Vape starter kits range in price from $15 to $80. You will find the relatively simple pod systems with different budget.