Vandy Vape GAUR-21 Box Mod Introduction
---
The Vandy Vape Gaur-21 Box Mod is a collaboration between Youtube Reviewer Suck My Mod and Vandy Vape. Supported by dual 21700/ 20700/ 18650 battery configuration, it can fire a maximum power of 200W. The GAUR-21 is the ultra-lightweight dual battery box mod thanks to its impact-resistant fibreglass enhanced PC materials. It utilizes an advanced Vandy Vape Chipset to offer awsome performance and varying operation modes like voltage or wattage output, temperature control and bypass. The Vandy Vape GAUR-21 Box Mod also features phone app compatibility for firmware and locating the mod if it was lost.
Price:£45.99 (at NewVaping)
Colours: Carbon Fiber Black, Carbon Fiber Silver, Flame Red Resin, Sky Blue Resin.
Vandy Vape GAUR-21 Box Mod Specifications and Features
Collaboration with Suck My Mod
Proprietary Chipset - Waterproofed
Dimensions - 96.5mm by 58.8mm by 30mm
Dual High-Amp 20700 or 21700 Batteries - Not Included
Nickel, Titanium, or Stainless Steel Wire Compatibility
Optional 18650 Battery - Adapters Included
Anti-Loss & Find My Device Application
Wattage Output Range: 5-200W
Voltage Output Range: 0.5-8.0V
Resistance Range: 0.05-3.0ohm
Power Mode - Wattage or Voltage
Zinc-Alloy Chassis Construction
Threaded 510 Connection
Two Adjustment Buttons
Bypass Mode/ TC Mode
Intuitive Firing Button
OLED Display Screen
Sliding Battery Cover
Firmware Upgradeable
Short Circuit Protection
Open Circuit Protection
Over-Heating Protection
10 Seconds Cut-Off
Low-Battery Warning
Over-Current Protection
Type-C Port
Vandy Vape GAUR-21 Box Mod Package Content
1x GAUR-21 Mod
1x Warranty Card
1x Type-C USB Cable
1x Proper User Guidance
2x 18650 Battery Adapter
2x Instruction Manual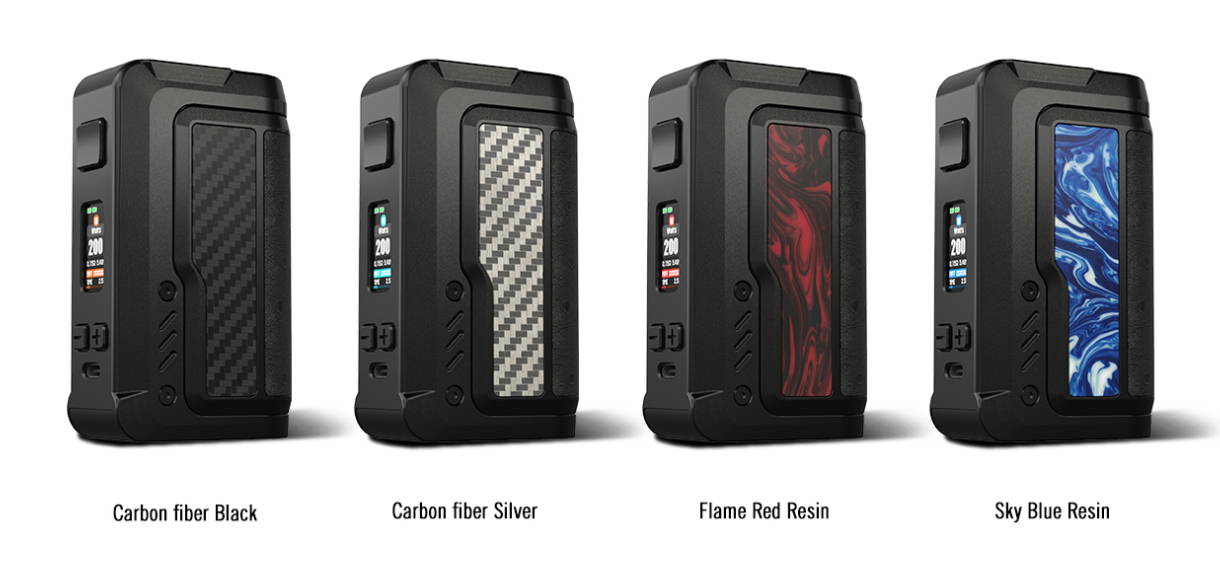 Build Quality and Design of Vandy Vape GAUR-21
---
The Vandy Vape GAUR-21 is a nicely built box mod that featuring durble zinc-alloy chassis construction with artistic flare and impeccable, eye-catching design measuring just 96.5mm by 58.8mm by 30mm and a lightweight of 128.17g. It is supported by dual high-amp 20700, 21700 or or two 18650 batteries that contribute longer battery life. Two battery adaptors for 18650 batteries are included in the kit. The wattage output range can be adjusted from 5W to 200W. An intuitive firing button and two adjustment buttons are placed in a suitable position. It also boasts an 0.96 inch Colorful TFT Screen Display that shows the vaping data clearly such as puff counting, working mode, resistance, vaping time, working voltage, and battery life. Vandy Vape GAUR-21 has 4 amazing colour options that you can choose from: Sky Blue Resin, Carbon Fibre Black, Flame Red Resin, Carbon Fibre Silver.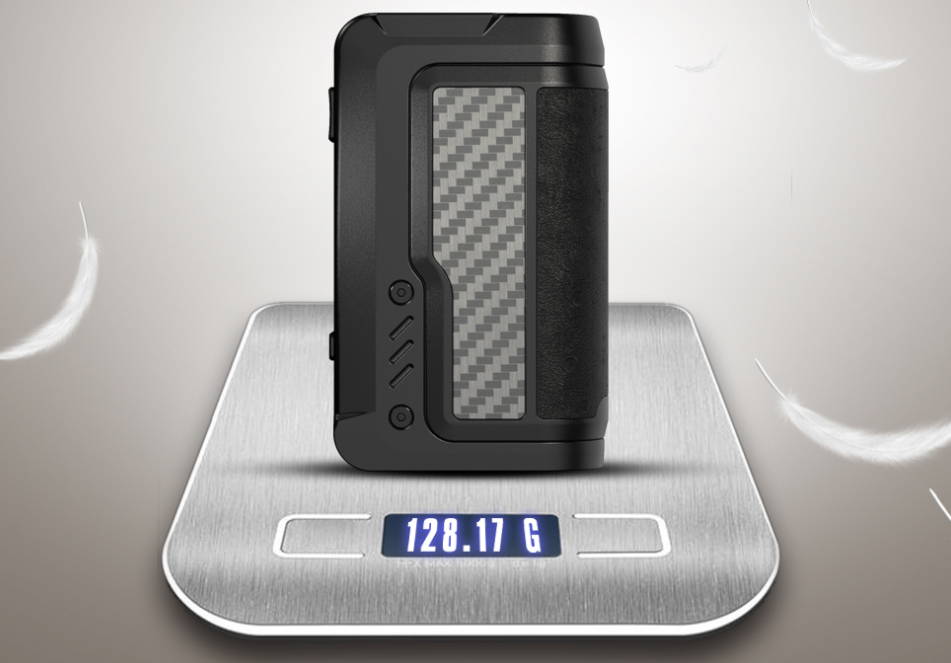 Equipped with the upgraded Vandy chip, the Vandy Vape GAUR-21 adopts several working modes including like POWER, BYPASS, VOLTAGE, TC-NI, TC-SS, TC-TI.
BP: BYPASS Mode;
TC: Temperature Control Mode;
VOLT: Voltage Regulation Mode;
ARR: Auto Resistor Renew;
APP: Disconnect from the app while the device turned off.
FIR: The fire button will still work when the LOCK function is turned on; the fire button will stop working when the LOCK function is turned off.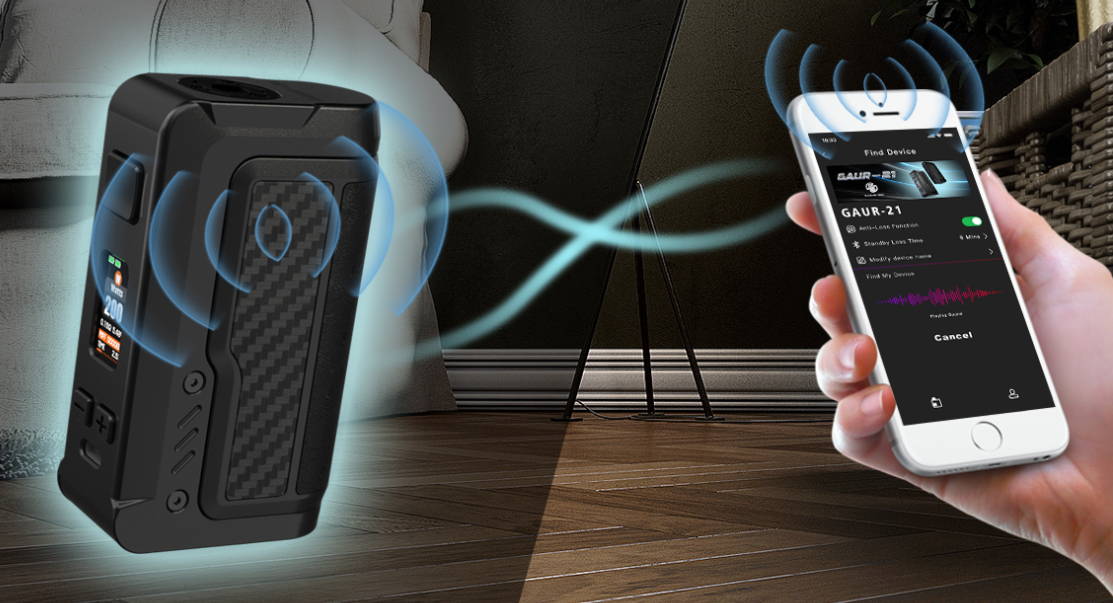 The Vandy Vape GAUR-21 features an "Anti-Loss and Find My Device", which is a phone app compatibility for firmware and locating the mod if your device was ever lost. If you lose your device, don't worry!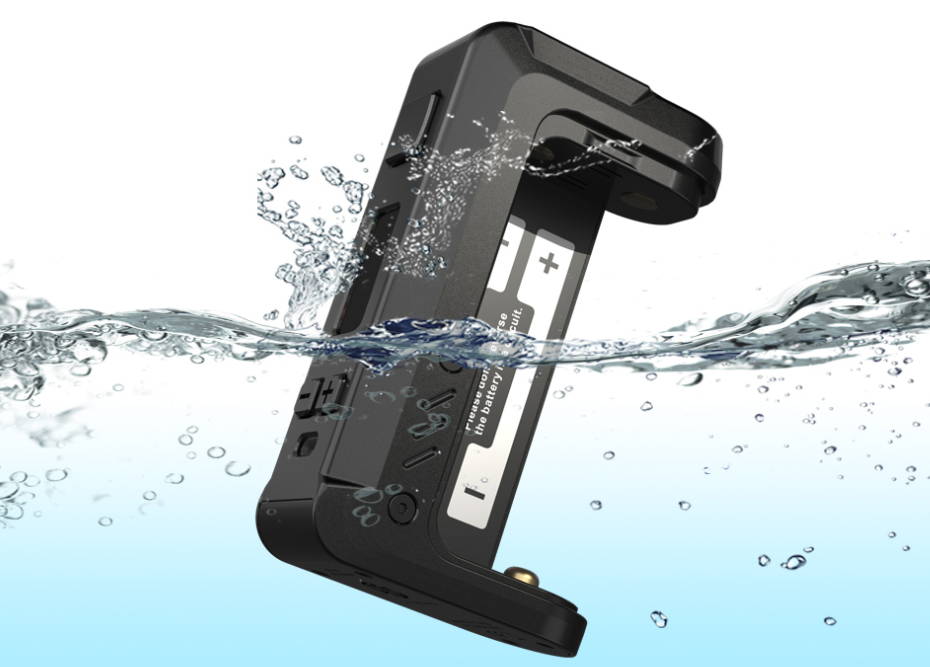 Functions and Performance
---
One sparkle of the Vandy Vape GAUR-21 is that it utilizes the PCBA Waterproof material, which allows users to clean the e-liquid stain and dust. If your device was accidentally strained by butter, juice, fume, jam, or brine. You can simply take off the battery and wash your device. It also boasts Titanium, Nickel, or Stainless Steel Wire compatibility.
Various protective features are adopted to provide a safe vaping experience, such as open circuit protection, short circuit protection, over-heating protection, over-current protection, 10 seconds cut-off and low-battery warning. The device can be charged through a Micro USB charging port with a max 1.8A charging current for the fast power transfer.
---
I am really impressed by the ultra-lightweight and the firmware upgrade design of the Vandy Vape GAUR-21 box mod. It integrates tons of powerful as a strong backup for a long time vaping but keeps a relatively small size. As a dual battery box mod, it comes with many awesome features such as ultra-lightweight chassis, waterproofed design, powerful upgraded Vandy chip, etc. It is such a high-end box mod that feels really good in the hand thanks to its durable construction. Vandy Vape GAUR-21 is also a classic-looking box mod with four wonderful colour options.
Have you ever try any device of the Vandy Vape? What do you think of this powerful Vandy Vape GAUR-21? We love to know in the comments!
---
Pros
Well build quality
Fast Type-C charging
Waterproofeddesign
Relative lightweight
Responsive buttons
Durable construction
Clear display screen
Cons
Pointless app function(Personally)