---
The latest version of bestselling VOOPOO DRAG MINI 117W Refresh Edition Kit, featuring a powerful GENE.FIT Chip and an excellent integrated 4400mAh battery combine the VooPoo Drag 2 Mini Mod with the PnP Pod Tank for a powerful and compact device. The included PnP pod tank allows vapers switch between sub-ohm vaping and pod vaping on the same device. The GENE.FIT Chip brings incredible performance such as useful power presets and super-fast firing. In this review, everything you need to know about the Drag Mini Kit will be discussed. Let's take a look!
Price: £39.99 (at NewVaping)
Colours: Rhodonite, Prussian Blue, Phthalo, Coral, Purple
VOOPOO DRAG Mini 117W Refresh Edition Kit Features:
Dimensions: 81.5mm by 48.5mm by 25.5mm
Integrated 4400mAh Rechargeable Battery
Highly Advanced GENE FIT Chip
Wattage Output Range: 5-117W
Voltage Output Range: 0-7.5V
Resistance Range - Power Mode: 0.05-3.0ohms
Resistance Range - TC Mode: 0.05-1.0ohms
Temperature Range: 200°-600°F/100°-315°C
Superior Zinc Alloy Chassis Construction
Visually Striking Resin Inlay Design
Intuitive OLED Screen
MicroUSB Port
Centered 510 Connection
VOOPOO PnP Pod Tank Features:
Diameter: 26mm
Pod Capacity: 4.5mL
Bottom Fill System
VOOPOO PnP Coil Series
0.3ohm PnP-VM1 Coil - rated for 32-40W
0.2ohm PnP-VM5 Coil - rated for 40-60W
Dual Slotted Bottom Airflow Control Ring
Bottom Press Fit Coil Installation
Threaded 510 Connection
VOOPOO DRAG Mini 117W Refresh Edition Kit Package Content:
1x DRAG Mini 117 TC Mod
1x 0.15ohm PnP-VM6 Coil
1x 0.2ohm PnP-VM5 Coil
1x PnP Pod Tank
1x User Manual
1x USB Cable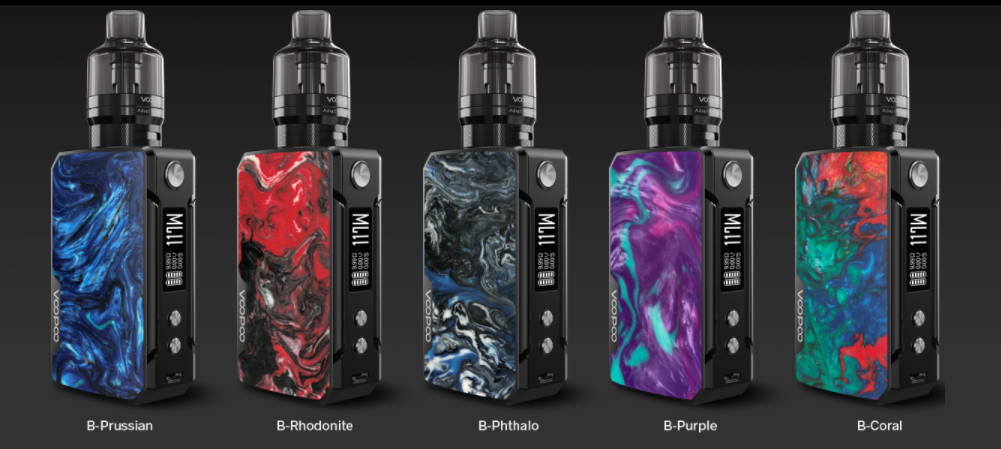 Unboxing and First Impression
---
The VOOPOO DRAG Mini Refresh Edition Kit is packed in a delicate cardboard box with an outer sleeve detailing the contents and verification code. When taking it out of the box, I was surprised about its lightweight body even though it is already integrated with a 4400mAh rechargeable battery. The smooth-coated "DRAG" logo on the mod with a nice shine looks amazing. The opposite side has a resin effect matt coating which also looks and feels nice. The curved and smoothed body perfectly fits and feels great in my hand.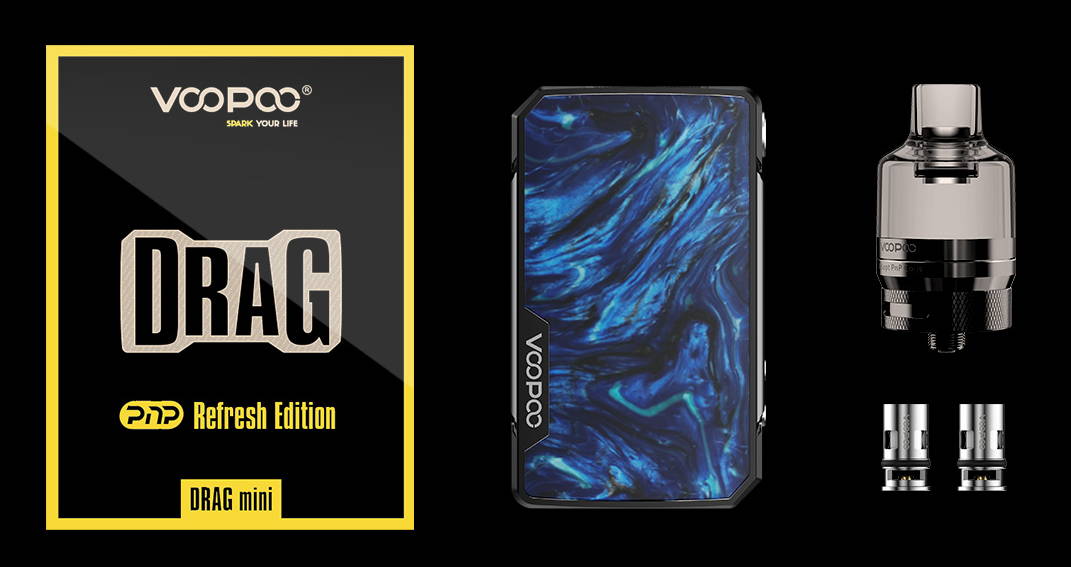 Build and Quality of VOOPOO DRAG Mini
---
The VOOPOO DRAG Mini Refresh Edition Kit is an ergonomic device with superior zinc alloy chassis construction and visually striking resin inlay design. Measuring in 81.5mm by 48.5mm by 25.5mm, it is easy to carry and suitable for outdoor activities. The large firing button, mode-setting button and two adjustment buttons are quite responsive and sturdy with a nice click. The clear and easy to read intuitive OLED screen has been raised to sit flush with the mod and can be adjusted with a firmware update. The spring-loaded 510 connector sits at the top plate, which can accommodate 24mm atomizers without overhang.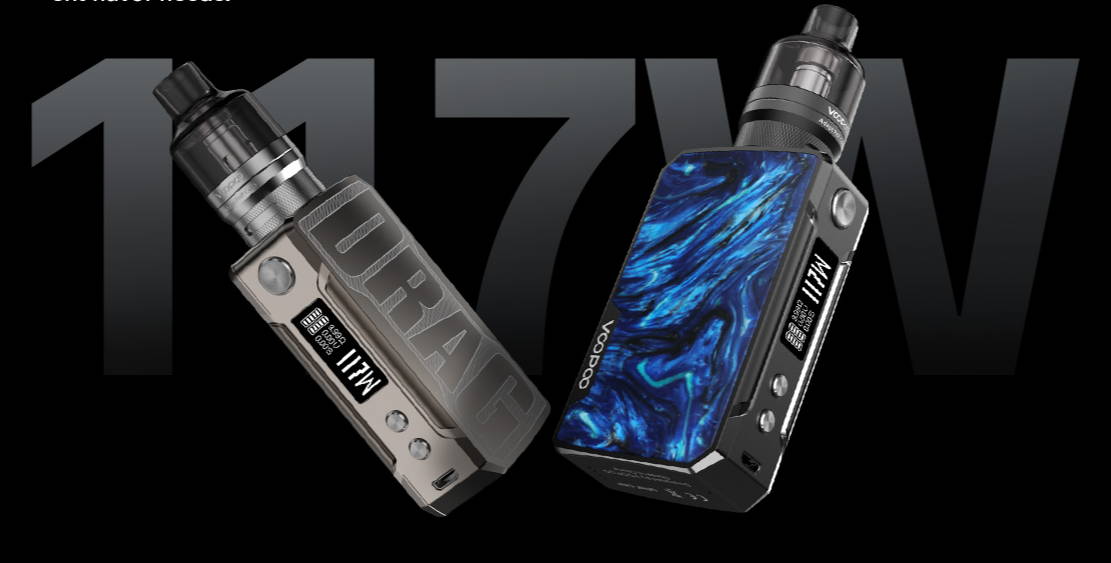 Performance of VOOPOO DRAG Mini
---
VOOPOO DRAG Mini integrates a built-in 4400mAh battery, supporting about 6 to 7 hours of longevity. It can fire the maximum output of 117W, allowing you to experience more pleasant clouds. The output power can be adjusted from 5w to 177w to suit different flavour preference. The highly advanced GENE FIT chip offers near-instant firing speed, long-endurance, high performance and best protection for vapours that offering better vaping experience with long battery span and safety features.
How to Navigate VOOPOO Drag Mini
5 clicks on the FIRE button to Turns mod On/Off
3 clicks on the FIRE button to Cycles Functions
Press the FIRE and Down button simultaneously to Flip Screen
Press the FIRE and UP button simultaneously to Locks/Unlocks mod
Under the TC Mode, press the Up and Down button simultaneously to enter Temp Control Sub Menu (TCR/Wattage/Ohms)
Under the In M1 or M2, press the Up and Down button simultaneously to enter Custom Sub Menu (power curves for custom VW or TC)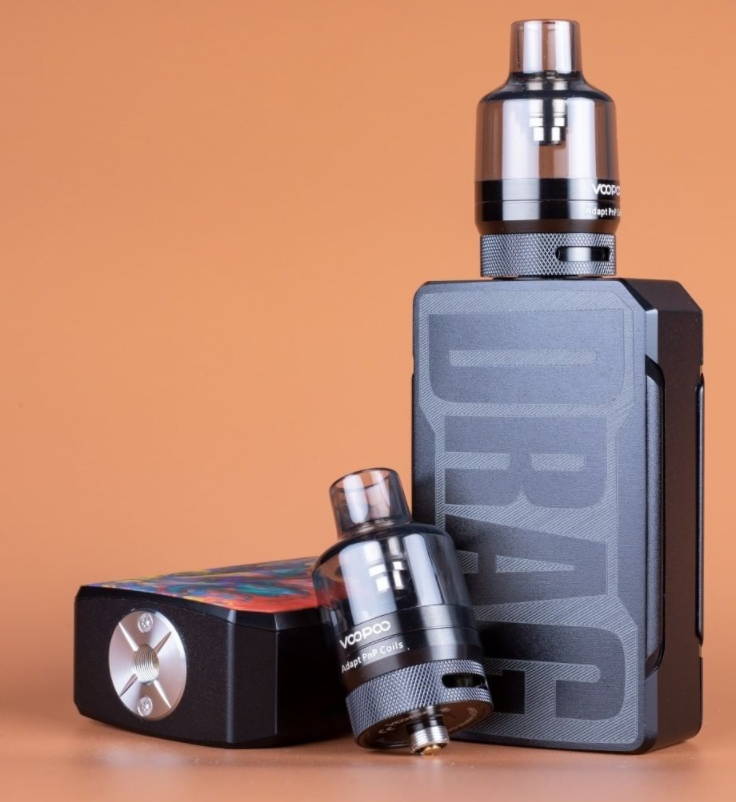 ---
The VOOPOO DRAG Mini comes with the VOOPOO PnP Pod Tank, which has a 4.5ml vape juice capacity. The plentiful taste will be provided by strong compatibility of VOOPOO PnP Pod tank when 26mm external diameter fits with various 510 tanks. The Tank also boasts a bottom filling design and is compatible with the VOOPOO PnP coil series. The kit includes VM1 (0.15-ohm) and VM5 (0.2-ohm) coils that are designed to offer deep and rich flavour. With the 0.15ohm coil, the wattage will set to 65 watts automatically that is an ideal flavour for me. You can also adjust the wattage, which is limited to a maximum of 80 watts. RBA wattage allows you to fire up to 117 watts, which is more suitable for those who dislike restricted vaping.
Overall, the VOOPOO Drag Mini is an impressive device with its unique and ergonomic design. I was really impressed with various fantastic features. High recommend to those looking for a well build device!       ​
---
Pro
Easy to fill design
Great juice capacity
Easy to navigate
Well build quality
Awesome flavour
Easy to change the coil
Great vapour production
Geat battery capacity
Cons