Today I am going to review the VOOPOO Drag S, which is one of the best kit for new vapers! The Voopoo Drag S is an impressive pod mod. This is a very appealing, comfortable, and the well-built system runs on an integrated 2500mAh battery with an output power of 5 – 60W. The Voopoo Drag S pod retains 4.5ml e-liquid capacity and is compatible with the Voopoo PnP coil series. It features durable zinc-alloy construction and rechargeable via Type-C Port. Equided with the highly advanced GENE.TT chipset, VOOPOO Drag S offers an instant firing speed and intelligent coil recognition to prevent the coil from burn hit.
Price: £39.95 (at NewVaping)
Colors: Carbon Fiber, Galaxy Blue, Classic, Retro, Mashup, Chestnut, Marsala.
VOOPOO DRAG S Features:
Gene.TT Chipset
Dimensions: 87mm by 33mm by 28mm
Integrated 2500mAh Rechargeable Battery
Wattage Output Range: 5-60W
Voltage Output Range: 3.2-4.2V
Resistance Range: 0.1-3.0ohm
Firing Speed - 0.001s
Intelligent Coil Identification
Zinc-Alloy and Leather Construction
Intuitive Firing Button
Two Adjustment Buttons
Magnetic Pod Connection
4.5mL PnP Pod Tank Capacity
Bottom Fill System
VOOPOO PnP Coil Series
Magnetic Pod Connection
USB Type-C Port
VOOPOO DRAG S Package Contents:
1x DRAG S Device
1x 4.5mL PnP Pod Tank
1x 0.3ohm PnP-VM1 Coil
1x 0.2ohm PnP-VM5 Coil
1x Type-C Cable
1x User Manual
1x Warranty Card
1x Chip Card
Build Quality and Design of Voopoo Drag S
---
The VOOPOO Drag S is packed in a cardboard packaging with a delicate ribbon. It is a really sweet appearing mod pod measuring just 87mm length, 33mm width and a depth of 28mm. The Voopoo Drag S mod pod features Zinc Alloy construction that delivers durability. The leather design on the device delivers a sleek look, strong and sturdy hand feel. The overall construction is very well and the machining is certainly top-notch. The Fire Main and Up/Down buttons are all well-made and responsive. The clear 0.96" TFT display screen is distinct and dazzling, which include all the info you would like to know such as the battery life, wattage, voltage and resistance. A small handle on the back of the device is used to adjust the airflow.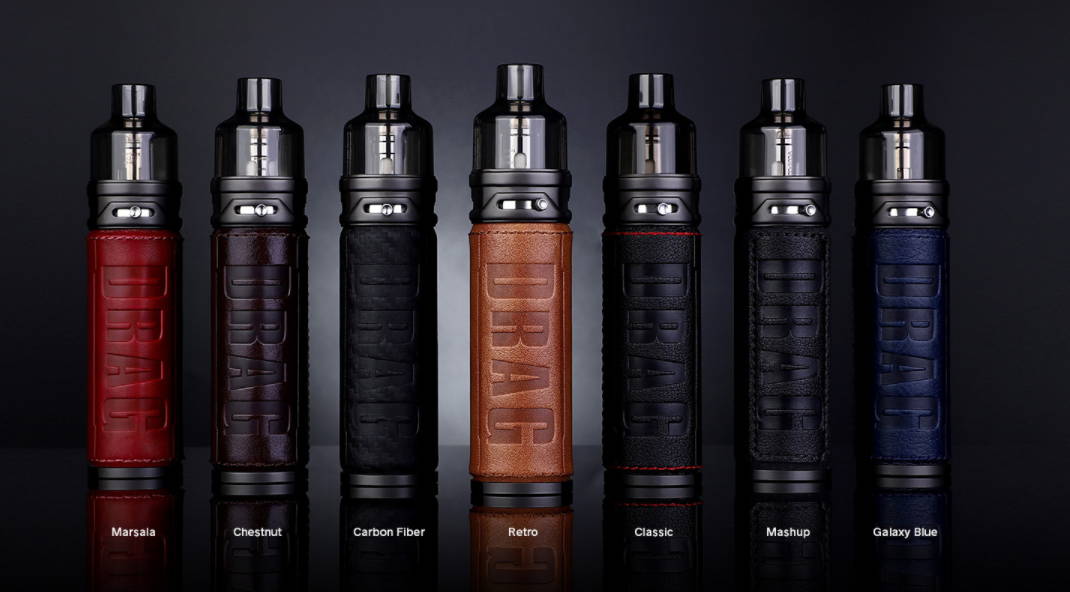 VOOPOO Drag S offers a plentiful spine's leather colour options. The original colours are Classic, Carbon Fiber, Retro, Mashup, Marsala, Chestnut or Galaxy Blue. The new colour design options are Silver Knight, Dark Knight, Bronze Knight or Iron Knight. My favourite one is the Silver Knight!
Button Combinations on the Drag S:
Turn on & off: 5 clicks on the fire button.
Choosing working modes: 3 clicks on the fire button to switch from RBA to Smart Modes.
Locking & Unlocking: Press the "+" button and power button at the same time.
Clearing the puff counter: Press the bottom button and power button at the same time.
Puff counter: Press "+" and "-" buttons at the same time to display a graph that clearly shows the daily puffs, which will store for two weeks.
Set the device time: Press the UP, DOWN and FIRE buttons simultaneously to set device time.
Functions and Features of Voopoo Drag S
---
The Voopoo Drag S is a simple but stylish product. With 2500mAh electric battery with a maximum wattage of 60w. The Type-C comes with 2amp charging, ensuring convenience and ease on the user end. In my tests, it takes about one and a half hours to fully charge the device. The screen will display the percentage of electricity when charging. The Score Ranking Mode is amazing! This mode will give a score of each puff. The scores will sum up and leave you an overall vape score. That's quite interesting!
Voopoo Drag S Pod Cartridge and Coils
---
The pod of Voopoo Drag S is made of PCTG. It comes with grey colour and looks like a tank. The Voopoo Drag S pod retains 4.5ml of e-liquid with a bottom-filled design. The large filling port makes filling an easier task and prevents leakage issues. The pod attaches to the device through four small magnets that sit onto the top of the mod. The device will automatically recognize what wattage should be set to when the pod have attached the mod. The kit includes two coils - PnP-VM5 0.2Ω rated between 40 - 60w and PnP-VM5 0.3Ω rated between 32 - 40w. Both coils have a long lifespan, supporting to vape at least five separate fills of vape juice.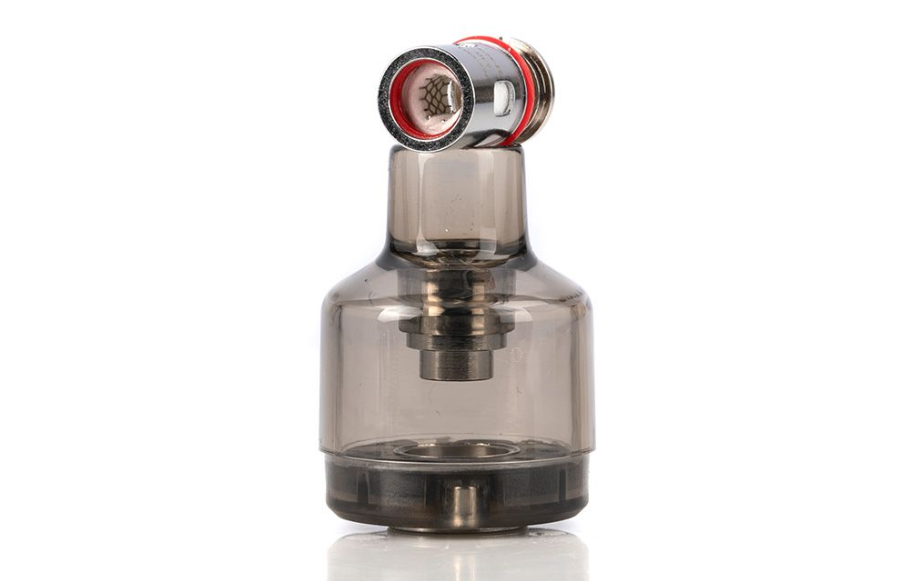 ---
The Voopoo Drag S is a sleek looking device with great flavour and vapour production. If you are searching for a portable and user-friendly device, I will highly recommend you to use the Voopoo Drag S. What is your ideas on the Voopoo Drag S? I want to know by your comment!
Pros and Cons of Voopoo Drag S
---
Pros:
Easy to operate
Adjustable airflow
Large filling port
Sweet appearing device
Great vapour production
Premium feel
Cons:
No good for MTL
No pass-thru vaping